A Sadio Mane double helps Liverpool beat Crystal Palace and seal Champions League qualification at Anfield.

By Phil McNultyBBC Sport Chief Football Writer, at Anfield
The Reds' Premier League title disintegrated after Christmas and they fell timidly to Real Madrid in the Champions League but rallied to win their final five Premier League games to claim a prize that looked unlikely until the penultimate weekend of the season.
Liverpool were initially nervous but got the result they needed against Palace – who had Roy Hodgson taking charge for the final time – thanks to two goals from Sadio Mane in front of almost 10,000 home fans at Anfield.
"Outstanding. We wanted this feeling, this game, this atmosphere. Finishing the season in third is incredible," Klopp told BBC Radio 5 Live.
"Credit to the boys – I can't believe how it worked out in the last few weeks, incredible."
A top-four spot looked beyond Liverpool when they sat eighth in early March after a campaign undermined by injuries and a catastrophic run of home form including six successive Anfield league defeats.
Even at the end of April they remained four points off fourth place with just five games to go but won each of those to not only seal a place at Europe's top table again but also leapfrog Chelsea into third.
"It's big. If someone told me five, six, eight weeks ago we can finish the season in third – it was out of reach, barely possible," added Klopp.
"Fighting through this and finishing here in third is the best lesson you could learn in life. From nowhere to the Champions League in five weeks is a massive achievement."
Mane poked home from a corner nine minutes before half-time to ease Liverpool's early anxieties and the Senegal forward wrapped up victory with a deflected shot in the 74th minute.
Andros Townsend gave Liverpool an early scare when he raced clear only to shoot off target but the home side took control from there and eased to victory with few further alarms.
No trophies – but Klopp will be delighted
Liverpool were contemplating a season in the Europa League or Conference – or indeed no European football at all – when Joe Willock's 95th-minute equaliser gave Newcastle United a point on 24 April.
Liverpool's players and Klopp looked shell-shocked after that match – five days after another dispiriting draw at Leeds United – as they sat in sixth place and looking anything like a side likely to string a series of wins together.
However, with Fabinho back in midfield after his spell in defence, they found their form and the run of victories mean they will be back in Europe's elite tournament next term despite the struggles of this campaign.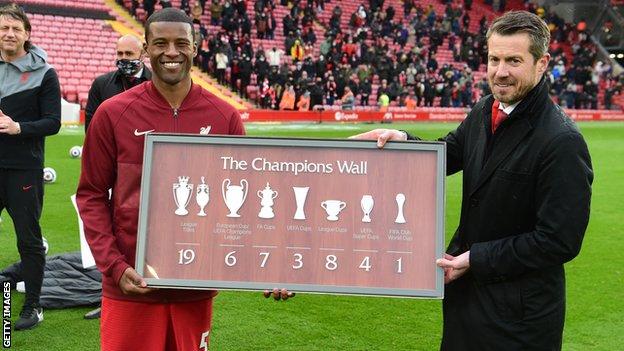 There was nothing more dramatic than that remarkable last-gasp header by Alisson at West Bromwich Albion, when the keeper raced forward in desperation with Liverpool being held 1-1 and their Champions League hopes slipping away.
To finish in the top four is a success, of sorts, given it was delivered in the face of disruption and an astonishing collapse in form – especially at Anfield.
Virgil van Dijk was ruled out for the season by a knee injury in September, soon to be followed by fellow defenders Joe Gomez and Joel Matip while new signing Thiago Alcantara's Liverpool career got off to a false start, also because of injury.
The likes of captain Jordan Henderson and £45m summer signing Diogo Jota were also ruled out for lengthy periods.
Throw in the worst run of home results in Liverpool history and it seems remarkable that a season containing so much poor form can conclude on the relative high of third place ahead of the likes of Chelsea and Leicester City, who had been ahead of them for so long.
Liverpool have not come close to silverware but the scenes when Mane scored his second and at the final whistle – muted celebrations at best – hinted at a mixture of delight and relief that Klopp and his players had made the best of a bad job this season.
There was also a fond farewell to Netherlands midfielder Georginio Wijnaldum, whose contract expires this summer, with a post-match guard of honour.
"It is very emotional for me because I lose a friend and I will miss him but it is normal in football these things happen," added Klopp.
"Each club who is interested in him should call me because I couldn't be more positive about what he did. Now it looks like the time is over but nobody can take our memories from us."