Leicester boss Brendan Rodgers has "nothing but pride" for his players despite missing out on the Champions League.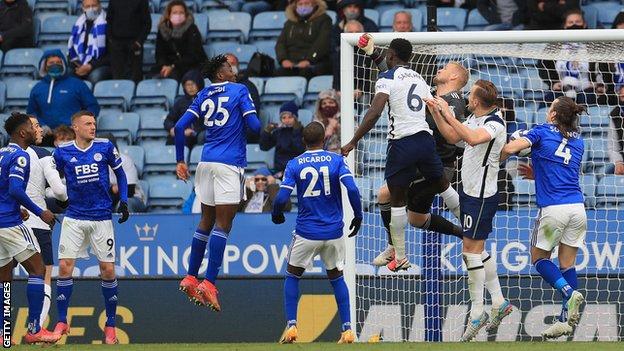 Starting the last round of fixtures in fifth place, the Foxes knew their best chance of finishing in the top four was to win and hope Liverpool and Chelsea slipped up in their respective final games.
Chelsea did leave the door open, losing 2-1 at Aston Villa, but Leicester were unable to do their part and finished a point behind Thomas Tuchel's Blues.
It means the Europa League awaits the Foxes again.
"It's hugely disappointing for us," Rodgers told BBC Sport. "We fought so hard all season. I always said you're judged after 38 games, and unfortunately we couldn't quite make it.
"I have nothing but pride and admiration for the players. They've constantly had things go against them with injuries. If you look at the importance of the players out today, we were able to take it down to the last game and the last 15 minutes.
"The ownership have given me amazing support. The players have given me their heart and souls every day. I'm so disappointed for them we couldn't get over the line."
It was Gareth Bale who hammered in the final nails, finishing low into the bottom corner to put Spurs ahead in the game for the first time in the 87th minute, before following up his own shot that had hit the post to add a second in stoppage time.
In truth, though, it was an own goal from Kasper Schmeichel that really ripped the heart out of City's challenge, with the keeper punching a corner into his own net under pressure to make the score 2-2 with 14 minutes left.
Prior to that, with Chelsea losing at Villa, two coolly taken penalties from Jamie Vardy – both of which he was fouled for – looked to be sending the Foxes into Europe's premier competition for just the second time.
The match may also represent the final one in a Tottenham shirt for talismanic striker Harry Kane, who has signalled his desire to leave the club this summer.
If so, the England captain has signed off with the 221st goal of his Spurs career – a fine first equaliser from inside the box that also takes him to a Golden Boot-winning tally of 23 for this league campaign.
Whether a place in the new Europa Conference League – Tottenham's reward from this season through their seventh-placed finish – is enough for Kane, remains to be seen.
Sunday's game may also be the last for Bale, who ended his loan spell from Real Madrid in impressive fashion, and interim manager Ryan Mason, with the club considering numerous candidates as a permanent successor to Jose Mourinho.
Leicester down but far from out after season of progress
Last season, defeats in their final two games saw Leicester drop to fifth and miss out on the Champions League after being in the top four since September.
It was a case of deja vu this time around, with this crushing loss coming after a 2-1 defeat at Chelsea in their penultimate game.
It will hit harder, though, as Rodgers' team had spent more days in the Premier League's top four than any other side this season – 242 in total – and yet failed to finish there.
It will not feel like it, but it has been another season of impressive progression for the Foxes, who have played some superb football, built around a trusty old guard and a host of exciting young talents, including Wesley Fofana and the resurgent Kelechi Iheanacho.
It was telling just how much an injury to the former in the first half affected the home side, with Tottenham coming back into the game and finding their first equaliser.
Either side of that, though, it was all about Vardy, who calmly dispatched the two spot-kicks he himself had won by drawing fouls from Toby Alderweireld and Davinson Sanchez – the first of which needed a pitch-side VAR check from Anthony Taylor.
These games are emotional affairs, with mental strength as important as physical.
Roared on initially, Leicester were typically aggressive and attacking, but as the game wore on, the clear nerves among the watching fans began to permeate onto the pitch, with the home players growing increasingly reticent to do anything that may cause a mistake.
The mistake did come, with Schmeichel misjudging a corner and punching into his own net, a blow from which they failed to recover.
The players were still cheered as they paraded the FA Cup after the game. When the disappointment of Sunday fades, they will begin to appreciate just what that trophy represents for their season.
"I said to the players before the game we've been playing non-stop – except for 21 days – for two years," added Rodgers.
"When we started work together we were mid-table and just over two years later we're challenging the elite and won the FA Cup for the first time in our history and we're on the right path without the resources [of other teams].
"We need a period to go away and recover and relax a little bit. Premier League management is intense. We have work to do to improve the squad and come back early July motivated."
Tottenham face summer of change
Unlike Leicester, Tottenham have a summer of huge change ahead of them.
Their seventh place represents their lowest Premier League finish since coming eighth in 2008-09 and gives them a Europa Conference League spot – not good enough for a club believing itself worthy of a place in the now abandoned European Super League.
Top of Daniel Levy's in-tray is to resolve the future of Kane.
The 27-year-old once again showed that he is one of the best finishers in the business, firing in after Son Heung-min's cross looped to him in the box to make it an unmatched 23 goals in the division this campaign.
He has won the Premier League Golden Boot for a third season (also 2015-16 and 2016-17), becoming only the third player to win the award as many as three times, after Thierry Henry (four) and Alan Shearer (three).
Bale is also unlikely to be in a Spurs shirt next season, meaning Levy will have to find a way to replace almost half of the league goals his team have scored in 2020-21.
He also has to appoint a new manager.
This was Mason's fourth win from his seven games in charge and the most impressive, but whether that is enough to give the 29-year-old rookie the job remains to be seen.
"[We showed] immense qualities – to play, to be brave, to be aggressive, to work for the team," said Mason.
"There was an energy in here, you could feel there was a lot riding on the game. We used that to our advantage. We used the fact it was a big game for them, it was a big game for us.
"It's no secret – we want to finish higher. We're disappointed not to be in the Champions League.
"We have to respect any European competition we're in and we will. We'll have to come back stronger next season."