Qualification for the Champions League, Europa League and Europa Conference will be decided on the final day of the Premier League season.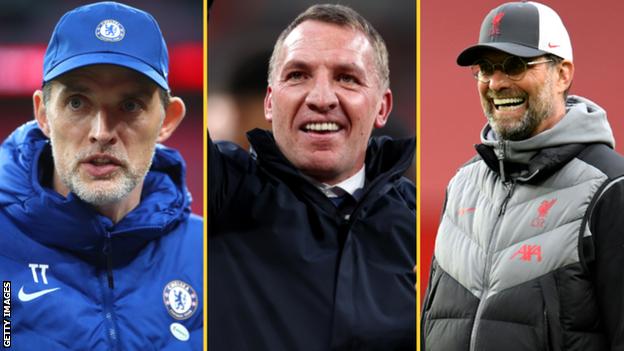 Champions Manchester City have already secured a spot in the 2021-22 group stage along with Manchester United, who can finish no lower than second.
But just one point separates third-placed Chelsea and fifth-placed Leicester, who are below Liverpool on goal difference.
So what are the permutations? Which teams can still end up in the Europa League? And who will be playing in the Europa Conference League, Uefa's new third-ranked competition?
Passports at the ready – who will make Champions League?
The top four in the Premier League qualify for the Champions League group stage, as well as the winners of the Champions League and Europa League – should they finish outside the first four places.
A maximum of five English teams can play in the Champions League.

With Champions League finalists City and Europa League finalists United already secure, only Chelsea beating City in the Champions League final and finishing fifth would see England's five-team quota fulfilled.
However, Chelsea will be guaranteed third place and a Champions League spot if they beat Aston Villa at Villa Park on Sunday (16:00 BST).
Liverpool and Leicester go into the final day level on 66 points and separated by goal difference, with the Reds having the edge.
| | | |
| --- | --- | --- |
| CHELSEA | LIVERPOOL | LEICESTER |
| Aston Villa (away) | Crystal Palace (home) | Tottenham (home) |
If Liverpool beat Crystal Palace 1-0 at Anfield, Leicester would have to beat Tottenham by a five-goal margin to finish fourth.
With 10 games remaining, Liverpool were eighth, 10 points behind Leicester.
"In the last eight or 10 games, I don't know how many, we are back on track," said Reds boss Jurgen Klopp after Wednesday's 3-0 win at Burnley.
"If we win on Sunday then we are probably qualified for the Champions League. It's insane that we came this close but we are not through yet.
"When you win the semi-final you go to a final and that's where we are. We will give our absolute everything."
| | |
| --- | --- |
| Manchester City | Champions League group stage |
| Manchester United | Champions League group stage |
| Chelsea | Europa League group stage, but may still qualify for Champions League group stage |
| Leicester City | Europa League group stage, but may still qualify for Champions League group stage |
| Liverpool | Europa League group stage, but may still qualify for Champions League group stage |
Who's in the Europa League mix?
Only 32 teams are in the Europa League group stage from now on, down from 48 in previous years.
The fifth-placed Premier League team will qualify – as will the sixth-placed team, as FA Cup winners Leicester can finish no lower than fifth.
Going into the final day of the season, Leicester are fifth with West Ham, who are four points behind, sixth. Tottenham and Everton are also in contention.
| | | |
| --- | --- | --- |
| WEST HAM | TOTTENHAM | EVERTON |
| Southampton (h) | Leicester (away) | Man City (away) |
"We have equalled a club record for points in the Premier League, one more point would beat that and get us into Europe as well," said West Ham boss David Moyes, who took charge of the Hammers for a second time in December 2019 with the club one point above the relegation zone.
Why seventh place gets into Europe
The Europa Conference League is effectively a step down from the Europa League.
The team that finishes seventh in the Premier League will qualify for the play-off round, which takes place over two legs on 19 and 26 August.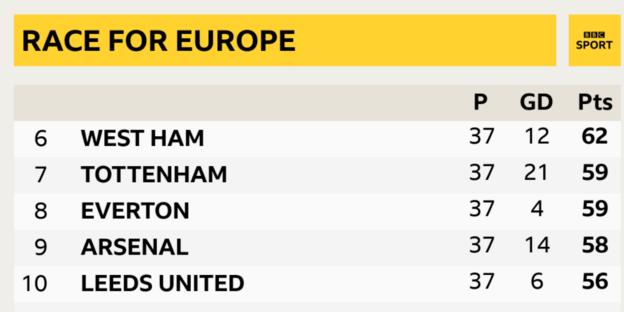 One of West Ham, Tottenham, Everton or Arsenal, who are at home to Brighton on the final day, are in contention.
Leeds, in 10th, can still mathematically finish in a European spot but it would require a set of highly improbable results – including a huge swing in terms of goal difference – to make it.
England captain Harry Kane will hope to wrap up a hat-trick of Golden Boot awards in what could be his final game for Tottenham.
Kane is level with Liverpool forward Mohamed Salah on 22 goals – four ahead of nearest rival Bruno Fernandes of Manchester United.
Kane's previous wins came in 2015-16 and 2016-17, but Salah too has won it twice – outright in 2017-18, and shared with team-mate Sadio Mane and Arsenal's Pierre-Emerick Aubameyang the following season.
Both Kane and Salah have scored three times in their past five appearances.