Survivors of the Manchester attack talk about rebuilding their future four years after the atrocity.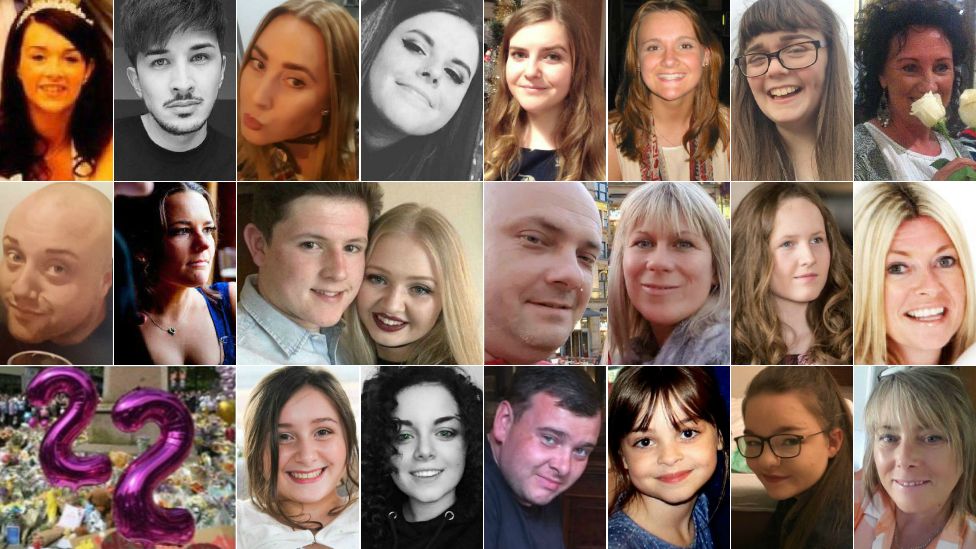 Twenty-two people were killed when a bomb was detonated at the Manchester Arena on 22 May 2017.
Hundreds more were injured and thousands of lives were torn apart by the attack at the end of an Ariana Grande concert.
On the eve of the fourth anniversary of the atrocity, survivors and people who were affected by the bombing talk about how they are starting to heal and tell their stories of hope for the future.
Millie Tomlinson was 17 at the time of the blast. She was just feet away from the bomb when it was detonated and was seriously injured.
She left college a few months after the attack.
"I just couldn't cope with the work and my injuries," she said.
A few years on, Millie is now studying at Salford University and is optimistic about her future.
"I feel very lucky, I feel determined about getting good grades and being able to do what I want to do," she said.
She said she was "a different me" after the bomb and added: "I think the different me is a better version because now I've got such a resilience.
"I feel like it's helped me become a better person."
"I needed the support. I just want to be with my comfort zone and my family," she said.
The "Be More Martyn" motto which trended on Twitter in the aftermath of the bomb was inspired by her 29-year-old brother's zest for life.
His family – who have also campaigned for new anti-terror legislation to improve security at venues and public places known as Martyn's Law – continue to live by the motto.
When Ms Murray quit her job to set up her own crochet business, she was worried her family might disapprove.
However, she said they told her to follow her dream.
"They said 'Be more Martyn, do it'," she said.
Steward Usman Ahmed rushed into the arena foyer to help those injured in the explosion but what he witnessed has taken his toll on him.
"In the toughest times when I couldn't get answers from anybody else the thought of my religion came into my mind and said to me 'just hang on, hang on a bit longer'," he said.
He said he had been "really inspired" by Martin Hibbert, who was one of the closest casualties to the blast to survive.
Mr Hibbert has set up a survivors network to help people struggling with what they saw on the night.
"After meeting him I thought there is light at the end of the tunnel," Mr Ahmed said.
"He's someone I look up to."
The football agent is aiming to raise £1m for the Spinal Injuries Association.
"I want to turn an appalling act of terror into a force for greater good," he said.
Liv's Trust funds education in music and dance for under-25s in Greater Manchester.
Steve Goodman, Olivia's grandfather or 'Papa' as she called him, is the founder of the trust which has the slogan "we choose love".
He said they chose to help youngsters with music and dance costs because of Olivia's love for both disciplines.
Olivia's family told the public inquiry in the attack that music "was her life" and said she wanted to be a dance or music teacher.
Mr Goodman said it was "a great feeling" to be able to help young people and to "give life back".
"It's just so amazing to have it and have local people following in her footsteps doing amazing things," he added.

If you've been affected by the issues in this video, you can find help and support from BBC Action Line.

The BBC is not responsible for the content of external sites.