The transport secretary says people should only go to amber countries in "exceptional circumstances".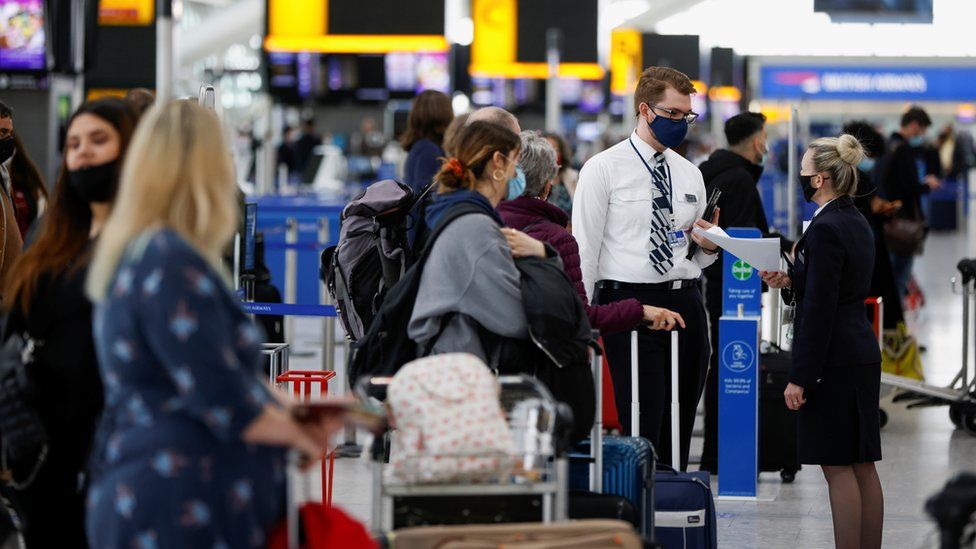 Travellers should use "common sense" when considering overseas trips, the transport secretary has said, as he defended the UK's traffic light system.
Grant Shapps said people should only go to countries on the "amber" list in "exceptional circumstances", amid concern over the Indian Covid variant.
The boss of airline EasyJet said people were "confused" by the system.
Ministers say they can carry out 10,000 checks a day in England to ensure travellers self-isolate where needed.
Asked on BBC Breakfast whether it was responsible to go on holiday to an amber country, Mr Shapps said: "The guidance is not to. We've said you should only go to amber countries in exceptional circumstances."
He said England was "moving towards unlock", having passed the third stage of its roadmap out of coronavirus restrictions, and was "starting to shift responsibility back to individuals".
"We're not forcing people to travel right now", he said, adding that anyone in airports will already have taken Covid tests.
Asked about photographs of passengers queuing at Heathrow Airport, Mr Shapps said he wanted to see people separated "as much as is practically possible" and the government had asked whether unused terminals could be brought into play.
The airport would respond "at the beginning of next month", he said.
Easyjet chief executive Johan Lundgren told BBC Radio 4's Today programme the government was "almost dismantling its own system" by discouraging travel to amber list countries.
He added that the UK risked falling behind other European countries if it did not employ a "data based" approach to opening up travel and move some countries form the amber list to the green list.