Edinson Cavani scores a stunning lob from 40 yards in his first game in front of fans at Old Trafford as Manchester United draw with relegated Fulham.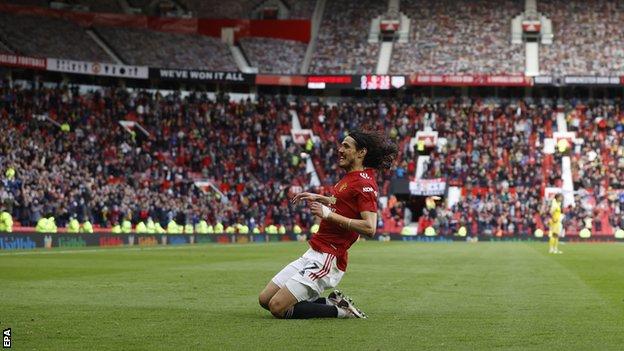 Edinson Cavani welcomed the return of fans back to the Premier League with a brilliant 40-yard lobbed goal, but United were unable to mark the occasion with a victory as Fulham came back to draw at Old Trafford
Aside from a handful of games at a lucky few clubs in December, supporters have been absent from top-flight league football since 9 March 2020.
No supporters have seen a goal at Old Trafford since Scott McTominay's inspired second in United's Manchester derby win over City the day before.
There were only 10,000 present to see Cavani's inspired effort, but what a noise they made as the Uruguayan strode onto a long ball downfield from David de Gea, which VAR felt touched Bruno Fernandes on the way through, before lifting the ball over Alphonso Areola with a perfectly executed finish that floated into the net.
For a long time it looked like being the winner, until Joe Bryan was allowed to ghost in at the far post unchallenged to convert Bobby Decordova-Reid's deep cross from the right.
Solskjaer said: "I think it might be a wake-up call because we tried to do the fancy stuff – the flicks, the extraordinary things, the things that pleased the fans.
"That's not what we're about. We should be more efficient.
"Have a look at Cavani, have a look at how he plays the game. Every single one of us look at him.
"Back tackles, runs, scores – there's no fluff. And we can't have fluff in a game of football."
De Gea's uncertain future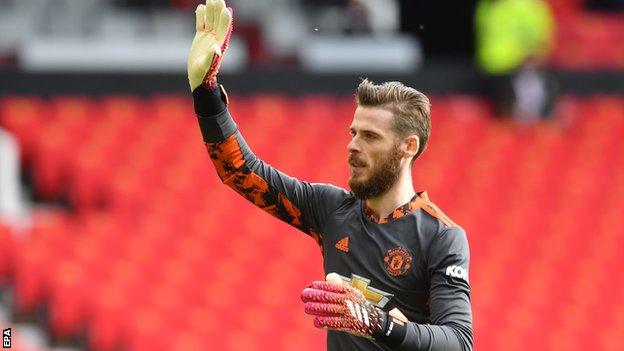 After Alisson's amazing winner for Liverpool on Sunday, there was genuine debate around whether De Gea made another telling contribution by a goalkeeper to his team's offensive effort.
TV replays indicated Fernandes failed to get a touch as he attempted to flick De Gea's pass through to Cavani, something the forward himself admitted afterwards. But if that was correct, Cavani should have been ruled offside by VAR.
De Gea's selection was interesting in itself.
The Spain keeper has lost his place to Dean Henderson in recent weeks, but Henderson was at fault for at least one of Liverpool's four goals in their win over United six days previously, so it was not completely clear whether De Gea had got his place back or was being granted a farewell appearance after 10 years of largely outstanding service.
Both scenarios have their complications. For Henderson, another season as back up is unlikely to appeal given his England aspirations, whilst De Gea is one of the Premier League's highest-paid players. Finding a club to match that salary, let alone pay a transfer fee, is not going to be easy.
Until Bryan's goal, De Gea did not have much to do against the top-flight's second-worst attack. He did make saves to deny Ademola Lookman and Fabio Carvalho and had little chance of keeping Bryan's equaliser out.
Green and gold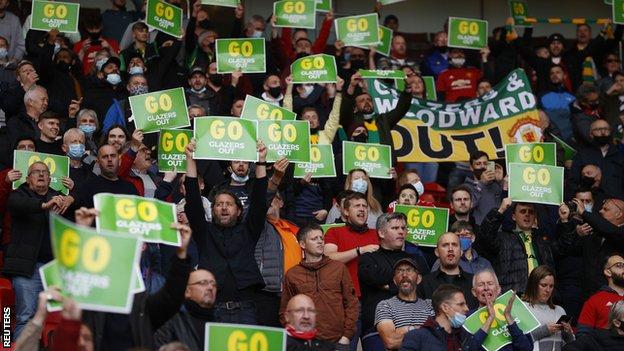 In contrast to protests that caused the first meeting with Liverpool earlier this month to the called off and extreme measures, including beds being transported into the stadium for players to sleep on, being implemented to ensure the second one went ahead, this match was completed in relative peace.
There were still a lot of police and a helicopter circled above the stadium before the game. But those who chose to wear the green and gold anti-Glazer colours almost exclusively restricted themselves to regular chanting against the club's American owners.
A mooted 51st-minute protest to press the case for the '50+1′ German ownership model clashed with a dangerous free-kick for the hosts – both fizzled out.
For United staff and Solskjaer, who had appealed for calm in the build-up, it was doubtless a relief.
After the match, Solskjaer spoke on a microphone just prior to a walk round the pitch, in which Paul Pogba and Amad Diallo paraded a Palestine flag, to declare United "were not where he wanted them to be" but hoped to bring the Europa League trophy back to England next week.
The loss of McTominay to what appeared to be an injury midway through the second half will be a worry before the meeting with Villarreal in Gdansk on 26 May, as will the paltry nine league wins on home soil this season.
Tonight, though, was all about the fans – and despite the result, they seemed happy just to be here.
When asked about Pogba and Diallo holding up the Palestine flag, Solskjaer replied: "We have players from different backgrounds, different cultures, different countries and we need to respect their views if they differ from someone else's.
"If my players think about other things than football, that's a positive thing.
"We have seen that with some of my players before, that they do care. You see Marcus Rashford, for example, the difference he has made.
"So, no, we respect their right to have a different view."
'I don't understand how it's not offside'
Fulham boss Scott Parker felt his side were superb but also took exception to United's opener, believing it should have been ruled out for offside against Cavani.
"I thought we were fantastic today," he told Sky Sports. "We played like a big team. We had to be courageous.
"It's a difficult place to come Old Trafford, let alone today with 10,000 fans in. I'm very proud and overall pleased with the performance."
When asked about Cavani's goal, he said: "I don't understand how it's not offside.
"The fourth official said if Fernandes hasn't touched it he's five yards offside. I've looked at it back. I can understand if we didn't have VAR, I get that that goal can be given due to human error, but when you can slow it down and look at the angles you can see he's not touched it."
Manchester United complete their Premier League campaign at Wolves on Sunday, 23 May (16:00 BST) before facing Villarreal in the Europa League final in Gdansk on Wednesday, 26 May (20:00 BST).
Fulham's last game as a top-flight club for at least 12 months is against Newcastle at Craven Cottage, also on 23 May (16:00 BST).