The Grammy Award-winning song was copied from an unknown US rapper, he claims in court documents.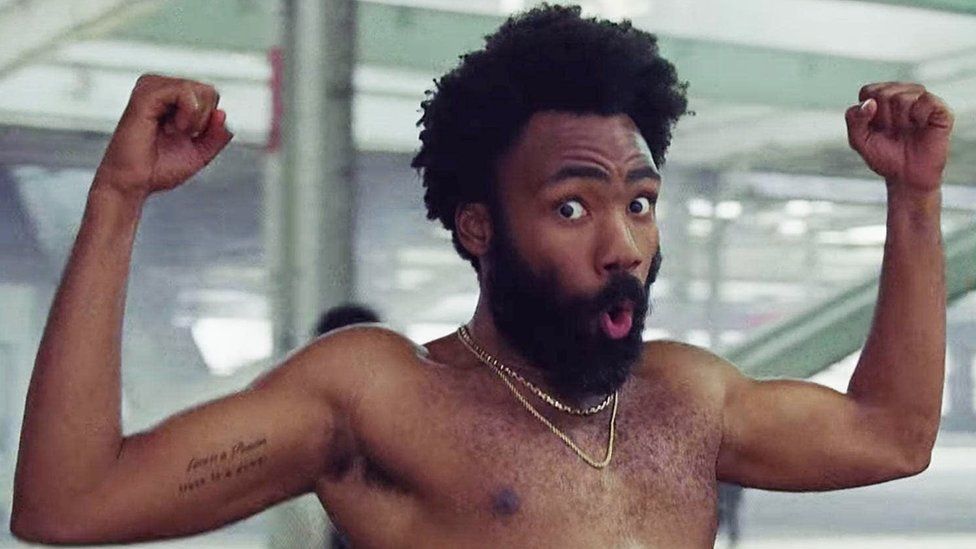 Childish Gambino is being sued for copyright infringement over his Grammy Award-winning rap song This Is America.
Emelike Nwosuocha, a rapper who performs as Kidd Wes, claims the song copied his track Made In America, which was released two years earlier.
The "lyrical theme, content and structure" of the two songs' choruses are "glaringly similar", he said in court documents filed in New York.
Childish Gambino, aka Donald Glover, has yet to respond to the claims.
In 2019, This Is America made history by becoming the first rap track to win song of the year at the Grammy Awards.
One of the most-discussed and powerful songs of the year, it delivered a scathing message about racial inequality, police brutality and gun violence, which was amplified by its provocative music video.
However, in court documents, Nwosuocha said there was a "substantial similarity" between Glover's track and his own.
He claimed the songs shared a "distinct and unique vocal cadence, delivery, rhythm, timing [and] phrasing", and noted how the choruses of Made In America and This Is America were written in the same metre.
Nwosuocha alleged that the similarity in lyrical content and delivery was "striking to an extent beyond coincidence" and "audible to the average lay person".
The rapper also employed a musicologist to compare the two tracks, who concluded that "these similarities are likely not coincidences", the court documents said.
Nwosuocha is demanding a trial and is seeking damages including lost profits and opportunities. While no sum is mentioned, he claimed that Glover and his co-writers made "hundreds of millions of dollars" from This Is America.
His legal case also named Childish Gambino's record label, RCA, Roc Nation and Young Thug, who performed backing vocals on the track.
However, it is not the first time that Glover has been accused of plagiarising This Is America.
In 2018, a hip-hop blogger named Akademiks noted a similarity between the song and American Pharaoh by New York rapper Jase Harley.
However, Harley said he had no interest in pursuing legal action. "I feel extremely humbled to be recognised and labelled as one of, or the original inspiration, for one of the most important pieces of music and visual art of our time," he posted on Instagram.
"I appreciate all the love and support! But please don't let this controversy dilute the message me and Childish Gambino are trying to convey."
Childish Gambino's manager Fam Udeorji rejected the claims of plagiarism, saying his client's song actually dated back to 2015, "and we have the Pro Tools [computer] files to prove it".
If so, the song would also pre-date Nwosuocha's Made In America, which he first posted on SoundCloud in September 2016.
The BBC has contacted Childish Gambino's team for a response.