The party wants a thorough investigation into Boris Johnson's conduct, amid a row over lobbying.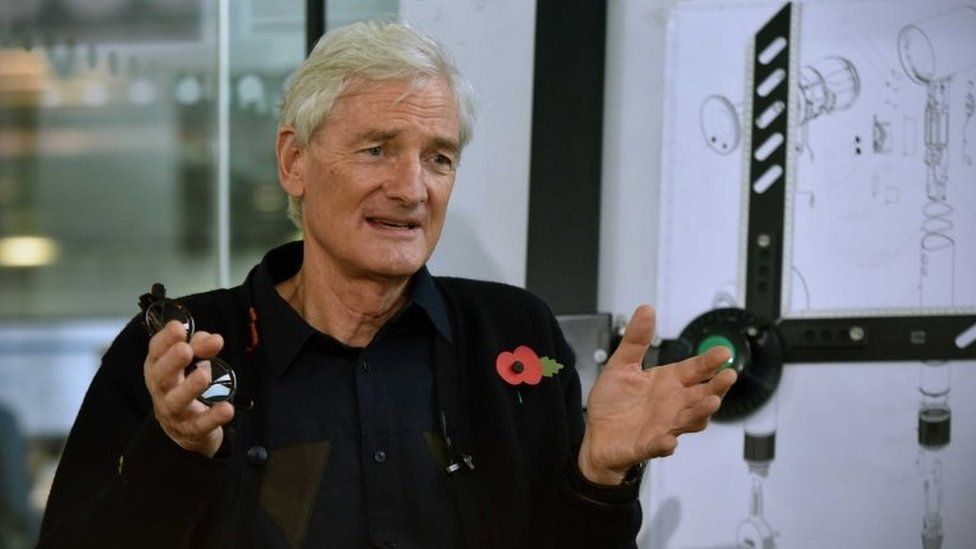 Labour has called for a "thorough investigation" into Boris Johnson's contacts with Sir James Dyson.
Shadow Cabinet Office minister Rachel Reeves said the messages between the prime minister and Sir James opened up a "new urgent corridor of inquiry".
The texts – seen by the BBC – show Mr Johnson saying he could "fix" tax issues relating to Dyson staff who came to the UK to work on the pandemic.
The PM said he "makes no apology" for trying to get ventilators for the NHS.
Labour has said the text messages are part of a pattern of government "sleaze" and has called on the cross-party Liaison Committee of senior MPs to investigate "as soon as possible".
Ms Reeves said: "Revelations [on Wednesday] seem to confirm a growing feeling that if one has access to a telephone number of someone like the prime minister or the chancellor, then they are able to gain special treatment, potentially even significant financial ones.
"We need the prime minister to appear before the Liaison Committee immediately and for a thorough investigation into his conduct on this matter."
Sir James, who was based in Singapore, had originally contacted the Treasury for assurances there would be no change in tax status for his employees who responded to the government's call for help providing ventilators at the start of the pandemic.
When he failed to get a response, he texted the prime minister direct.
At Prime Minister's Questions on Wednesday, Mr Johnson said he made "no apology for moving heaven and earth" to persuade businesses to help bolster supplies of equipment and ventilators to treat coronavirus patients.
He said he had done the "right thing" and that "any prime minister" would have done the same in the circumstances amid a concern over shortages.
In March last year, the Department of Health feared the NHS in England could need as many as 20,000 additional ventilators on top of the 5,000 it had – along with an existing 900 to treat children.
The prime minister is understood to have called Sir James on 13 March and asked him to participate.
Dyson answered the call and said it spent £20m on developing its own design – though subsequently the company was not called upon to provide ventilators to the NHS.
But the BBC has discovered that Sir James also raised his concerns with the Treasury, and later the prime minister, about rules that could see staff brought into the UK for the project needing to pay tax.
In text exchanges seen by the BBC, the PM messaged Sir James saying: "[Chancellor] Rishi [Sunak] says it is fixed!! We need you here."
When the businessman sought further reassurance for the tax status of the firm and "senior individuals", Mr Johnson replied: "I am First Lord of the Treasury and you can take it that we are backing you to do what you need."
Two weeks later, Mr Sunak told a group of MPs that the tax status of people who came to the UK to provide specific help during the pandemic would not be affected.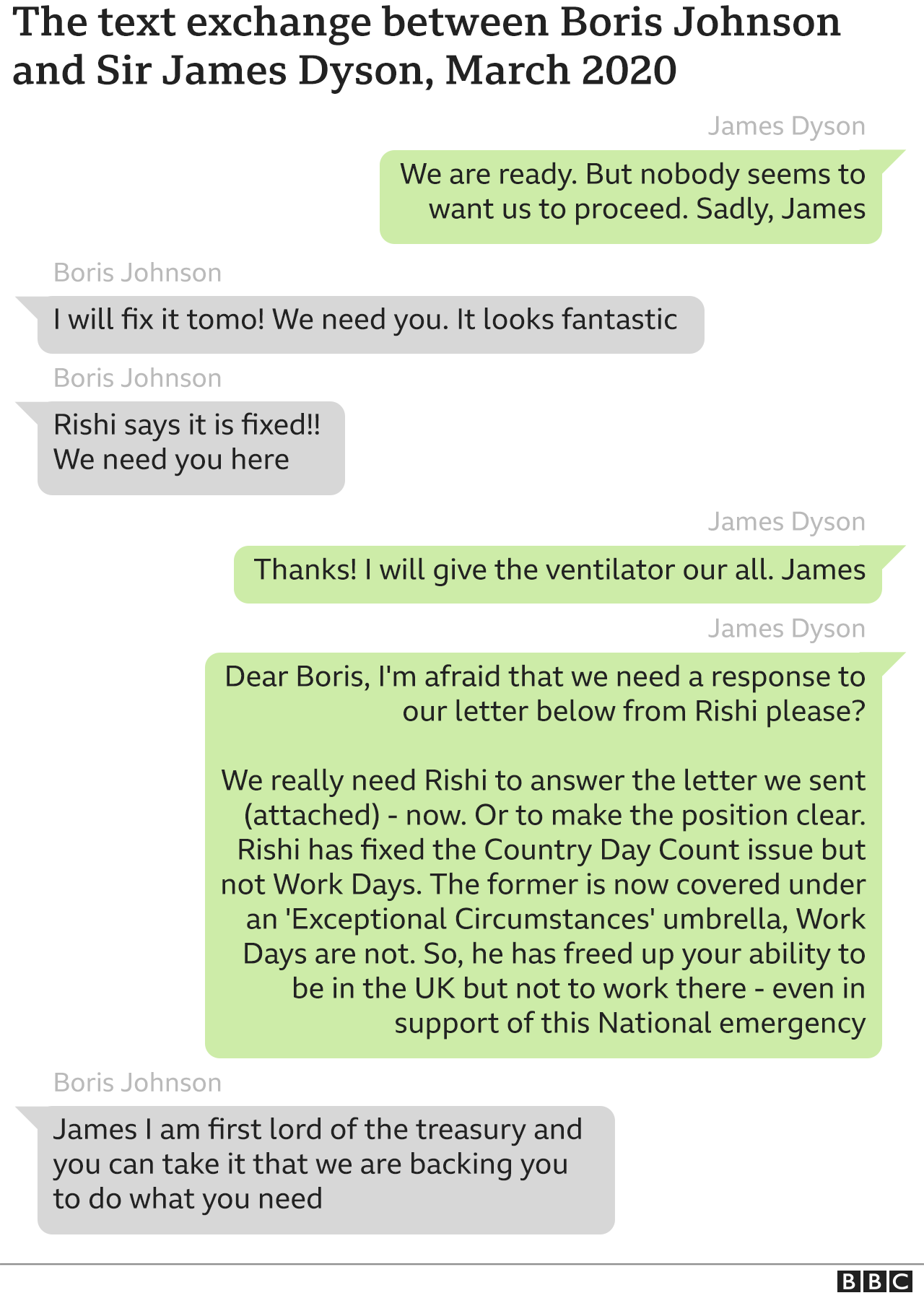 Speaking at Prime Minister's Questions, SNP Westminster leader Ian Blackford called on Mr Johnson to reveal "how many more Covid contracts he personally fixed" and publish all personal exchanges on these contracts.
But Mr Johnson said there "nothing to conceal about this" and he would share details with MPs.
The prime minister's official spokesman said Mr Johnson had abided by the ministerial code, governing conduct in office, and had "informed officials in a timely manner" after his contact with Sir James.
He added that he did not know when the prime minister would publish his exchanges with Sir James.
Separately, it is understood that within government there were suggestions that Mr Johnson should be less willing to pass on his person contact details to external organisations.
But officials have denied reports that the prime minister was told to change his mobile phone number.