The online grocery retailer has teamed up with Oxford self-driving firm Oxbotica.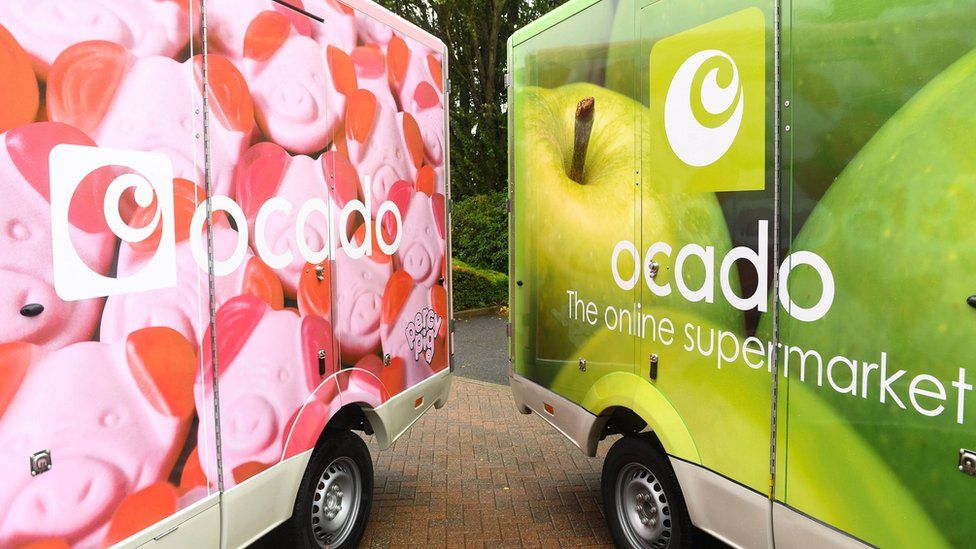 Online grocery retailer Ocado has unveiled a major push into autonomous driving technology.
It has teamed up with another British company, Oxbotica, to build self-driving vehicles for itself and others who use its platform.
That could include automatic forklift trucks at warehouses, self-driving delivery vans, or even "kerb to kitchen" robots for the final leg.
As part of the deal, Ocado has bought a £10m stake in Oxbotica.
Together, they say they plan to build hardware and software for autonomous vehicles.
"We want the entire end to end operation, ultimately, to be autonomous – from the receipt of stock to the warehouse all the way through to the customer's door," said Alex Harvey, Ocado's head of advanced technology.
"From a customer's perspective you open your door and outside you will see an autonomous van or another autonomous vehicle pull up outside your house, and most likely an autonomous robot will get out of that autonomous vehicle, will collect your groceries, and hand them to you at the doorstep."
In recent years, Ocado has tried to project itself as a technology platform to be used by global retailers, rather than just an online grocery store.
It has developed robots which now pick and pack groceries at its state-of-the-art fulfilment centres, and this week, America's Kroger supermarket chain unveiled its first warehouse using the Ocado technology.
Kroger's delivery vans also use software developed by Ocado to plot the most efficient routes.
The new partnership with Oxbotica will aim to take this idea further.
The startup company has just raised new funding from investors in the UK, US and China. Ocado's £10m stake is part of that funding round, and will give it a seat on Oxbotica's board.
In its announcement, Ocado tempered expectations and said that getting permission from regulators to operate autonomous vehicles on public roads – allowing driverless deliveries to customers' homes – may take some time.
But it said that "last-mile" deliveries to customers' homes are a significant part of an online retailer's costs, with labour accounting for half of that – so autonomous vans could produce big savings.
In the short term, it sees vehicles operating in restricted areas such as its own warehouses, with the first prototypes coming within two years.