Members of the public gather at Buckingham Palace to lay flowers and show support for the Queen.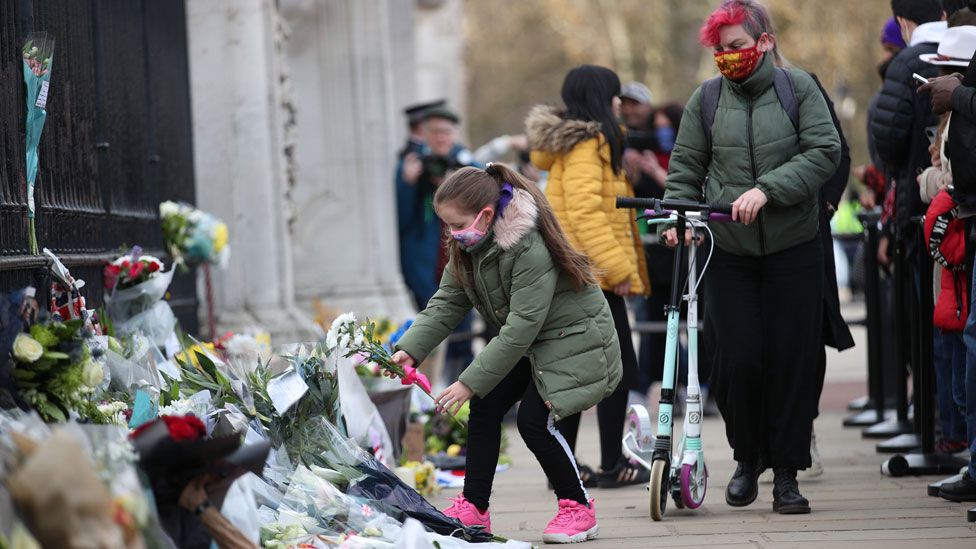 As news of Prince Philip's death spread, people made their way to Buckingham Palace, the central London home of Prince Philip, to pay tribute and reflect on the duke's life and the Queen's loss.
Some teenagers on hired bikes pull up next to a police officer asking for directions to Oxford Circus.
Before cycling off, one calls out: "Is there any way you can say 'hello' to the Queen for us?"
No matter young or old, there doesn't seem to be a soul outside Buckingham Palace on the day of Prince Philip's death who doesn't feel deep sympathy and sorrow for the Queen.
"I don't think you have to be a rampant royalist to just feel really sad for the Queen," says 56-year-old Louise Simester, from Bedfordshire.
She took her teenage daughters on a diversion from a trip to the Covid memorial wall to Buckingham Palace, via an unsuccessful hunt to buy flowers, to round off what's been a day of reflection for her family.
Daisy, her 17-year-old daughter, who says she's "no royalist", has been surprised by just how shocked she was by the news.
"All my friends were quite shocked," she says. "I've never experienced a royal death."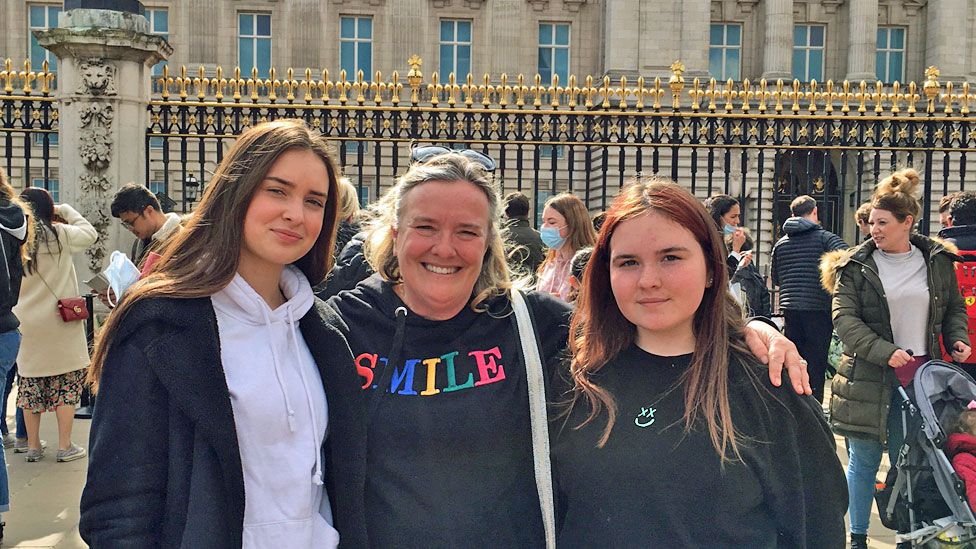 For mum Louise, being outside the palace brought memories of Princess Diana's death in 1997 flooding back.
"I brought flowers for Diana. I remember it like it was yesterday. I remember people sobbing – I was crying myself," she recalls, clutching her hand to her chest.
As we talk, a steady flow of families, friends, children, even a woman on roller blades, line up in the spring sunshine to lay white roses, yellow tulips and unopened lilies beside the gleaming black and gold palace fence.
For every bouquet laid, the moment is captured by a vast bank of photographers, camera crews and bystanders with their own mobile phones straining against a thick cordon erected by police officers.
Attached to the flowers are messages of gratitude for the duke's decades of service: "You'll be missed by an entire nation. You were one of a kind," says one. Another acknowledges the sacrifices the duke made. "Farewell Prince Philip – I have a huge amount of respect for a man that can swallow his pride to dedicate his life to supporting the Queen."
The Royal Family did ask people to consider making a charity donation instead of leaving flowers and the government has urged people not to gather at the palace in breach of coronavirus regulations. However, that message had not reached everyone on Friday afternoon.
Rhea Varma, from Pimlico, pulls up on her bike to lay a bouquet alongside a note saying "Rest in Peace Duke, love the Varma family".
"It's just super sad," she says. To her, the duke represented "the kind of stability that's so old-fashioned, it's difficult to comprehend.
"He was a rock who brought integrity," she adds.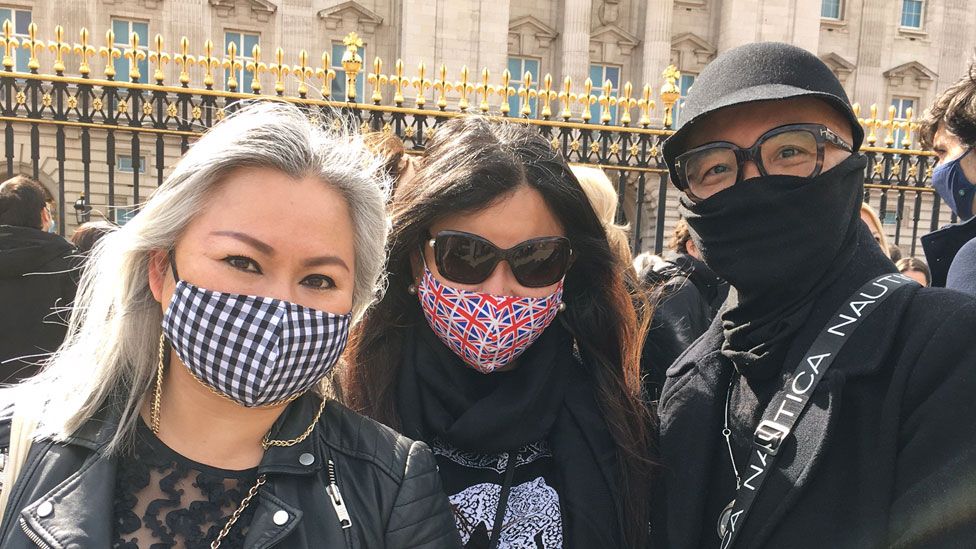 Kalenza Jennings, 43, from Belsize Park, has brought white roses and carnations on behalf of her family after her husband texted her with the news.
She's here with her best friend, who's also from Thailand. Prince Philip is their hero, they say. "He's a good man and a faithful man," says Kalenza, a personal shopper at Heathrow. "We love the Queen, and we want to say we're sorry she's lost the man she loves."
Peter Chan, a student from Hong Kong, was exercising around Buckingham Palace when he heard the news.
"I really feel Prince Philip was a nice man and he saved the country," he says, after laying a bunch of white flowers bearing a note in his mother tongue together with an English translation: "To commemorate Prince Philip's life on behalf of Hong Kong people in the UK."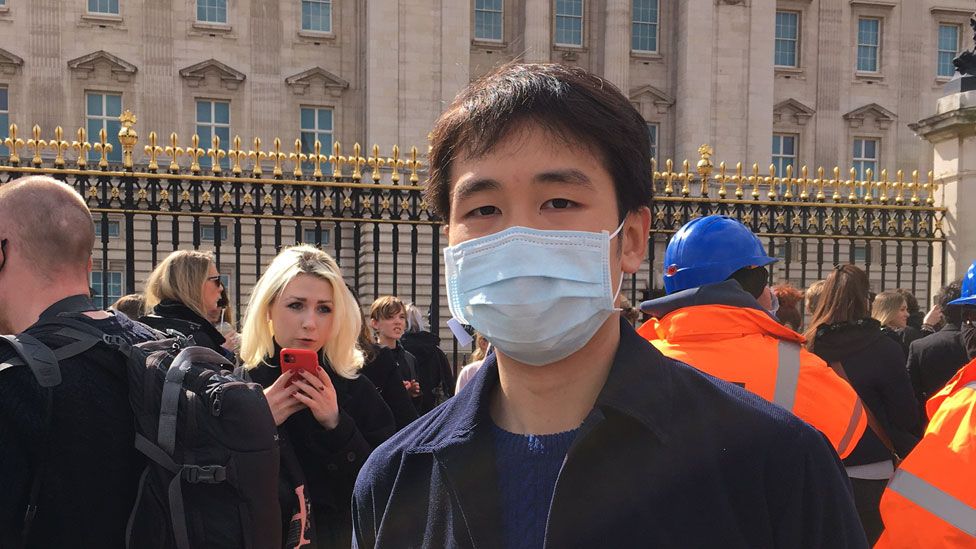 He reflects the last few months will have been especially hard for the Queen, with Prince Philip going into hospital and living through the pandemic.
With a hand on his heart, the 26-year-old says from behind his face mask: "I'm very sympathetic to the Queen. It's really hard to say how I feel, it's really from the heart."
Adam Wharton-Ward, 36, was similarly affected and felt moved to "rally round" for the Queen's sake.
"He's been with her for 73 years. If it wasn't for him, who knows if she would have got through it," he says, moments after propping a bunch of lilies by the palace gates.
The duke's appeal, he says, is he was "almost normal… with his gaffes". "Now that normality has gone."
Does he think the duke's death might signal change for the Royal Family's place in British life? "I think it could be almost the other way. They don't need change," says Adam.
Rhea Varma thinks otherwise: "I think it might be the beginning of big change in our country. Without him, the Queen might not reign much longer."
But an older woman, who's rushing past after paying her respects, says the duke's death is "the beginning of the changing of the guard" – but a change she's not happy to see any time soon.
And, as the Sun begins to duck behind the cloud and crowds make their way to the Tube stations, they'll be more moments to reflect.
Where adverts for shoes and banks stood only yesterday in London Underground stations, there are now poster-sized portraits of a younger duke in military uniform beside the dates 1921-2021.