A forensic pathologist testifies that Mr Floyd's heart and lungs stopped because of a lack of oxygen.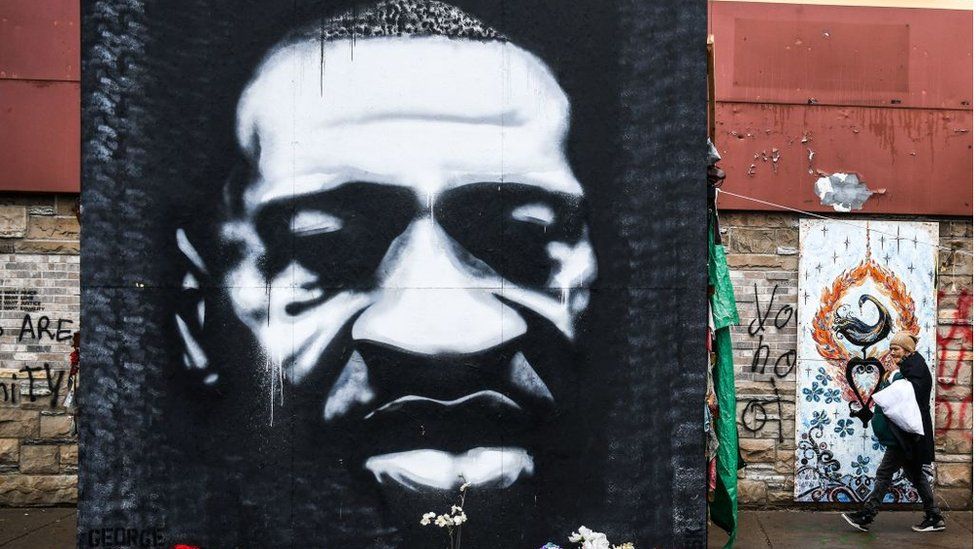 George Floyd died because of how police restrained him, a medical expert at the trial of ex-police officer Derek Chauvin in Minneapolis has said.
Forensic pathologist Dr Lindsey Thomas said "the activities of the law enforcement officers resulted in Mr Floyd's death" from lack of oxygen.
Mr Chauvin, 45, was filmed kneeling on Mr Floyd's neck for more than nine minutes during his arrest last May.
The ex-officer is on trial for murder and has denied the charges against him.
The footage of Mr Chauvin, who is white, with his knee on African-American Mr Floyd's neck sparked global protests against racism.
Prosecutors are trying to prove Mr Chauvin's use of force resulted in Mr Floyd's death, while Mr Chauvin's defence are seeking to show he was following his training and that drugs may have caused Mr Floyd's death.
The trial is in its second week and is expected to last for at least one month. The defence is due to begin arguing its case in court next week.
The official autopsy of George Floyd makes no mention of asphyxia, but Dr Thomas – a veteran forensic pathologist who has performed well over 5,000 autopsies in multiple US states – said she believed it was the primary manner by which he died.
Dr Thomas reviewed Mr Floyd's autopsy, medical reports and other materials on behalf of the prosecution. She also trained Dr Andrew Baker, the chief medical examiner who issued Mr Floyd's official death certificate.
"This is not a sudden cardiac death," she said. "It's a death where both the heart and lungs stopped working."
She said Mr Floyd was unable to get oxygen into his lungs with three police officers on top of him because he was handcuffed, in a prone position and had a knee on his neck: "What that means is the activities of the law enforcement officers resulted in Mr Floyd's death."
Pointing instead to bruises, facial discolouration and video footage, she claimed there was likely further "stress" on Mr Floyd's body as he struggled "for nine minutes, with no recovery".
She added that, based on her review, she could confidently rule out other possible causes of death, including a drug overdose, a fatal heart attack and lung disease from Mr Floyd's previous Covid-19 diagnosis.
When defence attorney Eric Nelson asked if Mr Floyd's underlying health issues and ingestion of drugs might lead to a reasonable conclusion that he died of heart disease, Dr Thomas asserted it made no sense to ignore the reality of his "subdual, restraint and compression" by police.
"There's no evidence to suggest that he would have died that night if not for the actions of law enforcement," she said.