With weddings back on in England, couples prepare to celebrate with their closest loved ones.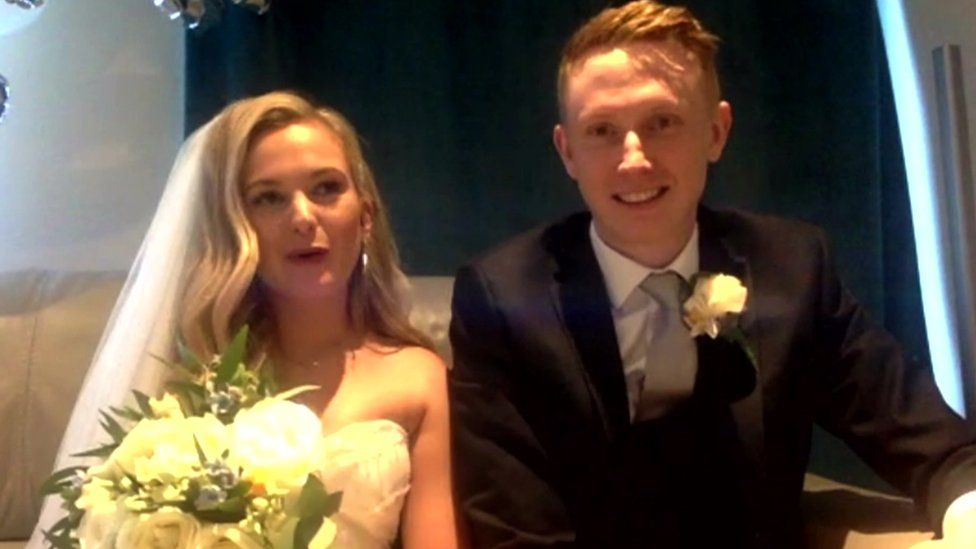 Weddings in England are back on. After months of lockdown, small ceremonies can go ahead with up to six people.
Receptions are still not allowed – but guests will be able to celebrate in groups of six outdoors.
For engaged couple Jess Warren-Basham and Jonny Cope, from Hampshire, they're simply excited they can finally marry.
The couple's original wedding date was last August. They then postponed it to 28 March – just one day short of the lockdown easing.
"We were 11 and a half hours too early for the roadmap and step one for weddings to be allowed," said bride-to-be Jess, 28, ahead of the ceremony.
"So we had to move the whole thing back another day just to get to the 29 March date that obviously [is when] the unlocking starts," her fiancé Jonny, 30, added.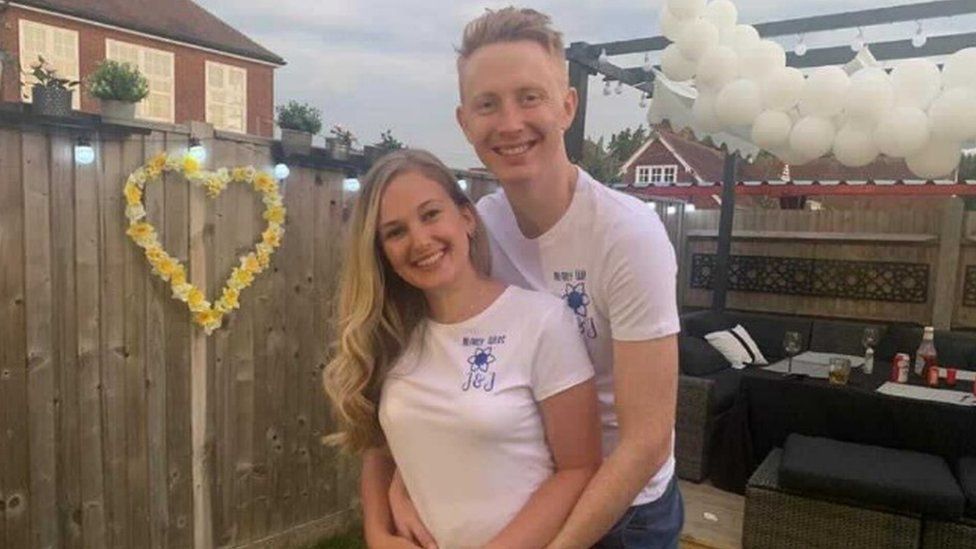 The couple also spoke of the challenge of cutting down their guest list from 180.
"Our original list, it was 180 and now it is six," said Jess, laughing.
Jonny, a solicitor, said the small number actually "made it a lot easier because it's just inviting the parents really, whereas if it had been 15 or 30 it would have been more difficult to cut off".
Jess, who runs baby and toddler classes, added: "You have to look at the positives and for us, those four people, our parents, are the closest people that we would love to be there.
"And how many couples get to say they get to spend the whole day with just six people? And making those memories with the closest people you have around you."
BBC News caught up with the newlyweds after the ceremony, which included two songs recorded beforehand by friends who are performers.
"It's been a great day, and we've obviously been so lucky with the weather," Jonny said. "We just came home in an open-top car," Jess added.
Relatives and friends in Wales, Germany and Australia tuned into the nuptials online. "It's amazing," Jess said.
But it's not just couples who have had to postpone several times who married on Monday.
Dwain Daley and Nyasha Pitt met online during the pandemic and will exchange vows at Coventry Register Office.
Having met in July, the pair said they had spent only four days apart and Dwain said they were eager to marry."I definitely want us to be married and I do not care if it is a small ceremony because as long as we get the ceremony done and we are married, we are together," he told BBC Midlands Today.
Others are finding the strict 6-person limit stressful. One bride-to-be from Dorset, who is getting married this weekend, says the rule means that she and her fiancé are facing a childcare issue.
They would have postponed their wedding, but her fiancé – who is in in the military – is being deployed for seven months and they wanted to get married first.
"I'm feeling very anxious," said the bride, who did not want to be named. "It's not exciting, whereby when you get married it should be exciting."
The couple say they are in a bind: the six-person limit means that they cannot have both sets of parents and their two young daughters present. They would marry with just their parents there, but they have no-one else to take care of their children since their childcare bubble is their parents.
"It's an upsetting situation," she said. "At the moment we have been thinking about having my fiancé's mother outside with our eight-month-old."

Until now, weddings and civil partnership ceremonies have only been allowed to take place in England in exceptional circumstances and receptions have been banned.
However, they will only be possible if they meet certain rules – for example ceremonies must be held in Covid-secure venues that are allowed to open, and receptions can only be in the form of a sit down meal or in outdoor venues and cannot take place in people's private gardens or public outdoor spaces.
The numbers are then set to rise to 30 people from the next step, no earlier than 17 May, and then the government's plan is to lift all restrictions in the final step which could be 21 June at the earliest.
In Scotland, wedding ceremonies and receptions for up to 50 people can resume from 26 April, but no alcohol will be allowed at receptions.
Currently receptions are prohibited, while wedding ceremonies and civil partnership registrations are allowed a maximum capacity of 5 people.
In Wales, licensed visitor attractions and hotels can open to hold wedding ceremonies. The maximum number of attendees is determined by the building's capacity.
And in Northern Ireland, up to 25 people can attend a ceremony, although events with more than 15 people require a risk assessment. Face masks must be worn by guests.