Norway players wear T-shirts bearing the message 'Human rights on and off the pitch' before their 2022 World Cup qualifier against Gibraltar to show support for Qatar migrant workers.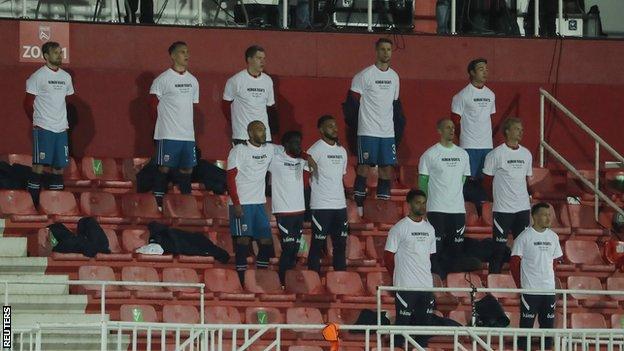 Captain Martin Odegaard had saidexternal-link before the game that the players were planning to do something to show their feelings.
The players also wore T-shirts saying 'Respect on and off the pitch' as they warmed up in Marbella.
The World Cup is scheduled to get under way in Qatar on 21 November next year.
Norway went on to win their Group G opener 3-0.
Football's world governing body, Fifa, said Norway will not face "disciplinary proceedings" for the protest.
"Fifa believes in the freedom of speech, and in the power of football as a force for good," a statement said.
It was the latest and most high-profile show of dissatisfaction in Norway towards Qatar hosting the World Cup.
Earlier in March, top-flight side Tromso called for the Norwegian FA to consider boycotting the World Cup if they qualified. A number of other Eliteserien clubs then made similar requests.
The clubs were prompted to act by a report in the Guardianexternal-link last month which said 6,500 migrant workers have died in Qatar since the World Cup was awarded in 2010.
In response to that report, the Qatar organising committee said: "We deeply regret all of these tragedies and investigated each incident to ensure lessons were learned. We have always maintained transparency around this issue and dispute inaccurate claims around the number of workers who have died on our projects."
The Qatari government said the "mortality rate among these communities is within the expected range for the size and demographics of the population".
The country controversially beat rival bids from the United States, Australia, South Korea and Japan to host the tournament, with hundreds of thousands of construction workers arriving from overseas.
Qatar has been building seven new stadiums to stage the tournament, which has been moved to winter to avoid the country's extreme summer heat.
Earlier this week, Amnesty International called on Fifa to press Qatar to honour promised labour reforms before the tournament.
In a four-page letter to Fifa president Gianni Infantino, the human rights organisation said "urgent and concrete action" was needed.
In response, the Qatar government said it "is committed to working closely with its international partners, including Amnesty International, to protect all workers and ensure the new laws are effectively implemented and enforced".
The Football Association said in a statement that it recognises there was "evidence of some progress" in improvements of conditions for migrants, but said there was still more work to be done.
"We are working closely with all to ensure that, if we qualify, we approach our participation in the upcoming World Cup in a socially responsible manner," it added.
Netherlands head coach Frank de Boer said taking part in Qatar if they qualify for the World Cup "can better promote the cause", but added that talks about boycotting the event are justified.
"A lot of attention is now focused on whether we should go there if we qualify," he said before their 2022 World Cup qualifying campaign started with a surprise 4-2 defeat by Turkey on Wednesday.
"It is right to ask that question. Everyone knows that what is happening there is not good."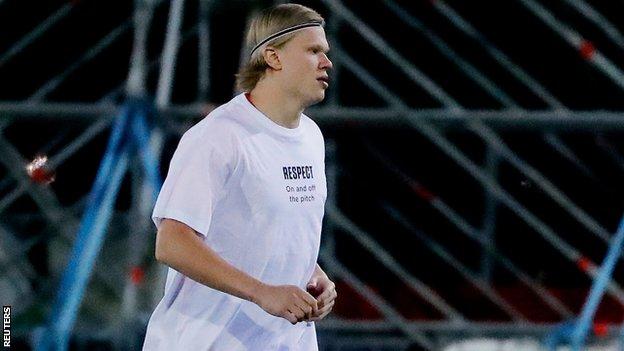 Line-ups
Gibraltar
Formation 5-4-1
23Coleing
4Sergeant
14Chipolina
6Wiseman
16MouelhiBooked at 76mins
12Mascarenhas-Olivero
10Walker
5AnnesleyBooked at 68minsSubstituted forBarnettat 72'minutesBooked at 79mins
3RonanSubstituted forBosioat 67'minutes
7CasciaroSubstituted forValarinoat 78'minutes
19De Barr
Substitutes
1Goldwin
2Valarino
8Badr Hassan
9Styche
11Pons
13Banda
15Barnett
17Borge
18Santos
20Peacock
21Moulds
22Bosio
Norway
Formation 4-1-2-1-2
1Jarstein
16SvenssonBooked at 61minsSubstituted forLinnesat 62'minutes
4Strandberg
6Lode
15Meling
18MidtsjøSubstituted forChol Nguenat 62'minutes
21Thorstvedt
11ElyounoussiSubstituted forHaugeat 45'minutes
10ØdegaardSubstituted forBergat 45'minutes
23HaalandSubstituted forKingat 62'minutes
9Sørloth
Substitutes
2Aleesami
3Ajer
5Østigard
7King
8Berg
12Hansen
13Grytebust
14Chol Nguen
17Linnes
19Fossum
20Hauge
22Thorsby
Match ends, Gibraltar 0, Norway 3.
Full Time