A report by MPs and peers is calling on ministers to reconnect communities and combat loneliness after coronavirus.
"I'm grinning and bearing it but that doesn't mean it's easy."
Raggie El-Koumos has lived on his own in Cornwall for the last 17 years, after his wife, Linda, died from cancer.
Being alone "is ok", he says, "but being lonely… it hurts, and Covid-19 is not helping that at all."
After conducting a year-long inquiry into loneliness, a group of MPs and peers is calling on the prime minister to commit to helping people reconnect socially when planning England's recovery from coronavirus.
Before the pandemic, Raggie used to go out to play bingo with some of his neighbours.
"I don't like the game much but I go there just for the company a couple of hours a week, just to talk to someone, to see someone," he tells me.
"For the last year, nothing's been happening, like for everyone else.
"I'm grinning and bearing it because everybody is in the same boat so there's no complaint here but that doesn't mean it's easy."
Raggie is 72 and, with a heart condition, he has been shielding. He finds it difficult to walk up hills so uses a mobility scooter to get around.
"I took my mobility scooter, I went to Tesco which is just about 400 metres away. I can walk leaning on my scooter and I just walked around, I didn't buy anything. I just walked around to see some people.
"I did that twice but I thought no, that's really sad, no more."
New research by the British Red Cross found that almost a third of UK adults are concerned about being able to interact with people in person in the way they did before the pandemic.
The Red Cross are now supporting Raggie by hosting a weekly zoom catch-up, which allows him to chat with others in a similar situation – he says it has been "a lifeline".
He hopes the group may be able to meet in person once lockdown is lifted.
The MPs and peers on the All Party Parliamentary Group (APPG) on Loneliness heard many experiences like Raggie's.
More than 500 submissions were made to the group's independent inquiry, which ran parallel with the pandemic.
They want to see public spaces made more welcoming, with more public toilets and better street lighting to make it easier for people to meet others informally.
They also want long-term funding for charities who help those who are isolated.
And they heard that people from black and Asian communities, and those with mental or physical health problems, had experienced particularly acute forms of loneliness.
Neil O'Brien, the Conservative MP who chairs the APPG says it's important to create informal opportunities to connect as well as supporting organised schemes.
"The role of chance encounters is really important," he says.
"Often the people most in need of more connection are the people who are most shy about going out and finding new people.
"Creating those chance opportunities to just get talking to people, to see a poster on a noticeboard with an invitation to come to something, are really important and they can have an effect that's far beyond the scale of the money required to make them happen," he adds.
And it's not just people who live alone who have experienced loneliness.
Ifeoma Anagu is 29 and lives in Liverpool with her partner and young daughter.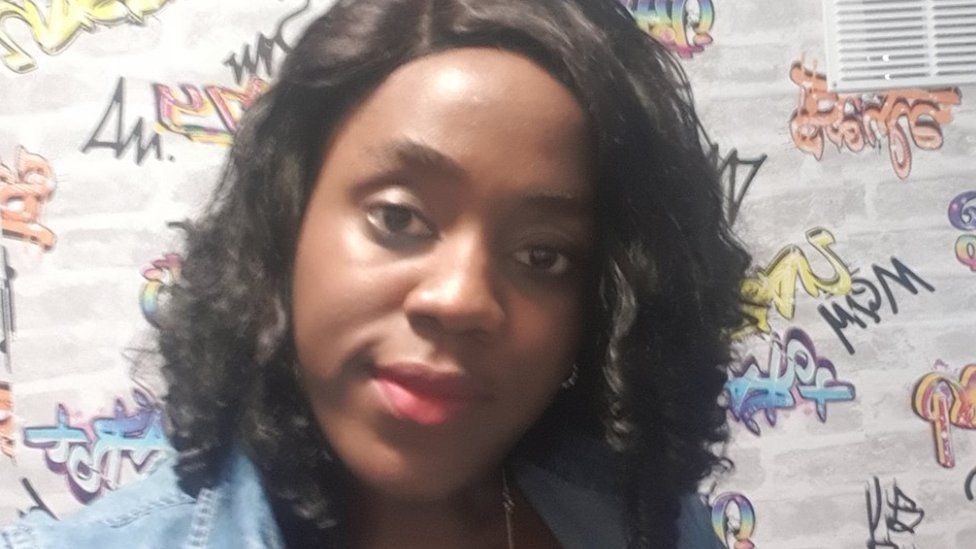 When the first lockdown was announced, she had to stop going in to her job as a support worker in order to shield because she has diabetes.
"I am used to going to work, seeing patients, trying to help them out. It's kind of my life, so when it stopped I felt I was missing out.
"I had never stayed at home for three weeks without going out.
"I just found myself staying in the room. I lived in the living room. I would just be there thinking about what I would do with my life.
"At some point I wasn't eating well. I was just thinking: 'what shall I do?'
"I kind of drifted from everyone but, at some point I thought: 'I can't allow this time to actually waste'."
Things changed for Ifeoma when she found a life coaching course online.
She gained a certificate and is now looking forward to life returning to something closer to normal.
"I can't wait to start jumping on the bus again, doing things that I used to do. Most especially, I am looking forward to taking my little one out because she's been home all throughout and she hasn't really met people.
"It's one thing to know that you are lonely and the second thing is to find a way to get out of it.
"If not, it might actually lead to depression. I didn't want that because I also have to be there for my little one and my spouse."

The British Red Cross commissioned a poll of 2,000 adults in the UK conducted between 5th & 9th March 2021
Around two in five (39%) UK adults don't think their feelings of loneliness will go away after the coronavirus crisis
Almost a third (32%) said they were concerned about not being able to connect with people in person in the way they did prior to the pandemic
30% of UK adults say a lack of facilities like public toilets, local bus services or accessibility adaptations will prevent them from meeting people when coronavirus restrictions lift
More than two fifths (42%) are concerned about feeling safe using public facilities and services while coronavirus is still present in the UK

The APPG has 15 recommendations for the government, which include taking combatting loneliness into account when planning new housing developments or transport connections.
Labour MP Liz Twist, who is also a member of the group, says she hopes the recommendations will "act as a catalyst to move forward further and faster with work to tackle loneliness right across government and in our communities".
"Tackling loneliness and reconnecting communities is vital if we are genuinely going to build back better," she adds.
British Red Cross Executive Director Zoe Abrams said it was crucial that the government's commitment to tackling loneliness "does not wane after this pandemic".
"The need for action on loneliness will only grow as we work to re-engage those who have been severely isolated during the pandemic.
"And those who have recently faced the life transitions which we know can lead to loneliness – such as poor physical and mental health, losing a job or losing a loved one," she adds.
The government says tackling loneliness is a "national priority".
NHS Volunteer Responders have been working to tackle loneliness throughout the pandemic and there will be a big focus on supporting people affected in the coming months.
And a new £4m fund will open soon for applications from small grassroots organisations, to build relationships in communities to help reduce loneliness.
A spokesman for the Department for Digital, Culture, Media and Sport said: "We recognise that the easing of lockdown restrictions will not mean the end of loneliness for many people, which is why this will remain a priority for the government.
"Since the beginning of the pandemic we have invested over £31.5m in organisations supporting people who experience loneliness – and a further £44m to organisations supporting people with their mental health."