The proposals come after AstraZeneca was accused of failing to honour its contract with the EU.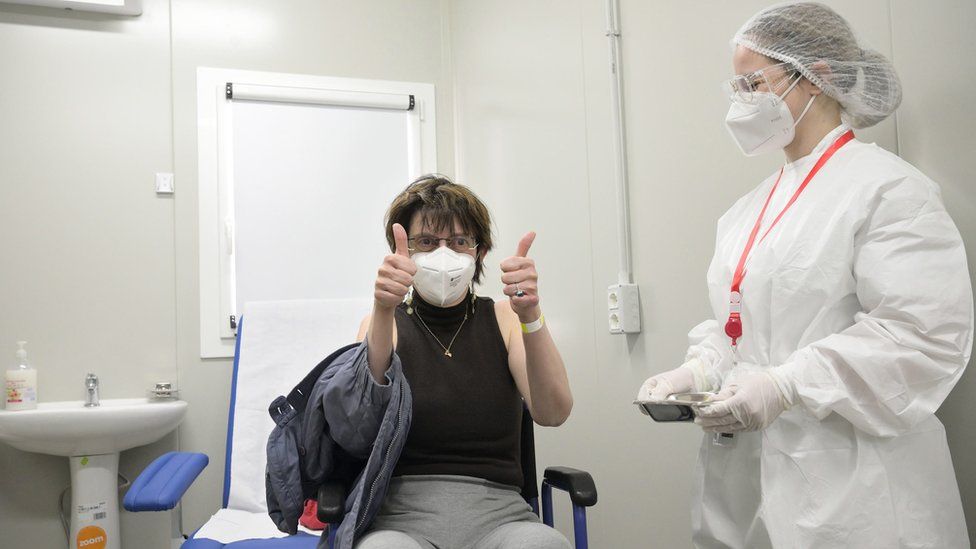 The European Commission has proposed tougher controls on Covid vaccine exports after it accused UK-Swedish firm AstraZeneca of failing to honour its contract to supply EU countries.
The plans, to go before EU leaders on Thursday, stop short of a ban but could inflame tensions with the UK.
Any shipment would be assessed on the destination country's rate of vaccinations and vaccine exports.
Meanwhile, 29 million AZ doses have been inspected in a raid in Italy.
The Italian government said the health squad of the military police had gone to "verify" batches at a plant in Anagni, near Rome, last weekend after a request by the European Commission.
The plant has a contract with AstraZeneca to fill the vials with vaccine and label them, and will do the same for the Johnson & Johnson vaccine, which is also approved for use in the EU.
La Stampa newspaper reported that the UK was a possible destination for some of the doses but a UK government official said it was not expecting such a delivery.
The Italian government said "the batches that were inspected were all aimed for Belgium". AstraZeneca said 16 million of the doses were "waiting for quality control release to be dispatched to Europe" while the other 13 million were to go to countries in the Covax vaccine-sharing scheme.
French government spokesman Gabriel Attal said after a cabinet meeting on Wednesday that AstraZeneca's failure to deliver on its vaccine commitments was "totally unacceptable".
The latest EU proposals are aimed at securing vaccine supplies. When asked whether the aim was to punish the UK in particular, EU Health Commissioner Stella Kyriakides said: "We're dealing with a pandemic and this is not seeking to punish any countries."
Asked in the House of Commons whether the UK might retaliate, Prime Minister Boris Johnson said he did not believe "that blockades of either vaccines or of medicines, of ingredients for vaccines" would be "sensible". Companies might draw conclusions about future investments "in countries where arbitrary blockades are imposed," he added.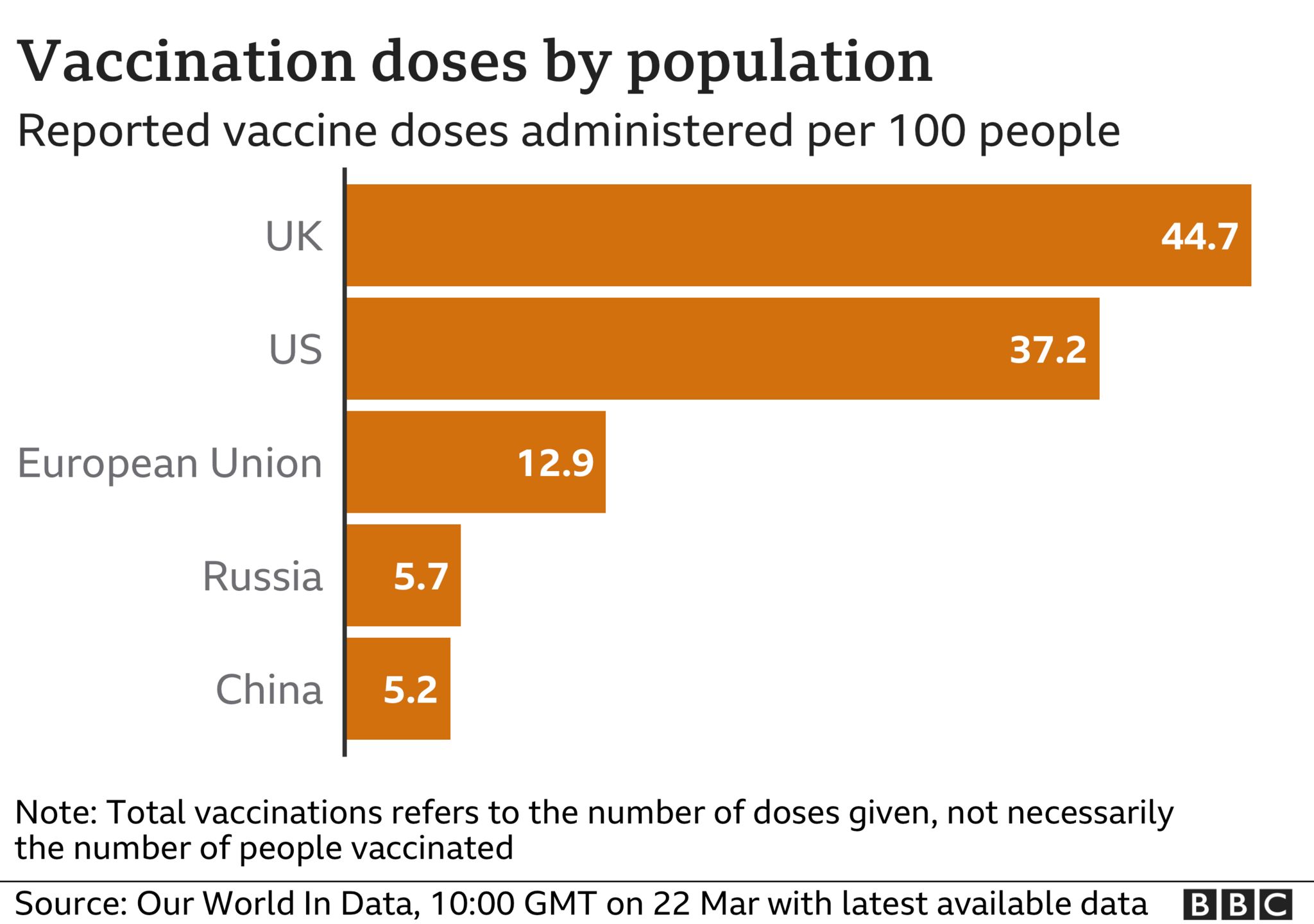 As infections rise across Europe, EU member states are trying to speed up Covid vaccination campaigns after a sluggish start, blamed partly on delayed deliveries of the AZ drug as well as safety checks.
Italian Prime Minister Mario Draghi said on Wednesday that on average 170,000 daily vaccinations had been carried out this month and that the objective was to increase that to half a million. He highlighted the large number of people and sites involved in the UK's vaccine drive.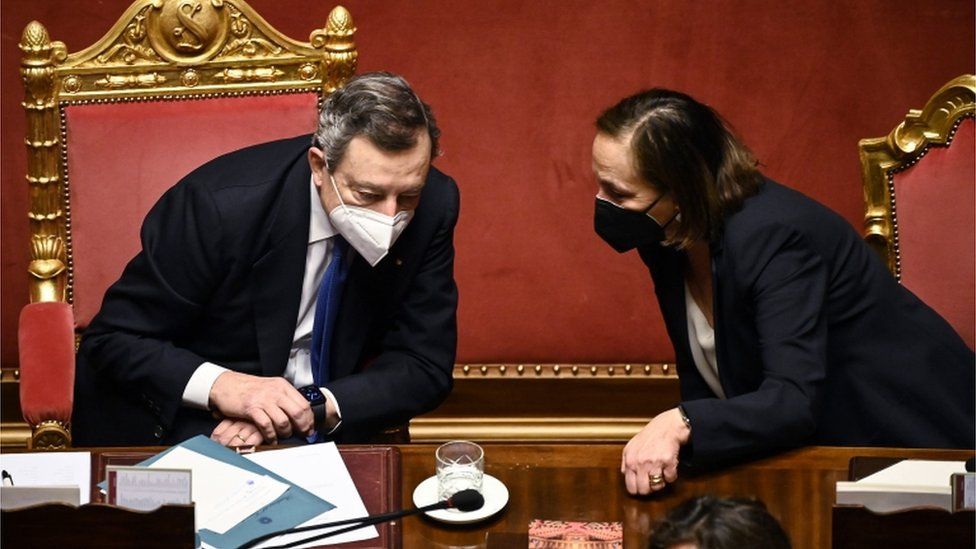 "We must ask pharmaceutical companies to fully respect their commitments on a European level," Mr Draghi said, calling for a supply chain that was not vulnerable to shocks and decisions made elsewhere.
Italy is one of 19 EU countries seeing a rise in Covid infections, according to the EU. Poland has reported a record 29,978 cases in the past 24 hours and France is considering whether to extend lockdown measures to three more regions including the Rhône.
The tougher export controls are most like to affect vaccine-exporting countries that have higher vaccination rates than the EU, such as the UK and US.
The key criteria for the proposed regulations are "reciprocity" and "proportionality":
The EU says there is no reciprocity if a country importing vaccines from the EU restricts exports itself either by law or other means, so "it may be appropriate to consider whether exports to this country are justified"
Member states and the Commission will also consider the epidemiological situation in that non-EU country, its vaccination rate and existing availability of Covid-19 vaccines.
There will be no outright export bans, which are opposed by countries such as the Netherlands and Belgium.
Vaccine manufacturers would be assessed to see if they were fulfilling their contract with the EU, although no specific algorithm is planned.
A UK government spokesperson said: "We are all fighting the same pandemic – vaccines are an international operation; they are produced by collaboration by great scientists around the world. And we will continue to work with our European partners to deliver the vaccine rollout."
Last week, European Commission President Ursula von der Leyen complained that the EU had exported more than 10 million doses to the UK but the UK had so far exported none in return.
Her colleagues added that this had to be seen in the context of the EU being both a global Covid hotspot and also the biggest exporter of vaccines. Since the end of January, EU countries have exported 43 million doses of vaccine to 33 countries not subject to export authorisation, they say.
UK sources insist vital components are being sent to the continent, for example for the Pfizer vaccine, and they have emphasised the UK's role in investing early in vaccine development, BBC correspondent Nick Beake reports.
The EU's 27 leaders will assess the proposals at a summit on Thursday, in which US President Joe Biden will also take part via video.