Boris Johnson says the UK will "feel effects" of growing case numbers in Europe amid a row over vaccines.
Boris Johnson has warned the effects of a third wave of coronavirus will "wash up on our shores" from Europe.
The PM said the UK should be "under no illusion" we will "feel effects" of growing cases on the continent.
His comments come amid a row over Covid vaccine supplies, after the president of the European Commission warning the EU could "forbid" doses made in the bloc from being exported to the UK.
EU leaders will hold a virtual meeting on Thursday to discuss their plans.
Officials confirmed the PM spoke to German Chancellor Angela Merkel and French President Emmanuel Macron on Sunday about the ongoing issue, which would affect exports of the Oxford-AstraZeneca vaccine made in Europe.
Mr Johnson said he "talked to EU friends repeatedly" during the pandemic and had been "reassured… over the last few month they don't want to see blockades".
Downing Street also said the European Commission President, Ursula von der Leyen, had told Mr Johnson earlier this year that the EU was not intending to restrict exports of vaccines.
Earlier, her chief spokesman, Eric Mamer, insisted that Brussels was not seeking to ban vaccine exports, but wanted pharmaceutical firms to meet their contractual obligations to the bloc.
Mr Mamer said: "In that context, the president has said that, of course, we see that, actually, companies that manufacture doses in the EU have been exporting very widely – which is in itself a good thing – but that we want to see reciprocity and proportionality in these exports."
The latest flashpoint appears to be over doses made in a Dutch factory.
Asked if he was worried about the row, Mr Johnson told reporters: "I am reassured by talking to EU partners over the last few months that they don't want to see blockades."
But he went on to issue a warning about what the growing infections in Europe could mean for the UK.
The PM said: "On the continent right now you can see, sadly, there is a third wave under way.
"And people in this country should be under no illusions that previous experience has taught us that when a wave hits our friends, I'm afraid it washes up on our shores as well."
He added: "I expect we will feel those effects in due course. That's why we're getting on with our vaccination programme as fast as we can."
Several European leaders paused rollout of the vaccine amid concerns of a possible link with blood clots. UK and EU regulators said there was no evidence the vaccine causes blood clots.
European leaders have faced criticism for the slow pace of the vaccine rollout on the continent.
The EU has encountered production problems with the Pfizer-BioNTech, Moderna and Oxford-AstraZeneca vaccines.
British-Swedish manufacturer AstraZeneca said the fact that EU contracts were signed later than with the UK caused problems with supplying their vaccine.
Downing Street has previously said that it does not believe that vaccine supply issues will affect the current road map for easing lockdown restrictions.
Irish Taoiseach Michael Martin said it is vital that supply chains were kept open.
Speaking on RTE Mr Martin said: "Once you start putting up the barriers, other people start putting up barriers globally and it could lead to everybody losing. We'd all lose in that situation."
"I think this is a retrograde step", he added.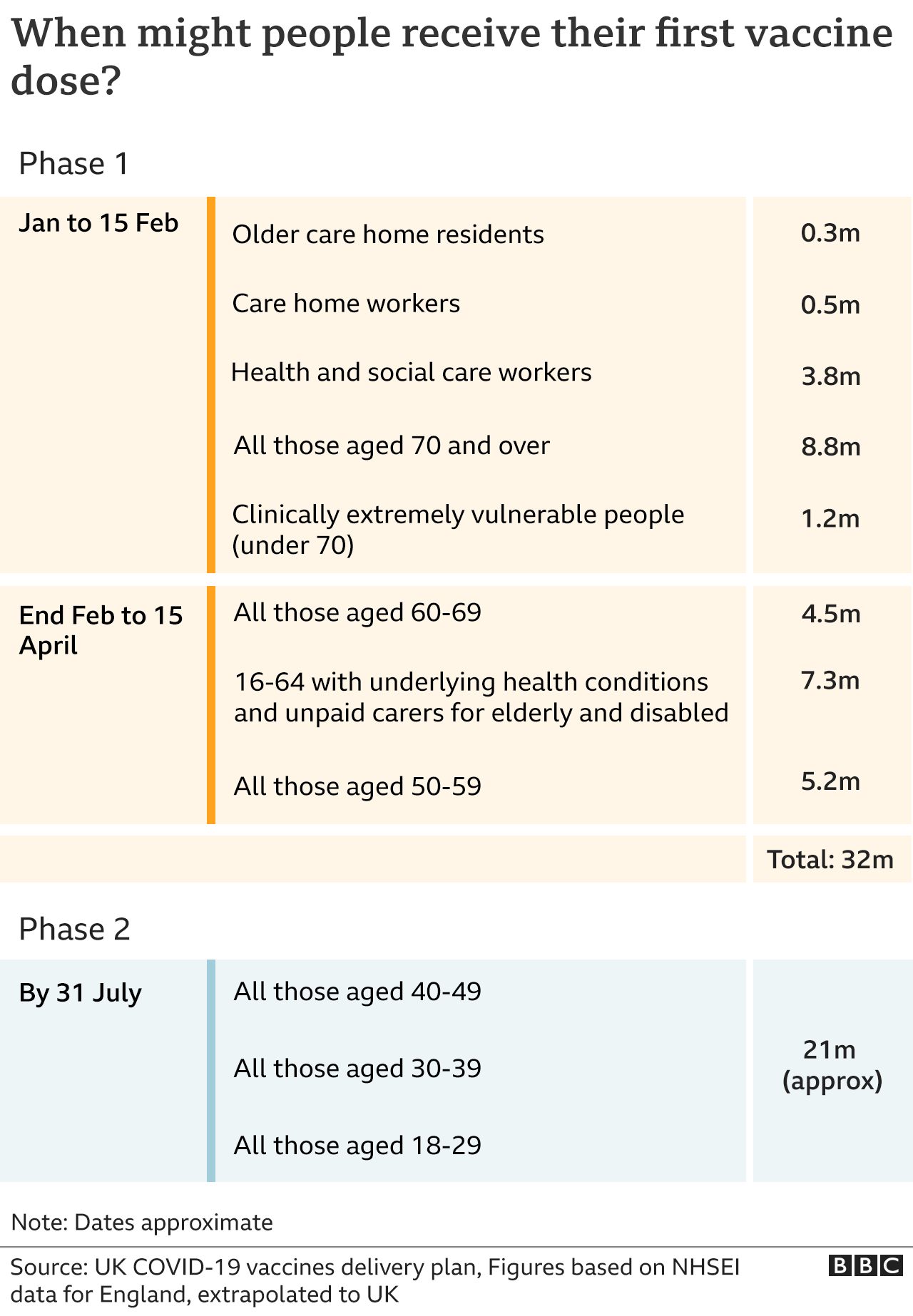 Health and Social Care Minister Helen Whately told BBC Breakfast the UK was "on track" to meet its target of offering the vaccine to the top nine priority groups by 15 April and to all adults by the end of July.
There is also enough supply to ensure people have their second doses, she added.
But the Guardian says a report by data analysts Airfinity suggests that if an export ban was applied to all vaccines – including those from Moderna and Johnson & Johnson that have yet to be deployed in the UK – it would see the offer of a first vaccine to every adult completed in late August rather than the target date of 31 July.


The prospect of a third coronavirus wave won't engulf anyone with joy. So why did Boris Johnson highlight this danger today?
Privately and publicly ministers are making it clear that they don't want to delay the dates in England's roadmap out of lockdown.
There will be a vote in Parliament on coronavirus restrictions later this week.
So by stressing the risk that the virus still poses, the PM may be hoping to convince restless backbenchers that he can't go any quicker.
He may also be trying to persuade vaccinated people with itchy feet that booking spring or summer holidays would still be premature.
He is preparing us, too, for the strong possibility that cases could rise in the coming weeks – not just because of "incoming" risks, but because rules here are being slowly relaxed.
But by stressing the shared threat from the coronavirus – i.e. the sooner the EU population is vaccinated, the less chance of importing a third wave – his comments could be also be clearing the way for more UK/EU vaccine co-operation, and the dousing down of an inflammatory row with Brussels.

Mrs von der Leyen said that 41 million vaccine doses have been exported from the bloc to 33 countries in six weeks, with more than 10 million jabs going to the UK.
She has said that, in contrast, the EU is still waiting for vaccine exports from the UK and she warned last week that if supplies in Europe do not improve, the bloc "will reflect whether exports to countries who have higher vaccination rates than us are still proportionate".
Article 122 of the EU treaty allows measures to be taken "if severe difficulties arise in the supply of certain products". Those measures could in theory include export bans and the waiving of patent and intellectual property rights on vaccines.
Mrs von der Leyen said this weekend that the bloc has the power to "forbid" exports, adding: "That is the message to AstraZeneca."
A government source has described the latest reports from the EU as "concerning".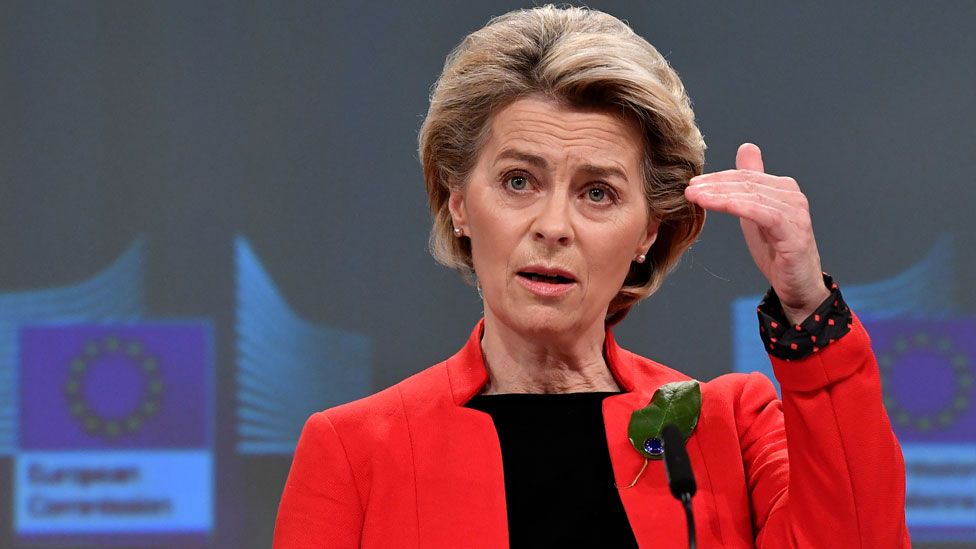 Labour leader Sir Keir Starmer said the UK government was right to say that contractual obligations need to be honoured.
Sir Keir told LBC that the EU was not "helping itself", adding: "I don't think that they should go down this road of banning exports."
The latest point of contention between the UK and the EU appears to be over vaccine doses being manufactured at a plant in the Netherlands, with an EU official telling Reuters news agency that those doses should be distributed among member states, and not sent to Britain.