Moves include a pilot scheme to put plain-clothes police in clubs and extra funding for lighting.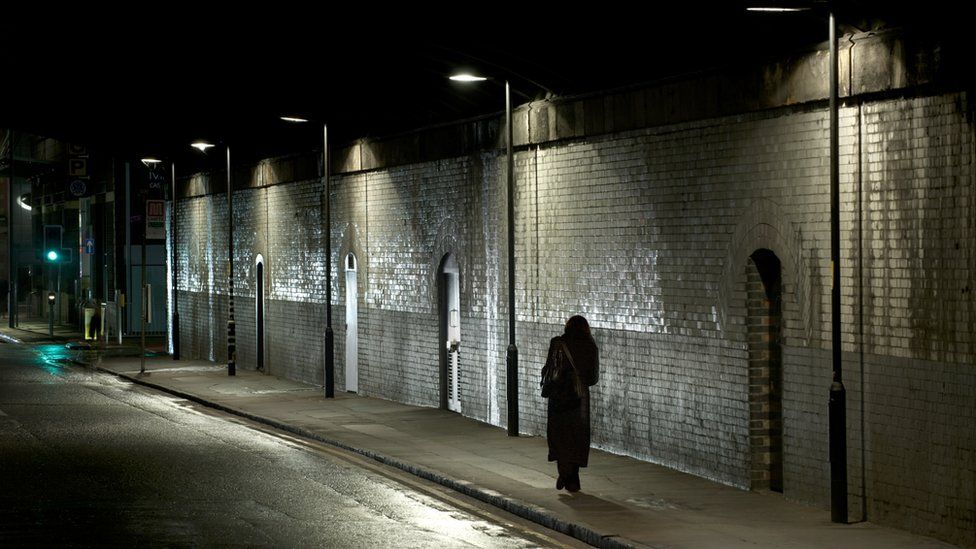 "Immediate steps" aimed at improving safety for women and girls in England have been announced by Downing Street after Sarah Everard's death.
Among them is an additional £25m for better lighting and CCTV as well as a pilot scheme which would see plain-clothes officers in pubs and clubs.
Labour said the funding would replace only a fraction of cuts the government has made previously.
Ms Everard went missing while walking home from a friend's house on 3 March.
Her body was later found in woodland in Kent and Metropolitan Police officer Wayne Couzens, 48, has been charged with the marketing executive's kidnap and murder.
Following a meeting of the government's Crime and Justice Taskforce on Monday evening, Downing Street said it would take "immediate steps" to give "further reassurance" to women and girls in the wake of Ms Everard's death.
No 10 said it would be doubling the size of the Safer Streets fund – which provides local measures such as better lighting and CCTV – to £45m.
Undercover police could be sent to clubs, bars and popular nightspots to relay intelligence about predatory or suspicious offenders to uniformed officers, in pilots of so-called Project Vigilant, rolled out across the country.
Prime Minister Boris Johnson – who chaired the meeting – said the government was bringing in "landmark legislation" to toughen up sentences and put more police on streets.
He said: "Ultimately, we must drive out violence against women and girls and make every part of the criminal justice system work to better protect and defend them."
Labour shadow home secretary Nick Thomas-Symonds said the measures were "nowhere near good enough" and called for "urgent action" on issues like harassment of women, domestic homicide sentencing and more support for victims of rape.
A spokeswoman for organisation Reclaim These Streets said it welcomed additional funding but did not believe funding alone would create the structural changes which were "so important".
"Women won't be able to trust that they are safe until misogyny and racism are tackled at an institutional level within government, police and the criminal justice system," she said.
Safeguarding minister Victoria Atkins said Project Vigilant would see undercover officers working in the night-time economy, feeding in intelligence to uniformed officers so "if there is someone they are suspicious of they can go in and deal with them".
She said the government would work with businesses and police to ensure as the industry reopened following the coronavirus lockdown "we are sure that women can feel safe in our streets".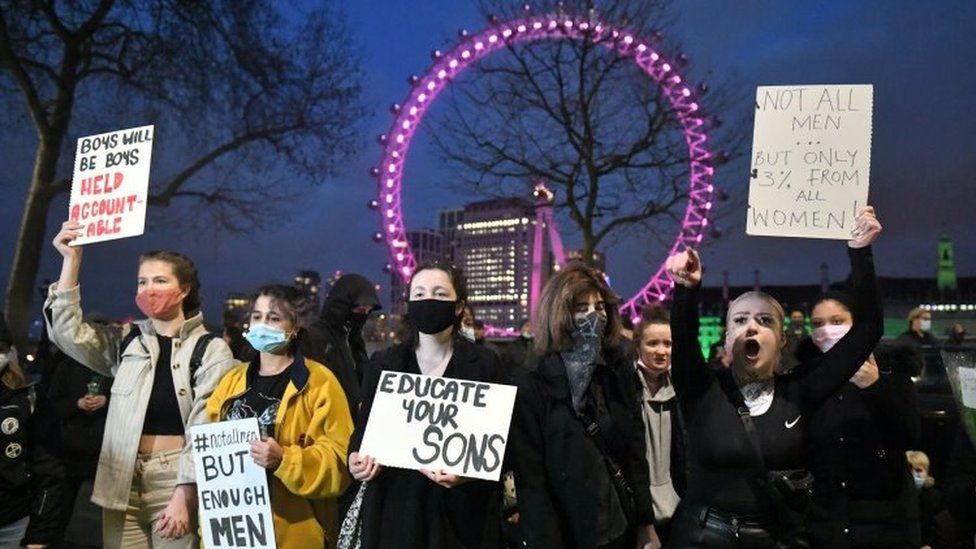 During that event, officers handcuffed and removed several women after crowds gathered on Clapham Common to lay flowers and pay their respects.
On Monday, hundreds marched across central London in what was said to be a meeting by Sisters Uncut, which describes itself as an "intersectional feminist direct-action collective", with many of those in attendance carrying placards.
Four people were arrested – three on suspicion of breaching coronavirus regulations and a fourth on suspicion of assaulting an emergency worker. A further two people were issued with fixed penalty notices, the Metropolitan Police said.


Police took a hands-off approach at the main demonstration in Parliament Square on Monday evening.
After that broke up, a few hundred protesters moved off and started randomly following a route through Westminster towards London's West End.
At first they tried to sit down and occupy roads – including outside Scotland Yard – but every time they stopped, they were told by police they needed to move on because of Covid regulations.
And so what began as a vigil in Parliament Square became a somewhat chaotic parade through Theatreland and the quiet, locked-down London streets.
Eventually teams of police officers began trying to pick off stragglers, instructing them to go home in line with the lockdown rules – or face fines.
Some left, some appeared to get tickets.
But the way they acted tonight is exactly the type of disruption that may in future be targeted.

Meanwhile, MPs will continue debating the Police, Crime Sentencing and Courts Bill later, which would change how protests are managed, including allowing police to impose conditions such as start and finish times.
Labour has criticised the bill saying it did "nothing to help women feel safer", and imposed "disproportionate" controls on freedom of speech.
Ms Patel said the bill would end the halfway release of those convicted of sexual offences such as rape and also said the Domestic Abuse bill was on track to receive royal assent by the end of April, which she said would "transform our collective response to this abhorrent crime".