Users of the betting company say they have lost thousands of pounds after the operation was suspended.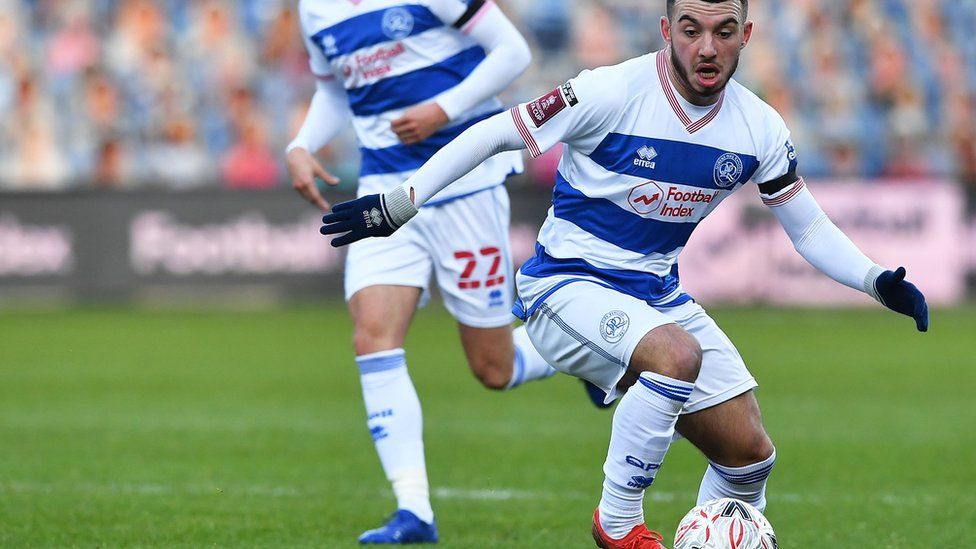 It's been sleepless nights and cold sweats for customers of Football Index, the gambling company whose collapse into administration has left people facing huge losses.
"I feel embarrassed and cheated," Ben told the BBC. He's not alone. Social media and online chat threads are alight with anger and dismay at the rapid demise of one of the UK's fastest growing betting firms.
In the couple of weeks before Football Index called in administrators to run the business, Ben, aged 22, lost more than £4,000 in seven days, £1,400 of which disappeared in 24 hours. It's now possible he will lose all his £6,500 deposit in the firm.
"I'm employed, I live at home, and I've not got many overheads. I'm only responsible for myself right now, but there are people out there with families who have been hit a lot worse."
Like other people who spoke to the BBC – young, male and red-faced at losing so much money – Ben did not want to disclose his surname.
"The crash has affected me mentally," he said. "Everyone affected by this wants to say how disappointed they are with the leadership of Football Index."
The Jersey-based company styled itself as a "stock market of football". Gamblers, which it called punters, bought and sold "shares" in professional footballers, earning dividend payments depending on the players' performance and rising – or falling – value.
Launched in 2015, it soon became a fixture of the sports betting sector and was a sponsor of Queens Park Rangers and Nottingham Forest football teams, which have removed branding.
Now, Football Index risks becoming the biggest failure in UK gambling history. Reports suggest punters stand to lose up to £100m.
Jack, 24, told the BBC: "I have always been really into football. But I was never interested in traditional football betting. Football Index had a stock market element, which attracted me. It combined my interest in analysing the game."
He has already lost £5,000, and fears his remaining £2,500 locked up in the business will go. "I earn a modest public sector wage, so £7,500 goes a long way."
He says that, with hindsight, there were signs Football Index had been "going downhill for a while". But things turned really sour on 5 March.
The company cut dividend payouts on players, sparking a crash in their "share" value. There's also concern that Football Index had recently issued "shares" in new players, which encouraged people to "invest".
What angers customers is that these were corporate policy changes, and nothing to do with footballers' performances. "We all knew that if a footballer broke a leg or moved to China, that would affect the value," he said. "This was different."
Another Football Index customer put it this way: "If I'd put £1,000 on the 3.15 at Ascot and it came last, that's my fault. I'll take the hit." But Football Index "moved the goalposts in the middle of the game", he believes.


"£20,000 is a lot of money to lose. I have been putting money into Football Index since 2016, when I was 18. A year ago my portfolio was 100% up.
"The drop in value of my portfolio sets me back a lot. Most of it was savings. I've seen Football Index as my savings account.
"I will have to think about what to do without that substantial money and I have made cutbacks in my personal life. I've moved out of London and back into the family home. I used to be quite free with my spending but now I tell myself that I can't spend anything.
"I would have wanted to buy property with the money – put it down as a deposit.
"Mentally, football doesn't give me the same enjoyment. I put a lot of energy into my portfolio. After five years of putting energy into it, it's all been sucked out."

Jack says it was almost a relief when management called in administrators to try to salvage something from the business.
"For days (before the collapse) I'd been struggling with what to do – pull out what money was left, hang on for an upturn," he said. "There's been talk of legal action. I've considered that. Now the decisions have been taken out of my hands. It's lifted a worry."
Some critics argue Football Index was akin to a Ponzi scheme. "To pay out dividends, it required more customers to deposit money. When that dried up, the problems started", said Matt Zarb-Cousin, of the Campaign for Fairer Gambling and an former gambling addict.
"Football Index is an unsustainable business model. They created a stock market out of assets they themselves created. The football players on the market had no underlying value," he said.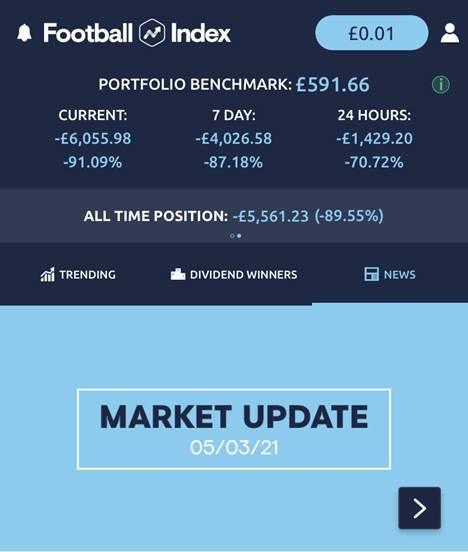 Jack thinks the Ponzi comparison is unfair. Gamblers knew what they were getting into – they just didn't expect Football Index to suddenly change it terms, he said.
"The concept is still brilliant. It was fun. If there was a change of management I'd be willing to give them a second chance – but I'll definitely reduce my (financial) stake," he said.
Jack, and Mr Zarb-Cousin, agree on one thing, though: the Gambling Commission (GC) has a lot of questions to answer.
"Football Index should never have been given a license. Did the Gambling Commission really understand what they were approving? They should certainly have acted earlier," Mr Zarb-Cousin said.
James Grimes, an ex-gambler and founder of the The Big Step campaign group, said: "It comes as little surprise to many of us harmed by gambling that another company has failed to protect its customers from immeasurable harm.
"The immediate financial impact on the people caught up in this failure is devastating, but the damage to mental health and affected others is too much to contemplate, especially when gambling-related harm incurs such a high suicide risk."