Head teachers warn of pushy parents lobbying for higher GCSE and A-level grades in cancelled exams.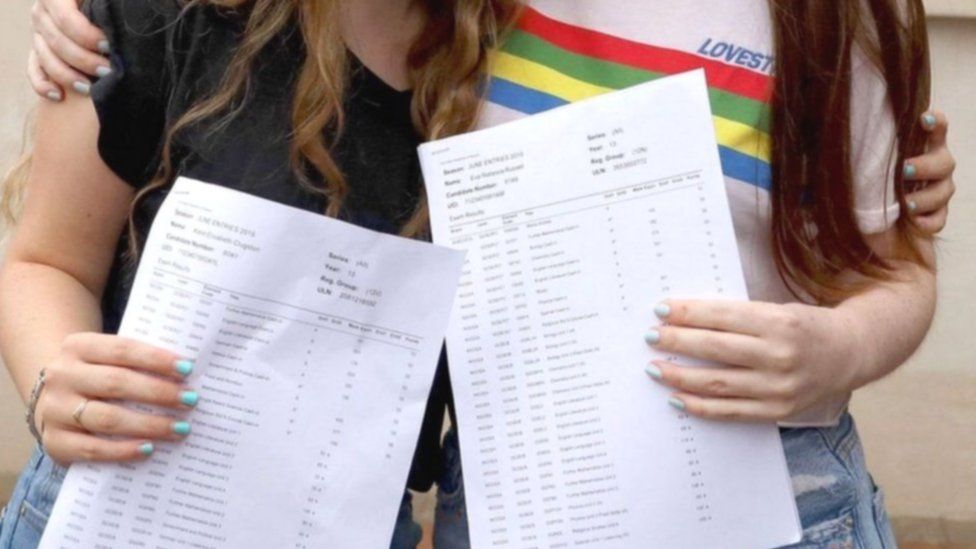 Parents are emailing teachers to lobby for higher GCSE and A-level grades, warn head teachers – with teachers' grades replacing exams this summer.
Richard Sheriff, president of the ASCL heads' union, warned of parents with "pointy elbows and lawyer friends".
He suggested it was particularly schools in affluent areas where parents would try to sway teachers.
Mr Sheriff said it "really worries me" that this pressure could widen the social divide in exam results.
Geoff Barton, the heads' union's general secretary, gave an example of a teacher who had been emailed by parents over the high grades needed for their daughter's ambition to become a doctor.
"We have to protect individual teachers," said Mr Barton.
This summer's GCSE and A-level exams have been cancelled in England, Wales and Northern Ireland, and instead teachers will submit grades for pupils, based on evidence such as coursework, essays and assessments set by exam boards.
Mr Barton said that "raises the spectre" of parents trying to intervene on behalf of their children.
He urged schools to remind parents that exam boards would issue results – and not teachers – and that the boards would carry out spot checks on how grades were being decided.
He criticised the idea that the pupils' grades would be a "negotiation".
This should not be about parents who "shout the loudest to get their child the furthest", said Mr Sheriff, an executive head teacher in Harrogate, North Yorkshire.
Simon Lebus, acting chief exam regulator, this week warned the Education Select Committee that parents could make teachers feel "uncomfortable" with an "intrusive interest" over exam grades.
There have also been concerns about grade inflation, if teachers are too generous in their grade estimations.
Speaking ahead of ASCL's annual conference, being held online, the head teachers' leaders also raised concerns about the risks of Covid being spread by young people meeting and mixing outside of school.
Mr Sheriff said schools "only have control over a small part of the day" – and that outside school, young people seem to "have taken licence" to start socialising.
"Young people, particularly teenagers, are gathering, they're meeting in each other's homes," said the North Yorkshire head.
There were warnings too about confusions over the rules of Covid testing – but head teachers said so far there seemed to be low numbers of positive cases being reported from the mass testing running in secondary schools this week.
But there had been isolated cases of pupils being sent home – including a third of one year group who had been in contact with a pupil who had tested positive.
This week millions of pupils have returned to school in England, and some younger children in Northern Ireland, and the heads reported "very high levels of attendance".