Captain James Tavernier hails Rangers' "monumental" achievement as they are crowned champions of Scotland for the first time in 10 years.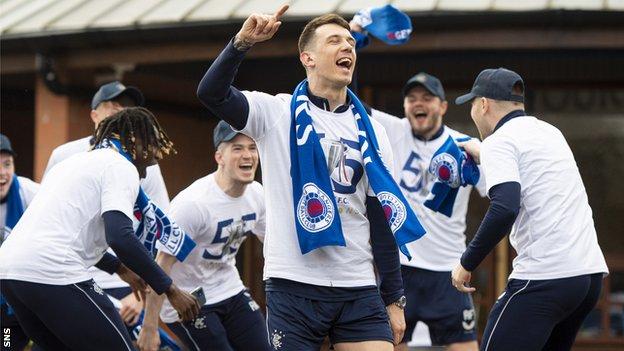 Gerrard's side, who beat St Mirren 3-0 on Saturday, have a 20-point lead with six games remaining and have denied Celtic a 10th title in a row.
It is the former Liverpool and England captain's first trophy as a manager, in his third season at Ibrox.
"It is very difficult to put into words right now," the Rangers boss said.external-link
"I'm on a real, emotional high and it has been a journey that is not finished.
"There is more to come and the next thing for me, when you win, it is always about what is next, and I am so proud of the players first and foremost – they are the most important people inside the club.
"But they are not as important as the supporters – they are what makes this club and it is for them and we have been down at times, really low at times, but this is an incredible high."
It is the earliest Scottish title win in chronological terms, and ends Celtic's bid for an unprecedented 10th successive crown.
Rangers have dropped just eight points in an unbeaten Scottish Premiership campaign so far, with their victory on Saturday their 28th win in 32 matches.
They have scored 77 goals and conceded just nine – only two of which have been at Ibrox.
The Glasgow club were in the bottom tier of Scottish football as recently as 2012 after their financial collapse, and returned to the top flight five years ago.
Rangers' first game as champions will be the third Old Firm game of the campaign at Celtic Park on March 21.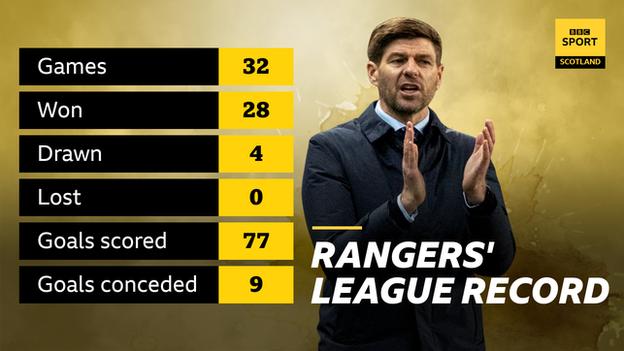 'Gerrard had entire club to fix' – analysis
BBC Scotland's chief sportswriter Tom English
When Gerrard took control as manager he didn't just have a team to rebuild, he had an entire club to fix. Recruitment and scouting and attitude – he had to strip it down and start again.
For a rookie boss in the white heat of Glasgow football up against the red hot Brendan Rodgers it was an Everestian challenge, but Gerrard put the building blocks in place, slowly – too slowly for many – but surely.
He got backed by his board, bought wisely and grew. Gerrard has turned a 39-point deficit on Celtic in the season before he arrived into a 20-point advantage. A difference of 59 points. This is nirvana stuff to every Rangers fan.
'They thoroughly deserve it' – reaction
Former Rangers player & manager Graeme Souness: "Delighted for Steven Gerrard and all his team. Celtic have had a period of dominance, which has been, I'll say, uncomfortable for us Rangers supporters. They thoroughly deserve it. They've been fantastic all season and I just wish I was in Glasgow right now."
Former Liverpool defender Jamie Carragher: "They must have been terrified for years that record [nine straight titles] would have been beaten by Celtic. When Gerrard came in, that was the name of the game to stop Celtic achieving that. They've come a long way, but they'll be hoping the glory days are back."
Rangers captain James Tavernier: "There's no words that can describe it. I'm absolutely delighted for the club, the players, and especially the fans. To do it this year with everything surrounding this season, it's monumental."
Former Rangers captain Lee McCulloch: "It's been a little bit emotional; 10 years is a long time to wait. Every Rangers fan all around the world will be celebrating this tonight.
"The club hit rock bottom. It's been a slow climb back up but today is all about Steven Gerrard and his squad. The changes Steven has made, the leadership he's shown, the recruitment, on and off the pitch the club has been fantastic."
Former Rangers captain David Weir: "To wrap it up so early with such a points gap is a credit to the players and staff. The level of consistency has been incredible. Great credit to Steven Gerrard for the team he's built and the players for taking it on. To finally get the title back to Ibrox is a massive relief and a massive joy for everyone at the club."
Speaking to Rangers TV, midfielder Glen Kamara said: "It's a surreal moment. I don't even know how to feel right now. Everyone's just trying to live the moment just now. We'll just enjoy today."
Midfielder Joe Aribo on Rangers TV: "My aim was to come here and win trophies and titles, that's what we've done. I've achieved what I wanted to achieve, but obviously there's more to come."
And veteran forward Jermain Defoe told Rangers TV: "I've dedicated my whole career and my whole life for these kind of moments. I always knew it would happen at some point in my career."