The PM says the return of schools in England on Monday is the "first step" towards "normality".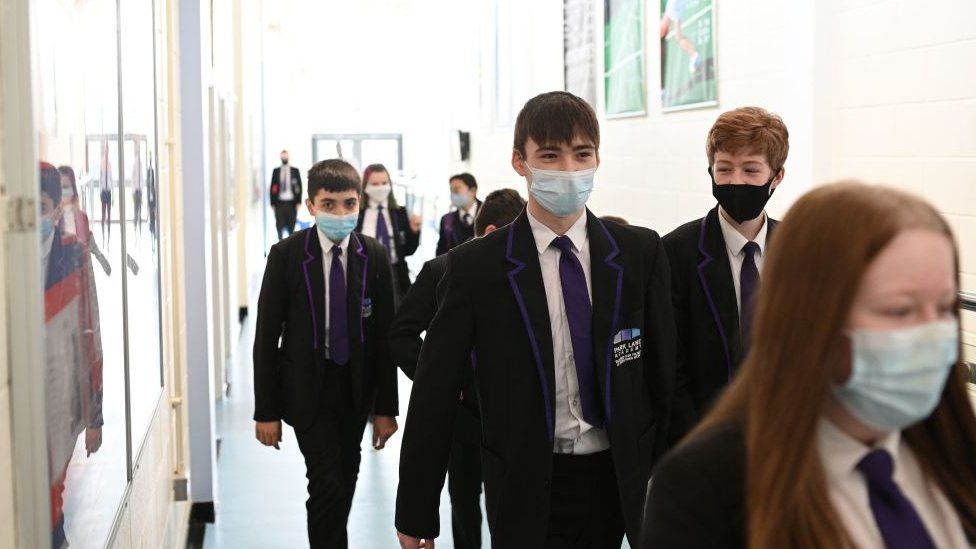 Boris Johnson has said the country is starting to move towards a sense of "normality" as schools in England get ready to open to more pupils on Monday.
The PM has urged the public to stick to the rules as the government follows a "cautious" approach to easing lockdown.
Monday marks the first step of the "roadmap" out of national restrictions.
But the UK's largest education union has accused the government of failing to put adequate safety measures in place ahead of schools reopening.
All pupils in all years can return to schools and colleges in England on Monday, and attendance will be mandatory – meaning they should not miss school without a valid reason.
However, secondary schools have been told that year groups can return on different days over the first week to allow for Covid testing.
And pupils who are shielding have been asked to remain at home for a bit longer.
In 7% of schools, it suggested, this will stretch into a second week.
Dr Mary Bousted, joint general secretary of the National Education Union (NEU), said secondary and post-16 education leaders have struggled to get parental consent for the testing of pupils and said there needed to be a bigger ministerial push to encourage take up.
"Ministers had two months to make schools and colleges safer but failed to put the necessary measures in place to achieve this," she said.
The NEU has called for a phased return to schools in England – similar to the process in Scotland and Wales, where whole year groups are returning separated by several weeks.
Implementing the testing system was resulting in a "de facto phased return" which should be allowed to continue "beyond the period necessary", Dr Bousted said.
Ges Smith, head teacher of Jo Richardson Community School in east London, told BBC Breakfast that testing its 1,600 students would be a "military-style operation".
The school tested its sixth form pupils on Friday and will begin a phased return over the next week, with 6,000 tests carried out over the next fortnight.
He added that some children "haven't been out the house since January" and would have high levels of anxiety about returning, "so that transition back to school is enormously important".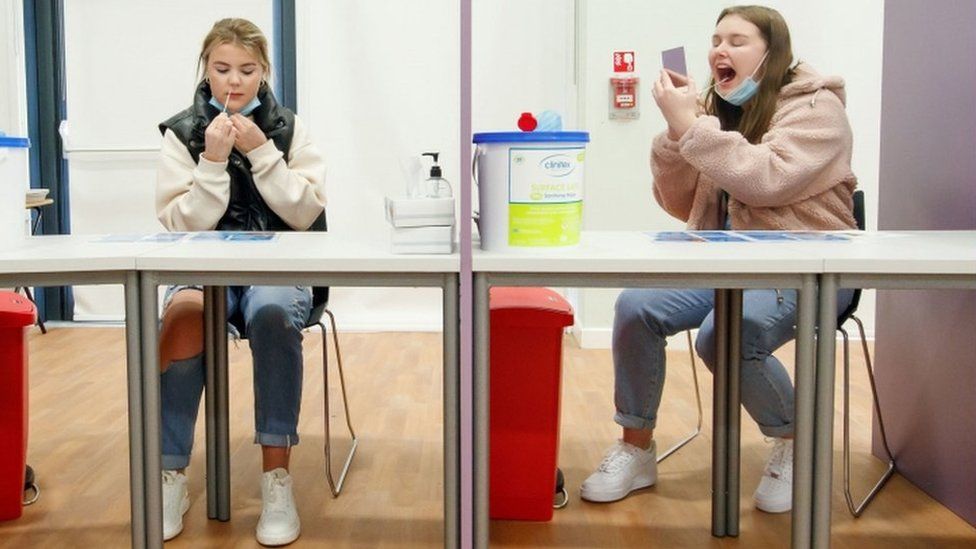 According to the PM's roadmap, the second part of stage one – which will allow outdoor gatherings of either six people or two households – is due on 29 March.
Further lifting of the rules will then happen if certain conditions are met, with shops possibly allowed to open by 12 April and all restrictions potentially lifted by 21 June.
Mr Johnson stressed the government was being careful "so that we do not undo the progress we have made so far" and urged people to take up the vaccine and get tested when necessary.
The PM said it was due to the "determination" of everyone in the country "that we can start moving closer to a sense of normality", praising the "truly national effort" against Covid.
His comments come amid concerns that pupils may be forced to self-isolate unnecessarily because of inaccurate Covid test results.
Downing Street said nearly 57 million lateral flow test kits have already been delivered to schools and colleges as part of the rollout.
The tests involve taking a swab of the nose and throat. The sample is then inserted into a tube of liquid and gives a result within 30 minutes.
Students will be tested for the virus three times in the first two weeks of school.
After that they will be given two tests each week to use at home.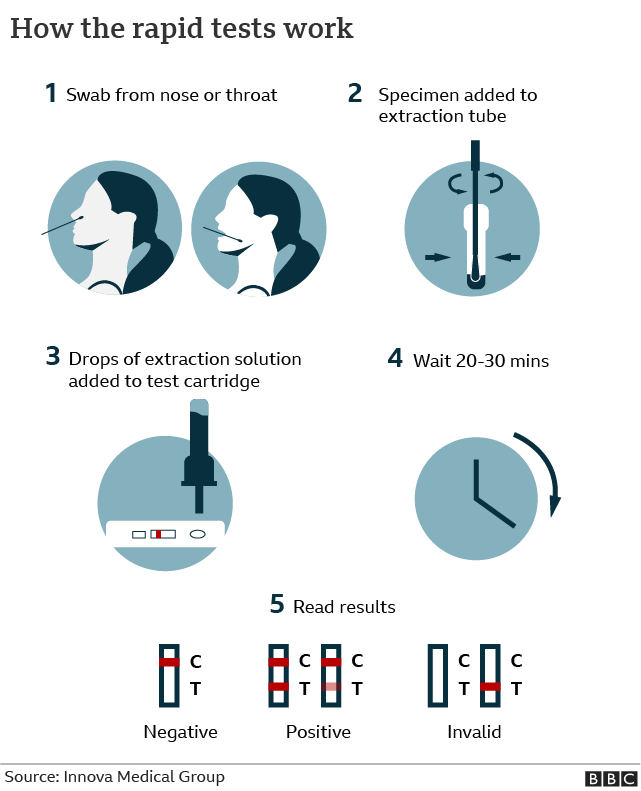 Research suggests that the lateral flow devices can offer a false positive result between one and three times for every 1,000 tests carried out.
Professor Sheila Bird, a member of the Royal Statistical Society, said it was "very likely" a lateral flow test could give a false positive reading.
She said every positive lateral flow test of a pupil should be checked with a more reliable PCR (polymerase chain reaction) test to ensure it is accurate.
This is being done for tests that are done in people's homes, but not for those carried out in school.
Meanwhile, a survey has shown that the majority of parents in England will be happy to send their children back to school.
But two-thirds are concerned about the amount of learning lost.
The research by the Institute for Fiscal Studies reveals some parents think that their child will never catch up.
But Kate Green, Labour's shadow education secretary, said the funding does "not make up for the learning and time with friends that children have lost", adding there is no specific mention of supporting children's mental health or wellbeing.
Asked by Sky News' Sophy Ridge whether plans to help pupils catch up could include shortening summer holidays, Education Secretary Gavin Williamson said the government was looking at "a whole range of different proposals", including a five-term year, changes to holidays and lengthening the school day.


Secondary school and college students are also being asked to wear face coverings in classrooms, where social distancing cannot be maintained, as an additional safety measure set for review at Easter.
But the measure is not mandatory, and in primary schools pupils are not being required to wear face coverings when they return to face-to-face lessons. Nor will they be tested.
England's chief inspector of schools Amanda Spielman said she hoped mask wearing would only be needed for "a short time" so children could return for the summer term able to see everyone's faces fully.
There are different rules on schools across England, Scotland, Wales and Northern Ireland, as the UK's devolved nations have the power to set their own coronavirus restrictions.
The youngest pupils have already returned to school in Scotland and Wales, while some primary school pupils in Northern Ireland also return to school on Monday.
In Wales, some secondary school pupils will return on 15 March, with all secondary-age pupils back in the classroom full-time from 12 April.