Williams are forced to abandon an augmented reality launch of their new Formula 1 car when the app they had designed was hacked.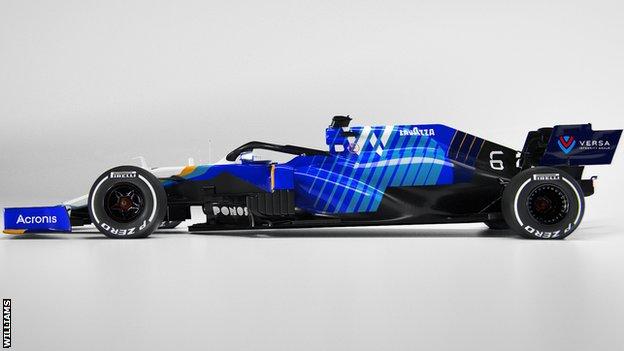 The app was intended to allow users to view and manipulate the car in its new livery in 3D.
The hackers took the information in the app and leaked the image of the car online before the scheduled launch.
The car has a blue, white and yellow colour scheme intended to evoke their glory days of the 1980s and 1990s.
New chief executive officer Jost Capito said the livery "signposts our ambition to return to the front of the grid".
Capito added: "While we are just starting out on this journey and there is still a lot of work to do, we are happy to see momentum in the right direction and look forward to continuing that progress on track this season."
Williams apologised for having to abandon plans to launch the car via the app.
A statement said: "We were very much looking forward to sharing this experience with our fans, particularly during this difficult time when being able to bring in-person experiences directly to our fans is sadly not possible."
The team, one of the most successful in the history of F1, have finished last in the constructors' championship for the past three seasons and last year the Williams family stepped away from the team after it was sold to investment group Dorilton Capital.
What are Williams' hopes for 2021?
Capito, who joins Williams after a long career as an executive in motorsport and the car industry, said: "We are at the dawn of a new era.
"I would characterise 2021 as a transitional year where the aim is to close the gap as much as possible but we are very much focused on 2022 and the new regulations."
Rule restrictions made on cost-saving grounds mean all teams are limited in the changes they can make to their cars this year, and team principal Simon Roberts said: "We are not expecting massive changes to the pecking order."
However, teams have had to adapt to changes to the rules governing the rear floor aimed at slowing the cars down by restricting aerodynamic downforce, while modifications to bodywork are free.
Driver George Russell said: "We have made good improvements on our car but we don't know how our competitors have improved, if they have improved at all."
Will Russell be at Mercedes next year?
Russell is a strong contender for a move to Mercedes in 2022 after starring when he subbed for Lewis Hamilton at last year's Sakhir Grand Prix in Bahrain after the world champion contracted coronavirus.
The 23-year-old Briton said Mercedes F1 boss Toto Wolff had made him "no promises" about 2022, but said he was confident he would be in a Mercedes eventually.
Russell said: "Toto has always given me his word and he has always given me the opportunity when they believe I deserve it, and they have told me that I am a part of their future. Whenever that may be is when they believe the time is right.
"A lot of people think next year is the natural path but things change very quickly in motorsport, especially in F1, so I am not even thinking about it, to be honest.
"I had a taste of life at the front of the grid last year but I am just focused on the here and now.
"If I perform on the track and deliver, continue on the same path I have been on so far, I guess in the future the opportunity will come."
He said he believed Williams had a "bright future", and was confident they would no longer be at the back of the field in 2022, and that if he was not picked by Mercedes he would "have a very interesting decision on my hands in the second part of the year".
His team-mate is 25-year-old Canadian Nicholas Latifi for a second season.
Plans for the future
Capito said he was in the process of analysing the team and that changes were in the pipeline.
"There are a lot of good people in the management," he said. "We will restructure a bit but it's not announced yet and we will get some key people on board.
"Confirming Simon as team principal was an important step for us so we can build the team around it. There will be some changes coming up soon.
"We believe we will make a major step in performance for 2022."
Capito added that he was still in touch Claire Williams, daughter of the team founder Sir Frank Williams, and with co-founder Patrick Head.
"Frank and Patrick will always be a part of the team in one way or another," he added.
"Patrick is not in the UK, but he is in touch with me and he is still very enthusiastic.
"Their spirit will always be there because they have been very successful and we want to get there again.
"We would really like to make Frank, Claire and Patrick proud of what we are doing and achieving."