Nine in 10 have received one dose, but in London it's much lower, figures show.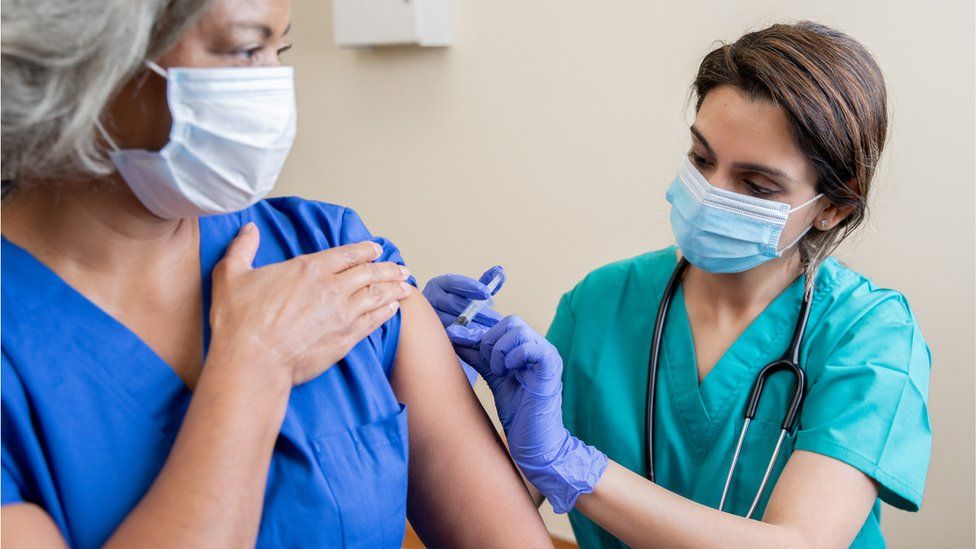 There is huge variation in the percentage of frontline NHS healthcare staff who have been vaccinated against Covid in England.
More than 98% in the North East and South West have had a first dose – but only 79% in London, leaving around 35,000 staff unvaccinated there.
Ministers are considering whether to make the jab mandatory for NHS staff.
Health and social care workers across the UK were one of the first groups to be offered a vaccine.
In England, NHS data suggests 93% of eligible frontline staff have been vaccinated – equivalent to one million doses.
But, nearly three months after the vaccination programme began, up to 80,000 frontline staff have still not taken up the offer.
Dr Lara Alloway, chief medical officer of Hampshire Hospitals, told the BBC that the trust was contacting staff individually if they haven't been vaccinated and "making sure they understand why having a vaccine is so important".
Weekly online Q&A sessions are being held for staff, a dedicated helpline has been set up and clear information on the vaccine is provided to try to combat misinformation.
More than 90% of staff at the trust have had a first dose.
Dr Alloway said some had chosen to delay getting the jab because they were pregnant or breastfeeding or had already had Covid. Some were also concerned about their allergies.
"We need to make sure we are providing as much information to people to allow them to make the right decisions," Dr Alloway said.
Nurses, doctors, ambulance staff and other NHS staff were prioritised early in the vaccine rollout if they:
were at high risk of being infected
had a high personal risk of becoming ill with Covid
were at risk of spreading it to vulnerable people in their care, or to colleagues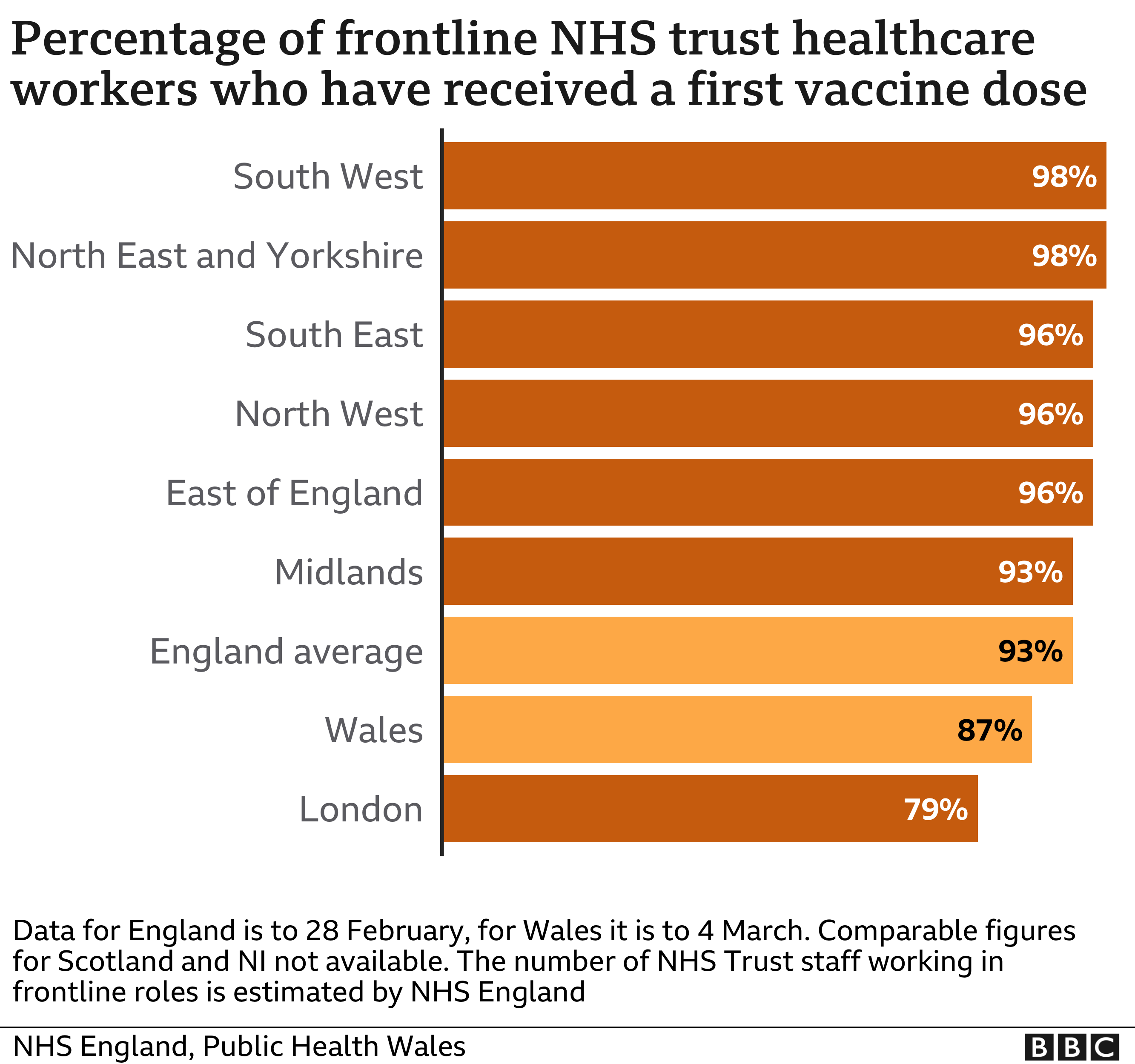 But an estimated one in 10 frontline health care workers in England and Wales has not yet had their first dose, according to NHS England figures.
Scotland and Northern Ireland were not able to provide comparable figures, although the Scottish government said it had exceeded its target to vaccinate frontline staff. Almost 123,000 health and social care staff have been vaccinated in Northern Ireland.
Leon Ghulam, the Hampshire trust's black, Asian and minority ethnic (BAME) workforce lead, said language barriers were one reason why some staff, including Eastern Europeans, were hesitant to have the vaccine.
A video in several languages has been shared with staff to reassure them.
"Family and friends can put pressure on staff – but we recommend all workforce to take the vaccine," he said.
"There is still progress to be made, but we are heading in the right direction."
A nurse, who did not want to be identified, told the BBC she was prepared to accept the risk of choosing not to being vaccinated.
She said being forced to have the jab "would be against my human right – I should be able to make my own decision".
In London, where just over three-quarters of frontline staff have been vaccinated, senior doctor Anton Emmanuel said he had met several staff members who decided to reject the vaccine for personal reasons.
"One of the most common reasons is about trust. When it comes to staff belonging to black, Asian and other minority communities, for example, some feel they haven't been at the front of the queue for anything in terms of health before, and question why they are suddenly at the front of the queue now," he said.
"Aside from the historical inequalities in healthcare, these staff have seen patients from these same communities dying of Covid in disproportionate numbers. And they feel too little was done to prevent it."
Dr Emmanuel has taken part in several events and discussions with healthcare workers about the vaccine and said having humble, honest discussions was crucial.
"I start by saying, 'I understand we don't deserve your trust but please do ask all your questions'."
He tells them he's had the vaccine and gives them the facts they ask for, saying it can protect them.
"You see people's eyes suddenly widen as their minds change."
Sir David Sloman, regional director of the NHS in London said they were "continuing to reach out to eligible groups, working with local authorities, care homes, faith and community groups and others to encourage uptake of the safe, effective vaccines which will help save lives".
However, in Yorkshire, GP registrar Henna Anwar said she hadn't come across a single healthcare worker who had decided not to take the vaccine when offered it. She says vaccine uptake is high and, in her experience, frontline staff are excited to have it.
"Although I don't feel vaccines should be mandatory, I felt it was almost a professional obligation," she said.
"It was not only about me – I could potentially have been carrying the virus without knowing it.
"For me it was about my patients and my family."