The whereabouts of one infected person is unknown, as they did not give their full contact details.
Health officials are trying to trace one person in England who has been infected with a concerning variant of coronavirus first found in Brazil.
They are one of six cases of the P1 variant found in the UK in February.
The person did not complete a test registration form so remains unidentified – prompting an appeal for anyone without a result from a test on 12 or 13 February to come forward.
Labour said there had been a lack of a "comprehensive" border system.
The P1 variant was first detected in travellers to Japan from Manaus in northern Brazil in January.
Health Secretary Matt Hancock will hold a meeting later to update MPs from all parties about the variant.
There have been concerns vaccines may not be as effective against the variant, but NHS England's Prof Stephen Powis said vaccines could be "rapidly adapted".
Dr Susan Hopkins, from Public Health England (PHE), said the UK was more advanced than many other countries at identifying the variants and mutations, and therefore was able to act quickly.
In an attempt to find the unidentified person in England who was infected with the P1 variant, officials are asking anyone who took a test on 12 or 13 February and who has not received a result or has an uncompleted test registration card to come forward immediately by calling 119.
The hotel quarantine rule came into force on 15 February. It means that travellers coming to England from 33 countries – including Brazil – must pay to quarantine in a hotel for 10 days, while in Scotland the rule applies to international travellers from all countries.
Before that date, travellers arriving into the UK still needed to self-isolate in their homes for 10 days.
But Vaccines Minister Nadhim Zahawi said it was not known whether or not the unidentified person had recently been abroad, so it was not clear if they would have been self-isolating while they were infected.
"We need to find them as soon as possible," he told BBC Breakfast, adding that PHE was working with the postal service to try to locate them.
Mr Zahawi defended the testing system as "pretty robust" and said the UK's strategy of using surge testing to help identify cases of the variant was similar to other countries such as Australia.


It is tempting to think that if officials can identify the one missing case, the UK will be able to stamp out the Brazil variant.
But it's unlikely this will be possible. There will no doubt be more cases either of this variant or others circulating with the E484 mutation that allows the virus to escape some of the effect of the vaccines.
That's because not all positive cases can be checked for variants. The UK carries out nearly half of the genomic sequencing in the world and can check around 25,000 positive tests a week for variants.
That means about a quarter of positive cases were checked last week, but a month ago – with infection rates higher – it was under one in 10.
What is more, not everyone who is positive comes forward for a test in the first place. We are seeing just the top of the iceberg.
So what is the strategy? Keep cases low and where possible try to limit the spread of these variants.
And in the future, update the vaccines to work better against the variants if that is needed.

The unidentified England case is not linked to five other UK cases.
Three of those cases are Scottish residents who flew to Aberdeen from Brazil via Paris and London, the Scottish government said.
Holyrood said the three people tested positive while self-isolating. Other passengers who were on the same flight to Aberdeen are now being contacted.
The other two cases in England are from the same household in South Gloucestershire after someone returned from Brazil on 10 February – five days before the government's hotel quarantine rule came into force.
Two other people in the same household have also since tested positive for Covid – but tests are still ongoing to check if it is the same variant, so they are not included in the overall UK total of six.
PHE said officials were tracking down passengers who were on Swiss Air flight LX318 from Sao Paulo to Heathrow, via Zurich, landing on 10 February.
Sara Blackmore, South Gloucestershire's public health director, said "fast action" by her local team meant the two cases were a "very contained situation".
She told Radio 4's Today programme that everyone in five postcode areas of South Gloucestershire was being invited to take a Covid test, even if they did not have symptoms. But she said the extra testing was a "precautionary measure" and the risk to the community was "low".


The Brazil variant is something officials are worried about because it shares similar mutations to the South Africa variant of concern.
Both have undergone genetic changes that could make them more contagious and perhaps less easy to stop with our current vaccines.
Work is already under way to redesign or tweak the vaccines to make them a better match for "variants of concern".
These updated vaccines could be ready within months, meaning the UK would have millions of doses ready to give people a booster shot before next winter to make sure the population is protected.

Shadow home secretary Nick Thomas-Symonds said the news of the Brazil variant cases was "deeply concerning" and that it was "vital" everything was done to contain it.
"This is further proof that the delay in introducing a hotel quarantine was reckless and the continuing refusal to put in place a comprehensive system leaves us exposed to mutations coming from overseas," he added.
Chair of the Home Affairs Select Committee of MPs, Labour's Yvette Cooper, said officials must "learn lessons" from how other countries were enabling international travel during the pandemic.
She told the Today programme there were "gaps and weaknesses" in the measures to prevent variants from entering the UK and that "stronger measures" were needed.
Ms Cooper gave the example of South Korea's international travel arrangements, which include testing people at airports and providing contained transport for people from airports to their homes, so that they do not have to use public transport.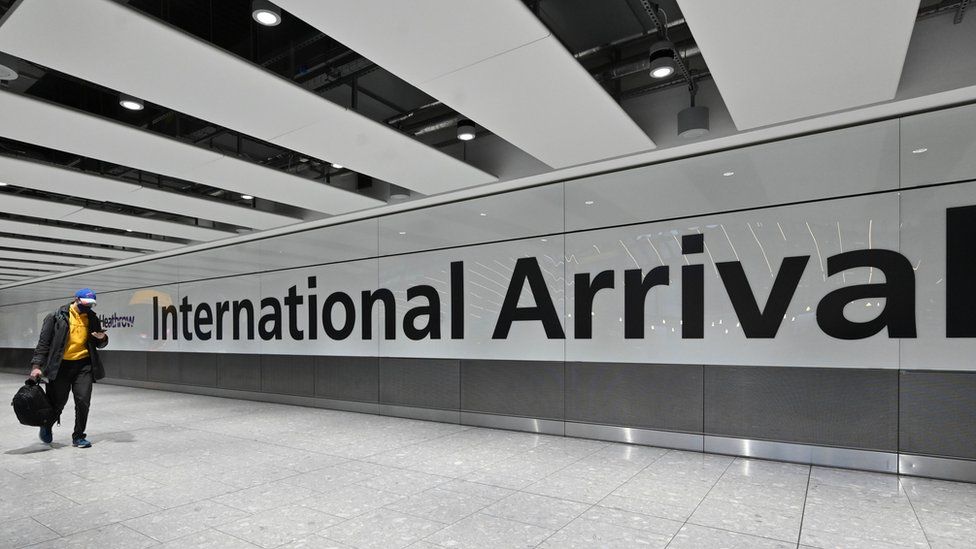 All travellers to the UK also need to present a negative Covid test taken a maximum of 72 hours before their departure.
It comes as the UK announced another 6,035 cases of coronavirus and reported that a further 144 people had died within 28 days of a positive test.