The vaccine rollout is gaining "fresh momentum," the NHS says as the next batch of letters are sent out.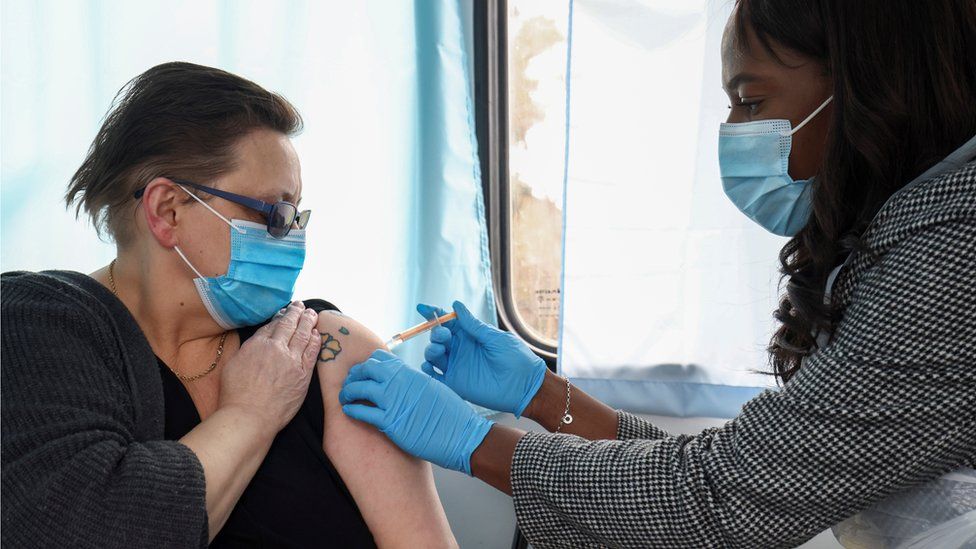 Nearly two million people aged 60 to 63 in England are now officially being invited to book a coronavirus vaccine.
From Monday, people in that age bracket will start receiving letters explaining how to book a jab through the national booking service, NHS England said.
Meanwhile, families with school children will receive rapid home tests.
Households with will be able to screen themselves for coronavirus twice a week at home with rapid tests under a scheme to help England's schools and colleges reopen on 8 March.
The tests, which households can access regardless of whether anyone has symptoms, will be available from 1 March from local sites or administered through workplace testing programmes.
Home testing for secondary pupils will be twice weekly, with parents expected to carry out the testing at home after three tests in school.
Adults working with schools, such as bus drivers and after school club leaders, will also be offered the twice-weekly tests.
More than three in four people aged between 65 and 70 have now taken up the offer of a vaccine, NHS England said.
Last week, invites began to be sent out to 64-year-olds and those aged 50 to 60 are set to be invited "shortly", the NHS added.
It said the vaccine rollout was gaining "fresh momentum" and medical director Prof Stephen Powis urged anyone who has been invited to take up the offer.
"It doesn't matter when you were invited you can still come forward and protect yourself and others," he said.
Meanwhile, the amount of vaccine supply is expected to increase in March, said Sir Simon Stevens, NHS England chief executive. "We're planning for further acceleration as we head towards Easter."
People can use the national booking service to reserve a slot at NHS vaccination centres or at pharmacies across the country. Those who cannot go online can call 119 free of charge.
NHS teams are also visiting those who are housebound and cannot travel to a vaccination service.
It comes as leaders from 60 black-majority churches in the UK issued a call to their congregations on Sunday to get the vaccine.
They will urge worshippers to seek out the facts about the vaccine from trusted sources.
It comes after data suggested people from black and minority ethnic (BAME) backgrounds are being vaccinated at much lower rates than white people.
The Bishop of Dover, the Right Reverend Rose Hudson-Wilkin, who is among the alliance of Christian leaders, said: "Don't let misinformation rob you of your opportunity to protect yourself and others."
He said the uptake so far had been "amazing" but added: "We've got to keep it going."


Prince William also spoke about the danger of fake news about the vaccine during his video call.
"Social media is awash sometimes with lots of rumours and misinformation, so we have to be a bit careful who we believe and where we get our information from," he said.
According to the government's latest figures on Saturday, more than 19.6 million people in the UK have now received their first dose – equivalent to more than one in three adults.
The number of people who have had their second jab has risen to 768,810.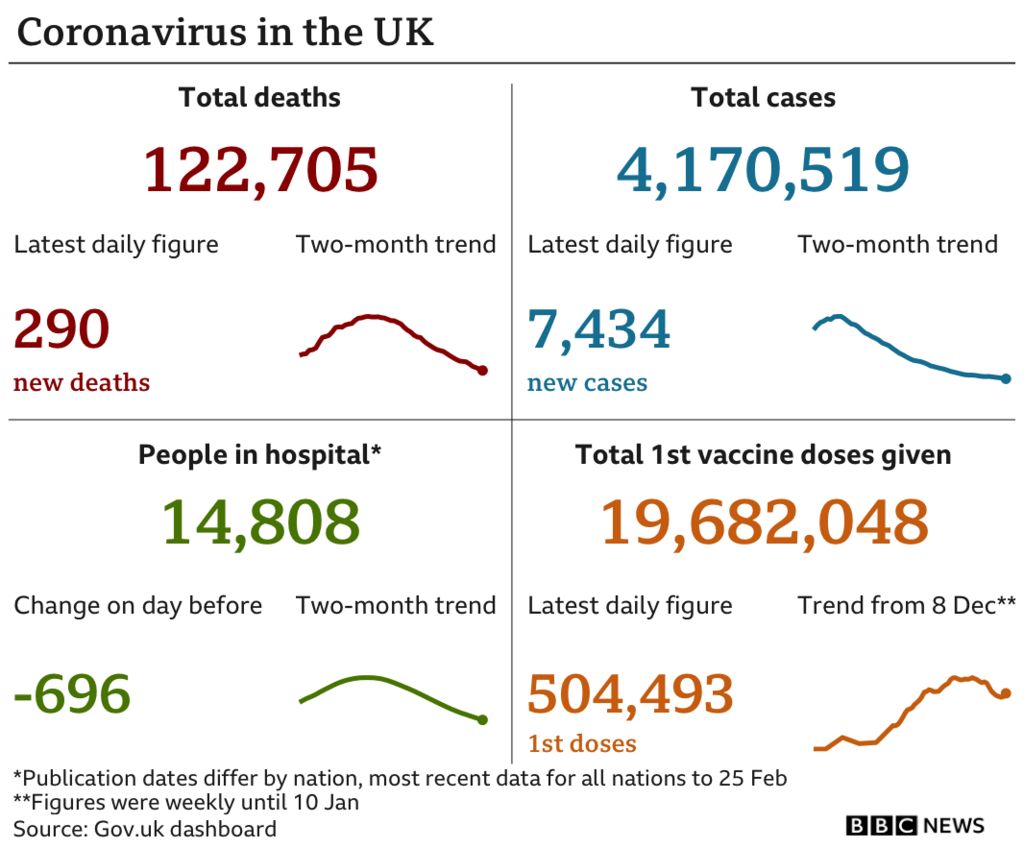 The government has said its next target is to offer a first dose to all over-50s by 15 April, as well as people aged 16-64 with certain underlying health conditions and unpaid carers for disabled and elderly people.
After that, they will start offering jabs to people by age group.
The aim is to vaccinate everyone aged 18 or over in the UK with one dose by the end of July, and the government says it is on track to make this deadline.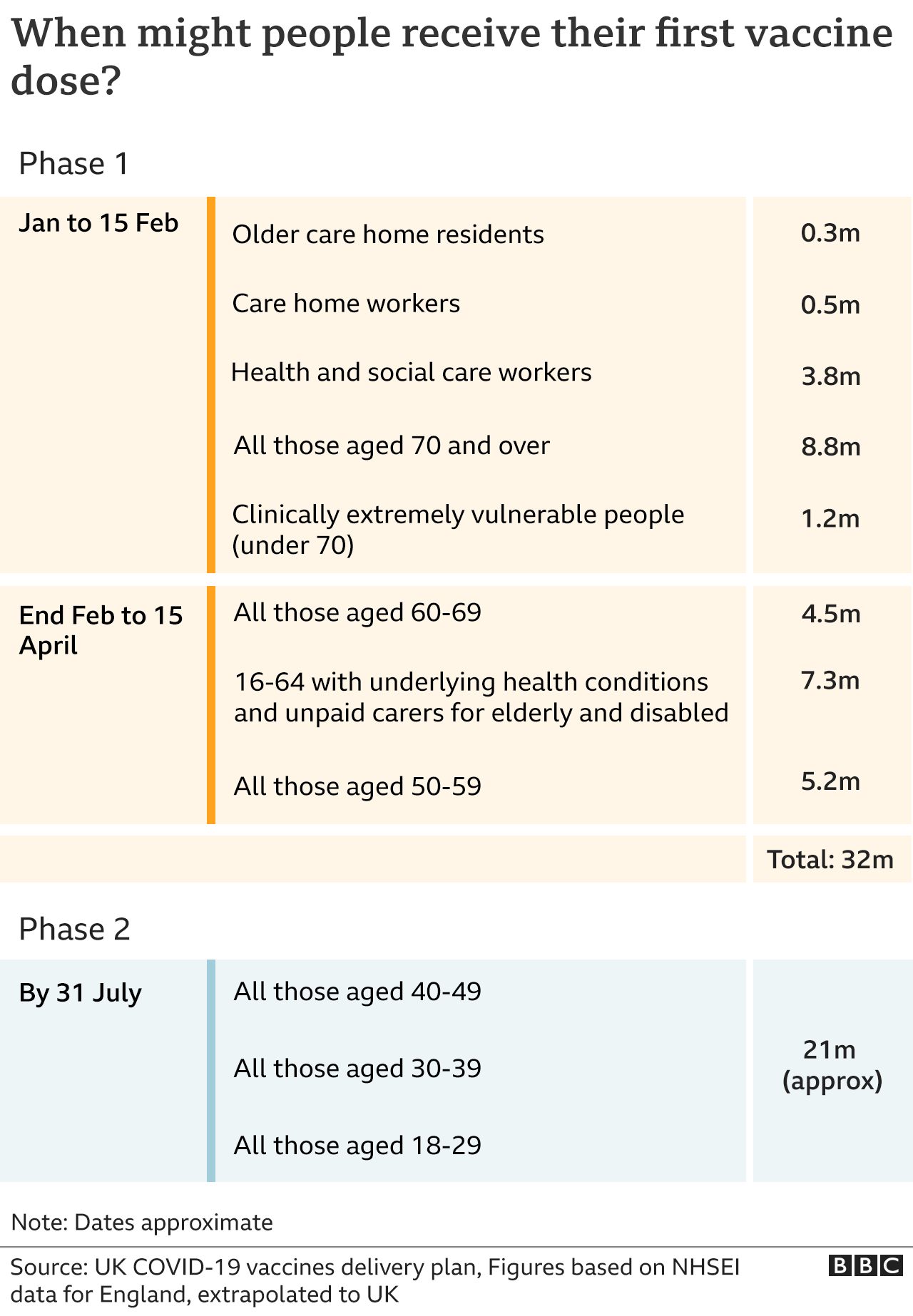 Elsewhere, Chancellor Rishi Sunak is preparing to set out details of the Budget on Wednesday as he tries to balance the strains on the public purse caused by the pandemic while supporting those who have been hit the hardest.
Government borrowing for this financial year has reached £271bn – £222bn more than a year ago. And national debt has been pushed up to £2.13 trillion.
A £5bn cash grant scheme for High Street businesses, worth up to £18,000 per firm, has been announced to help shops and pubs reopen as England's lockdown eases.