What's it like and what can you eat inside the UK's quarantine hotels?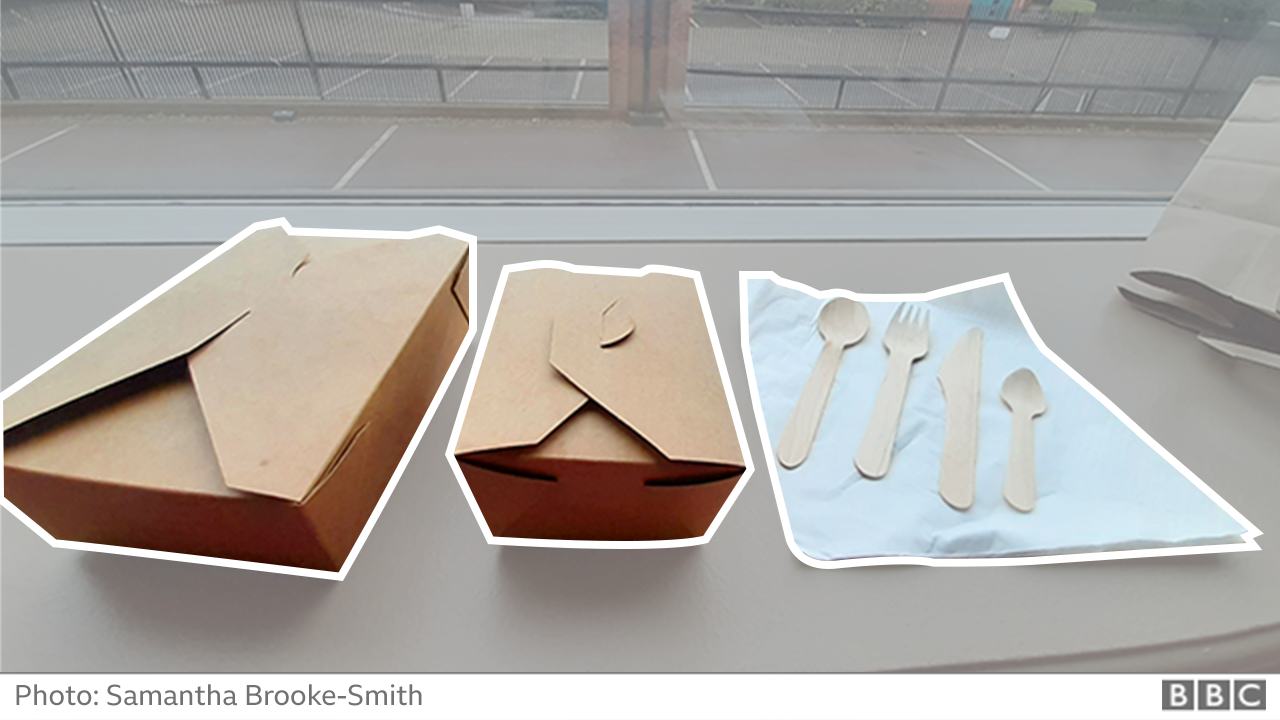 Ten days in a hotel, food brought to your door and all the TV you can watch, may sound appealing to some.
But this £1,750 all-inclusive break, close to some of England's busiest international airports, is actually the enforced quarantine for travellers arriving from countries on the coronavirus "red list".
As well as restricted outdoor exercise and obligatory Covid-19 tests during your stay, the experience includes the delivery of paper bags of food, hot or cold, three times a day.
So what is the food like?
Samantha Brooke-Smith, 41, lost her job in the United Arab Emirates as an airline cabin crew manager and was packing up her life there when new quarantine rules were announced for England. As a Dubai resident, was vaccinated against Covid.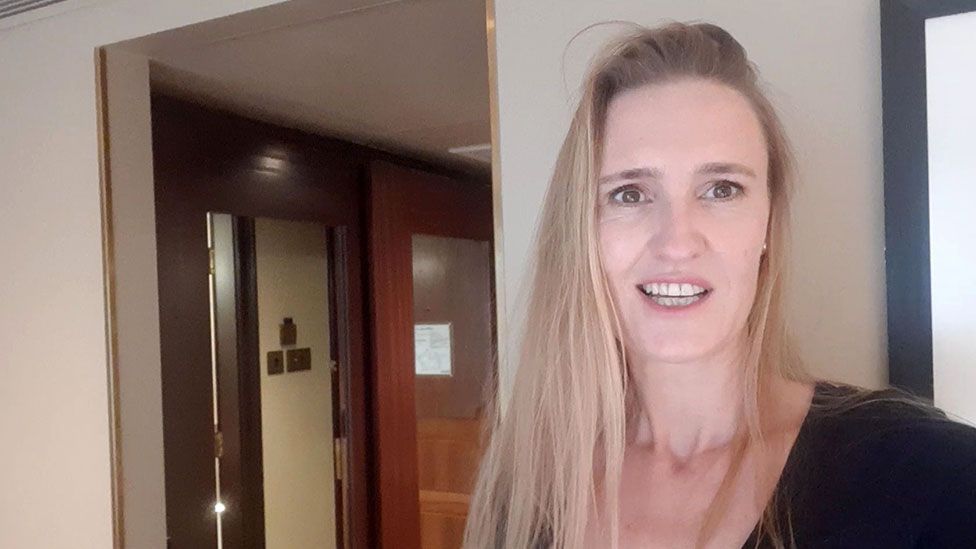 But that didn't let her off having to pay £1,750 to be ensconced in the Radisson Blu Edwardian Heathrow Hotel.
Her daily routine now starts with knock at the door – breakfast.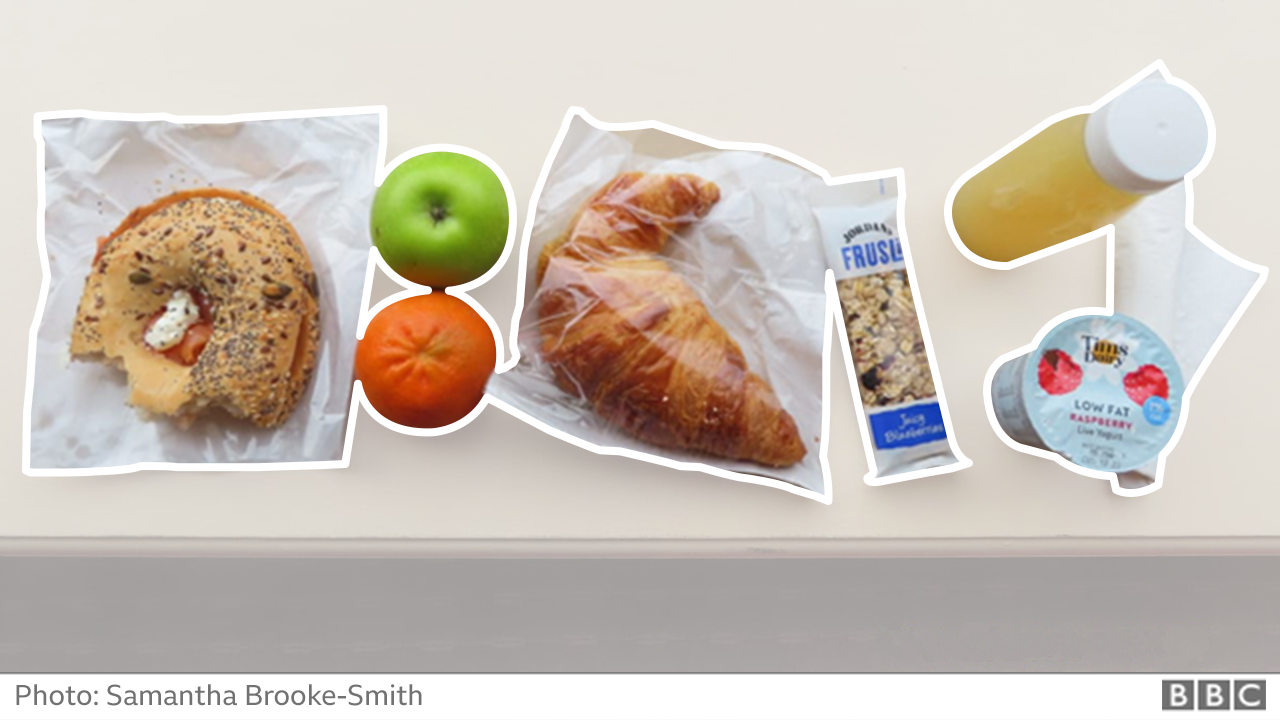 Tea and coffee is available in the room so breakfast is a cold affair – croissant, fruit, cereal bar, yoghurt and juice, sometimes with a bacon or egg bap or smoked salmon bagel.
Samantha says the regular deliveries – at about 08:30, 14:00 and 19:30 – have had the bonus of helping her combat jet lag.
"Coming back from Dubai I have had to get used to the time-zone difference. I was waking up at about 5am. Because there is a routine for the food, my body clock is regulating."
Samantha is training to be an accountant, so the enforced isolation has been a good opportunity to knuckle down and study.
"That is what is saving me completely. There is only so much TV I can watch."
When booking your "quarantine package", as the government website calls it, you can't choose a particular room or try to get an upgrade when you arrive. Those flying into Heathrow could end up at the Radisson, Holiday Inn, Novotel or Renaissance hotels – they find out after booking.
Samantha is not complaining about the size of her room, which she has divided in zones – for exercise, sitting and reading, and studying.
"I've tried to make a routine for myself as much as possible."
The lunchtime knock brings the first hot food of the day – although Samantha says there has been the odd delivery that should have been hot that arrived cold.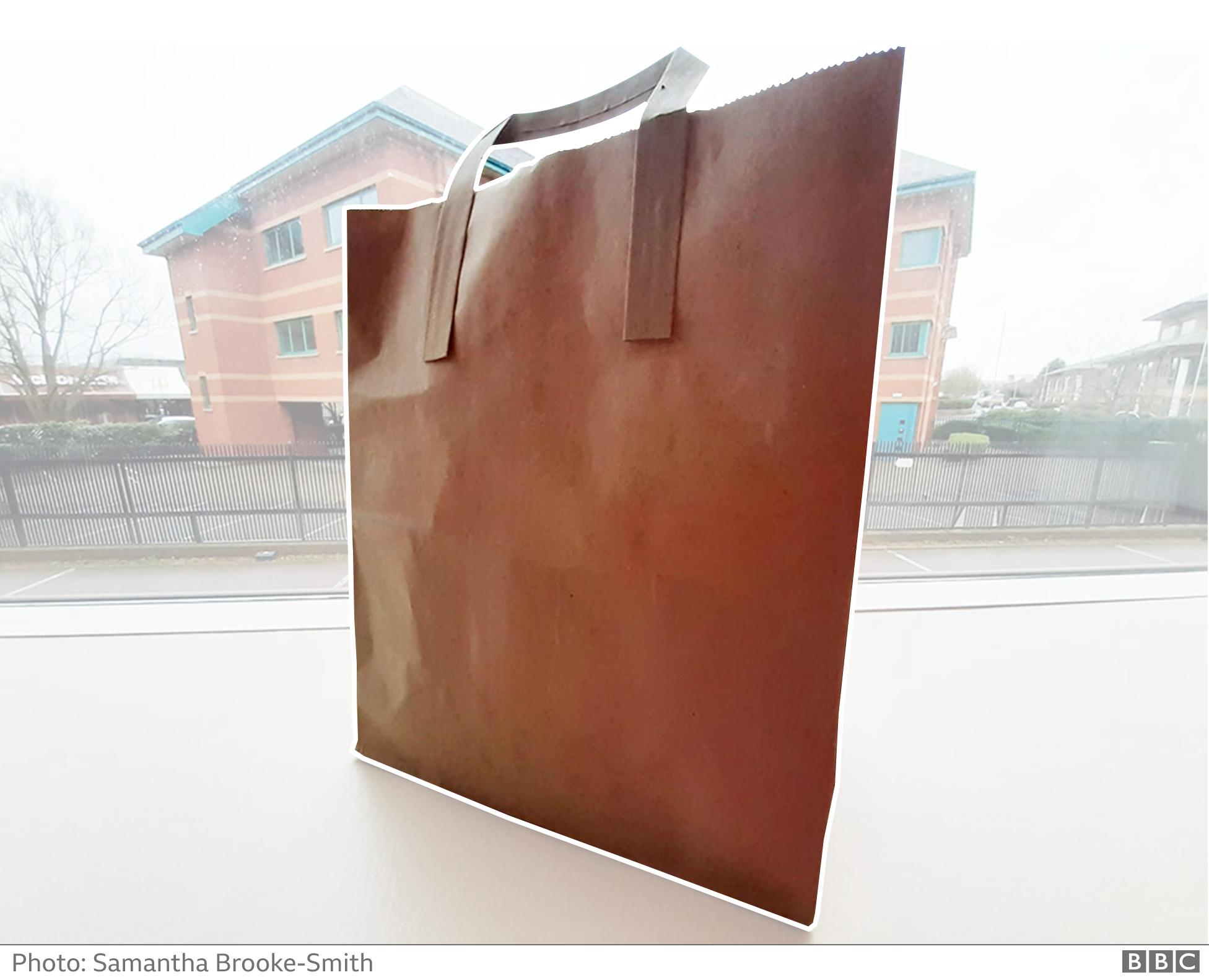 Quarantiners choose their meals in advance and there is a vegetarian option.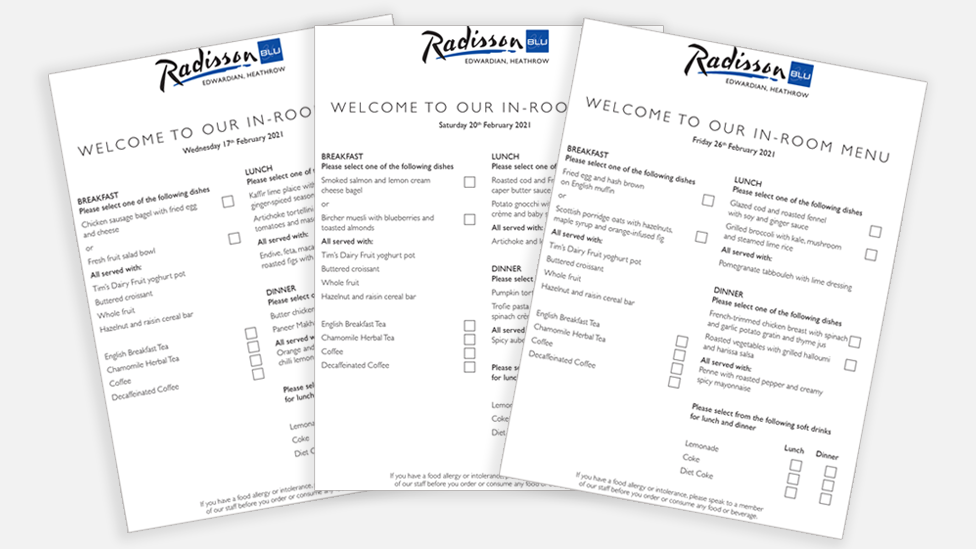 "Sometimes it is not something I would like to eat but there is plenty of it and always edible," Samantha says.
The deliveries are, however, always in paper bags.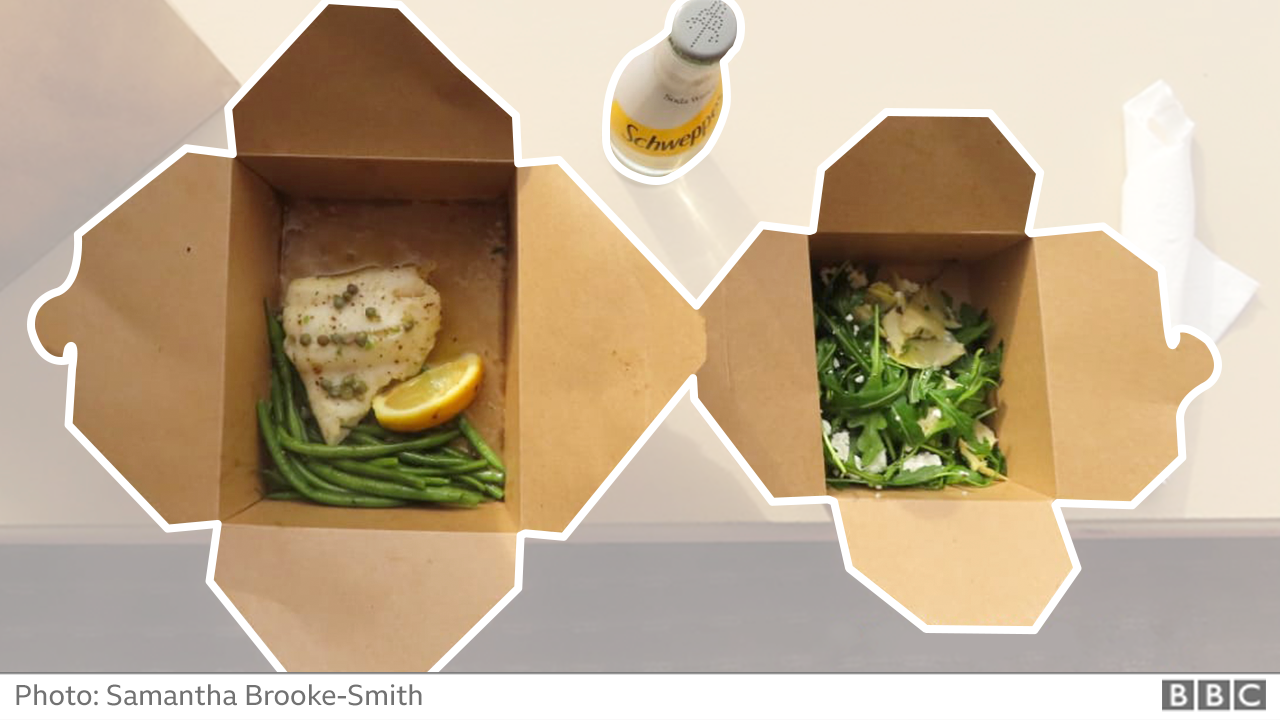 To avoid the sense of constant takeaways, Samantha had a plate and proper cutlery sent from a supermarket. Guests are allowed outside deliveries – including alcohol (which was not allowed in Australia's quarantine hotels). But Samantha says she is already almost £2,000 down and unemployed, so is trying to avoid supplementing her hotel food with deliveries.
"It also stops you being too fussy."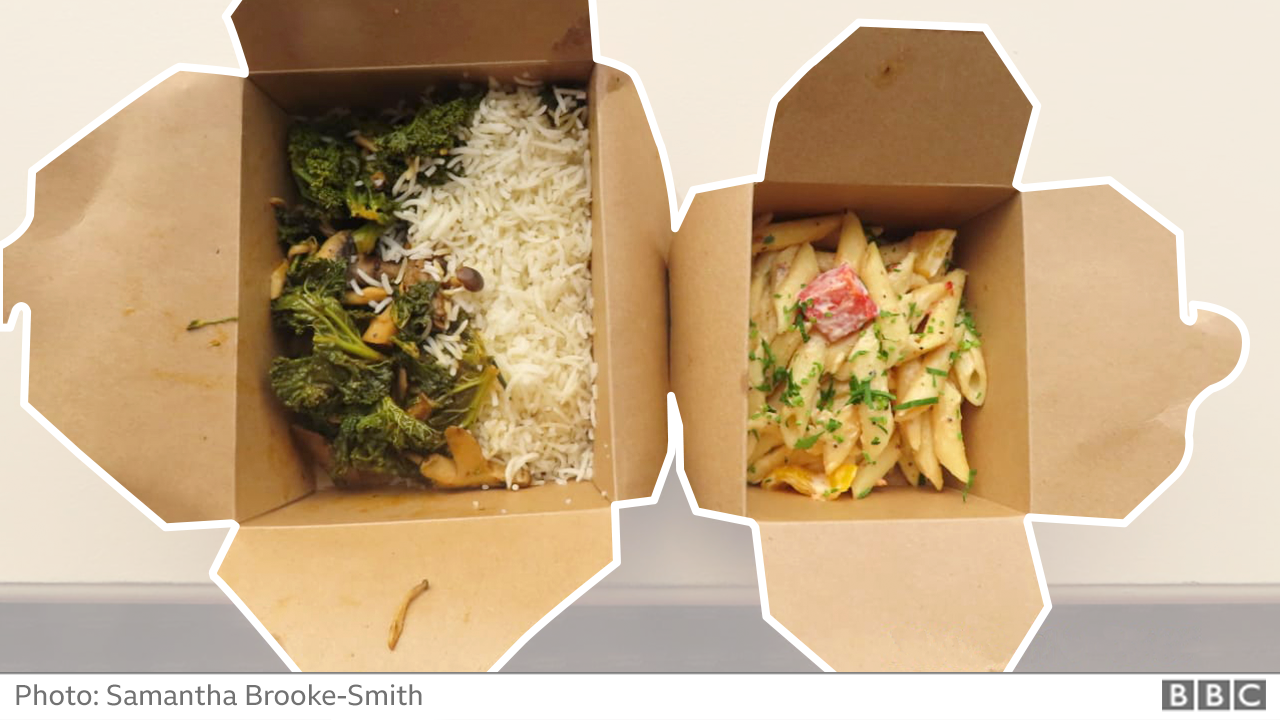 Outside exercise, with a security guard in tow, is allowed. But Samantha says she'd rather not take the risk, despite having had the vaccine.
"I'm going to be moving back with my parents and they are quite elderly, so I need to take them into consideration."
Mohammed Hasan, from Oldham, is isolating at another Heathrow hotel – the Holiday Inn – after returning from Dubai, via Istanbul. He understands the need to isolate but was surprised to be mixing with other people at the airport.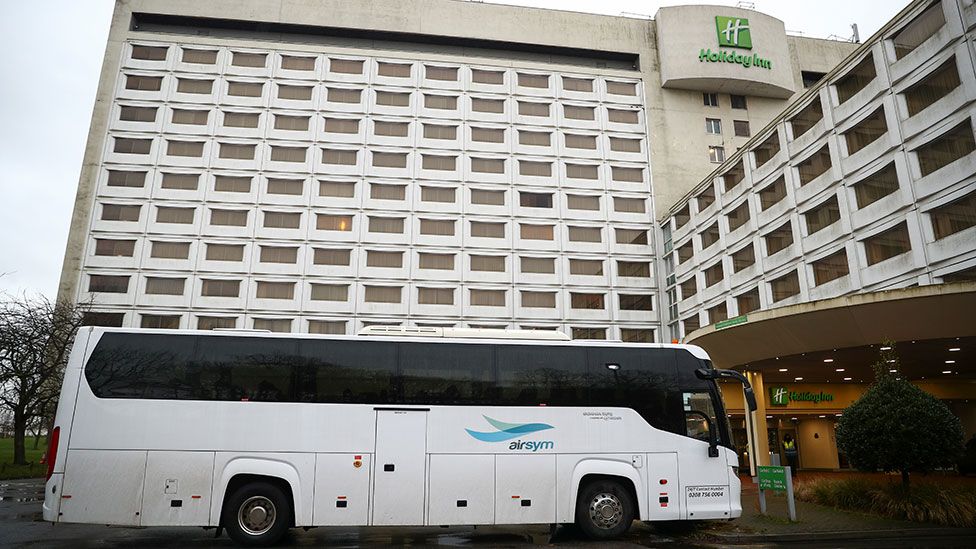 Quarantine is also dragging on for Mohammed.
"My TV doesn't work. I have complained and they tell me it will take a few days to fix."
So contact with the outside world has been important.
"I've been Face-timing my family and friends to try and pass the time. The meals are not that great either. We get breakfast lunch and dinner, water and tea or coffee.
For Samantha, dinner offers a break from study. This time – mushroom and garlic potatoes.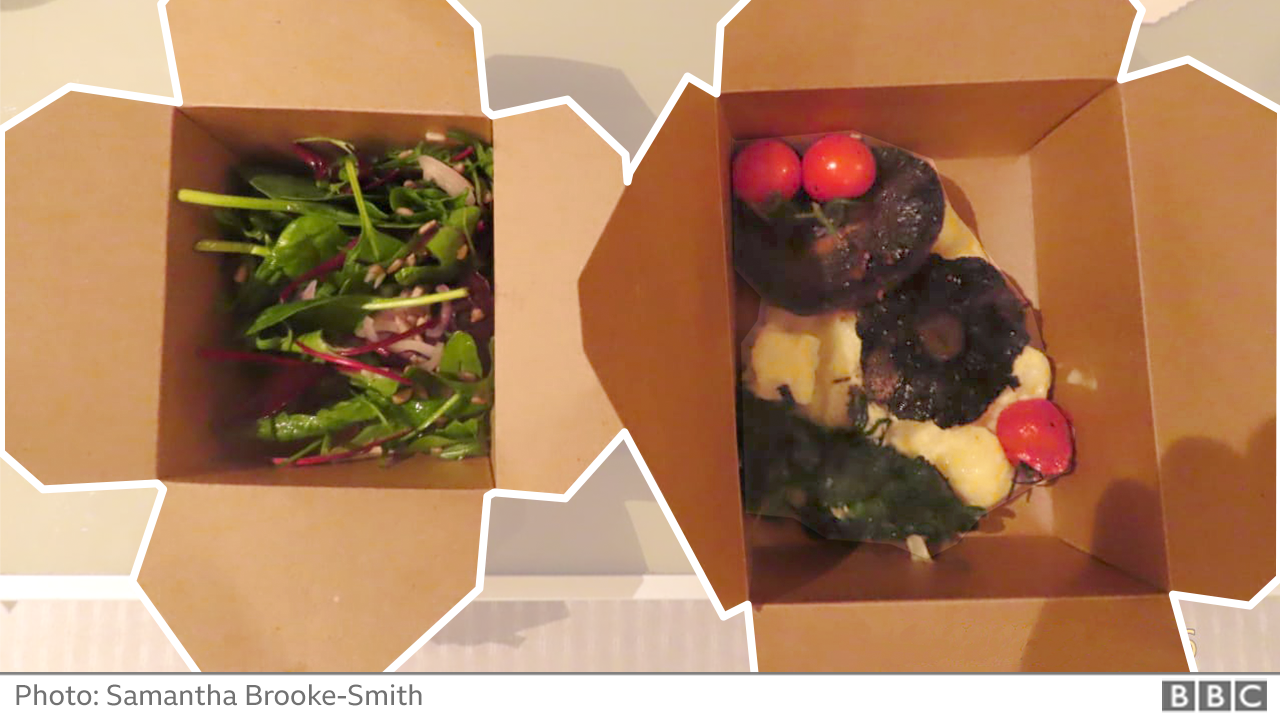 Samantha says the evenings are also a time for the traditional lockdown Zoom.
"I've enlisted friends and family to Zoom with me a lot in the evenings and call me during the day, Coming from Dubai which is a very sociable place and having been a cabin crew manager… going from everything to nothing is a very big shock," she says.
"And it's nice to get other people's experiences of what is going on in the real world."
Radisson Blu Edwardian Heathrow say they want to help provide a safe and comfortable experience for travellers. They say the costs are set by the government and include three meals, per day, with guests able to request crockery should, they wish.
They say guests are provided with antibacterial wipes from reception and are able to request additional products from the hotel to look after their rooms.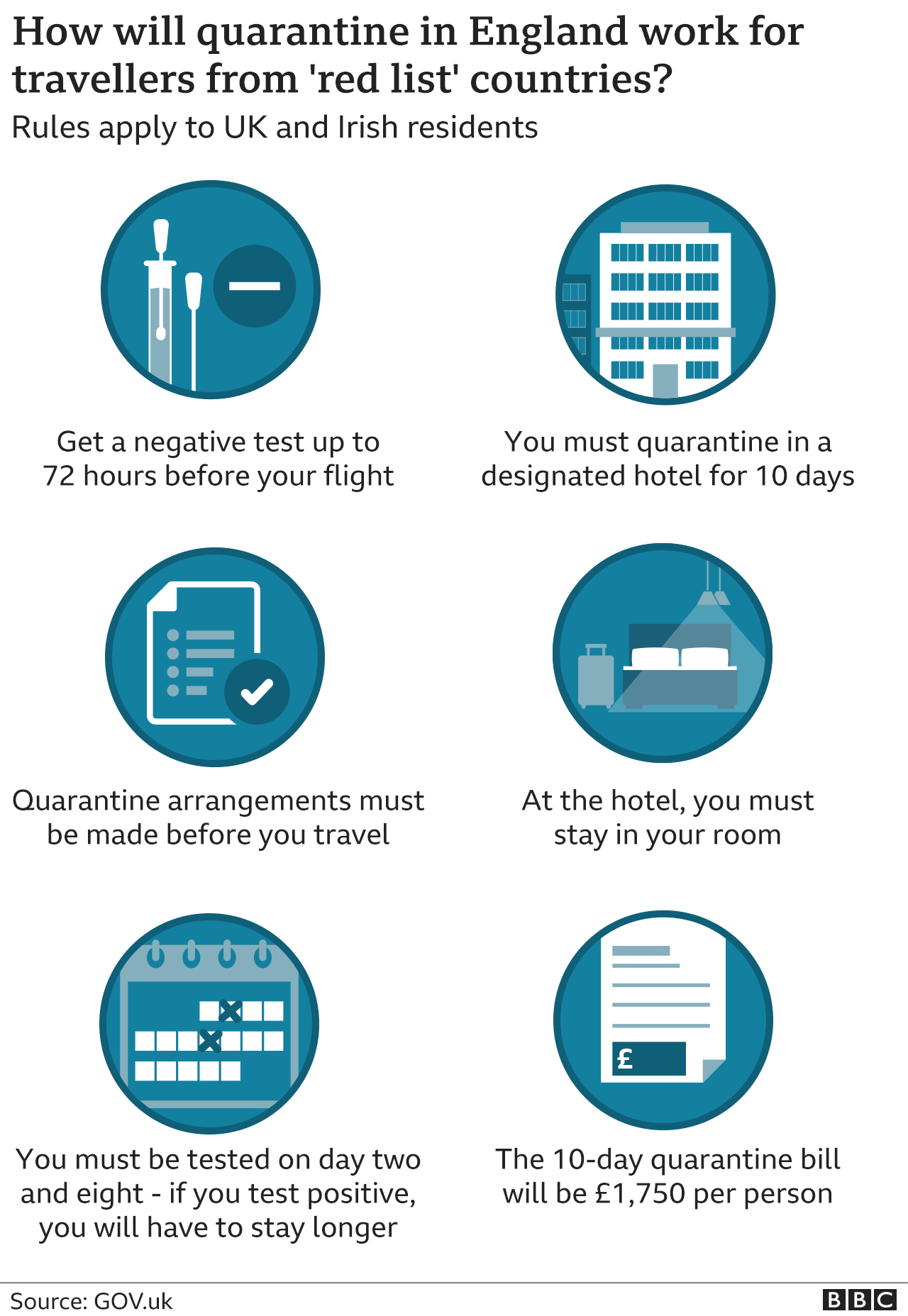 Overall Samantha says she's had a good experience and she supports the reasons behind the hotel quarantine, but says the cost is a struggle, especially if you have been out of work for months.
She would preferred to have stayed at a place at her parents' house, where she could have isolated for the 10-day period.
"It means I could have had my own food, when I want to, not when they want to serve me."
As the end of her stay approaches, 10 days and 30 paper bags later, there's another knock back. Samantha is waiting for the result of her second coronavirus test which would give her the all clear to leave quarantine… and it has been delayed.
So, it's back to the menu, the studies and waiting for another knock on the door.