The Glasgow MSP defeated rival candidate Monica Lennon in the contest to replace Richard Leonard.
Anas Sarwar has been announced as the new Scottish Labour leader.
Glasgow MSP Mr Sarwar defeated Monica Lennon, the only other candidate in the race.
Mr Sarwar takes charge of the party ahead of the Scottish Parliament election, which is scheduled to be held on 6 May.
Mr Sarwar, who is the first minority ethnic leader of a major political party in the UK, got 57.6% of the vote, while Ms Lennon got 42.4%.
In his acceptance speech, he said: "I want to say directly to the people of Scotland, I know Labour has a lot of work to do to win back your trust.
"Because if we're brutally honest, you haven't had the Scottish Labour Party you deserve.
"With rising injustice, inequality and division, I'm sorry we haven't been good enough.
"And I will work day and night to change that, so we can build the country we all need."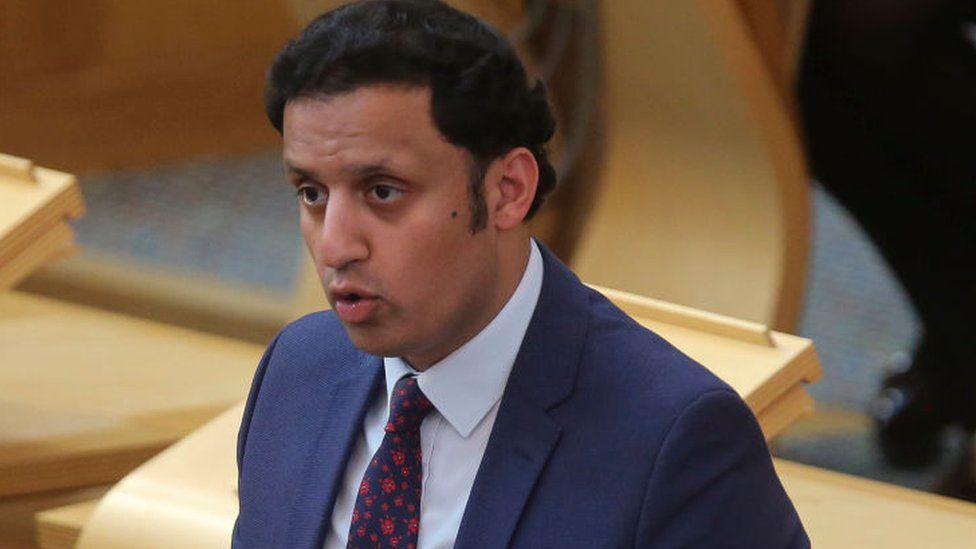 Former leader Mr Leonard congratulated Mr Sarwar, calling for the party to get behind him.
UK Labour leader, Sir Keir Starmer, said: "Huge congratulations to Anas on his election as leader of the Scottish Labour Party.
"I look forward to working with him to secure our economy, protect our NHS and rebuild our country."
On becoming the first minority ethnic leader of a major political party in the UK, Mr Sarwar said: "That doesn't say something about me. That says something great about Scotland and its people."
The move was welcomed by Scotland's justice secretary and SNP MSP Humza Yousaf.
The Scottish Labour leadership race was short, and largely overshadowed by the Covid crisis, but was more cordial than previous contests the party has held.
Scotland's constitutional future was one of the major features of the campaign, with both candidates repeatedly asked for their take on the issue.
While both have said they are opposed to the idea of Scottish independence, Ms Lennon said that should a pro-independence majority be elected to Holyrood in May, the party would have to accept another referendum on the issue.
Mr Sarwar, meanwhile, has urged independence-supporting parties to put the issue aside and focus on the recovery from coronavirus.
First Minister Nicola Sturgeon congratulated Mr Sarwar and tweeted, "he (and his dad before him) and I are long-time political opponents, but I also like and rate him. That may not always be obvious in the weeks ahead as election battle is joined, so worth saying so now."
Douglas Ross, leader of the Scottish Conservatives, also congratulated Mr Sarwar in a tweet and added: "Yesterday I said @ScotTories will not support indyref2 or work with the SNP at any stage. I hope he will now do the same."
Scottish Greens co-leader Patrick Harvie said Mr Sarwar faced a "divided party" on the issue of Scottish independence.
Scottish Liberal Democrat leader Willie Rennie said the new leader should concentrate on advancing UK federalism.
He said: "I am keen to work with Anas and his party to make reform of the UK a reality. "
Reacting to the announcement, trade unions have appealed for Labour party unity ahead of May's Holyrood elections.