Nigel Skea, 52, was jailed and fined for breaking hotel quarantine to meet his fiancée on another floor.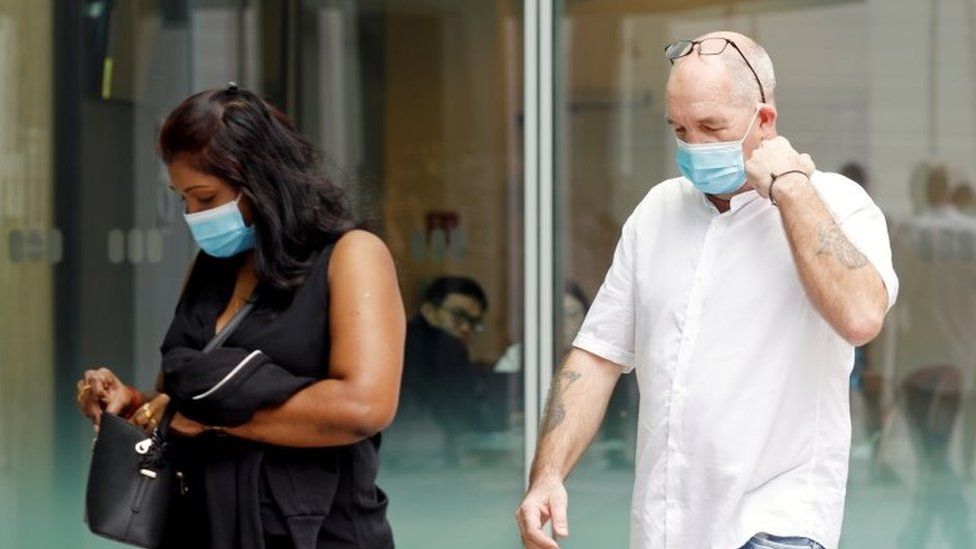 A Briton has been sentenced to two weeks in prison and a S$1000 fine ($753; £539) for breaking Singapore's quarantine rules by leaving his hotel room to visit his fiancée.
Nigel Skea, 52, walked up an emergency staircase to spend the night with Agatha Maghesh Eyamalai, 39, in September. The couple are now married.
Eyamalai was also given a week's prison sentence.
Singapore requires people to spend 14 days in a hotel upon arrival.
Earlier this month, Skea had pleaded guilty to one charge of contravening a control order and one of failing to wear a face mask.
Court documents said Skea had left his quarantine room at the Ritz Carlton Millenia Singapore Hotel three times to visit Eyamalai, who had a booked a room in the same hotel despite living in Singapore.
Eyamalai admitted a single charge of conspiring to contravene a control order.
The court heard Skea walked up 13 flights of stairs to spend the night with Eyamalai, who opened an emergency exit door for him. They spent nine hours together.
Skea, from Southampton, had also been caught "loitering in the corridor" twice, according to the charges.

Suranjana Tewari, BBC News, Singapore
Nigel Skea didn't react when the judge read out his sentence. His wife, however, let out a gasp when she heard she would spend one week in prison for abetting his crime.
The judge dismissed a number of previous cases that the defence cited, saying that Skea exposed hotel staff to risk with his actions. She said it didn't matter that he stayed on the hotel premises even in the breach, he intentionally chose to breach his quarantine order from the moment he arrived at the hotel by texting his fiancée at the time.
The defence had argued that Skea had travelled to Singapore in order to propose and they were both overcome by emotions after not seeing each other for a very long time. The judge said this was not a mitigating factor – restrictions are necessary to prevent the spread of the pandemic and disruptions to relationships are an inevitable consequence.
Their lawyer said the couple had mixed feelings about the sentence but that they were pleased it was less than what the prosecution sought. He added that Skea does not plan on appealing, that he wants to "finish the matter" and go back to the UK and his job as soon as possible.

Singapore has been been one of the most successful countries in tackling the pandemic. Despite a big outbreak among low-income migrant workers, local infection rates have for months been low.
They were also fined around S$9,000 each ($6,800; £4,893).