The former first minister makes the claim during his long-awaited appearance at a Holyrood inquiry.
Alex Salmond has claimed that "Scotland's leadership has failed" as he made his long-awaited appearance at a Scottish Parliament inquiry.
The former first minister has previously accused people close to his successor Nicola Sturgeon of plotting against him.
The inquiry is examining the Scottish government's botched handling of sexual assault allegations against him.
Mr Salmond was cleared of 13 charges of sexual assault after a trial last year.
As he started his evidence session at the inquiry, he said no one had yet taken responsibility for his "nightmare" over the past three years.
And he said the Scottish government had been found to have "acted illegally" during its investigation into the allegations against him, but "somehow nobody is to blame".
Mr Salmond added: "The failures of leadership are many and obvious but not a single person has taken responsibility, not a single resignation or sacking, not even admonition.
"The Scottish civil service has not failed, its leadership has. The Crown Office has not failed, its leadership has failed.
"Scotland hasn't failed, its leadership has failed."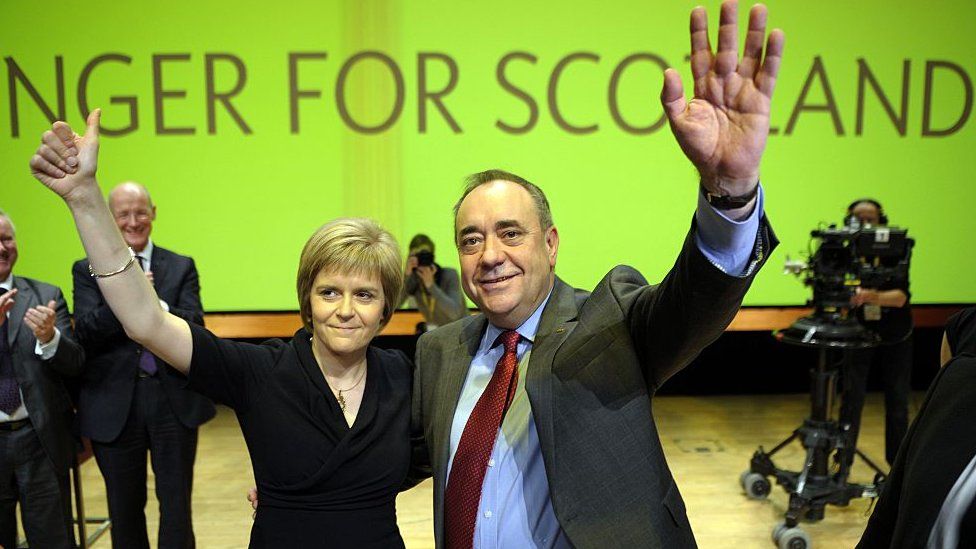 Mr Salmond also said he was "severely hampered" in what he could say during the session due to the "explicit threat of prosecution if I reveal evidence for which the committee has asked".
Asked by Conservative MSP Murdo Fraser whether he believed the House of Commons would accept a call from the Crown Prosecution Service in England to redact a committee document, Mr Salmond said "the straight answer is no".
Those named by Mr Salmond included Ms Sturgeon's husband, Peter Murrell, who is the chief executive of the SNP.
Mr Salmond's written evidence also directly took aim at Ms Sturgeon, accusing her of "repeatedly" misleading parliament about her involvement in the row and of breaching the ministerial code.
And he claimed there had been a "complete breakdown of the necessary barriers which should exist between government, political party and indeed the prosecution authorities".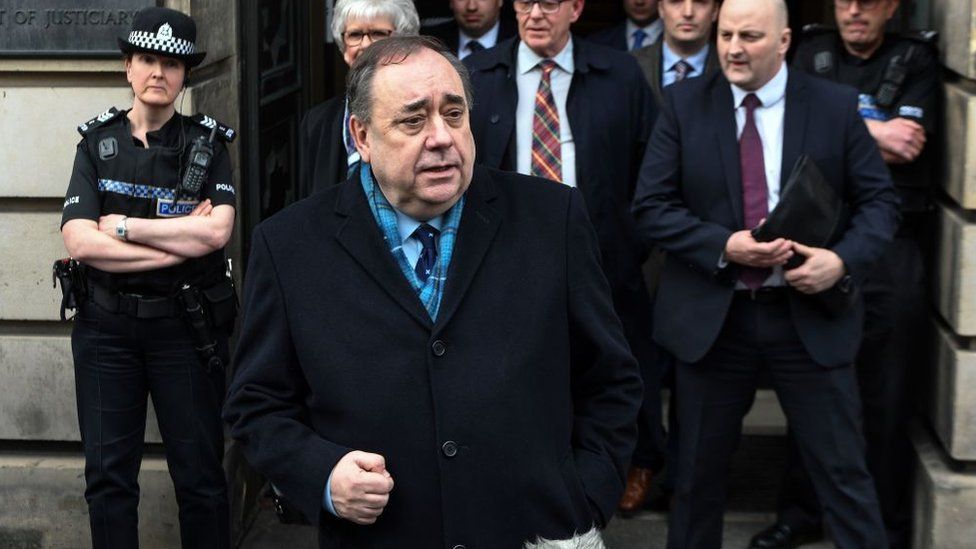 Ms Sturgeon has denied there was any conspiracy against Mr Salmond, and has said she is "relishing" the prospect of giving evidence to the committee next week.
Answering questions from journalists at her daily coronavirus briefing on Wednesday, she said: "I don't think there is a shred of evidence behind those allegations and the claims that have been made" by Mr Salmond.
She claimed that Mr Salmond had created an "an alternative reality in which the organs of the state – not just me, the SNP and the civil service and the Crown Office and the police and women who came forward – were all part of some wild conspiracy against him for reasons I can't explain".
And she added: "Maybe that's easier than just accepting that at the root of all this might just have been issues in his own behaviour."
The Holyrood session with Mr Salmond, which began at 12:30 and is expected to last about four hours, had been delayed on several occasions.
As he made his opening statement, Mr Salmond said he had "watched in astonishment" on Wednesday as Ms Sturgeon "used a Covid press conference to effectively question the result of a jury".
He added: "I said nothing – well today that changes."
Mr Salmond said he had "no incentive or advantage in revisiting the hurt and shock of the last three years".
But he added: "We can't turn the page or move on until the decision-making which is undermining the system of government in Scotland is addressed."
And he said the country's "move to independence" – which he has campaigned for throughout his political life – "must be accompanied by institutions whose leadership is strong and robust and capable of protecting each and every citizen from arbitrary authority".
Mr Salmond, who led the SNP for a total of 20 years, went on to say: "Over a 30 year period I must have been the most investigated politician certainly in Scotland and perhaps across these islands.
"The fact nothing came forward is a reasonable indication that there wasn't much to come forward."
Asked about how the initial complaints against him came to be published in the Daily Record newspaper, Mr Salmond said he believed there had been a "politically inspired" leak from the government.
And he called for the police to investigate how the information became public, saying it was a "hugely serious matter".
A probe by the Information Commissioner's Office previously found no hard evidence of the leak coming from within government, but said it had "some sympathy" with the idea.
Meanwhile, Labour's Jackie Baillie asked Mr Salmond if the name of one of the complainers in his criminal had been shared with his former chief of staff while a meeting with Nicola Sturgeon was being arranged.
This echoed a question the MSP had put to Ms Sturgeon at Holyrood on Thursday, with the first minister saying that "to the best of my knowledge I do not think that happened".
However Mr Salmond said the disclosure had taken place, adding that there were "three other people who know that to be true".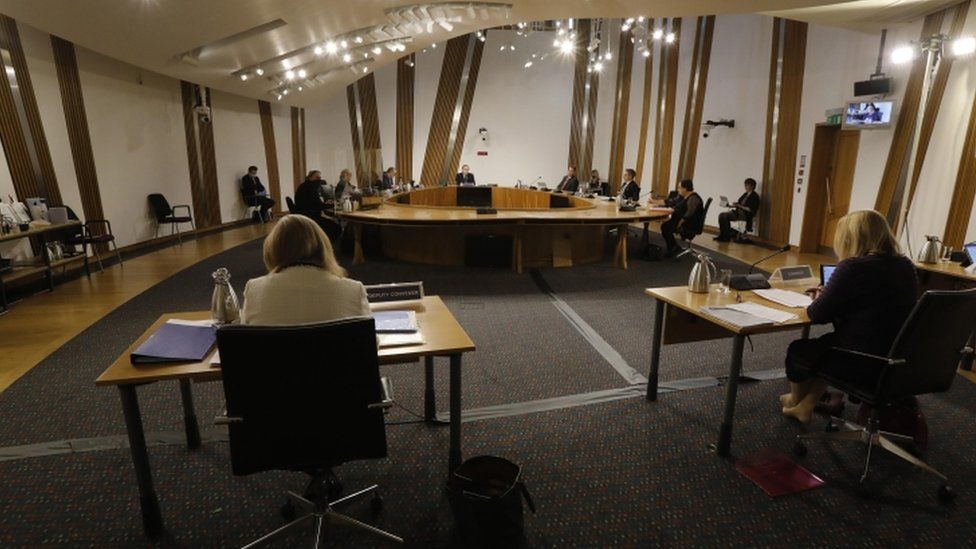 The cross-party committee of MSPs was set up after the Scottish government admitted its internal investigation into harassment complaints from two female civil servants against Mr Salmond had been unlawful.
The admission resulted in the government having to pay Mr Salmond's legal expenses of more than £500,000.
A separate inquiry is examining whether Ms Sturgeon breached the ministerial code – which sets out how government ministers should behave – by interfering with the civil service investigation into the allegations, or by lying to parliament.
The code states that any minister who breaches the code by deliberately misleading parliament would be expected to resign.