The change would improve the relationship between black children and the police, campaigners say.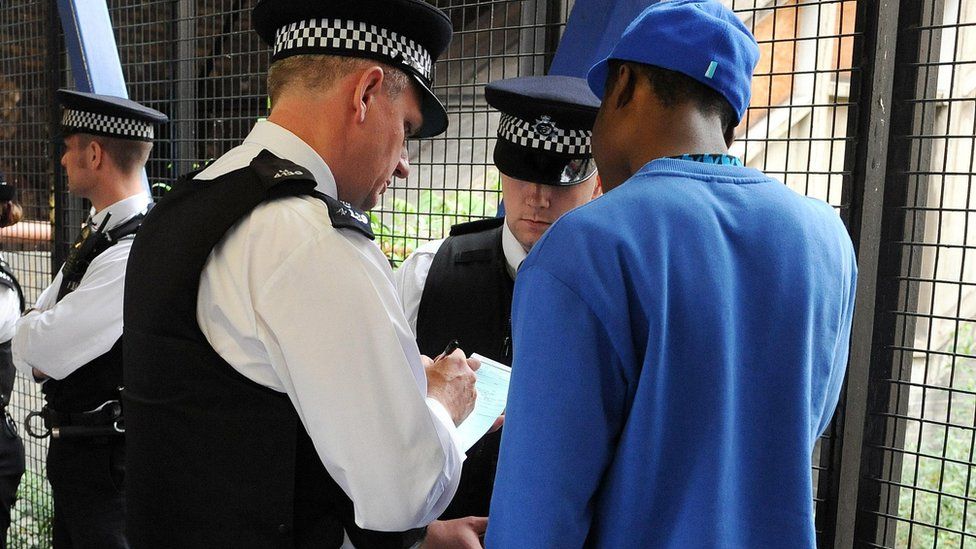 Police powers to stop and search people in a specified area should be immediately suspended, Justice says.
The human rights group says stop-and-search is key in the disproportionate representation of black people in the criminal-justice system.
Its report asks the Home Office for an independent evaluation of "the impact and effectiveness of these searches".
The government says stop-and-search is "a vital tool which helped police seize 11,000 dangerous weapons last year".
And the Metropolitan Police says it as "a hugely important police power for protecting the public".
Overall rates of stop-and-search have fallen in the past decade, despite recent increases.
But there had been no corresponding drop for people belonging to ethnic minorities, Justice found.
Most stop-and-searches require "reasonable grounds" for suspicion.
But 3%, known as Section 60s – in a set area, normally a neighbourhood, for a defined period of time, often following a violent incident or where police believe crimes may happen – do not.
There were almost 18,000, mostly in London, in the year to March 2020, an increase on the previous year.
And a quarter of those searched were black people, according to Home Office figures.
"This disproportionate trend continued even at the height of the first wave of Covid-19 infections," Justice says.
And only 4% of Section 60 stop-and-searches lead to arrest.
"How stop-and-search is conducted provides the single most important opportunity to change the relationship between BAME [black, Asian and minority ethnic] children and the police," the report says.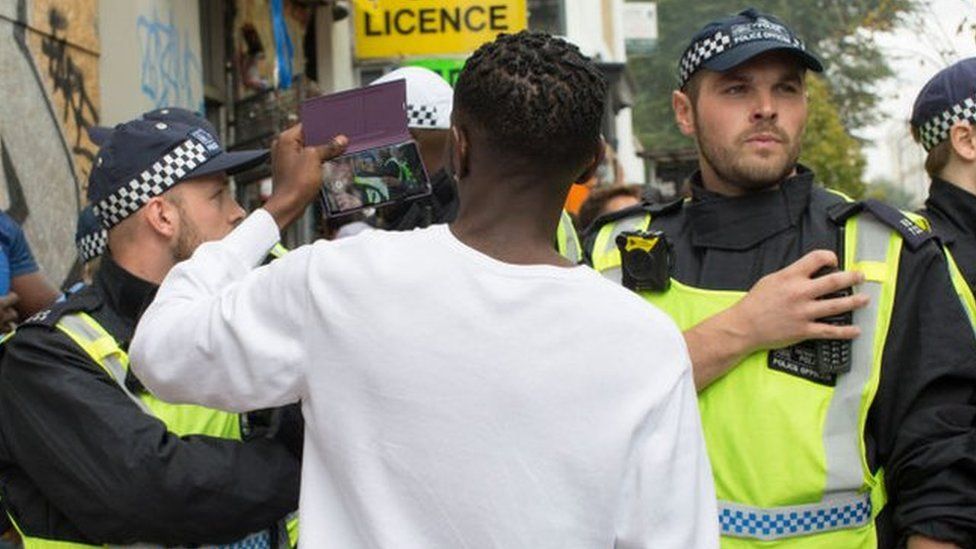 Introduced in the aftermath of the 2011 riots, the GVM is basically a spreadsheet containing details of people officers have identified as gang members.
Following highly critical reports by Amnesty UK and the Information Commissioner's Office, more than 1,000 people were taken off the matrix.
But nearly 2,500 remain on it.
And about 90% of them are Londoners belonging to ethnic minorities.
The "GVM exacerbates perceptions of children, especially BAME children, as sophisticated criminals rather than vulnerable individuals", Justice says.
"We are not convinced that the alleged policing benefits outweigh the manifest disproportionate and negative effect it has on BAME communities," the report says.
A team of senior lawyers and experts at Justice put together the report because of rising concern about the proportion of children belonging to ethnic minorities in youth custody.
This has hit a record high, according to Ministry of Justice figures.
And Justice say this "represents the most acute manifestation of racial disparity" in the youth justice system.
A government official said: "No-one should be stopped and searched because of their race.
"We are determined to tackle the deep-rooted causes of over-representation in the criminal-justice system."