Ellen White scores a hat-trick as England thrashed Northern Ireland in Hege Riise's first game as temporary Lionesses boss.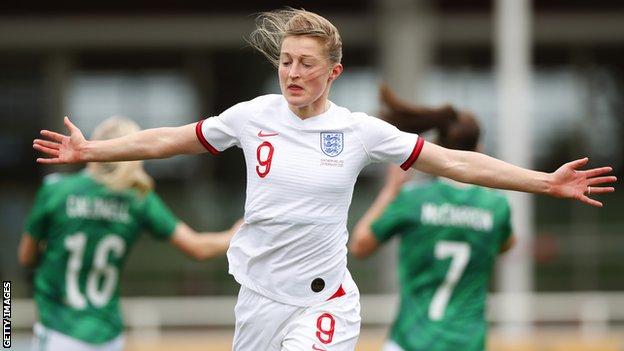 In a friendly played at England's St George's Park training base, Norwegian Riise, overseeing the Lionesses squad until Sarina Wiegman takes charge after the summer Olympics, saw her side overwhelm the visitors.
White's superb treble, a Lucy Bronze tap-in, Rachel Daly's close-range finish and an Ella Toone penalty made for a resounding win in England's first game in almost 12 months and first since the departure of manager Phil Neville.
And midfielder Jill Scott put in a commanding performance to mark her 150th England appearance, becoming only the second women's player to reach that tally after Fara Williams.
Kenny Shiels' depleted Northern Ireland failed to register a shot of any description but will now focus on the more pressing task of qualification for next year's Euros, when they play in April's play-off.
They had Becky Flaherty to thank for keeping the scoreline down, with the Sheffield United keeper making a string of superb saves, but the result reflected the 43 places between the sides in the world rankings.
Hege gets her attacking desire
Brought into the plug the gap between Neville and his successor Wiegman – who will take the reins after leading her native Netherlands at the Olympics – Riise had spoken of trying to bring attacking intent to this England team, who had stuttered to just three wins from Neville's final nine games in charge before a long period without matches as a result of the coronavirus pandemic.
And the Norway legend got precisely what she asked for, with the Lionesses moving the ball quickly from the back to create a flurry of opportunities.
White was the main beneficiary, moving on to 39 international goals, first by capitalising after being gifted the ball by the Northern Irish defence, nodding in Bronze's cross and then finishing a pass from Jill Scott, who was given the captain's armband to mark her 150th cap.
Bronze, the Fifa Best Women's Player of 2020, had tapped in Lauren Hemp's low cross before half-time and later rolled the ball across for Daly to bundle in, before debutant Ella Toone scored from the spot after Rachel Holloway brought down Chloe Kelly.
England, who were also able to bring on Sandy MacIver, Ebony Salmon and Carlotte Wubben-Moy for debuts, have one more friendly, against Canada in April, before a Great Britain team will head to Japan for the Olympics, although the FA is yet to name who will manage the team in Tokyo.
Bigger games to come for Northern Ireland
Hege could well be on the coaching staff when it comes to selecting the Team GB squad, although few of the Northern Ireland team would have made a convincing argument for inclusion based on this game alone.
This result should not detract from the impressive progress Shiel's side have made, winning all four of their final group qualifiers at the end of last year to raise the prospect of reaching the European Championship.
Northern Ireland women will go to their first ever major tournament if they can win April's two-legged play-off, against an as yet unknown opponent, but they will need a stronger performance and more experienced squad to give themselves the best chance possible.
Northern Ireland arrived at St George's Park with a large swathe of their squad unavailable through injuries and work commitments, with sisters Kirsty and Caitlin McGuinness, first-choice keeper Jackie Burns and midfielder Demi Vance all missing out.
That meant there was a spot for 16-year-old Ella Haughey on the bench along with Holloway's first start at left-back and, while Burns' replacement Flaherty impressed between the sticks, the visitors hardly laid a glove on England, barely getting into the home side's half.
There were snippets of Shiel's continued desire to see his side play out from the back, but it frequently led to gifting the ball to England and ultimately led to a thumping defeat.
Rate players out of 10 throughout or after the game. The rater will close 30 minutes after the final whistle.
Rating range key1 = Give it up10 = Pure perfection
England
Starting XI
Squad number1Player nameRoebuck

Squad number2Player nameBronze

Squad number5Player nameHoughton

Squad number6Player nameWilliamson

Squad number3Player nameGreenwood

Squad number8Player nameScott

Squad number4Player nameStanway

Squad number7Player nameDaly

Squad number10Player nameNobbs

Squad number11Player nameHemp

Squad number9Player nameWhite
Substitutes
Squad number13Player nameSandy MacIver

Squad number14Player nameToone

Squad number15Player nameWubben-Moy

Squad number17Player nameKelly

Squad number19Player nameEngland

Squad number20Player nameSalmon
Northern Ireland
Starting XI
Squad number12Player nameFlaherty

Squad number13Player nameMagee

Squad number5Player nameNelson

Squad number4Player nameRobson

Squad number17Player nameHolloway

Squad number11Player nameWade

Squad number7Player nameMcCarron

Squad number16Player nameCaldwell

Squad number8Player nameCallaghan

Squad number10Player nameFurness

Squad number9Player nameMagill
Substitutes
Squad number2Player nameBurrows

Squad number3Player nameMcKenna

Squad number14Player nameFinnegan

Squad number15Player nameKelly

Squad number18Player nameMcDaniel

Squad number22Player nameWatling
Line-ups
England
Formation 4-2-3-1
1RoebuckSubstituted forMacIverat 61'minutes
2Bronze
5Houghton
6WilliamsonSubstituted forWubben-Moyat 75'minutes
3Greenwood
8Scott
4Stanway
7DalySubstituted forSalmonat 84'minutes
10NobbsSubstituted forTooneat 45'minutes
11HempSubstituted forKellyat 61'minutes
9WhiteSubstituted forEnglandat 76'minutes
Substitutes
13MacIver
14Toone
15Wubben-Moy
16Turner
17Kelly
18Mead
19England
20Salmon
21Hampton
N Ireland Wom
Formation 4-4-2
12Flaherty
13Magee
5Nelson
4RobsonSubstituted forKellyat 84'minutes
17HollowaySubstituted forFinneganat 83'minutes
11WadeSubstituted forMcDanielat 73'minutes
7McCarronSubstituted forMcKennaat 57'minutesBooked at 90mins
16CaldwellSubstituted forBurrowsat 84'minutes
8CallaghanSubstituted forWatlingat 58'minutes
10Furness
9Magill
Substitutes
2Burrows
3McKenna
6Hutton
14Finnegan
15Kelly
18McDaniel
19Wilson
20Howe
21Haughey
22Watling
23Harvey-Clifford
Match ends, England 6, Northern Ireland Women 0.
Full Time