A UK tribunal denied Epic Games permission to go after Apple – but a case versus Google can proceed.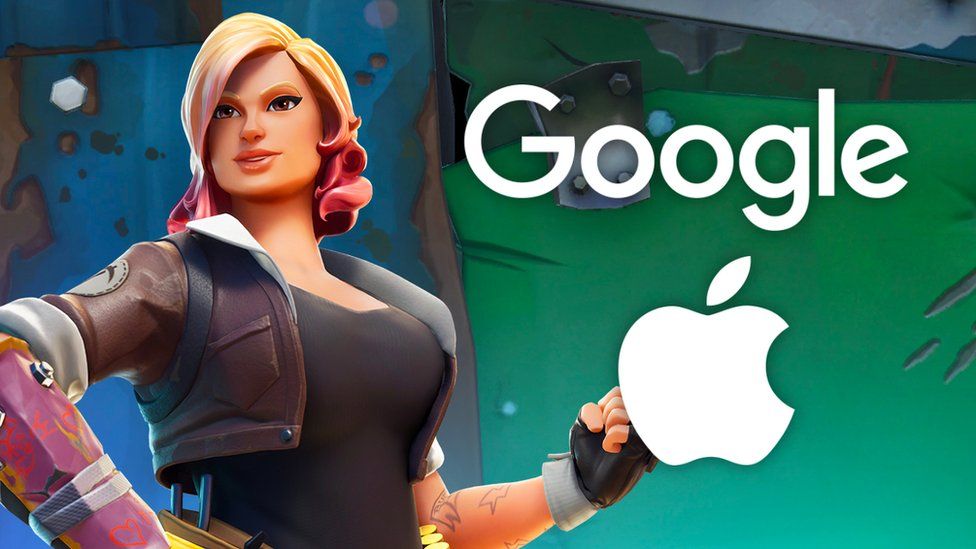 The maker of Fortnite, Epic Games, will not be able to take Apple to court in the UK as part of a high-profile row, a tribunal has ruled.
Fortnite was pulled from Apple and Google's app stores worldwide after it broke rules – which it claims are unfair – about in-app purchases.
Epic had wanted to take both US companies to court in the UK, alleging they broke competition law.
But the Competition Appeal Tribunal gave it permission to pursue Google.
That case will relate to specific claims about how Fortnite was pulled from Android's Google Play store.
The focus of the case was whether the "out of jurisdiction" US companies could be dealt with by British courts, which requires permission of the Tribunal.
All three companies are US-based.
Fortnite makes vast sums of money from in-app purchases, when players buy its virtual currency, V-Bucks.
But when a player did that on an iPhone or Android version of the game, Apple or Google took a 30% cut of the payment.
Epic had long argued such a cut was unfair, and inflated prices for players. So last year, it offered players the chance to buy the virtual currency direct from its own website, circumventing Apple and Google.
That was explicitly against both companies' app store rules – so both removed Fortnite from their stores.
Epic had legal cases already prepared against both tech giants, along with an elaborate media campaign attacking Apple.
The judge, Justice Roth, said he was "far from persuaded" that the UK was the best place for the Epic-Apple dispute.
But Google was different, he found, for complex legal reasons involving the corporate structure, Google's Irish subsidiaries, and how much input the different branches of the two tech firms had in implementing the decisions.
On balance, Justice Roth found that the US divisions of Google were "proper parties to those claims".
Apple also has a presence in Ireland, but it was not involved in Epic's case.
The result leaves Epic in the position of being able to pursue Google in the UK, but not Apple – and Apple has been the main focus of its ire.
That is partly because Google's Android system is not as tightly locked down as Apple's, and Fortnite can still be downloaded to Android, with extra steps and bypassing security warnings.
But Epic Games highlighted that the tribunal said that if US courts would not rule on relief in the UK, that could be a "powerful factor" in revisiting the decision regarding Apple.
Epic Games said it was "pleased" about the decision regarding Google, and that it "will reconsider pursuing its case against Apple in the UK after the resolution of the US case".