Boris Johnson says there will be "no let up", as he prepares to set out his plan to ease lockdown.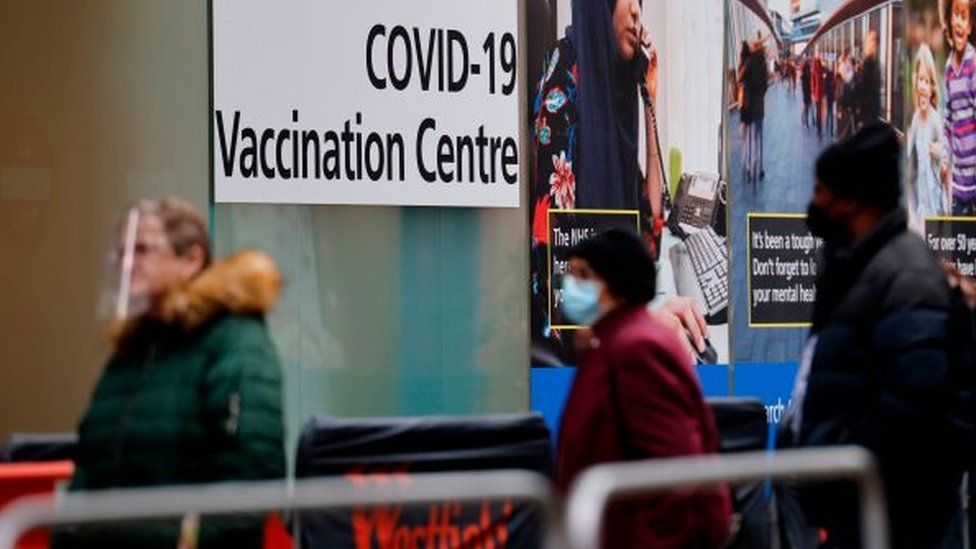 All adults in the UK will be offered their first dose of a coronavirus vaccine by the end of July, the prime minister has pledged.
More than 17 million people have been given a jab since the UK's Covid vaccine rollout began in December 2020.
But Boris Johnson said he now wants the programme to "go further and faster".
He said the July target would allow vulnerable people to be protected "sooner" and would help to further ease lockdown rules across the country.
The prime minister is expected to hold a final meeting on Sunday about how to ease England's lockdown, before he sets out the full "road map" on Monday.
Nearly a third of adults in England have had their first jab and there are "early signs" that the vaccine rollout is contributing to the fall in hospitalisations, NHS England chief executive Sir Simon Stevens said.
A speedy rollout of the vaccine to all vulnerable people is seen as critical to reducing the pandemic's death toll and relieving pressure on the NHS.
The government's previous target was to offer all adults the first dose by September.
The new plan means that by 15 April, all adults aged 50 and over, as well as younger people with underlying health conditions that put them at higher risk, should have been offered a jab.
Meanwhile, NHS England said that more than two thirds of those aged between 65 and 69 have had their first dose of a vaccine – just one week after invitations went out.
Next, about 460,000 people aged 64 will be invited to get their jab.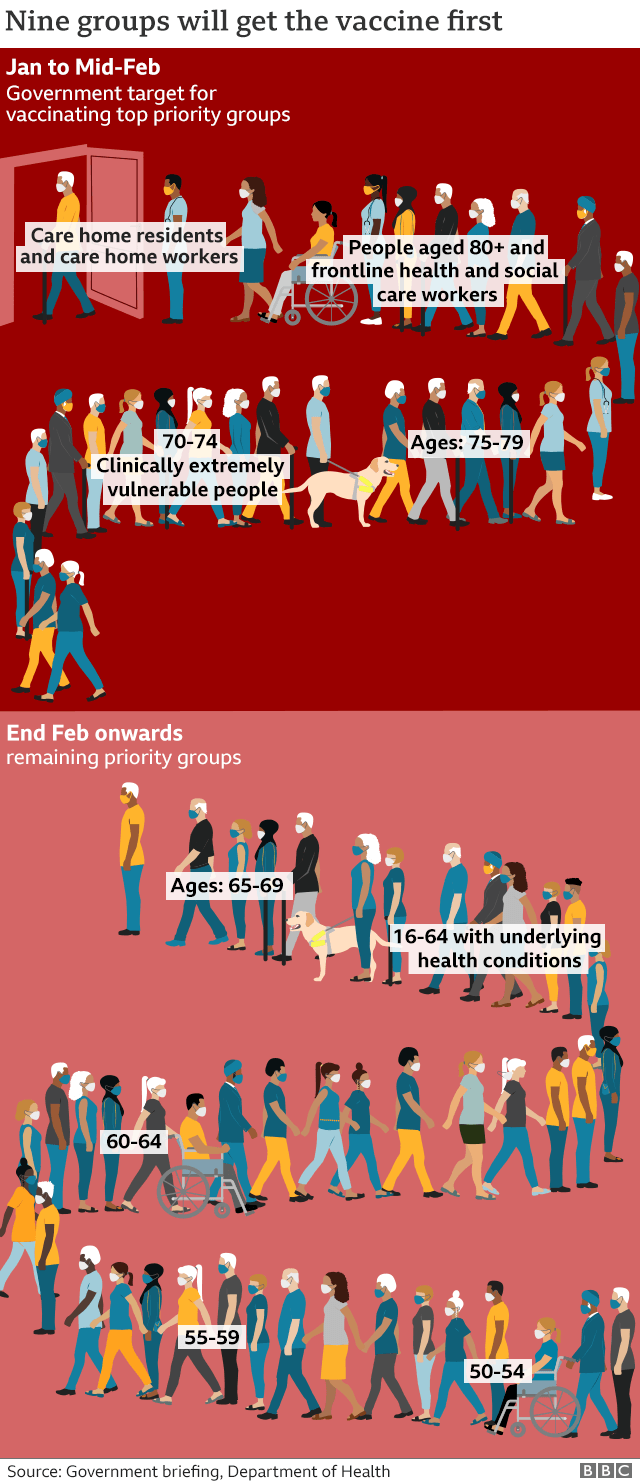 Labour welcomed the vaccine targets being moved forward, but called on the government to prioritise people based on their job.
Shadow health secretary Jonathan Ashworth said: "It's perfectly reasonable for teachers, police officers and other key workers who haven't been able to stay at home in the lockdown to ask when their turn will be.
"If government aren't going to prioritise by occupation in the next phase, they need to set out why."
Mr Ashworth also said the vaccination programme had to be supported by stronger measures to break the chain of infection, such as "decent financial support" for people who have to self-isolate, updated guidance on face coverings and better ventilation standards in workplaces.
Some 17.2 million people in the UK have received their first dose of a vaccine at one of the 1,500 vaccination sites across the country, and almost 600,000 have received their second dose.
The government has said it met its pledge of offering a vaccine to everyone in the top four priority groups – including those aged 70 and over, care home residents, healthcare workers and people required to shield – by 15 February.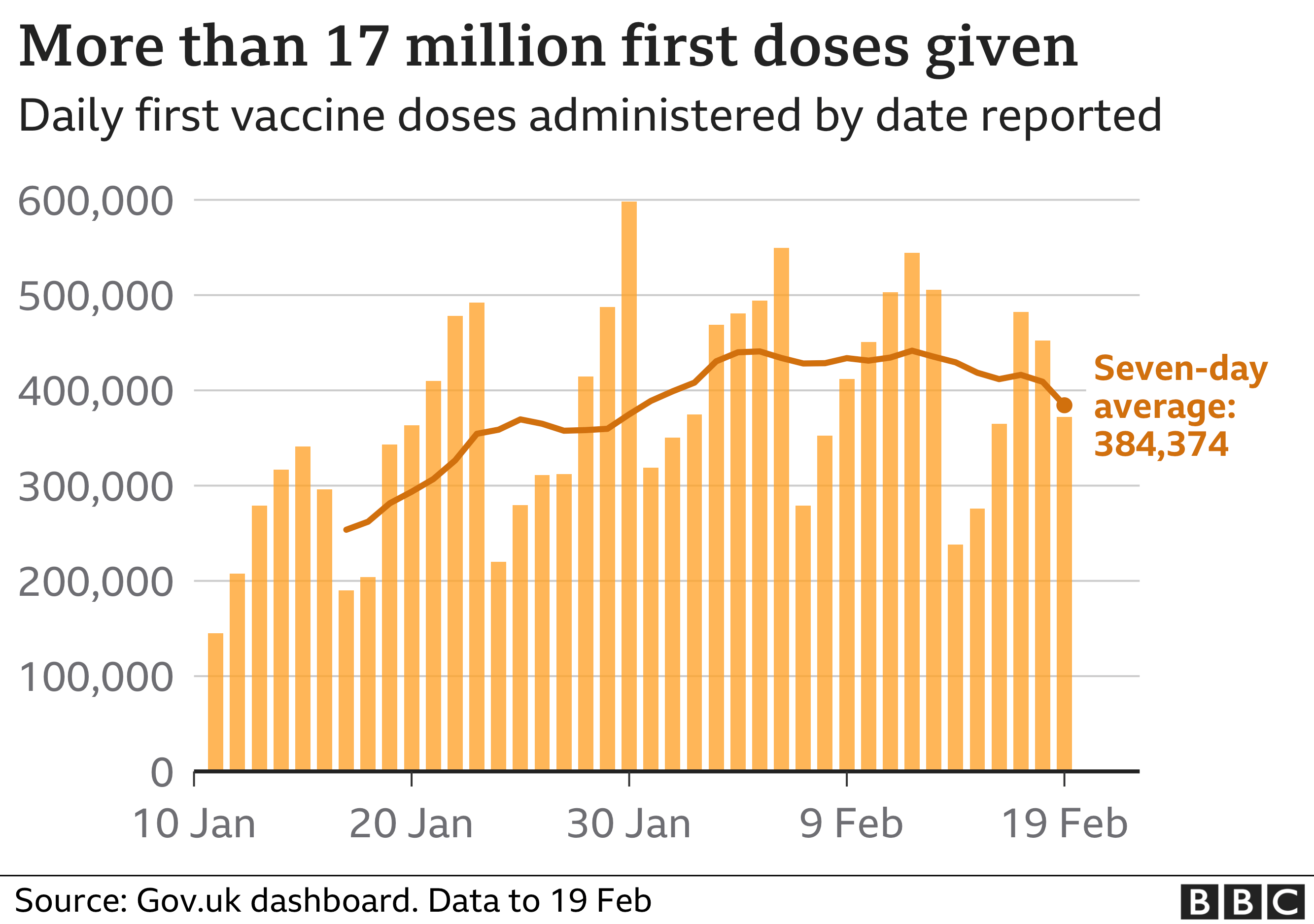 Mr Johnson said in a statement: "Hitting 15 million vaccinations was a significant milestone – but there will be no let up, and I want to see the rollout go further and faster in the coming weeks.
"We will now aim to offer a jab to every adult by the end of July, helping us protect the most vulnerable sooner, and take further steps to ease some of the restrictions in place."
However, he added that the "route out of lockdown" would be "cautious and phased".


Reuniting families and allowing people to have more social contact will be an "absolute priority" in easing measures once schools have reopened, No 10 said on Saturday.
The regular care home visitors will be able to meet indoors and hold hands with their loved one, but must wear personal protective equipment and be tested beforehand.
In Scotland, care home residents will be allowed up to two designated visitors once a week, under guidelines due to be published on Wednesday. The Scottish government hopes to publish a route out of lockdown next week, but First Minister Nicola Sturgeon has urged people not to book Easter holidays.
Wales has already announced some relaxation of its lockdown rules, but Northern Ireland has extended its stay-at-home order until April.