Some women who've had the condition have been told to shield while others have not.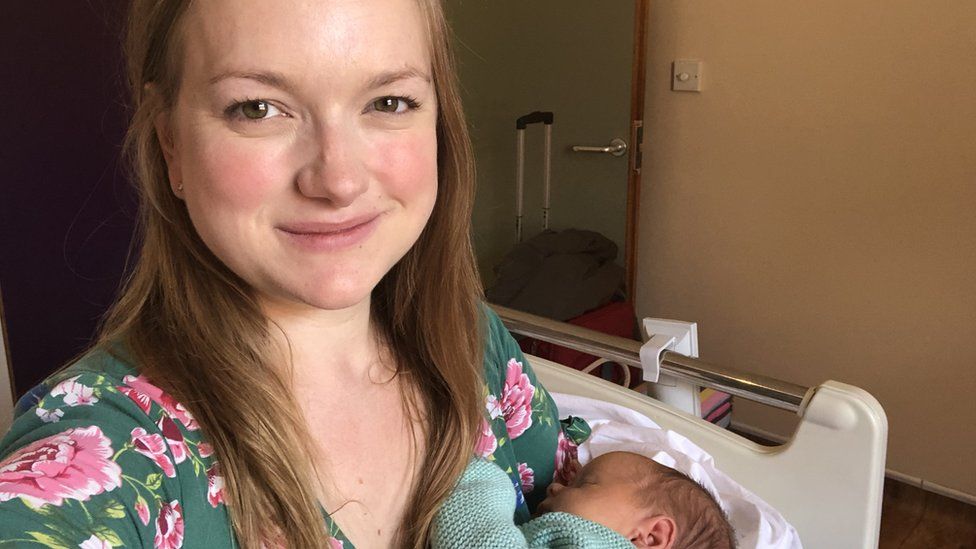 Some pregnant women who have had gestational diabetes say a change to shielding advice in England has caused confusion.
Some have been told to stay at home while others have not, based on a new algorithm which calculates an individual's risk from Covid.
They will now be prioritised for a Covid vaccine.
The risk calculator, which identified the additional shielders, is based on factors such as age, ethnicity, postcode and weight, as well as health.
NHS England says not everyone with the same condition will be advised to shield but suggests people contact their GP to discuss their individual case.
Gestational diabetes is high blood sugar (glucose) that develops during pregnancy because the body cannot produce enough insulin.
It can happen at any stage and, if not detected, can cause problems for both mother and baby.
Although it usually disappears after giving birth, women who've had it are more likely to go on to develop type 2 diabetes and should have their blood sugar levels monitored.
Heather Davis Mahoney, from Hertfordshire, had gestational diabetes while carrying her second child, and was monitored closely during her third pregnancy.
She has not been told to shield, but says it's worrying when others from similar backgrounds have been told they should.
"There's been an explosion of confusion. People don't know what's going on and are worried about putting themselves and their babies at risk," she says.
Vicky, from Melton Mowbray, had gestational diabetes two years ago and at first thought her shielding letter was a hoax.
She works as a supermarket store manager and has carried on throughout the pandemic.
"I rang the GP but I couldn't get an answer as to why it was [that I was on the list]. I haven't fully decided what I'm going to do," she told the Jeremy Vine show on BBC Radio 2.
But GP Dr David Triska said just because someone has gestational diabetes or had it in the past, doesn't mean they should be shielding.
"I think the major point of confusion is that people are expecting that this is a binary 'yes' or 'no' per condition algorithm – and it is not," he said.
"The reason why people are getting different answers from various sources is because this is an individual risk assessment."
Anyone considered to be clinically extremely vulnerable is advised to stay at home at all times and only go out to exercise or for medical appointments.
In England, the new way of calculating who is most at risk from Covid-19, called 'QCovid', has been introduced based on data gathered during the first wave of coronavirus in spring 2020.
As with the previous shielding list, it looks at an individual's overall health.
But it also factors in other things to work out how likely it is that someone will become seriously ill with the disease.
someone's age
ethnicity
the postcode they live in and how deprived it is
their weight
Anyone added to the list will now be made a priority when it comes to getting the Covid vaccine.
Decisions about who should shield in Scotland, Northern Ireland and Wales are taken separately.
NHS Digital says the new algorithm takes a careful approach.
It says anyone with a current or previous history of gestational diabetes is more likely to develop type 2 diabetes or have undiagnosed diabetes.
When combined with other factors used by the QCovid model, it says this could mean people are more likely to become seriously ill with Covid-19.
But anyone who has been told to shield or feels they should be, should contact their GP for advice.
Diabetes UK's policy manager, Nikki Joule, says: "We know the UK government is taking a precautionary approach as to who should be added to the clinically extremely vulnerable list in England, and we expect the process will be reviewed and refined over time," she said.
"We understand there's confusion over this situation, but we encourage anyone who has received a letter or text unexpectedly not to panic."