Restrictions will remain, but some primary school children will return to school from Monday 8 March.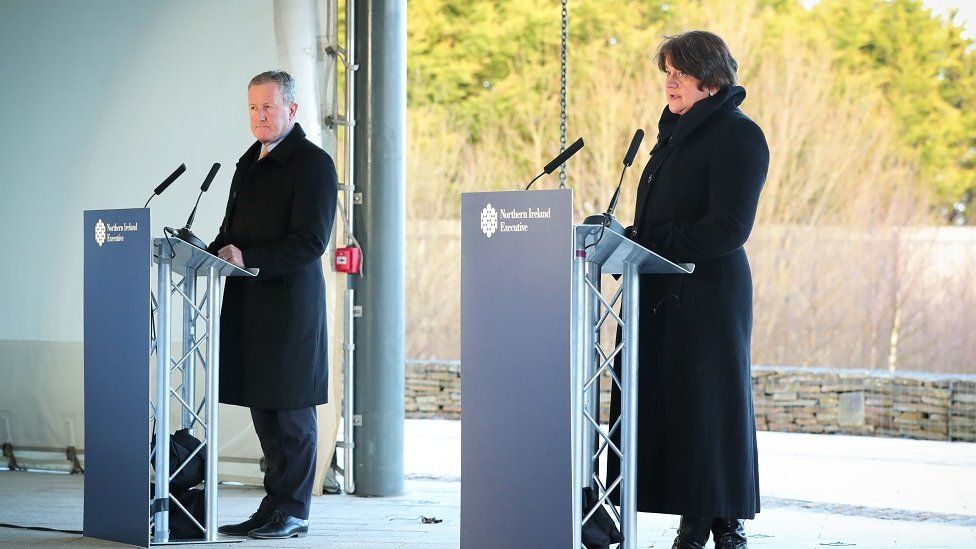 Lockdown restrictions in Northern Ireland will be extended until 1 April, the Stormont Executive has agreed.
But children in primary 1 to primary 3 (aged four to seven) will go back to school in Northern Ireland on 8 March.
Restrictions were imposed on 26 December to manage the spread of Covid-19.
Health officials have said they want to avoid a possible rise in cases around St Patrick's Day on 17 March.
Another review of the measures will take place on 18 March.
First Minister Arlene Foster said Northern Ireland knew "from experience what looks like success is hard-won, but also fragile".
"We need decisions to be safe and sustainable, with a proper sequencing of actions."
The executive will publish its pathway-to-recovery blueprint for Northern Ireland on 1 March, she said.
It is not expected to include indicative reopening dates and Mrs Foster said she would be focused on "data, not dates".
Mrs Foster also said the executive was concerned about a growing prevalence of the more transmissible Kent variant of coronavirus, telling a press conference that up to 70% of cases in Northern Ireland are now linked to it.
A further six Covid-19 linked deaths and 342 new cases were reported on Thursday by Northern Ireland's health department, bringing its death toll to 2,021.


This decision will not exactly come as a surprise.
While the rate of infection continues falling, the numbers remain higher than when restrictions were initially eased after the first lockdown.
The executive unanimously backed Health Minister Robin Swann's proposal and it's clear the parties all agree (for now), that any reopening will have to be careful and gradual.
If the measures do end up staying in place until 1 April, that means NI will have been in lockdown for 14 weeks in total – a high price paid for Christmas easing.
Ministers are also urging people not to get ahead of themselves when it comes to Easter yet, though it's not clear why restrictions weren't extended over Easter weekend.
The key message from Stormont remains that the fight to suppress coronavirus must continue, with hope for a way out starting later in the Spring.

The executive also agreed to a proposal from Education Minister Peter Weir at Thursday's executive meeting, allowing for a phased return of schools.
Students doing qualifications like GCSEs, AS, A-levels (in Years 12 to 14) and other vocational qualifications will return to face-to-face teaching from 22 March.
To ensure that two large cohorts are not back before Easter, the executive said pre-school nursery years children will have remote learning during the week of 22 March, before the Easter break.
Mrs Foster said the intention was to get all pupils back to school as soon as is achievable, after Easter, with the option of a separate phased return for primary 4 to primary 7 pupils and the remaining non-qualification years of post-primary.
The aim is "dependent on the health situation at the time", Mrs Foster added.
Speaking to BBC Radio Ulster's Evening Extra programme, Michael Allen, principal of Lisneal College in Londonderry, welcomed the announcement but said planning was needed.
"We need to make sure that the examination boards, particularly the CCEA, that their timing is perfectly aligned with the pupils returning on the 22nd," he said.
"Otherwise you have a real risk that you have 30 year 12 to year 14 pupils in every class staring at the teacher not knowing what to do and teachers staring back still none the wiser in terms of the evidence required for the centre determined grade."
Tullygally Primary School principal, Kirsty Andrews, said the logistics would be difficult for schools.
"I don't like the idea of it being only two weeks then out again, back to remote learning – we all know the children need to be back in school for face to face teaching," she said.

Stormont ministers have also agreed slight changes to click-and-collect services for some retailers.
Those services will resume from 8 March for baby equipment shops, clothing shops, footwear shops and electrical goods shops.
From that date, the number of people allowed to meet outdoors in a public space will increase to 10 people from two households.
Finance Minister Conor Murphy said he did not want the executive to cause "confusion" over whether people can meet up during the Easter holidays, which begin on 2 April.
"The advice would be not to be booking anything for Easter weekend, but there will be a review – I think the way the advice has been given today shows it's a gradual pace, there's no rapid reduction," he said.
"This is going to be a more slow re-entry into normal life, this side of Easter there won't be any reopening into normal life."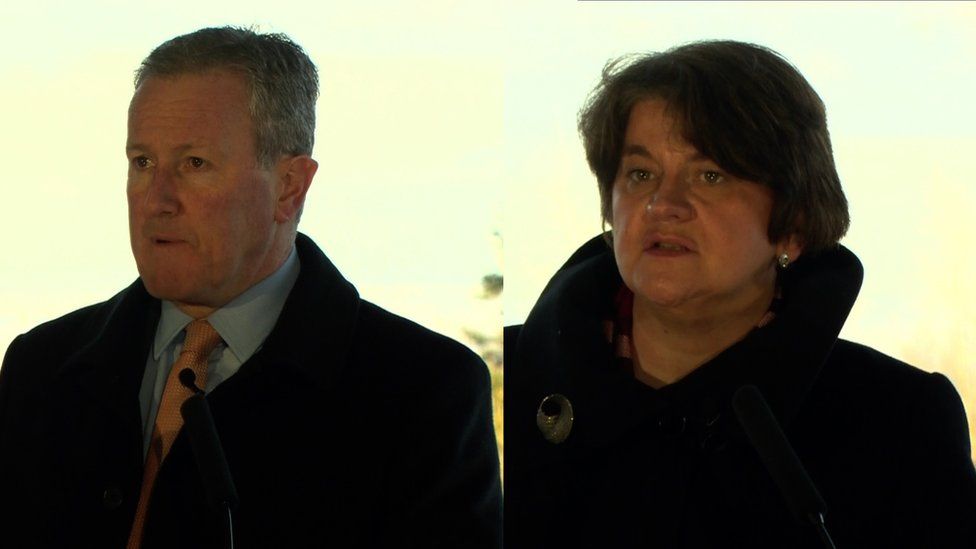 Economy Minister Diane Dodds tweeted that she was hopeful of a "safe and sustainable" reopening of sectors.
A joint statement from some business organisations said many firms would be "devastated" by the extension of the lockdown.
The chief executives of Hospitality Ulster, Belfast Chamber, Londonderry Chamber of Commerce and Retail NI described the changes to click-and-collect services as "positive steps".
But they warned that the impact of repeated lockdowns would be "severe and long-standing".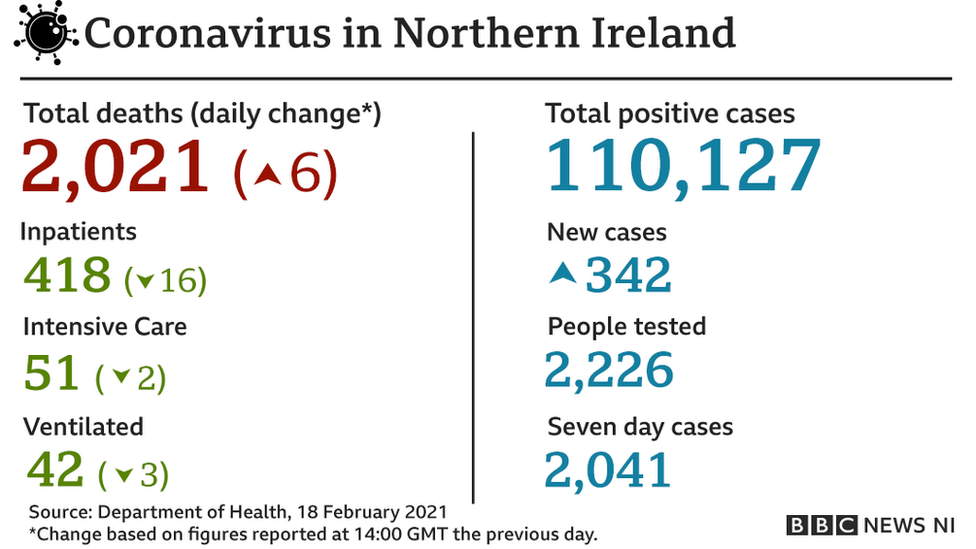 Earlier, the British Medical Association's Dr Tom Black warned of the need to be very careful about reducing restrictions.
The senior GP said several more weeks of lockdown would leave Northern Ireland in a much better position.
Some businesses have been calling on the executive to set out a plan to help restart Northern Ireland's economy.
Tina McKenzie, of the Federation of Small Businesses, said a continued closure for traders would affect the Northern Ireland economy more severely than the rest of the UK.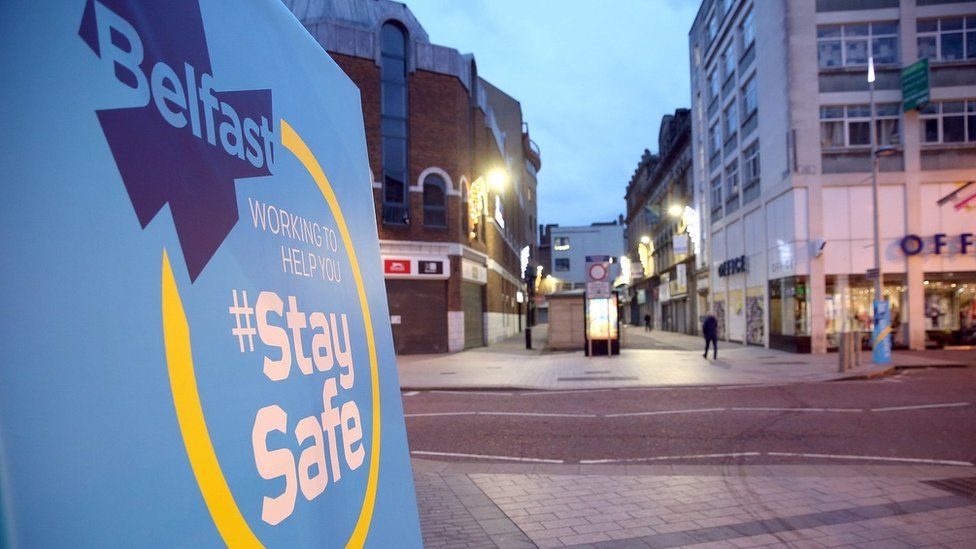 It came in response to a large spike in the number of coronavirus cases, which followed a relaxation of some rules in the run-up to Christmas.
The restrictions have meant non-essential retailers have been closed, family gatherings have been prohibited and people have been ordered to stay at home for all but essential reasons.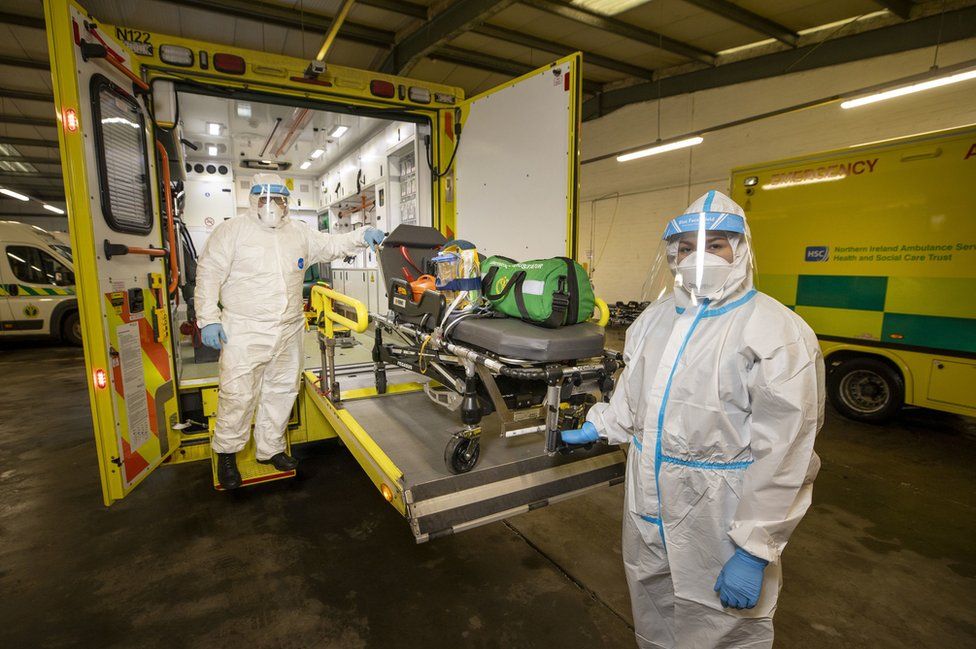 Meanwhile, latest figures from Stormont's Department of Health show 427,569 people have received their first coronavirus vaccine in Northern Ireland.
Some 30,012 have received both their first and second.

BBC News NI are keen to hear your questions about coronavirus following the executive meeting on Thursday to review restrictions.
We'll answer as many as possible with our reporter Jayne McCormack live at 19:00 on the BBC News NI website, iPlayer and BBC News NI Facebook Page.
If you are reading this page on the BBC News app, you will need to visit the mobile version of the BBC website to submit your question on this topic.