The Bake Off judge loved his work and he had famous friends so why is he not more celebrated?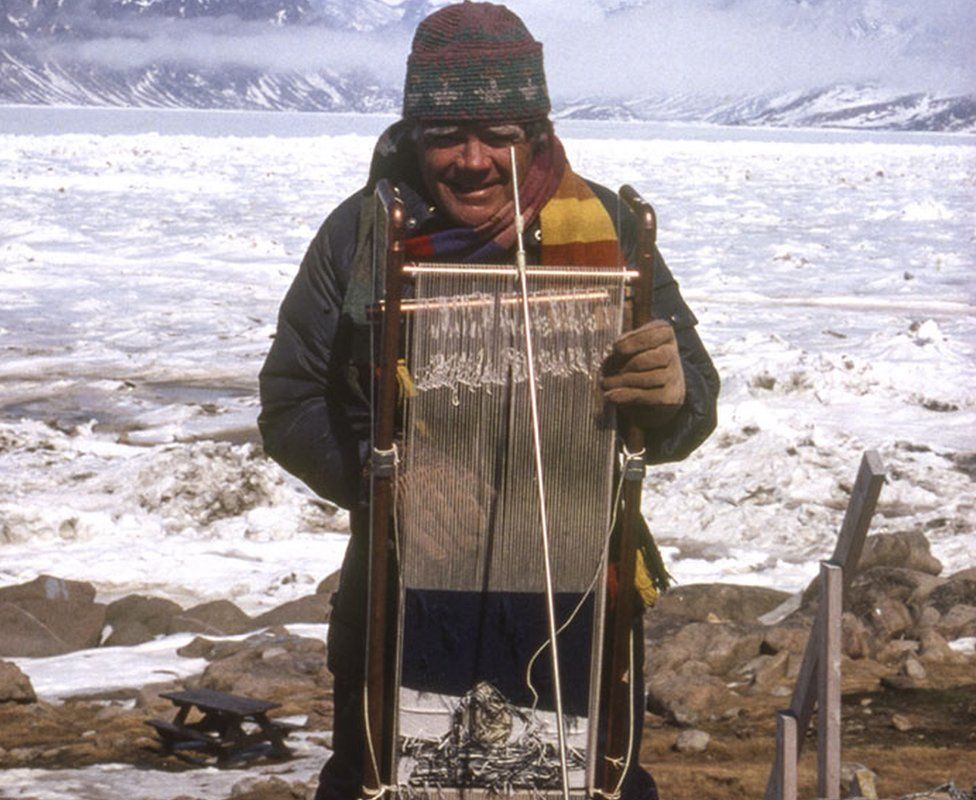 The artist Archie Brennan knew Sir Sean Connery, collaborated with David Hockney and his work was bought by The Great British Bake Off judge Prue Leith.
Yet the man dubbed "Scotland's Andy Warhol" remains far less well known than some of his famous friends.
"I think it was down to him working in tapestry," says Kate Grenyer, curator of Dovecot Studios in Edinburgh. "When people think of art they think of painting and sculpting. Tapestry was a bit of a niche thing to do."
But forget knights in shining armour, unicorns and flowers. Brennan made tapestry modern, preferring to weave famous faces, including Princess Diana and the boxer Muhammad Ali.
He was born in Scotland and died in 2019, aged 87, in the US, which he had made his home in the latter years of his life. Now the first major retrospective of his work aims to bring him to a much wider audience.
It is due to open at Dovecot Studios next month.
It will feature more than 80 of his tapestries, many of which have never been seen in public before.
Here we have selected some of the tapestries from the exhibition.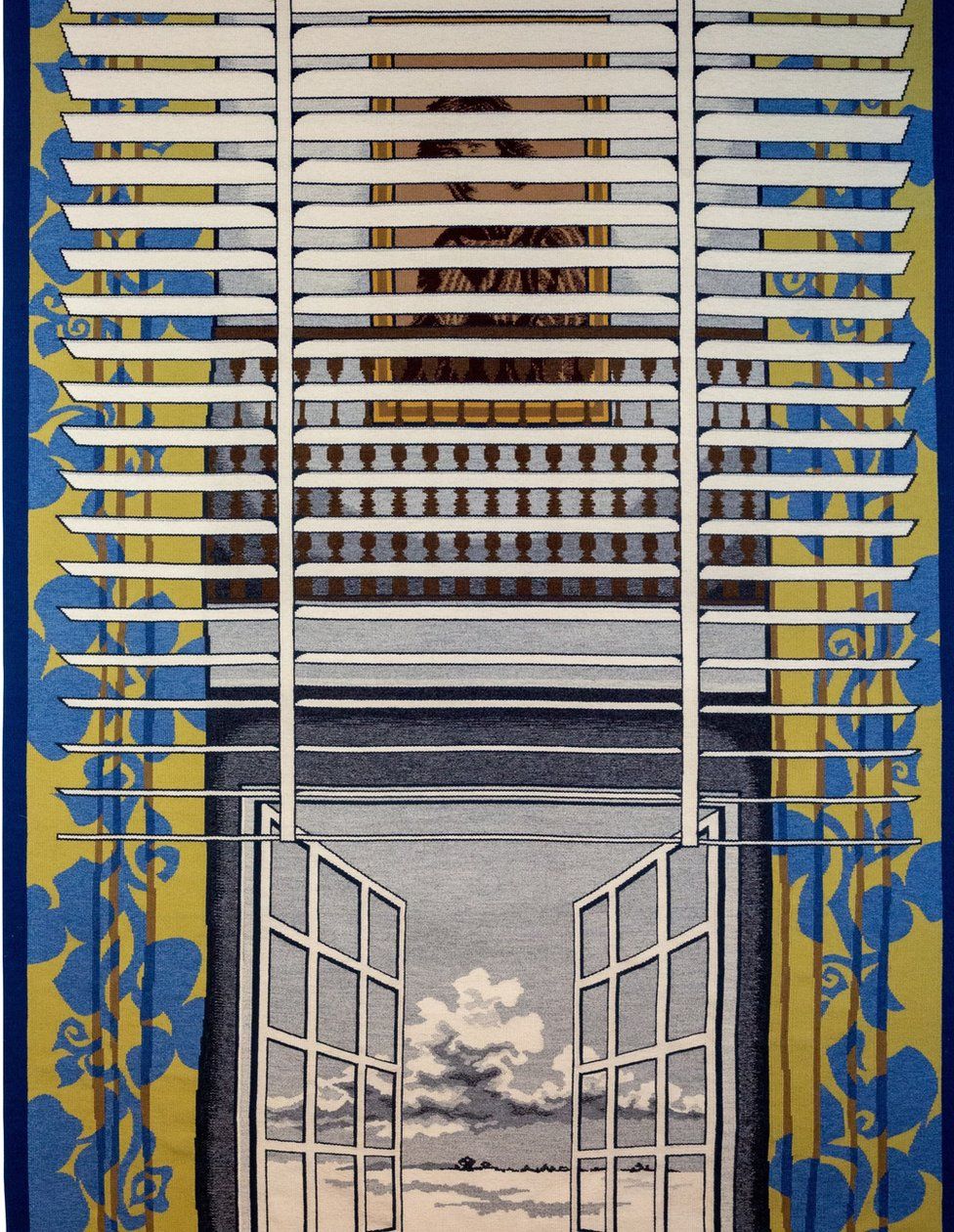 The cook and The Great British Bake Off judge Prue Leith first came across Brennan when she was watching a television documentary about weaving in the 1970s.
"What interested me was Archie's love of the actual process of weaving, going backwards and forwards. It was the most fascinating thing to watch. It's rather like watching a Chinese chef making noodles. It's just magic," she says.
Leith was so "hooked" she commissioned him to make a huge tapestry for her home.
"He came down to see us," she explains, "and walked around the house and we didn't tell him what we wanted or anything and he said, 'Could I put you in it?' And I said yes."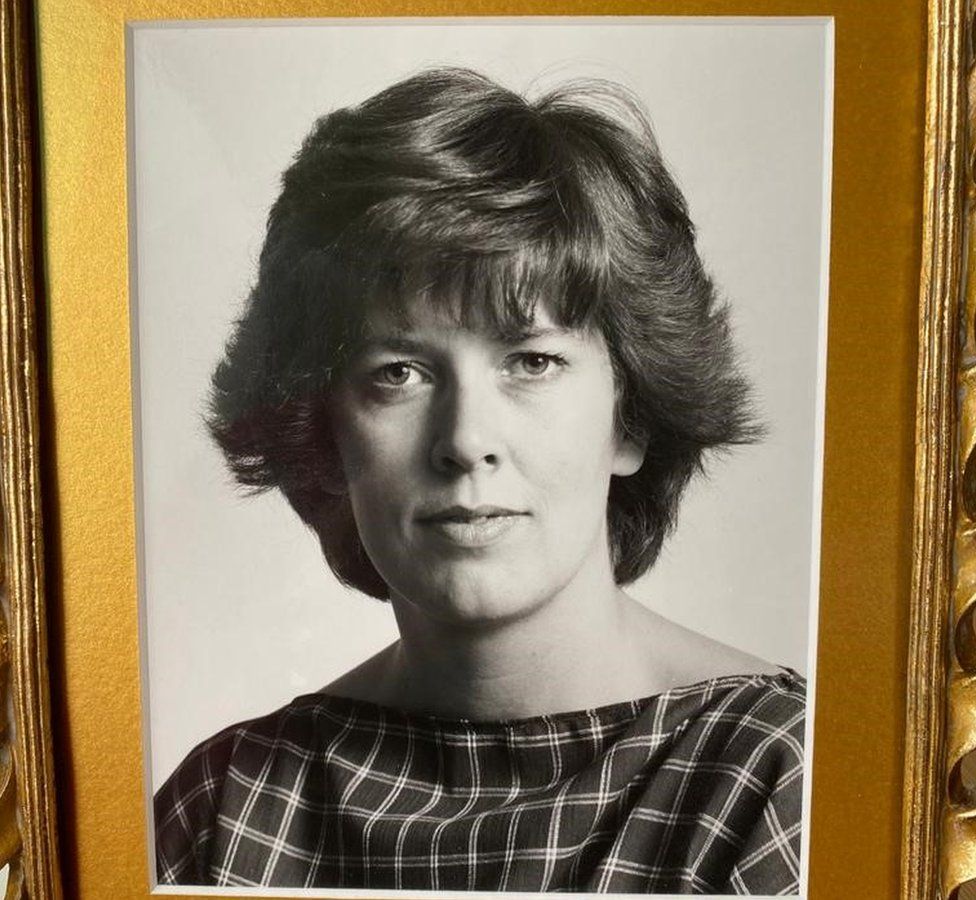 He asked Leith to give him a photograph of herself from which he could work. He would regularly use a photo as his starting point for his work.
"I'm actually standing at a window looking out but you're seeing me through a venetian blind," she says of the tapestry, At A Window, VI.
"I was 40 years-old at the time, so I looked a bit different then," she adds. "But I'm very pleased it's me now. You know what an egotist I am, that's not surprising."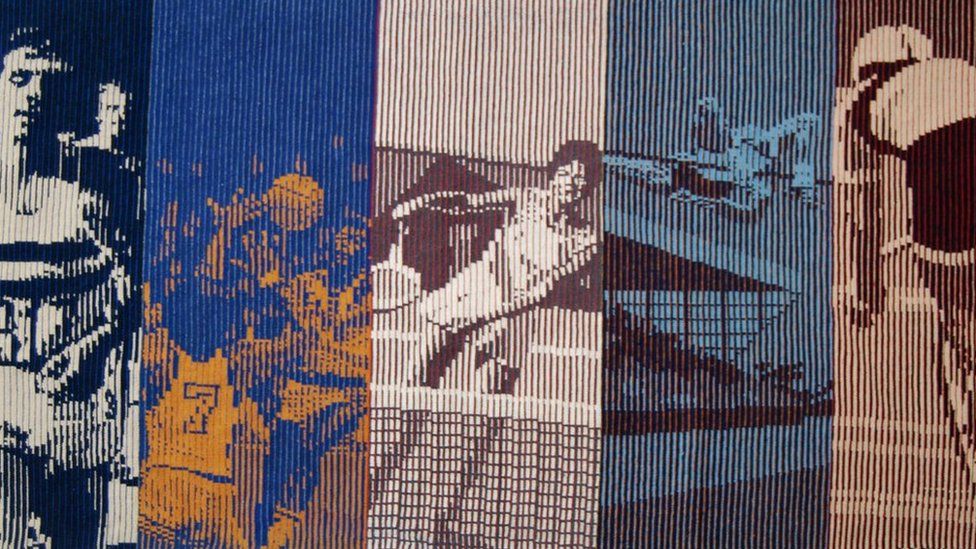 Brennan was a huge sports fan and made many tapestries of famous sportsmen and women.
"I have a great admiration for people who stretch themselves a great deal," he told the BBC in 1977. "I think there's a special kind of dignity in doing that, a kind of richness."
That same year he was commissioned to make a tapestry for the Meadowbank Stadium in Edinburgh. It features the long-distance runner Brendan Foster and the tennis player Virginia Wade, who won Wimbledon in 1977.
"The others are anonymous athletes," says Kate Grenyer.
Brennan worked from images and photographs cut from newspapers and magazines or sketched from the television.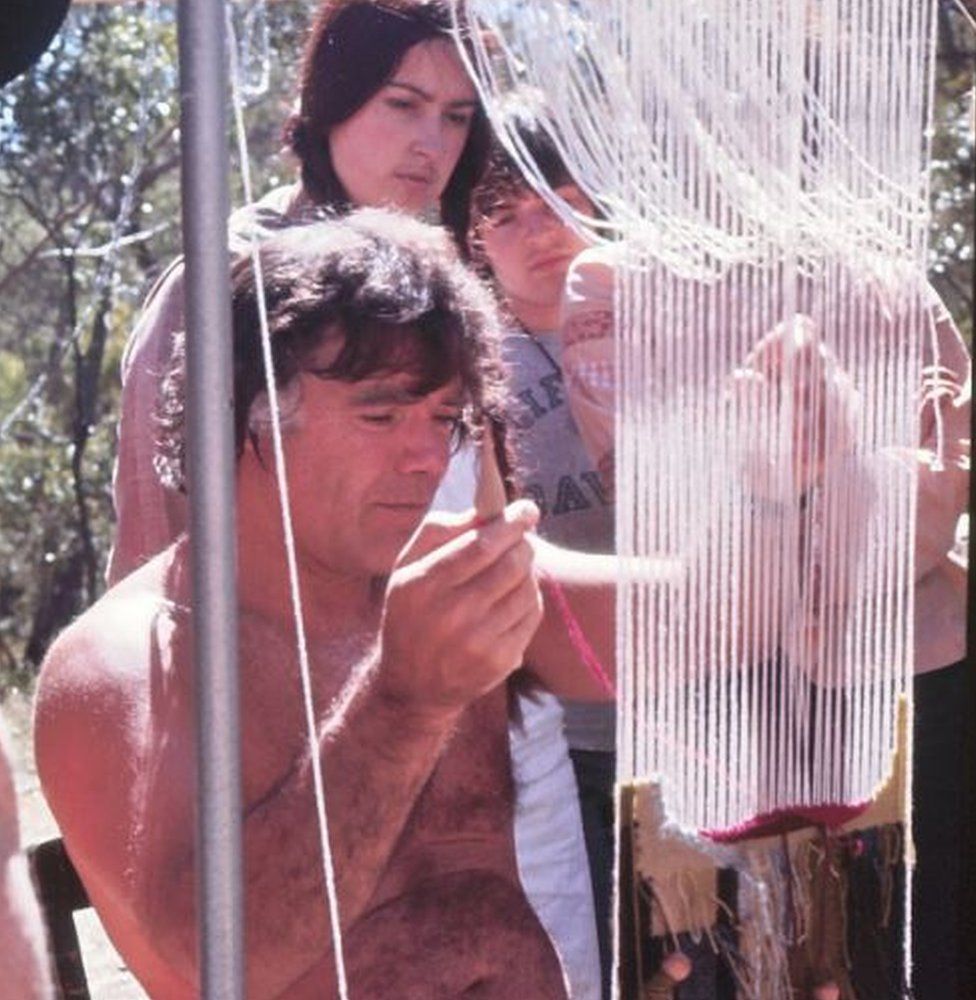 His daughter Sara, remembers him working at home when she was growing up.
"Sometimes in the summer he wove downstairs. We had big patio doors, he would open them up, sit with the sun on his back, and he would also have the television on watching tennis. Wimbledon."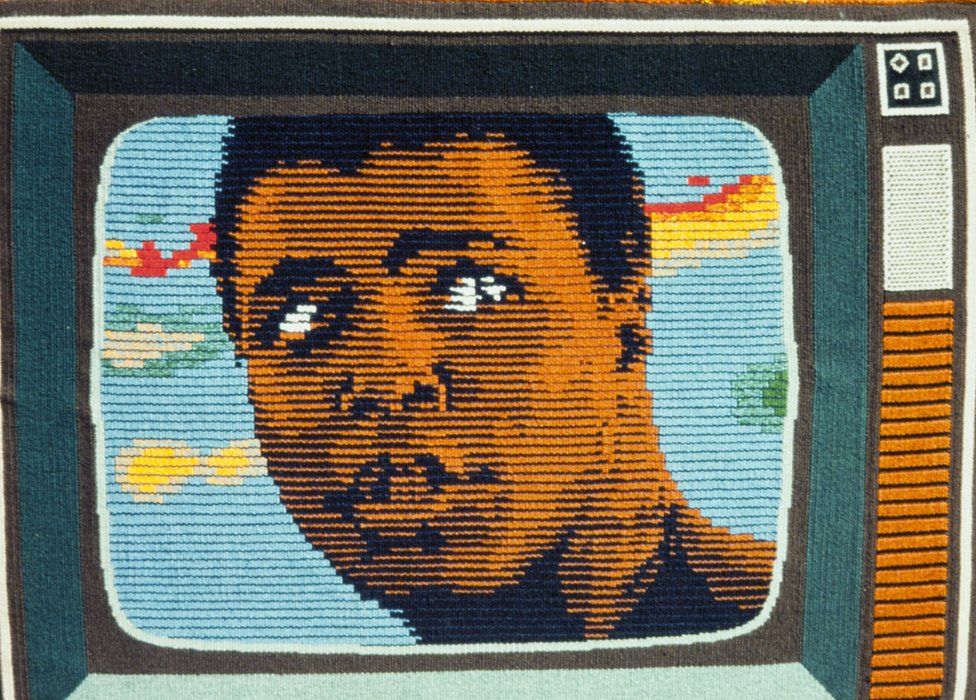 One of Archie Brennan's favourite subjects was Muhammad Ali.
"He was fascinated by the idea of a face that everyone recognised," says Grenyer.
The tapestry above was woven as if Ali was being seen on a television screen.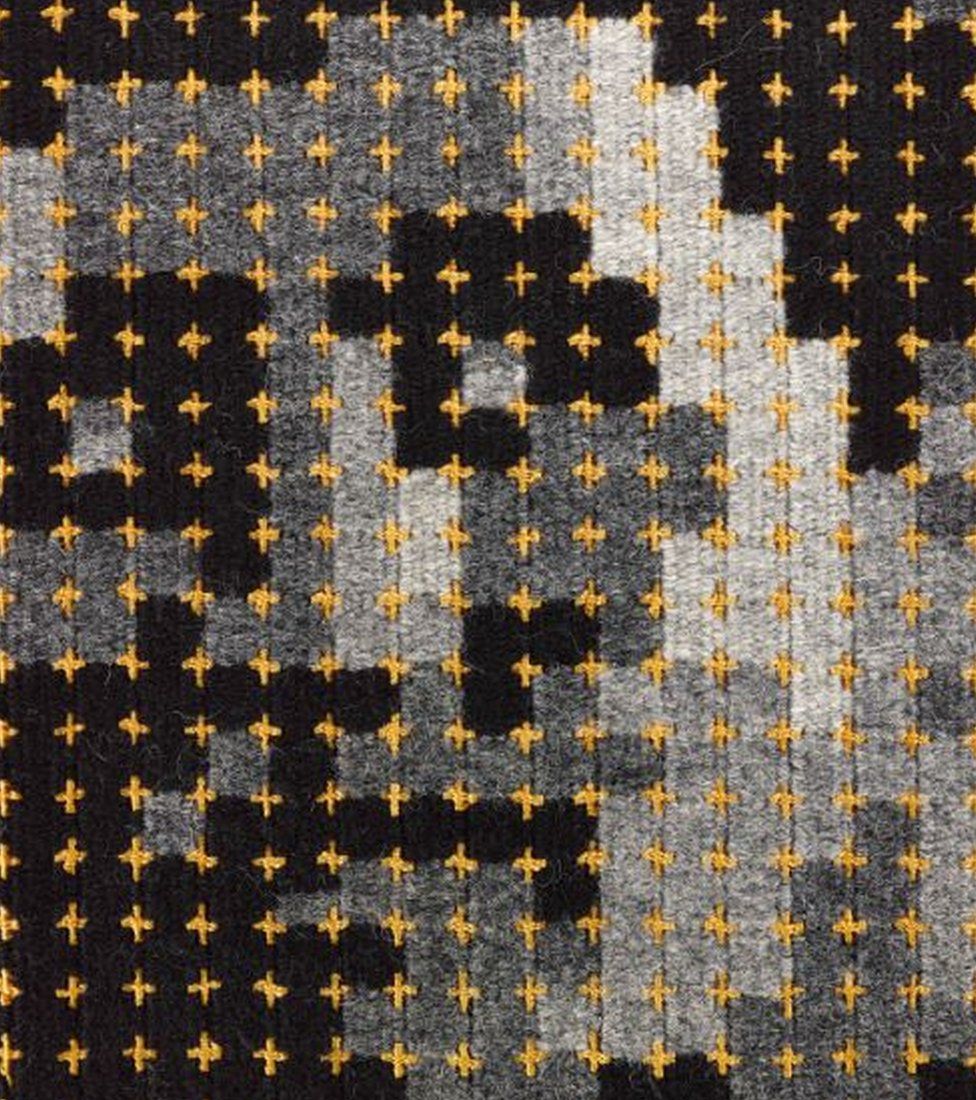 Brennan used the tapestry "grid" to distort this image of Ali, although his face is still recognisable.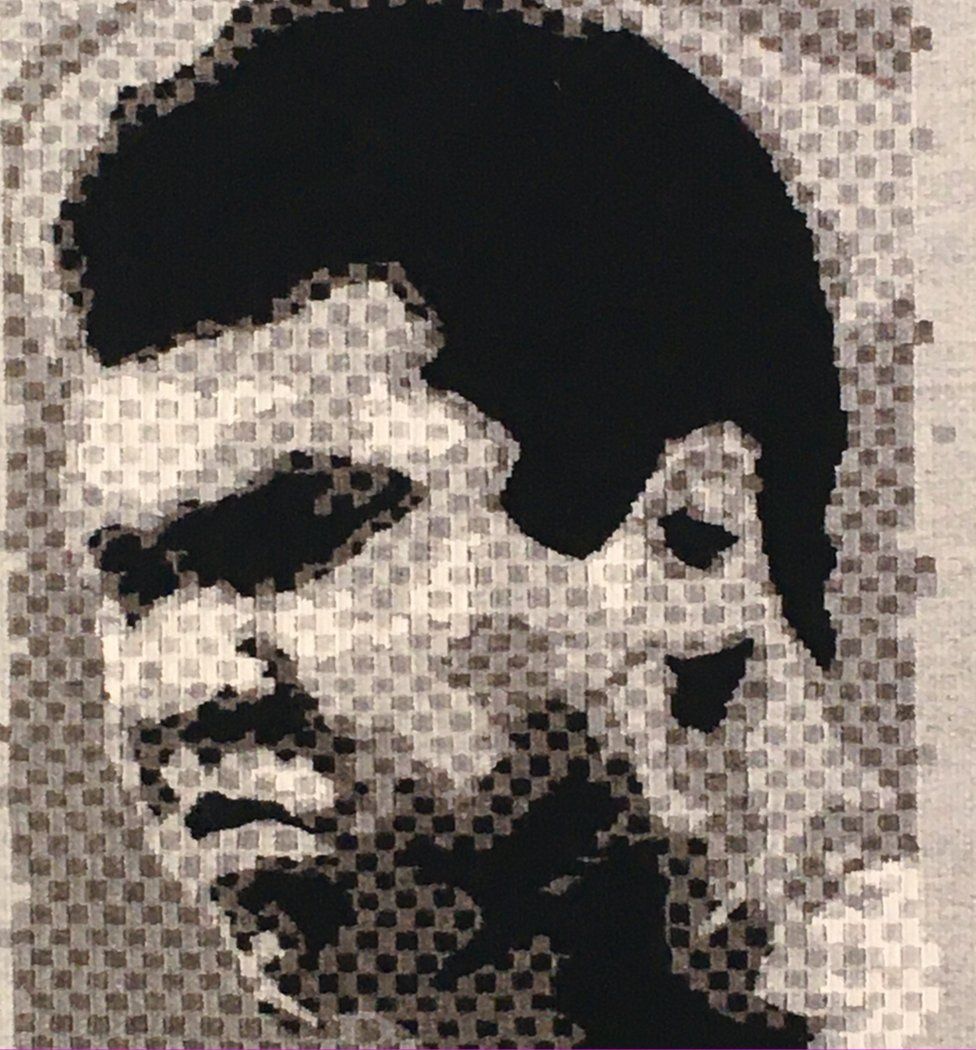 And this tapestry, made in 1999, shows that Brennan continued to be captivated by Ali, even though the boxer had retired in 1981.
"Ali to Archie was like Marilyn Monroe to Andy Warhol, he just kept coming back to him, fascinated by his face and fame," says Grenyer.
"He would reproduce that image again and again and again, which is what Warhol is most famous for."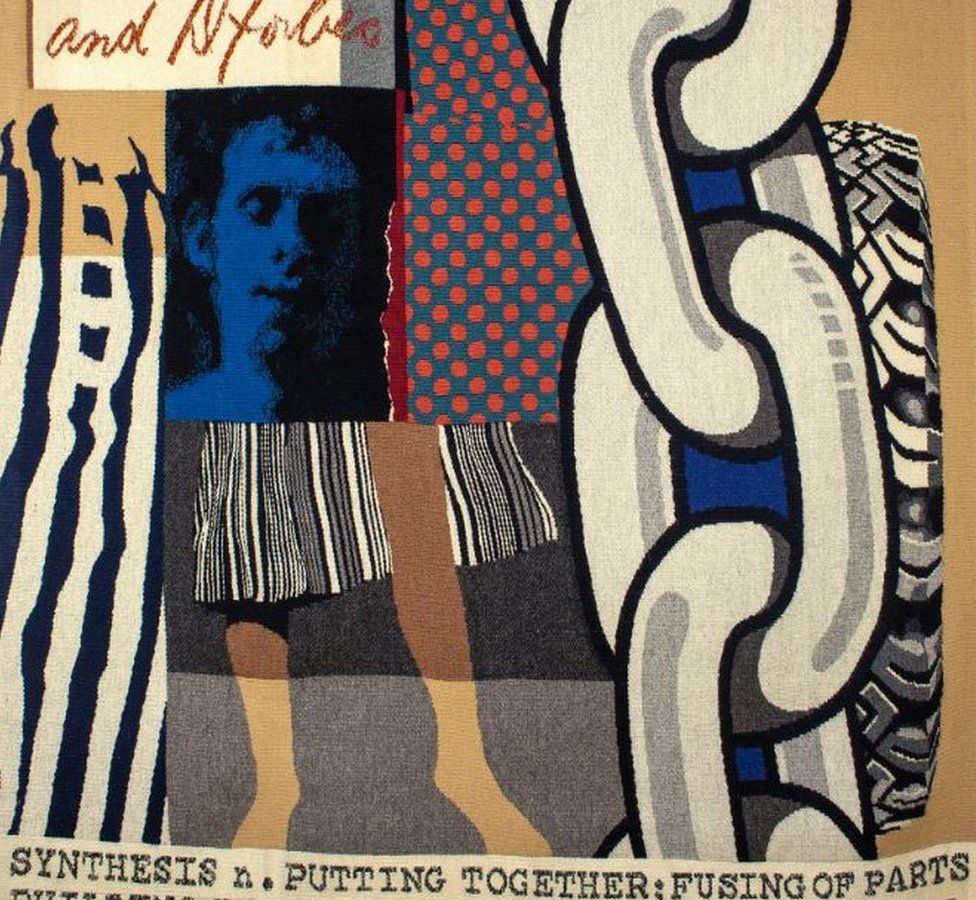 As well as making tapestries of well-known figures, Brennan was inspired by popular and contemporary culture more broadly.
"He was a man of his time," says Grenyer. "He did love looking back at those old historic Medieval tapestries and learning from them, but he saw them and thought these were the contemporary art of their day, I'm not going to try to emulate that."
Instead, he often chose subject matter "that was quite throw away", and liked the idea of preserving a quick image in the "very slow medium" of weaving. Tapestries could take months, if not years, to complete.
Interviewed in 1993, Brennan said: "The real characteristic of tapestry weaving – it's complete and you move on, you can't change your mind easily… Its very slowness… is a counter to modern life; you savour every bit of it."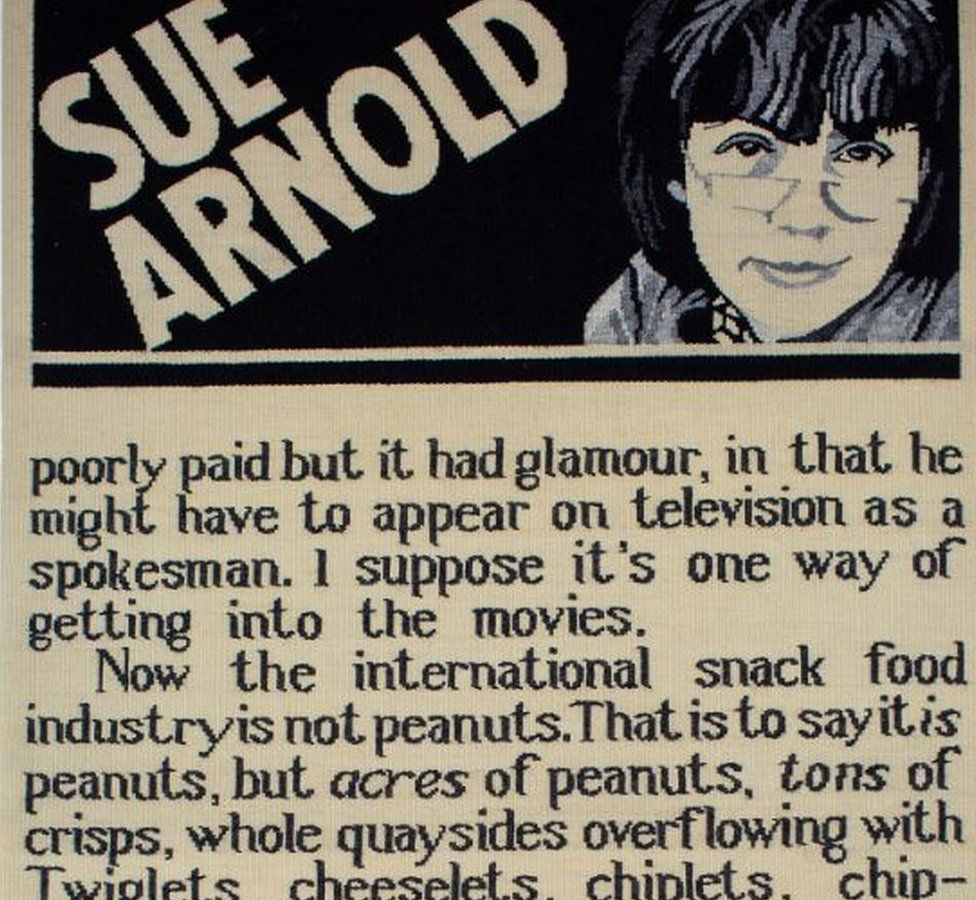 This is a large tapestry reproducing a tiny article from a tabloid newspaper. By picking subject matter like this Sue Arnold story, Brennan was contrasting the long time it takes to make a tapestry with "quick read" articles and disposable consumer culture.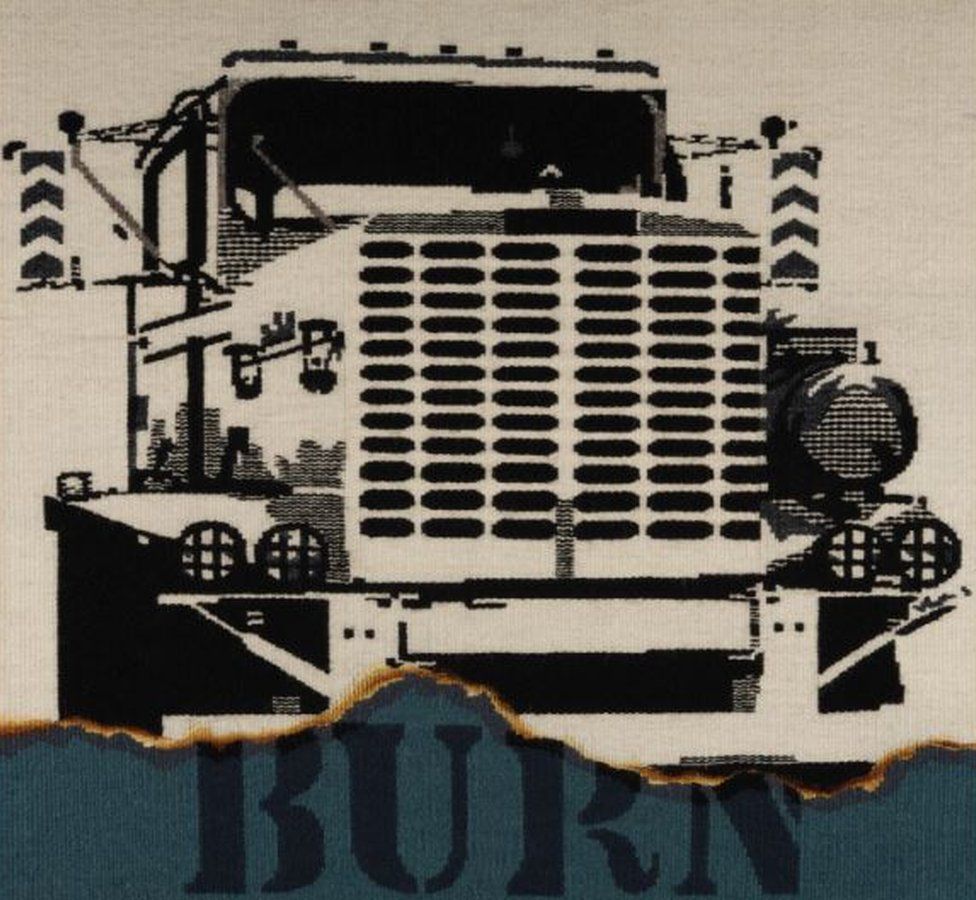 And this image of a truck was taken from Brennan's collection of pictures he had cut out of newspapers and magazines.
Grenyer says that because Brennan drew so much of his imagery from the modern world he made tapestry weaving "relevant" and stopped it "going down a dead end".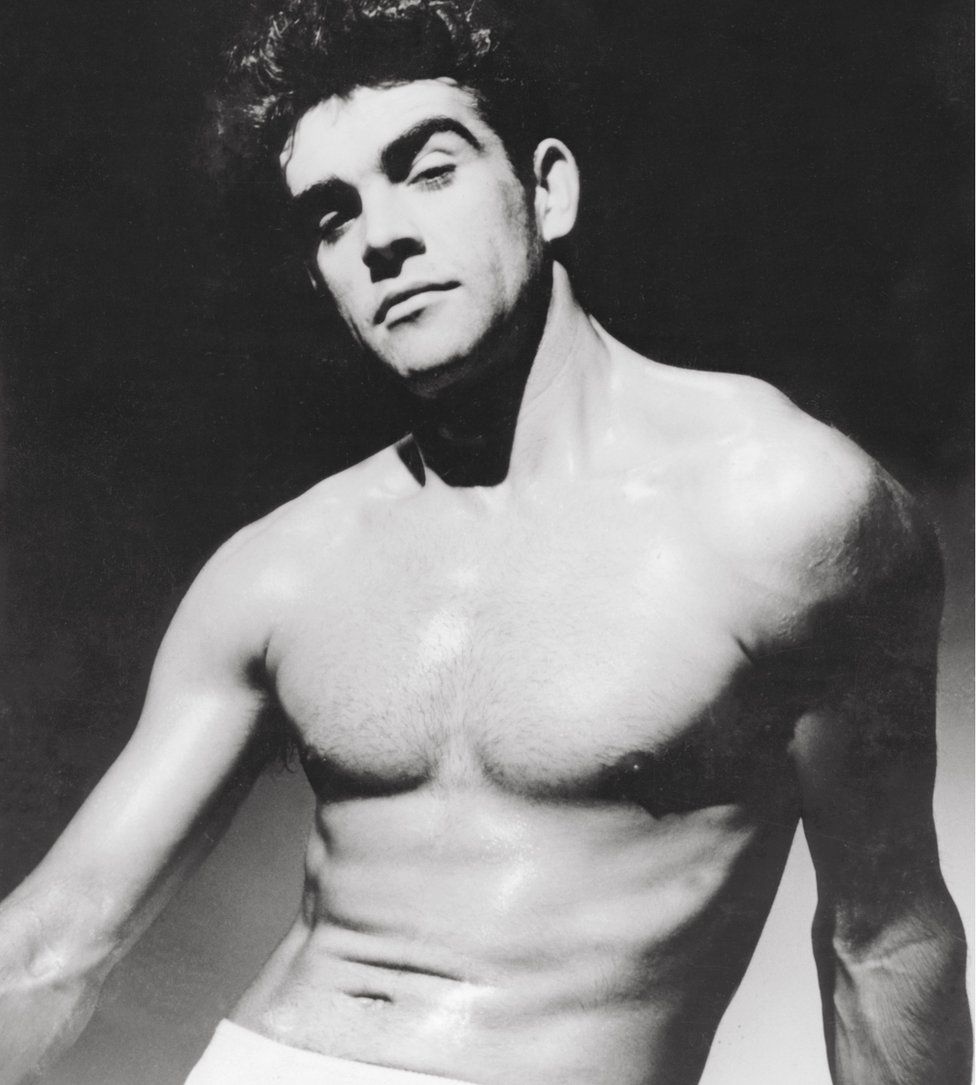 One famous face Brennan did not turn into a tapestry was his childhood friend Sir Sean Connery.
They met at a bodybuilding club in Edinburgh and Brennan even beat the future James Bond to the Mr Scotland title in 1953.
"Archie encouraged Sean Connery, or big Tam as he was known to Archie, to do some life modelling at the art school as a way of earning a bit of money," says Grenyer.
That eventually led Sir Sean from modelling into acting.
"The pair remained friends for the rest of their lives," she adds.
Archie Brennan: Tapestry Goes Pop! can be seen at Dovecot Studios in Edinburgh from Friday 26 March to Saturday 26 June 2021.