The 100-year-old who raised millions for NHS charities wanted to keep going, his daughter says.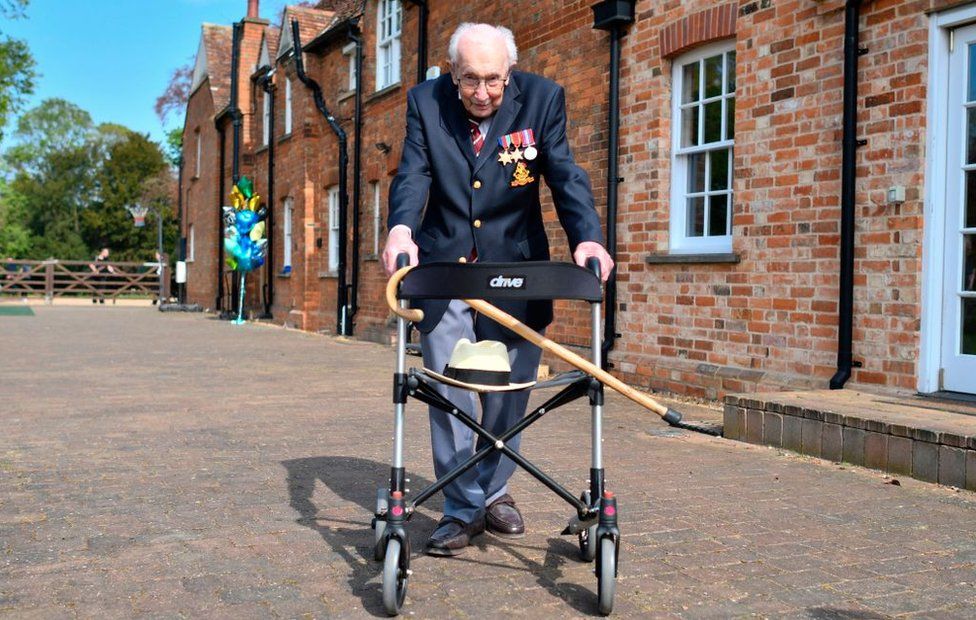 Captain Sir Tom Moore, who died with coronavirus earlier this month, has left "a legacy he could never have imagined", his daughter has said.
Hannah Ingram-Moore said her father had been determined to beat the virus and continue raising funds.
"For him this was all about 'tomorrow will be a good day' and being hopeful."
Capt Sir Tom had tested positive for Covid-19 the week before he was admitted to hospital.
His family said due to other medication he was receiving for pneumonia, he was unable to be vaccinated.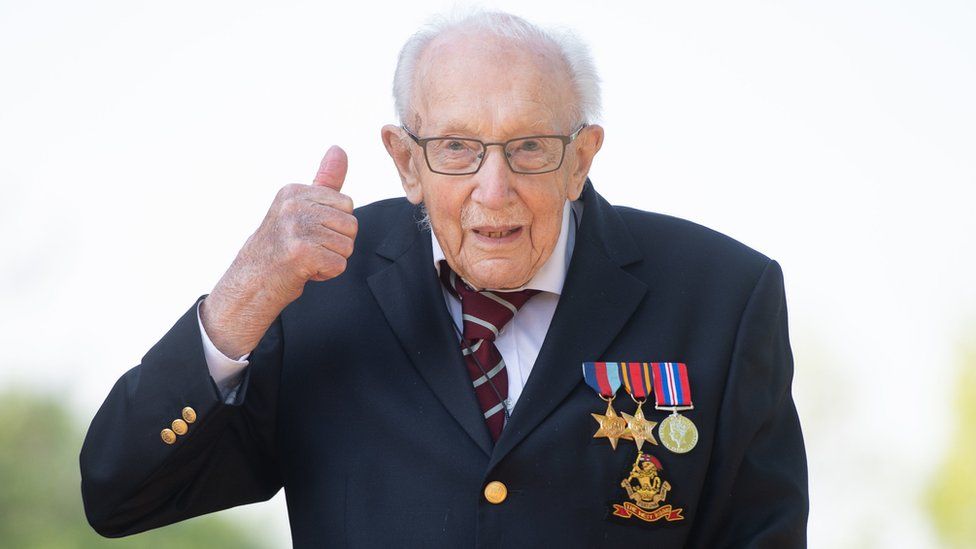 Speaking to BBC Breakfast two weeks after his death, Mrs Ingram-Moore said: "I think that when he went into hospital we really all believed he'd come back out.
"We thought the oxygen would help, that he would be robust enough – the truth is, he just wasn't."
He was "old and he just couldn't fight it", she said.
She spoke emotionally about the impact Capt Sir Tom had had on the family's life when he moved in to their Marston Moretaine home in Bedfordshire in 2007.
"We were a five – and now we've gone to a four – and that's really difficult to say.
"We've lost a huge part of our life.
"He'd been with us for over 13 years and it's the deafening silence – that's the way I can describe it."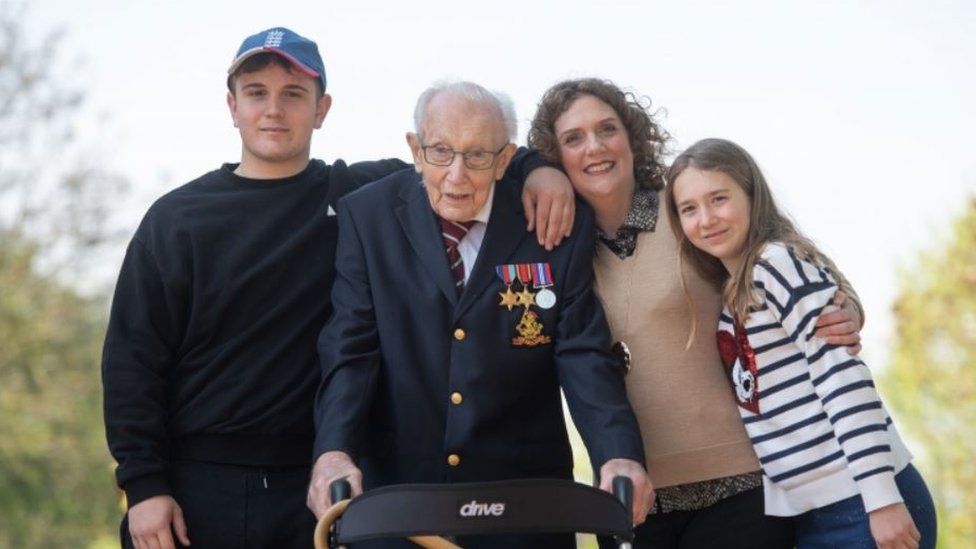 She described him as "everything – he was the noise, he was the reason almost everything we've done together in the last 13 years as a family has centred around what he needed, because his needs were different".
However, she said her father would not have wanted the family to grieve and he himself had remained positive to the end, believing he would be returning home.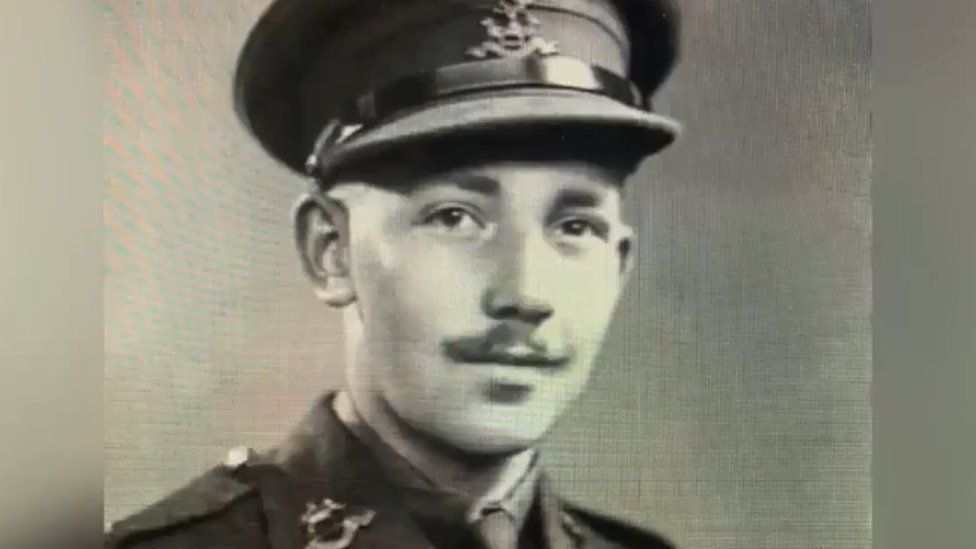 "I said to him in the last few days, 'So, what do you want to eat when you come home?' and we decided it was steak and chips.
"He was really excited about coming out for steak and chips and getting his frame back outside and his walker, and so the last real conversation was positive and about carrying on, and that's a lovely place to be.
"I can honestly say the thing he was so proud of – it just oozed out of him – [was] 'I'm coming back out, there's more fundraising in me yet. There's more walking in me yet.'"
His fighting spirit and positivity would be his legacy that would live on, she said.
"What a legacy…a legacy that he could never have imagined that he was going to leave until his last year of life.
"He was so proud and he wasn't a man to articulate pride," she said.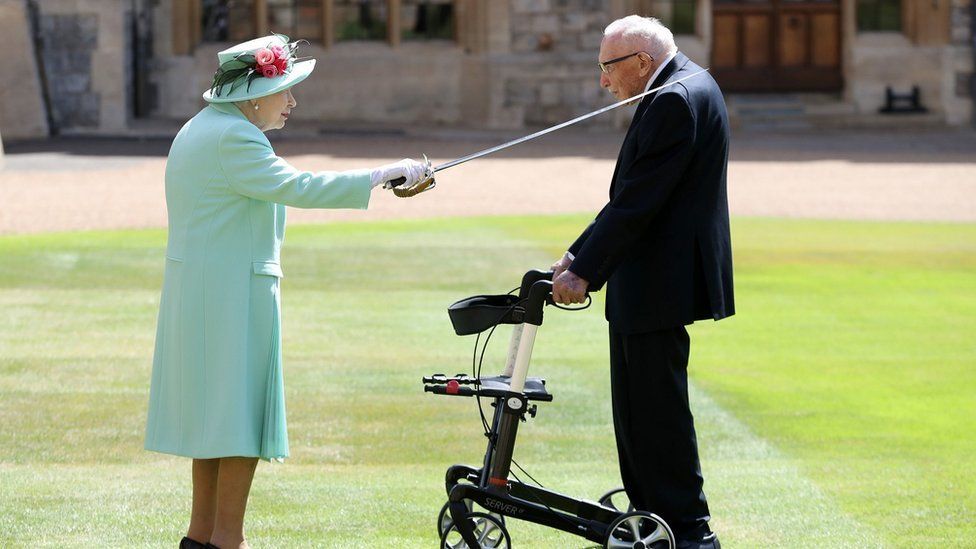 "He really believed – and we really believe – it can make a tremendous, positive difference."
She said the "outpouring of love and condolence" from around the world since his death was announced had been "simply amazing".
"Yes, it's incredibly sad, but his legacy is hope and his legacy is positivity."
She also spoke of his pride at meeting the Queen when he was awarded a knighthood in July – his "standout" moment of a remarkable year.
"Alongside so many incredible things it seems a little harsh on all the other things, but there is only one, and that was meeting the Queen," said Mrs Ingram-Moore.
"And she said thank you, and recognised what the family had done. We can never undo that, nothing can ever undo that."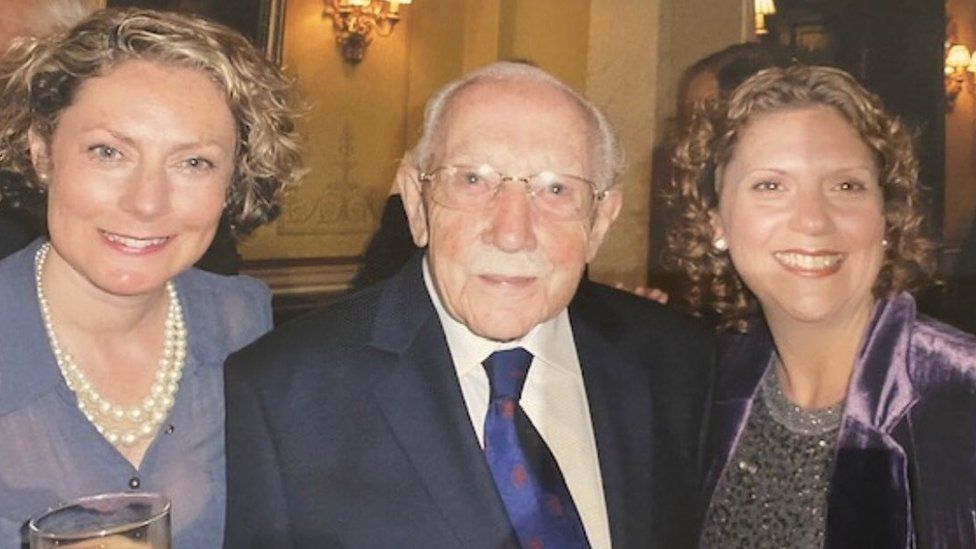 "We had a lovely letter from her and I think she felt genuine loss – it's another one of her generation," Mrs Ingram-Moore said.
A family holiday to Barbados at the end of 2020 was one of the things on his bucket list.
"That trip to the Caribbean was a holiday of a lifetime for him.
"He sat outside in 29 degrees, in shorts, short-sleeve shirts and sandals," she said.
He read novels, the newspapers, ate fish on the beach and talked with his family.
She said they were "all so pleased we could give him that".
However, the trip caused some backlash on social media.
It was not the first time the family had been "trolled", she said, but criticism of the holiday came at a particularly difficult time, because her father became ill with pneumonia after they returned.
"I think we accept that whatever we do, somebody won't like it and there was outrageous negativity… and it came in its thickest and fastest when we were already realising he was not very well… it just added a little more pain to the pain that we were going through."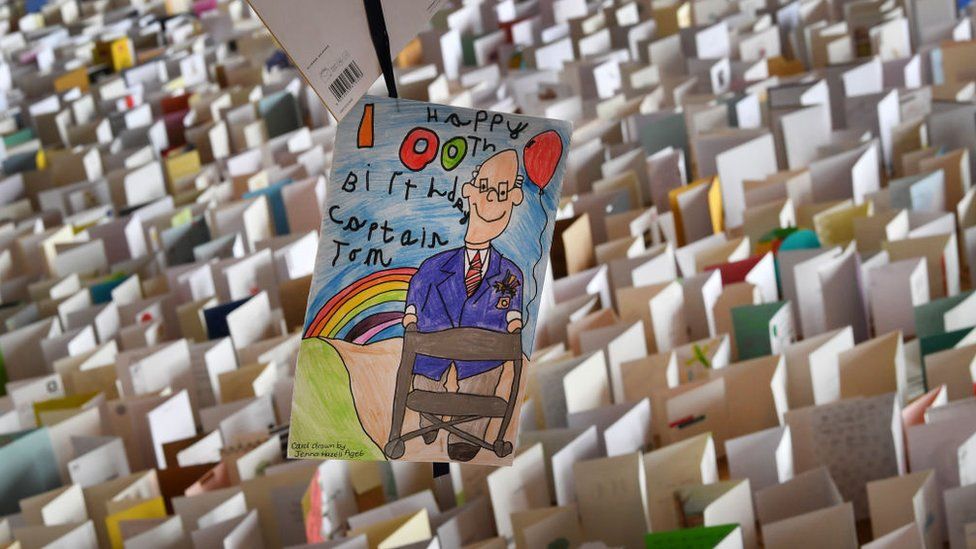 Mrs Ingram-Moore said her father and the family had discussed his funeral last year.
"I said 'I think your idea of the cardboard coffin and using the cheapest funeral that you could, is probably not going to cut it.'
"It was quite emotional for him because I think he was just overjoyed that we were asking, and we wanted him to tell us exactly what he wanted.
"We have a very clear directive from him about what that last day will look like – and how it should go – right down to the sandwiches."
The details have not yet been released but she said they would be "making sure that those final moments for him are exactly what he wanted".