Rafael Nadal is knocked out of the Australian Open as Stefanos Tsitsipas fights back from two sets down to reach the semi-finals.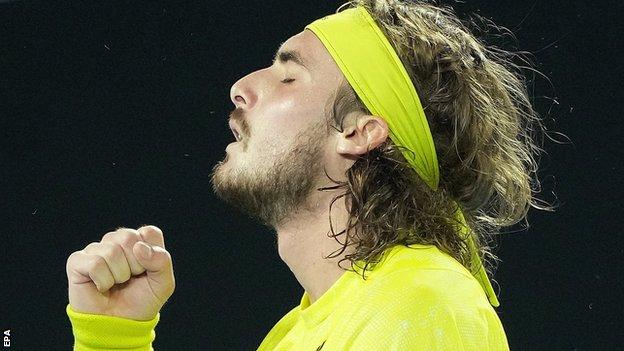 The Spanish second seed, 34, was stunned as Tsitsipas claimed a 3-6 2-6 7-6 (7-4) 6-4 7-5 victory in Melbourne.
Tsitsipas, 22, broke out into a huge smile, almost in disbelief, after converting his third match point.
Tsitsipas will face Russia's Daniil Medvedev in Friday's semi-final.
Fourth seed Medvedev beat compatriot Andrey Rublev to reach the last four at the Australian Open for the first time.
The 25-year-old won 7-5 6-3 6-2 as his childhood friend Rublev, who was seeded seventh, struggled in the 29C temperatures at Melbourne Park.
ATP Finals champion Medvedev now puts a 19-match unbeaten streak on the line against Tsitsipas, who needed over four hours to overcome Nadal.
"I'm speechless, I have no words to describe what just happened on court," said Tsitsipas, who was still out of breath in his on-court interview.
"My tennis speaks for itself. It is an unbelievable feeling to fight at such a level and give it my all on the court.
"I started very nervous, I won't lie. I don't know what happened after the third set. I flew like a little bird.
"Everything worked for me and the feelings are indescribable."
Calm Tsitsipas comes of age against Nadal
Few would have predicted this outcome between Tsitsipas and Nadal going into the match – and even fewer after the opening two sets.
Tsitsipas looked befuddled by Nadal's presence, clean-hitting and court-craft, with 20 unforced errors coming off the Greek's racquet to put the Spaniard in command.
The pair met two years ago in Melbourne when Nadal allowed Tsitsipas just six games in a one-sided semi-final.
After that match, a despondent Tsitsipas talked about how Nadal had a unique "talent" of making his opponents "play bad".
Initially, it appeared to be a case of deja vu. This time, however, Tsitsipas remained composed and dragged Nadal into a physical battle which proved beyond him.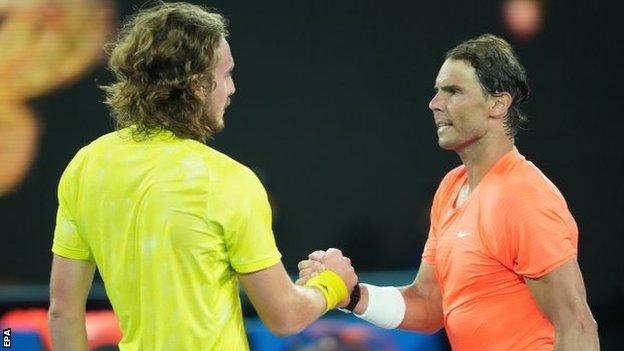 Tsitsipas cut out the errors in the third set and, although he did not win a point in Nadal's service games, pounced in the pivotal tie-break when the Spaniard missed two overhead smashes and miscued another return.
"I focused a lot on staying calm and holding my nerves, it is a very important element for me," said Tsitsipas.
"I have failed to do it in some of my matches. A big part of my win was staying calm in the crucial tight moments."
With increasing confidence as momentum turned, Tsitsipas pushed Nadal further back on the court and applied serious pressure on his service games as the Spaniard began to miss shots.
Tsitsipas served out the fourth set after crucially breaking for 5-4 following another Nadal forehand error, then took his serve to love for 6-5 in a tense decider.
Nerves crept in as Nadal threatened to ensure a final-set tie-breaker would settle a thrilling match, only for Tsitsipas to regain his focus and seal a famous victory.
"My mood was consistent and I have been trying to keep everything to myself. I'm happy with my attitude on court," he said.
'No excuses' from Nadal as chance to overhaul Federer passes by
Nadal won his 20th Grand Slam title at the French Open in October and had the opportunity to overhaul Roger Federer's once-seemingly untouchable men's record for the first time in Melbourne.
After dismantling Tsitsipas's game with powerful and precise hitting in the opening two sets, Nadal's level dropped as his opponent's increased.
Nadal showed no signs of the back injury which ruled him out of the warm-up ATP Cup, but questions will be asked about whether a lack of match practice – and, perhaps, his ageing body – played a part in his younger opponent outlasting him.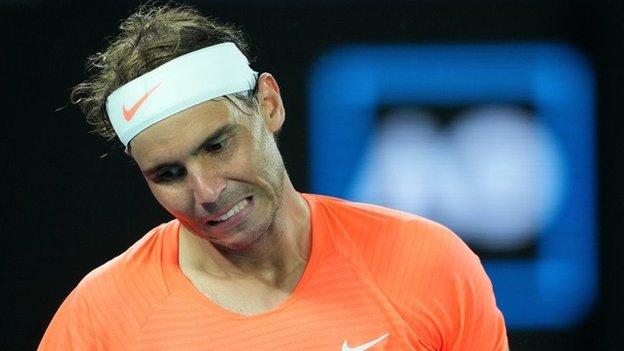 "I can't find a lot of excuses or reasons," said Nadal, whose only triumph in Melbourne came in 2009.
"It was a little bit of everything. I missed a couple of balls in the tie-break that I could not miss if I want to win. And that's it.
"I should be ready to play four hours. I think my physical shape holds up quite well.
"But it is true that I probably needed a little bit more time because I was in great shape and for 20 days I was not able to practise the way that I expected, not able to play one single match in ATP Cup."
Only once had Nadal previously lost a Grand Slam match after winning the first two sets and, after being broken to love for Tsitsipas to serve for the match, looked stunned as he sat on his chair and shook his head.
While he regrouped and had chances to break back to force a final-set tie-break, there were few complaints from the Spaniard.
"Stefanos played better than me probably in important moments. It was an equal match," he added.
'One of the best matches I've played lately'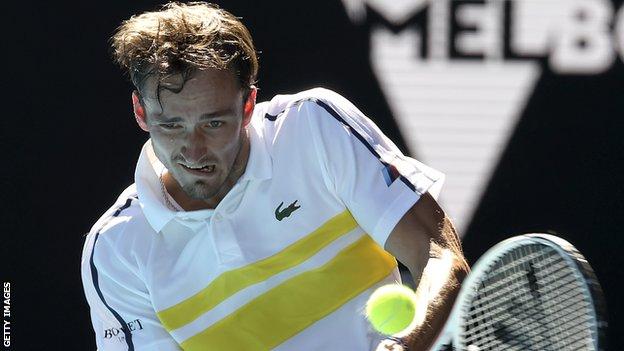 By beating Rublev – one of the most in-form players on the ATP Tour over the past year – Medvedev extended his run of wins against top-10 players to 11 matches.
The Russian pair were closely matched in a competitive first set, trading breaks before Medvedev took the opener as 23-year-old Rublev was broken to love.
Rublev particularly struggled with the humidity, at one point sitting down on his box of towels after a gruelling 43-shot rally.
Both players were breathing deeply as the match progressed but it was Medvedev, who has improved his fitness in his rise to the top 10, who dealt with the conditions better.
Medvedev sealed victory on his first match point to reach his third career Grand Slam semi-final, although there was a slight concern when he called for the trainer at the end of the match after getting cramp in his left thigh.
"It was one of the best matches I've played lately," Medvedev said. "This match is really unbelievable."