The shark population off Congo-Brazzaville is threatened as desperate fishermen search deeper waters.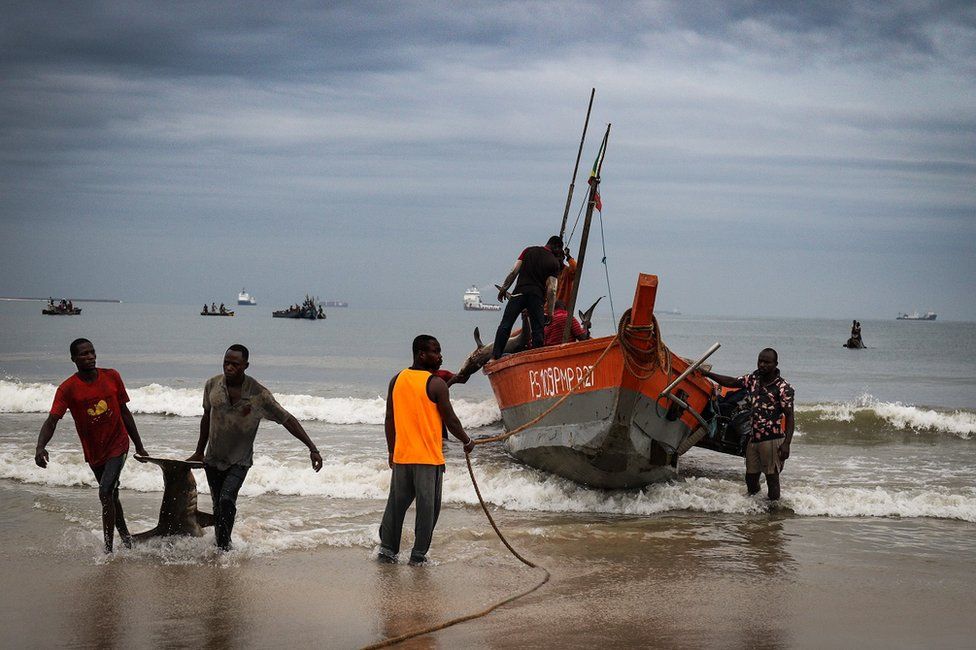 Shark fishermen from the central African country Congo-Brazzaville say they are catching fewer fish and an increasing number of juveniles in a sign that stocks are coming under pressure.
The practice is largely unregulated contrary to a raft of international recommendations, and environmental groups are beginning to raise the alarm.
In the 1980s and 1990s, it was primarily driven by the burgeoning demand for fins from Asia, where shark fin soup was a popular dish.
But in more recent years, the steady depletion of other staple fish stocks by foreign industrial trawlers has led Congo's fishermen and coastal communities to increasingly rely on shark meat as a source of food.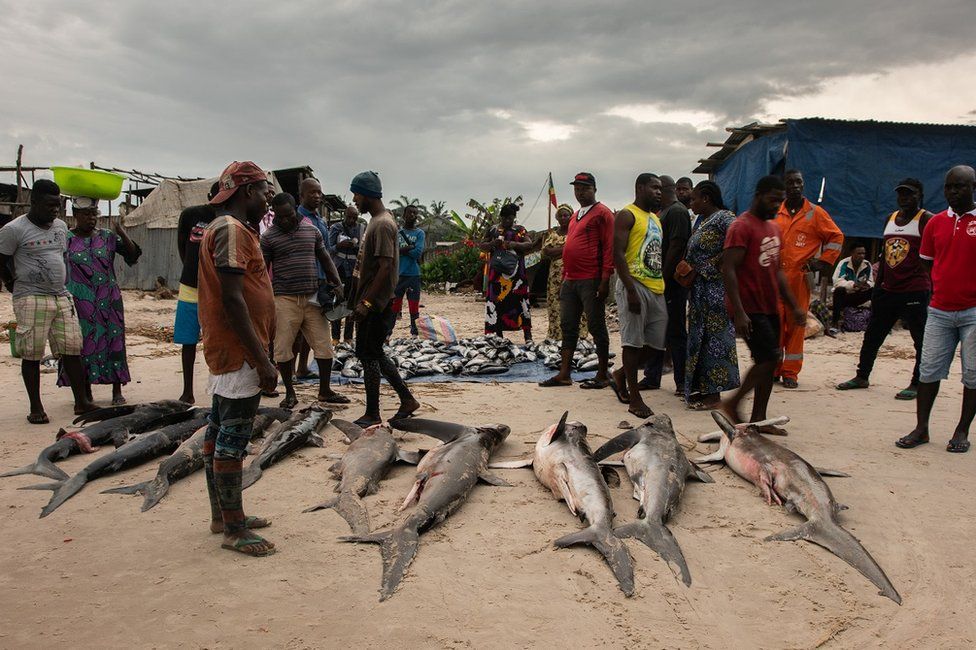 In the port city of Pointe-Noire, a 2019 assessment by wildlife monitoring group Traffic showed that these local, or artisanal, fishermen were often landing 400 to 1,000 sharks and rays, which are closely related to sharks, per day in peak season.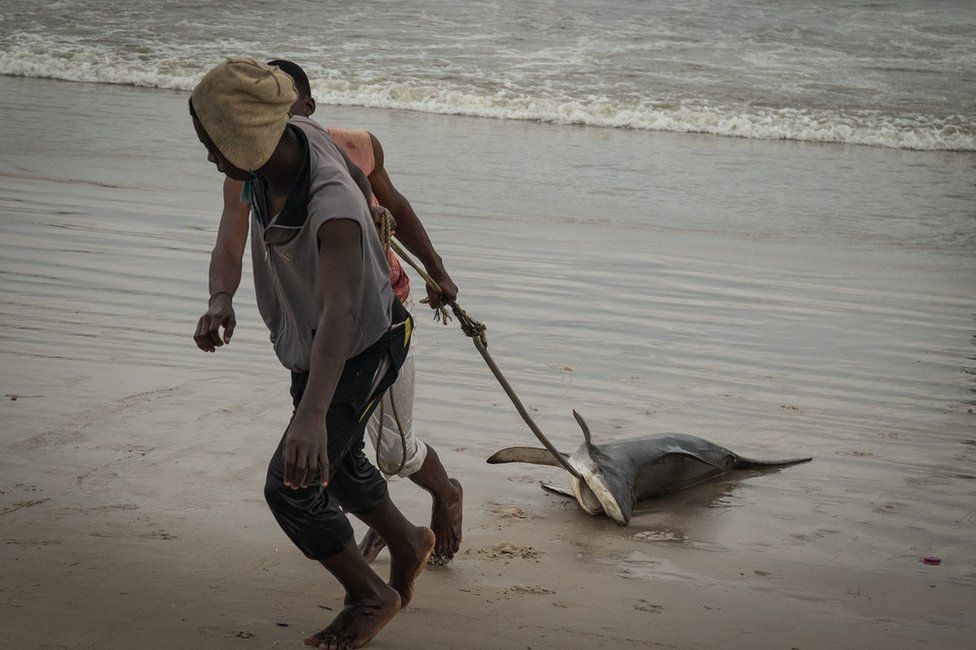 But the fishermen say this represents a substantial dip from the industry's heyday in the 1990s and early 2000s.
They also say they are catching fewer large breeding adults and that their haul is instead increasingly dominated by juveniles, a tell-tale sign that the practice is becoming unsustainable.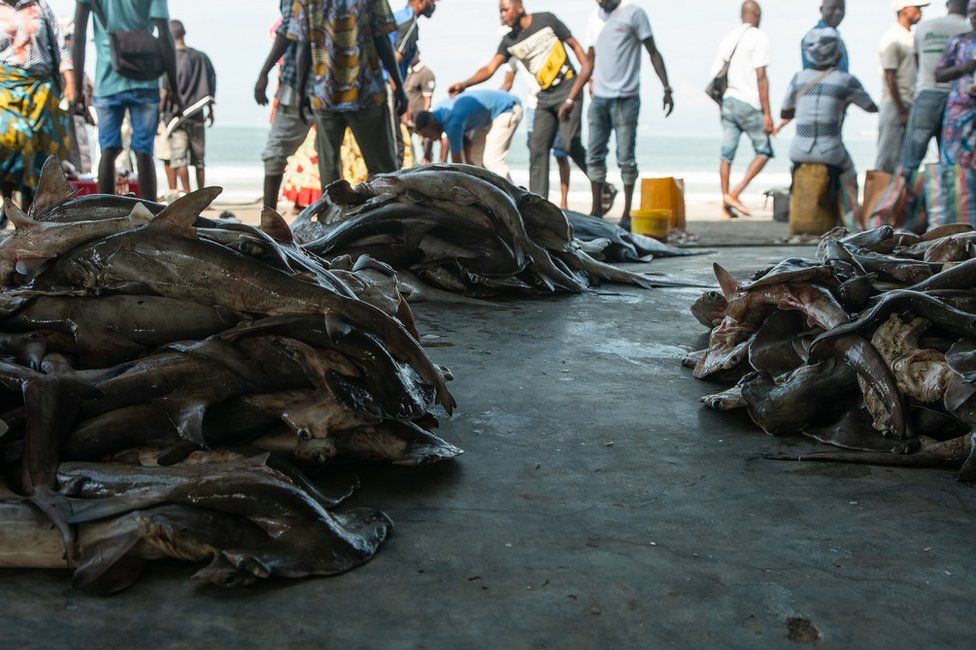 "In the past, a single boat could catch as many as 100 sharks in a day," says Alain Pangou, a local captain who has been fishing sharks for almost 20 years. "But these days it's more complicated."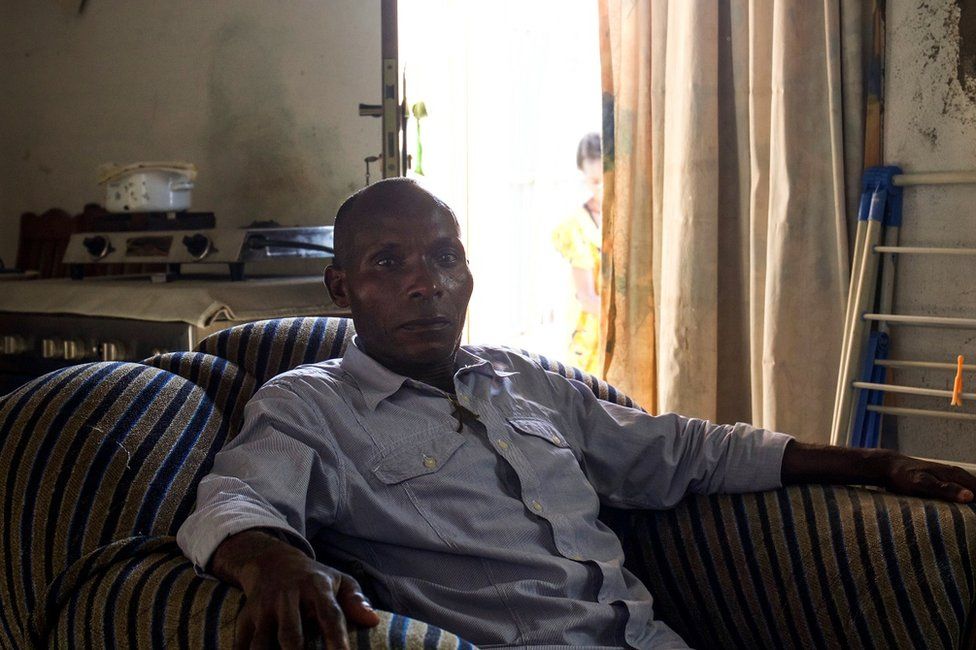 Conflicts and climate change now pose additional threats to this already precarious lifeline.
They are pushing ever larger numbers of people towards the coast, swelling the ranks of artisanal fishermen and putting Congo's shark populations under mounting pressure.
The fishermen are having to sail further from land, for longer periods and in deeper waters for their catches, facing increasing risks in the process.
"You can't be afraid," says Mr Pangou. "What choice do you have?"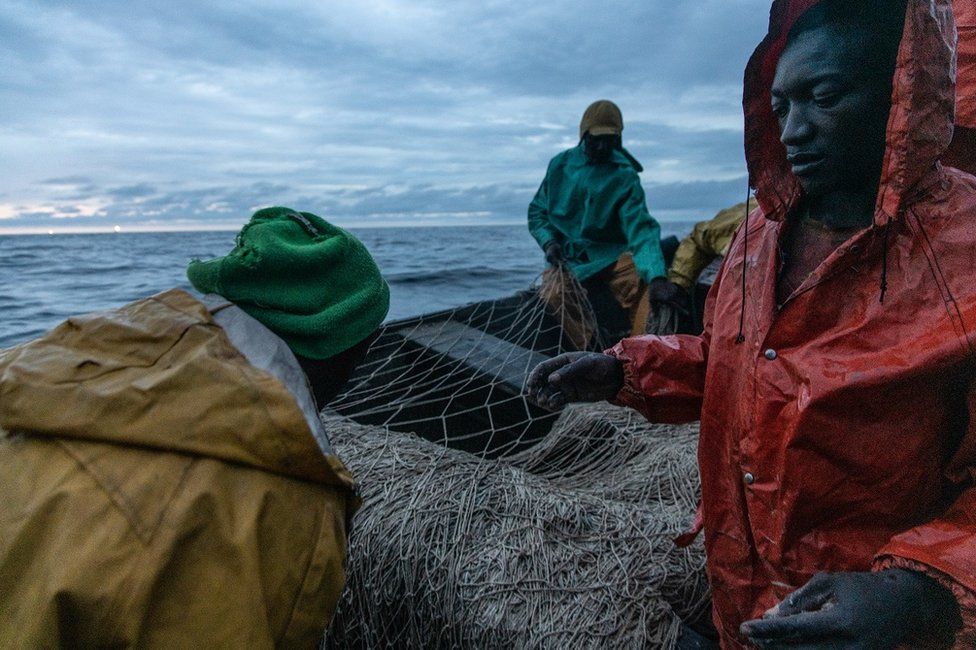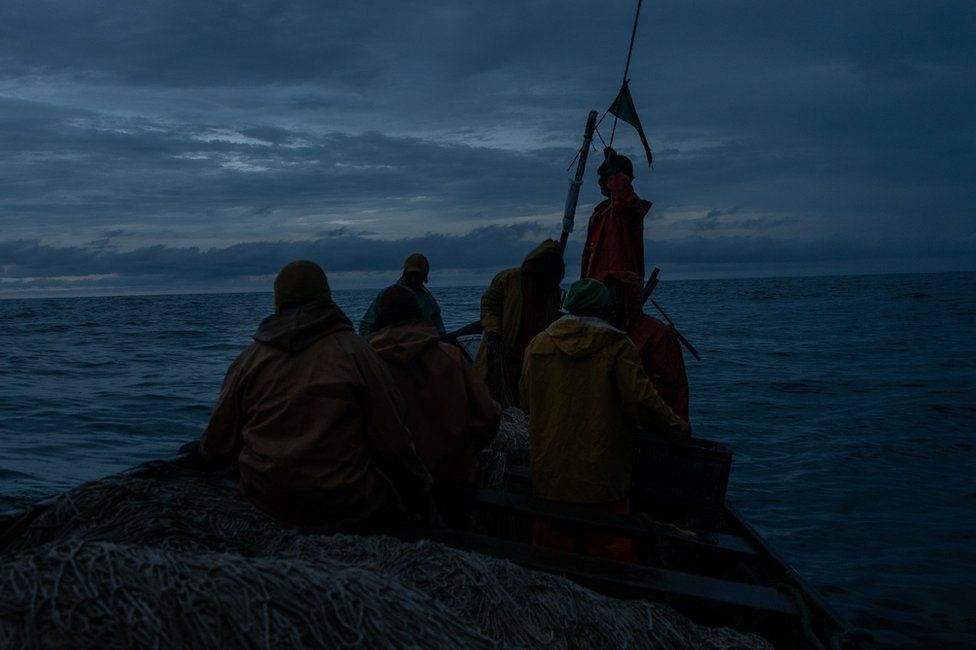 The fishermen's plight has been made worse by the growing exclusion zone around the country's oil rigs, which supply much of Congo's wealth, that in recent years has reduced the size of the designated artisanal fishing area by almost two thirds.
Currently, the first 11km (seven miles) from the coast of Pointe-Noire, thought to be key shark breeding grounds, are supposed to be reserved exclusively for artisanal fishing.
But local fisheries monitor Jean-Michel Dziengue says that illegal encroachments by industrial trawlers are a routine occurrence.
Mr Dziengue regularly receives videos shot by fishermen on their phones that show such infractions, which he then passes on to officials as evidence.
"But even when we catch them, they are rarely punished," he says.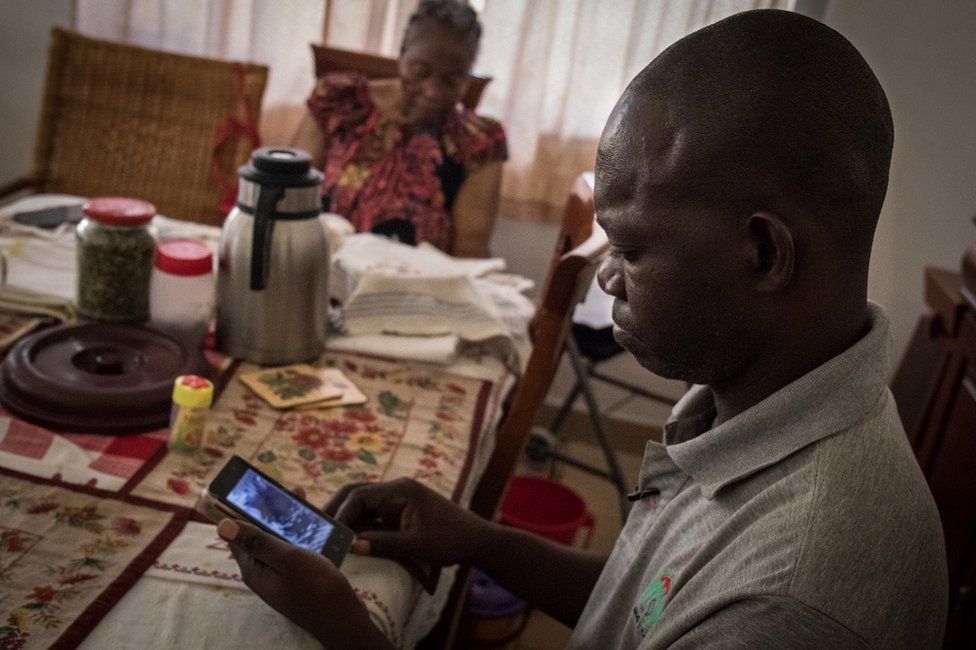 The precariousness of Congo's shark fishing business, and artisanal fishing more broadly, has economic implications not just for the fishermen and their dependents, but for numerous others connected to the industry, including fish processors, most of whom are women.
"Artisanal fishing used to be profitable, but not anymore," says Justine Tinou, who sells cured fish, including shark, every weekend at a bustling market in Pointe-Noire.
"The prices have gone up because the fish are scarce. Shark, tuna – they are both rarer now. Even sardinella, which used to be so abundant, you don't see it anymore."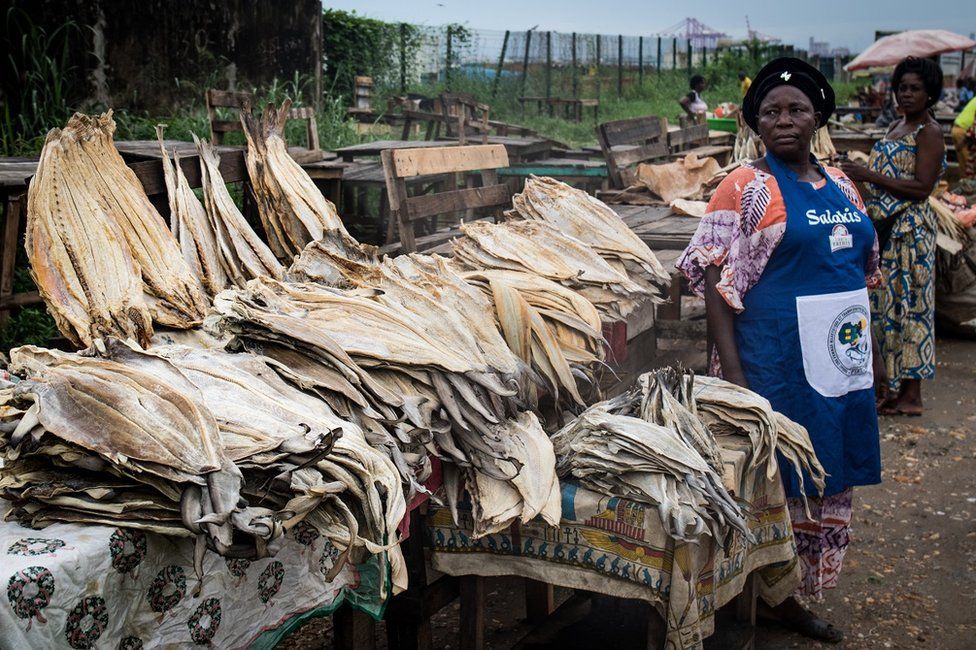 Congo's current economic crisis, prompted by falling oil prices and exacerbated by Covid-19, means that women like Ms Tinou also face the double threat of fewer customers and rising competition as more women enter the processing sector to provide an additional income for their cash-strapped households.
The lack of formal employment also means that the size of the artisanal fishing fleet, which currently comprises around 700 boats, is only likely to keep expanding, applying further pressure on local shark populations.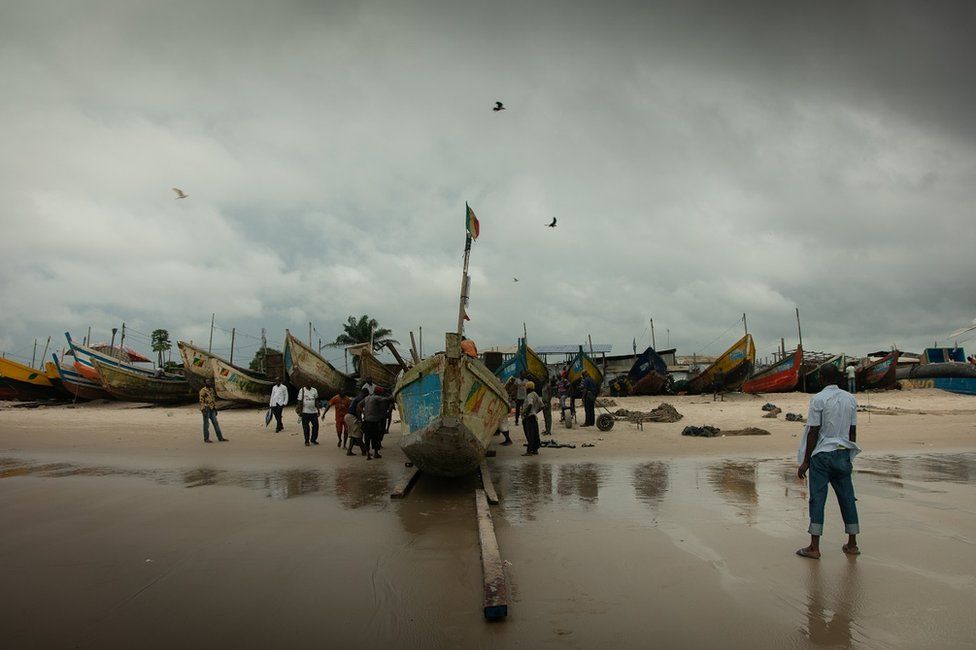 Sharks are under severe threat worldwide.
A global ocean survey published last year in the journal Nature found that they were "functionally extinct" in one fifth of 371 coastal reefs monitored since 2015.
But poor fishermen like Mr Pangou, who worked as an engineer for an Angolan oil group before losing his job when the company pulled out of Congo at the outset of civil war in 1993, see no alternative.
He hopes that his children might have better opportunities.
"Fishing is truly painstaking work. I don't want this to be their future," he says.
"For me, it's an obligation to keep going to sea. But after so many years, it's also where I feel most at home."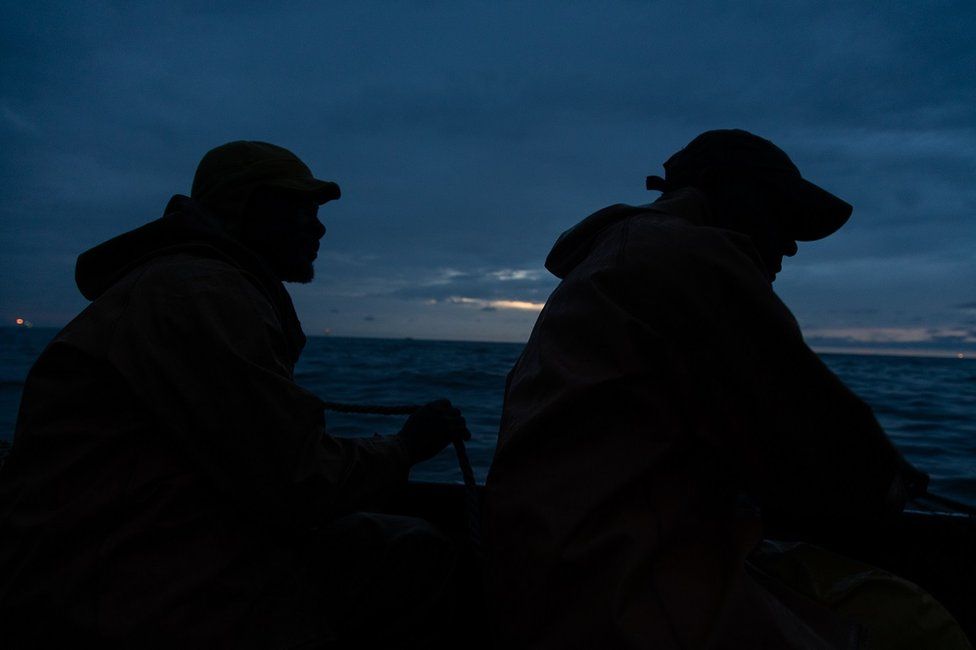 All images subject to copyright.