A Scottish government advisory group says the measure should apply when schools begin a phased return this month.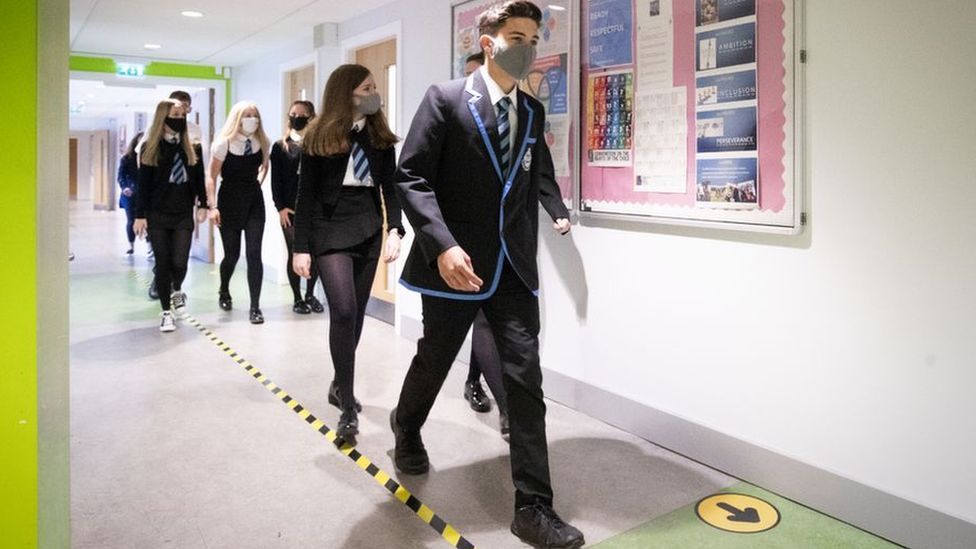 Pupils who begin a phased return to secondary school later this month could face two-metre social distancing rules.
The two-metre rule is already in place for teachers at secondary schools, while primary pupils should observe it "whenever possible".
Some senior secondary pupils preparing for exams could also be back in the classroom from the same date.
The tougher new social distancing guidelines have been put forward by the government's advisory group on education and children's issues.
They are in addition to advice that there should be two-metre distancing between adults not from the same household within primary schools.
The government advice calls for "a combination of approaches that prevent crowding" within schools.
These include classroom distancing and staggered start times "especially in older age groups".


Scotland's largest teachers' union has called for the new social distancing proposals to be extended to also include younger pupils.
EIS general secretary Larry Flanagan said: "We are concerned about the new (Covid) variant and its impact on transmissibility amongst young people.
"So we think that mitigations beyond that from the advisory group are required – the use of medical-grade face masks, for example.
"We would support physical distancing amongst young people as well as secondary-aged pupils, and we are pressing the Scottish government on these issues before schools reopen."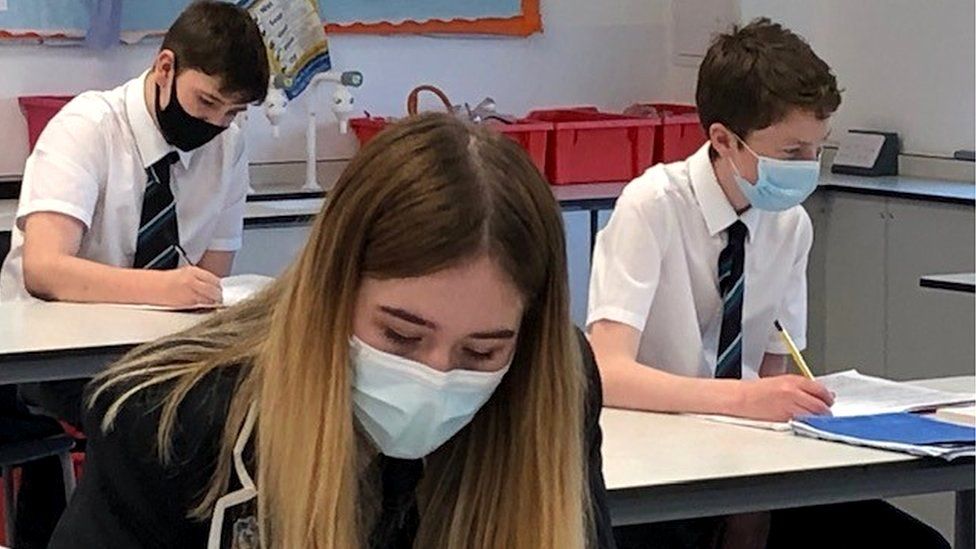 Prior to that, secondary pupils and staff only had to wear face masks when moving about within the school and on school buses. They were encouraged to social distance "where possible" but there were no formal distancing rules for pupils.
One-way systems were introduced in corridors and physical contact including hugging and high-fiving was ruled out.
Schools across Scotland have been closed to the vast majority of pupils since the Christmas holidays, with learning being done at home and online.
The first children back in school on 22 February are expected to be all pupils in P1-P3 as well as pre-school children.
There will also be a part-time return, but on a very limited basis, for senior secondary pupils to allow them to complete work for national qualifications.
Only between 5% and 8% of a secondary school's pupil roll will be able to be present at any one time.
First Minister Nicola Sturgeon has stressed that the reopening of schools was dependent on the continued suppression of coronavirus.