Four artists create new projects based on their memories and views of the LGBT movement.
As a museum launches an online exhibition about Pride and its history in Newcastle, four of the artists involved tell the BBC about their memories and views of the LGBT movement.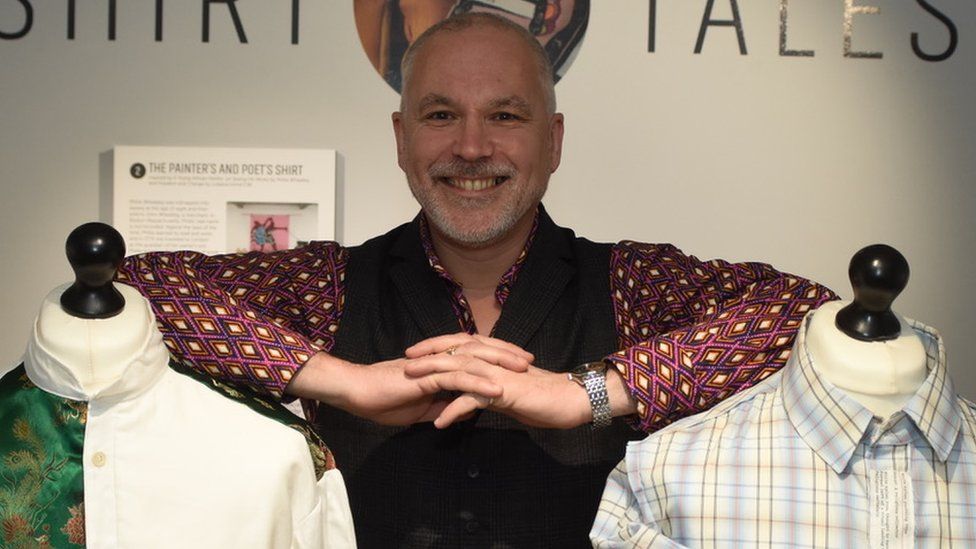 Richard Bliss' film is about being gay in 1980s Newcastle and his short foray into local politics.
To his friends and family, Richard Bliss' sexuality was not news.
But after he publicly "outed" himself during a council debate in 1988, he found himself on the front of Newcastle's Evening Chronicle proclaimed as the city's first openly gay councillor.
"I don't think anyone who had met me would think I was straight, so my being gay being front page news was absolutely hilarious," Mr Bliss said.
More than 30 years on, the artist has been looking back at his two-year fling with politics and how things have, and have not, changed.
Battles yet to be won include making the LGBT community "more inclusive" and "really tackling racism", he said.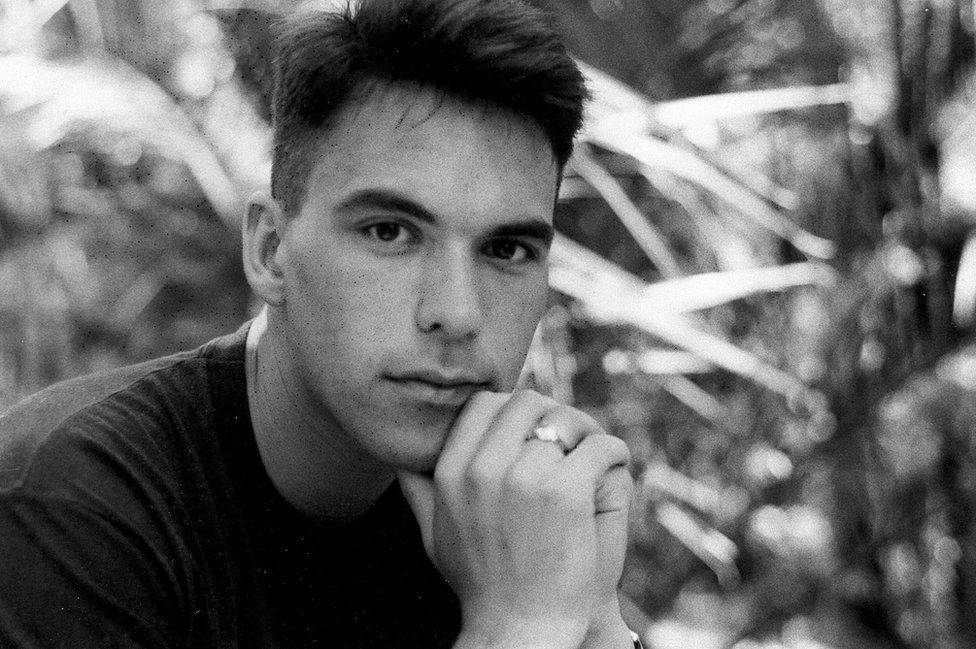 Victories include "recognising that lesbians and gay men live in happy loving family units" and "have children", and the portrayal of gay people on TV shows living "in unproblematic" and "not miserable" ways.
But the appearance of a gay couple in an advert for example can still get people riled with accusations of virtue-signalling or being preached at.
"That illustrates we have not come as far as we think we have," Mr Bliss said.
"The idea of being preached at when we just see somebody's life that's different from ours is an example of people who have power not being willing to give up an inch of their space."
When he was 25, Mr Bliss was moved to stand for election to Newcastle Council by three key issues: the response to the HIV and Aids epidemic, the mooted introduction of the Poll tax and the debate around Section 28, which aimed to ban teaching about lesbian and gay relationships in schools.
He was elected in May 1988 with the Section 28 debate coming the following month.
During the debate, in which the council agreed to oppose the section's introduction, he announced he was gay, prompting the Chronicle's cover story.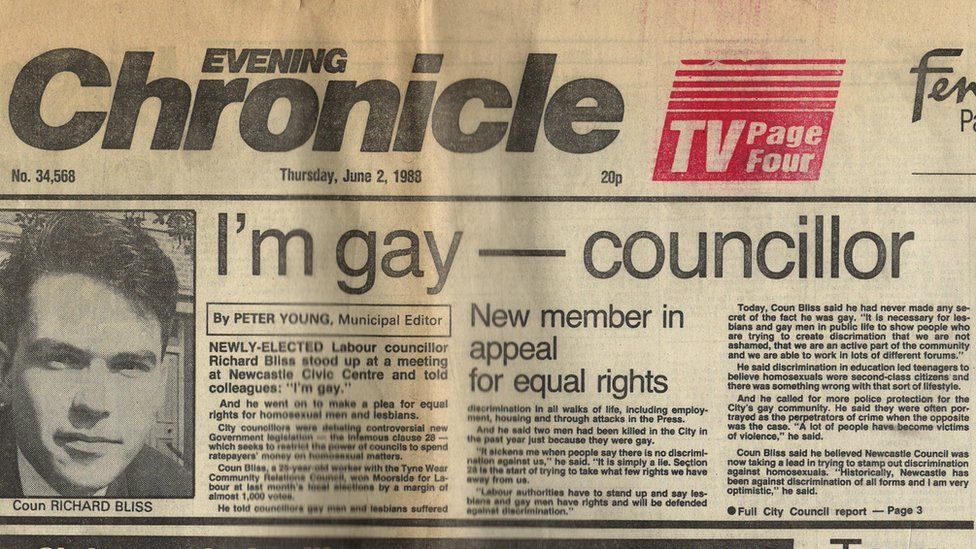 "I was young and I was uncompromising in my views," Mr Bliss said.
"But I think when you are 25 you should be uncompromising about what you feel otherwise we all end up staying the same all the time, there is no progress.
"Section 28 was a massive issue. I wanted to make the case that lesbian and gay men needed to be protected by the law rather than being attacked by it."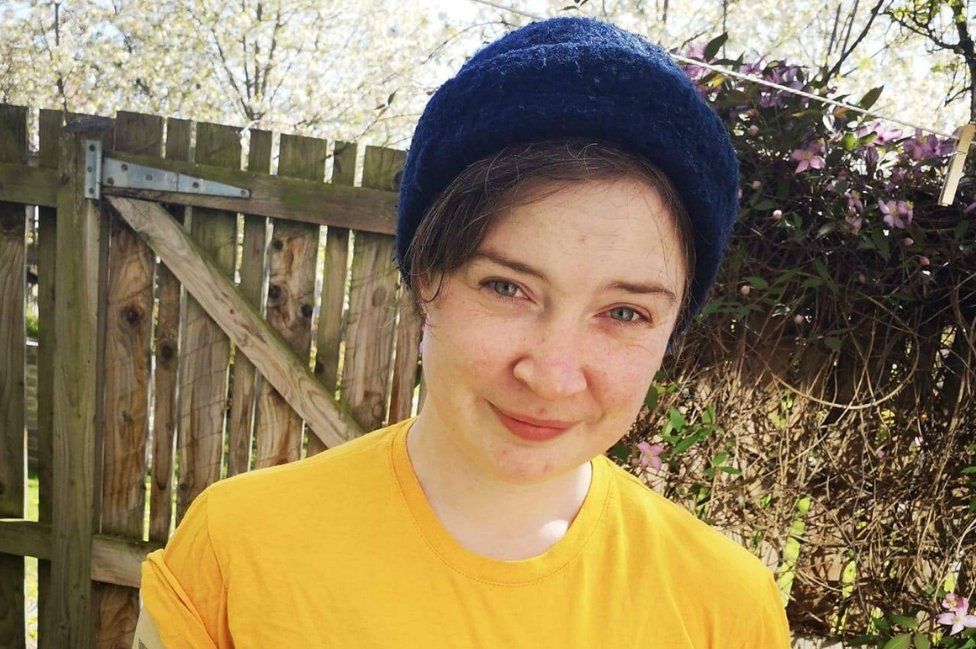 Graphic designer and art lecturer Laura Crow has designed three bank notes to reflect her feelings about Pride events and the LGBT movement's origins.
Laura Crow's "tongue in cheek" artworks express her awe at the origins of the LGBT movement and her anger at what she thinks Pride events have become.
"My turning point was a few years ago at Pride in Newcastle and being given a voucher for discounted chicken [by a chain restaurant]," the 35-year-old said.
"I was just like 'How has my sexuality and relationship ended up in you giving away free chicken?'."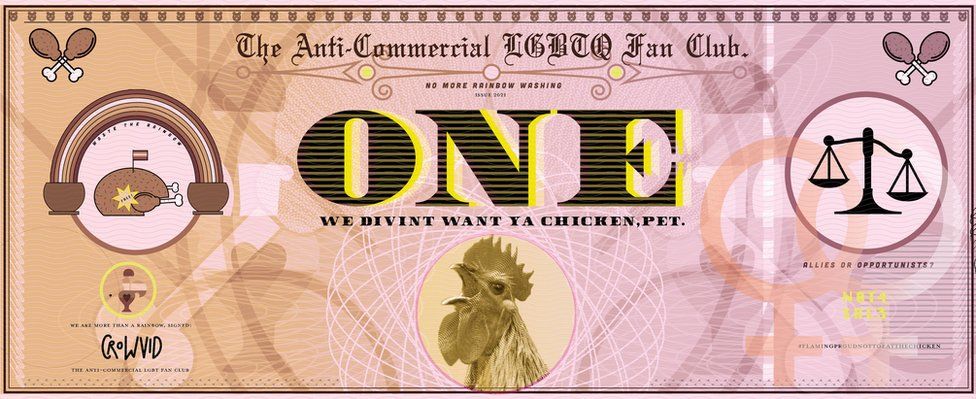 Her first bank note was inspired by her scepticism of corporations using Pride events as a "marketing technique" or "vanity project".
Big name retailers sell pro-Pride T-shirts made in countries with "awful" LGBT laws, and famous brands theme their social media profiles with rainbows while simultaneously sponsoring events in countries where being gay is illegal, the artist said.
"They are happy to change their face to suit the audience," she said.
"I wanted to do something about how angry I felt about Pride and how I feel it has lost its way.
"It's not the political movement it should be.
"Over the years it has lost that activism and been commercialised, becoming just another party.
"We have still got a long way to go, we have not solved all the problems and it should not be a full-on celebration."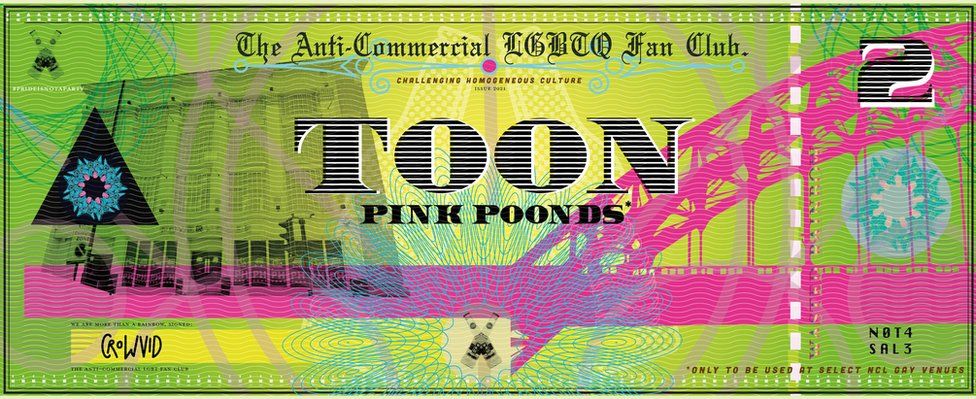 The artist's second bank note reflects her unhappiness with the "homogenous gay scene".
She said: "To people looking at the gay community from an outside perspective, that's what they see and that's what they think is the 'gay lifestyle'.
"Actually there are a lot of people who do not want to engage with Pride and this party culture."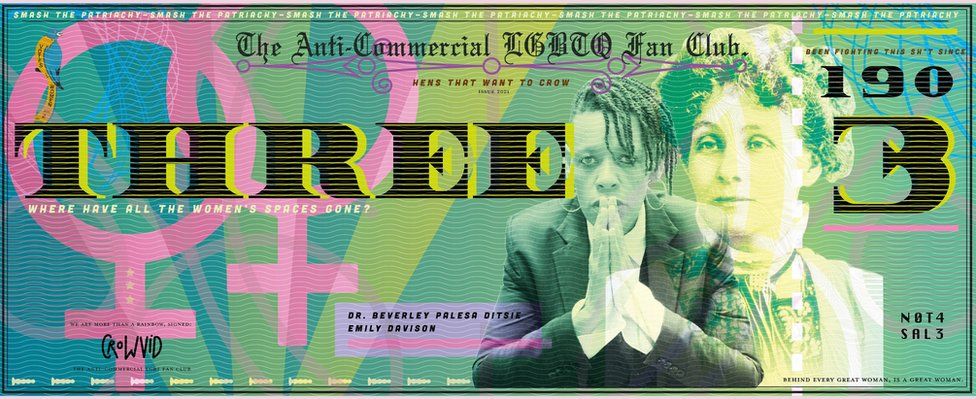 Her final note depicts two pivotal women in the fight for women's and LGBT rights, Emily Wilding Davison and Dr Beverley Palesa Ditsie.
"They together show that behind every great woman, is another great woman," Laura said.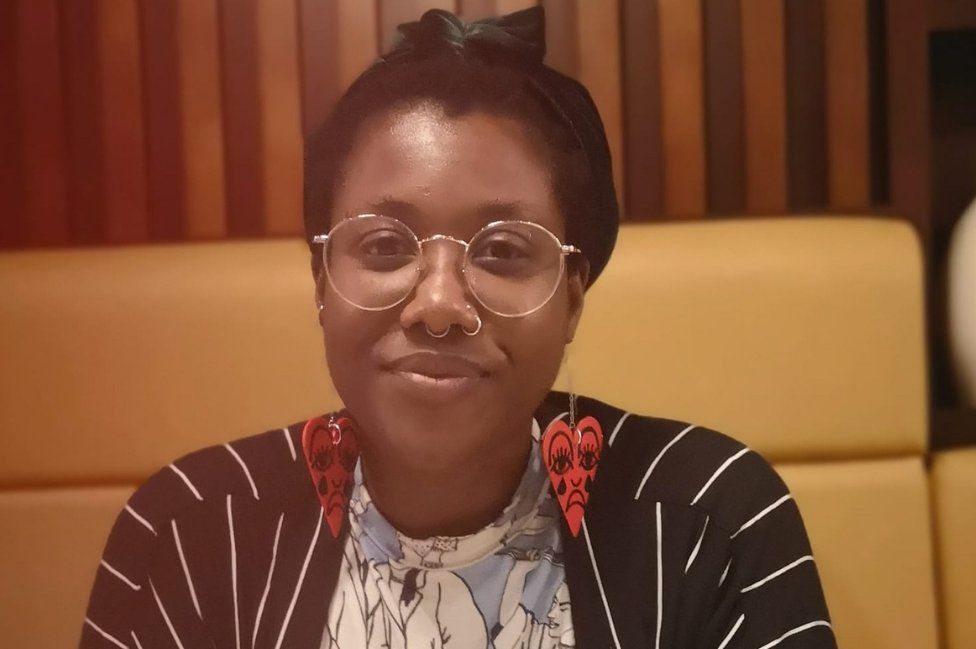 Audio artist Chantal Herbert recorded the thoughts of black and "minoritised" people in the LGBT community.
Despite its basis for inclusivity, equality and acceptance, the LGBT community still has prejudice and discrimination, according to Chantal Herbert.
Racism and misogyny are big issues the movement has to overcome, she said.
The situation for LGBT people has "got better", she said, highlighting the fact "you can hold hands in public and be who you are".
But that shift is "not bringing everyone else with it", she said.
"People seem to think because we are LGBT you will be a perfect person and all allies," she said.
"But actually, just because you are LGBT it does not mean you cannot be a racist.
"There are people that are left behind in the conversation."
She cites examples told to her of black men being either rejected and abused by other gay men because of their skin colour, or actively sought out purely because of it.
"You are always the outsider, and if you are not the outsider you are fetishised and not cared for," said Mjs Greenfield, one of the contributors to the audio documentary.
Misogyny too needs tackling, according to Chantal. "If two women go to a gay bar they can be targeted with questions like 'which one of you is the man?', and if you are not the way people expect a lesbian to be then they do not accept you, like 'how can a black person be gay?'."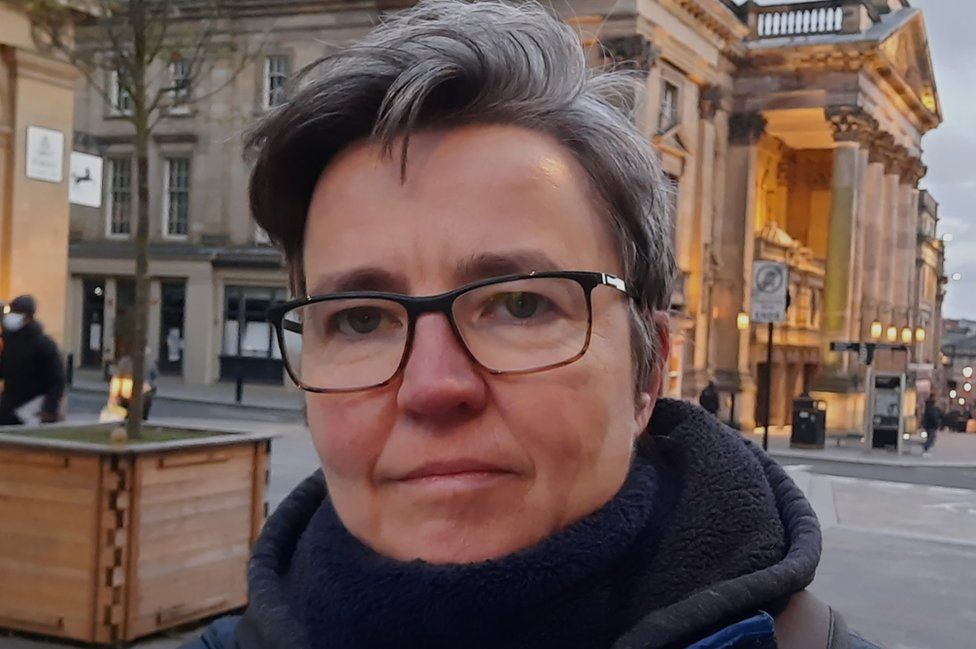 Julie Ballands' film Mothers of Invention tells the story of the creation of lesbian clubs in Newcastle in the 1980s and 1990s.
When she was a young, bright-eyed student in 1980s Sunderland, Julie Ballands heard about a lesbian night at a pub in Newcastle.
But when she got there she saw a sign outside saying "private party", so turned around and headed home.
"It was only later I found out 'private party' was a code, it was the lesbian night but they couldn't advertise it or there would be trouble," Julie said.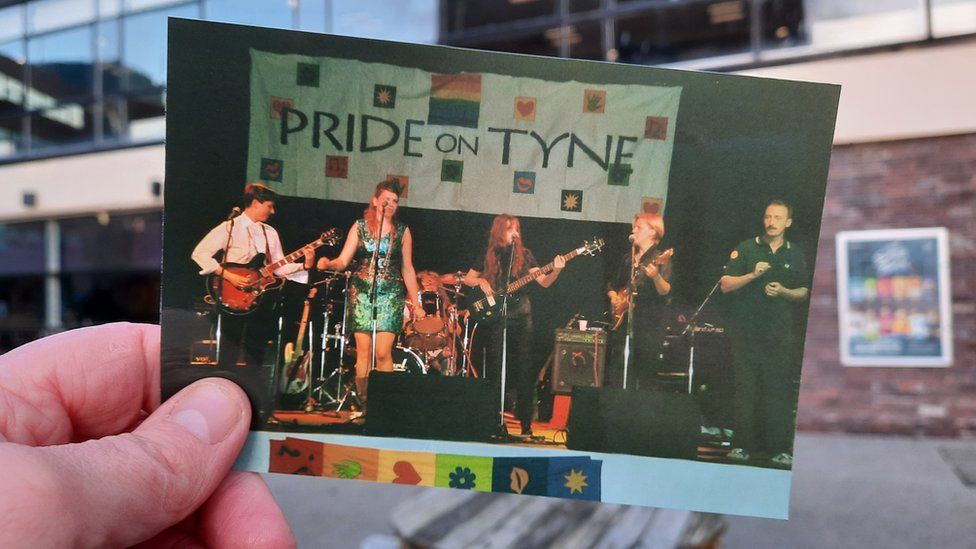 The 1980s was a time of "hostile culture to lesbians and gay men," she said, having herself been "beaten up" outside a gay bar.
"There was a homophobic culture and a homophobic government. We needed places to go and feel safe but also places to go and have a good time."
Newcastle had a "pink triangle" of gay bars, but they were "not particularly friendly to women and certainly not lesbians", Julie said.
She and her friends, who shared the same taste in music as well as happening to be lesbians, started organising their own "underground" nights.
Events grew in popularity, including the monthly Rock 'n' Doris held at the Live Theatre which ran for more than 12 years.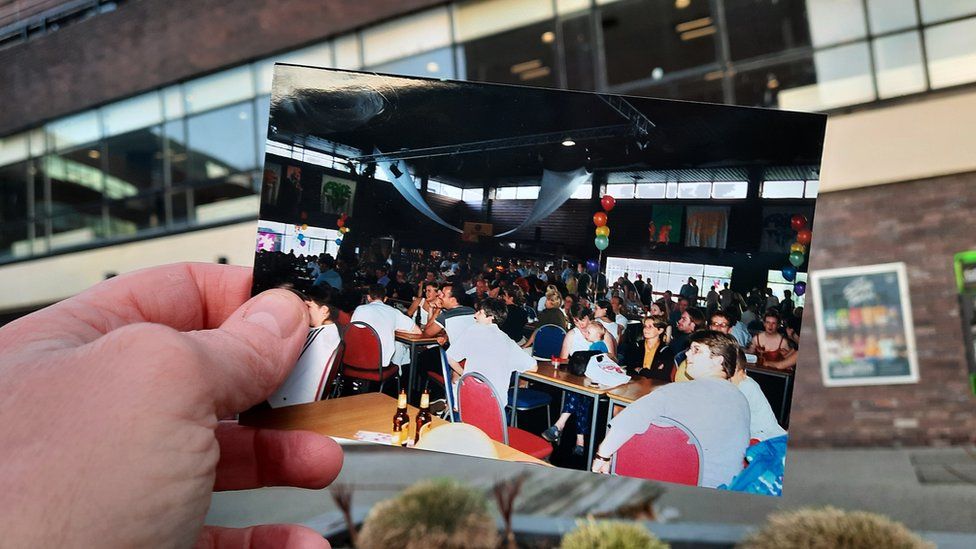 They partied but they also protested, galvanised by issues such as Section 28 which Julie called a "kneejerk" and "pernicious law".
Many of those involved in the lesbian scene were part of the first Pride events in Newcastle in the mid 90s.
"That first pride event we did not have a march because people were too scared to be seen marching down Northumberland Street," Julie said.
"We had a picnic outside the Civic Centre."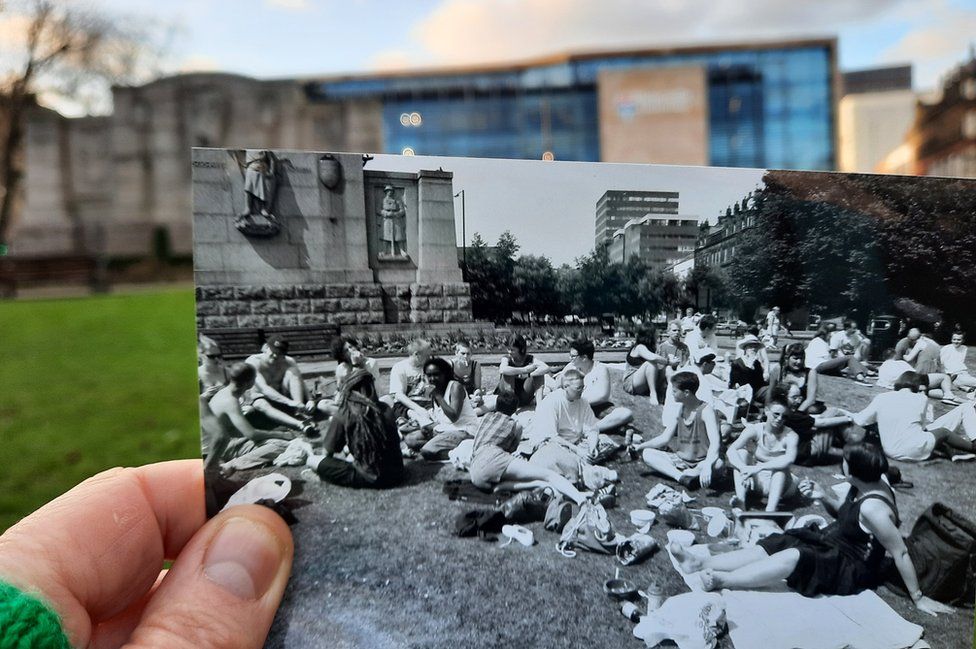 She said "a lot of people from the old days" think modern Pride events are "too commercial", but added: "As anything grows in a culture it becomes a bit more commoditised."
The lesbian clubs grew out of an immediate need rather than a long-term plan for social change.
"When something is not there or provided, someone just gets on and does it for themselves," Julie said.
"These nights were literally the only place and way to meet other people.
"They were places to meet and speak about ideas, grow our own self-respect and have a good time."

The BBC is not responsible for the content of external sites.