Everyone in top four priority groups will have been offered a Covid jab by Friday, ministers say.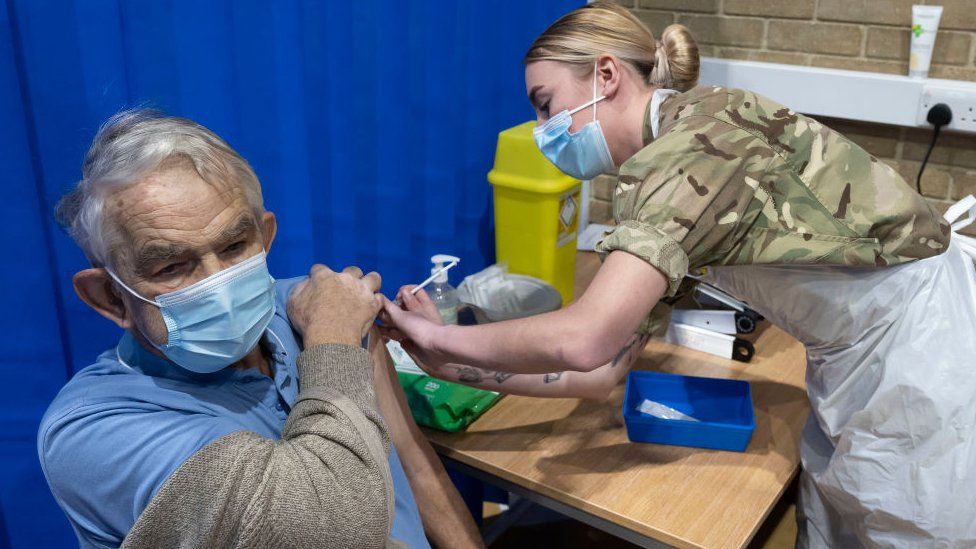 Wales will be the first UK nation to have offered the top four priority groups a Covid jab, the Welsh Government has said.
Within hours, officials say, all over 70s including care home residents, will have been offered a first dose.
Wales and the other UK nations have aimed to hit the target by mid-February.
First Minister Mark Drakeford thanked "everyone who had been working around the clock to reach this point".
The UK Government's Welsh Secretary Simon Hart said Wales' milestone was "fantastic news" and testament to the continued effort made by NHS and military staff.
The country currently leads the UK in the percentage of the population that has received a first jab – at least 684,097 doses have been given out.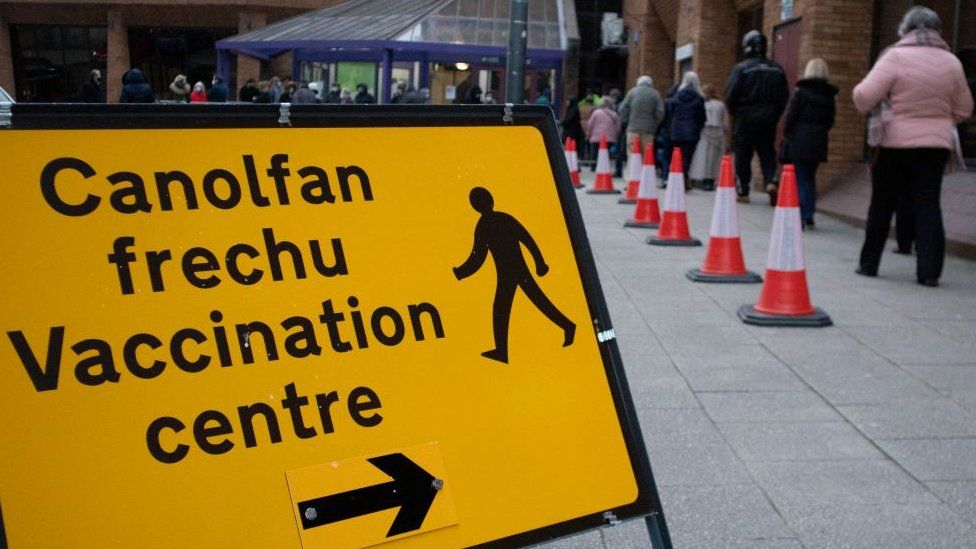 Figures from Thursday show 21.7% of the population have been vaccinated, compared to 20.3% in England, 19.2% in Scotland and 18.7% in Northern Ireland.
However, the target for appointments offered, which on Wednesday night stood at 740,350, has not yet been hit.
The Welsh Government said it believed it would have reached the remaining 56,253 before the weekend.
But Mr Drakeford said he was confident the programme remained on track – with plans remaining in place to reach the next five priority groups by the spring.
Mr Drakeford told BBC Breakfast: "We expect when we have yesterday's figures to go well past the 700,000 barrier today."
Asked how many people in those top groups who will not have had vaccine appointments by the weekend, he said it would be "a very small number."
"We've already completed 92% of all the people in those priority groups thanks to the amazing efforts of our NHS and other staff," he said.
"There will be some people who were ill when they were offered and need to be re-book, there will be some people who chose not to have a vaccine when they were first offered it, who may have changed their minds."
The Welsh Government said final appointments were being arranged for the weekend.
Health minister Vaughan Gething said "a leave no one behind approach" was being taken.
"The next group, those people 65 and over, all health boards are already sending out invites for those people to come forward as well," he said.
"We're not looking to miss a step, we're carrying on with the vaccine we have available."
The top four priority groups include:
Older residents in care homes and staff
Health and social care workers
Everyone over the age of 70
Those who are clinically extremely vulnerable to coronavirus
Figures show 87.6% of those aged 80 or older have had a first dose, compared to 84.2% for 75-79 year olds and 73.5% of 70-74 year olds.
Public Health Wales said a total of 79.1% of care home residents have had a first dose, and 83% of care home workers.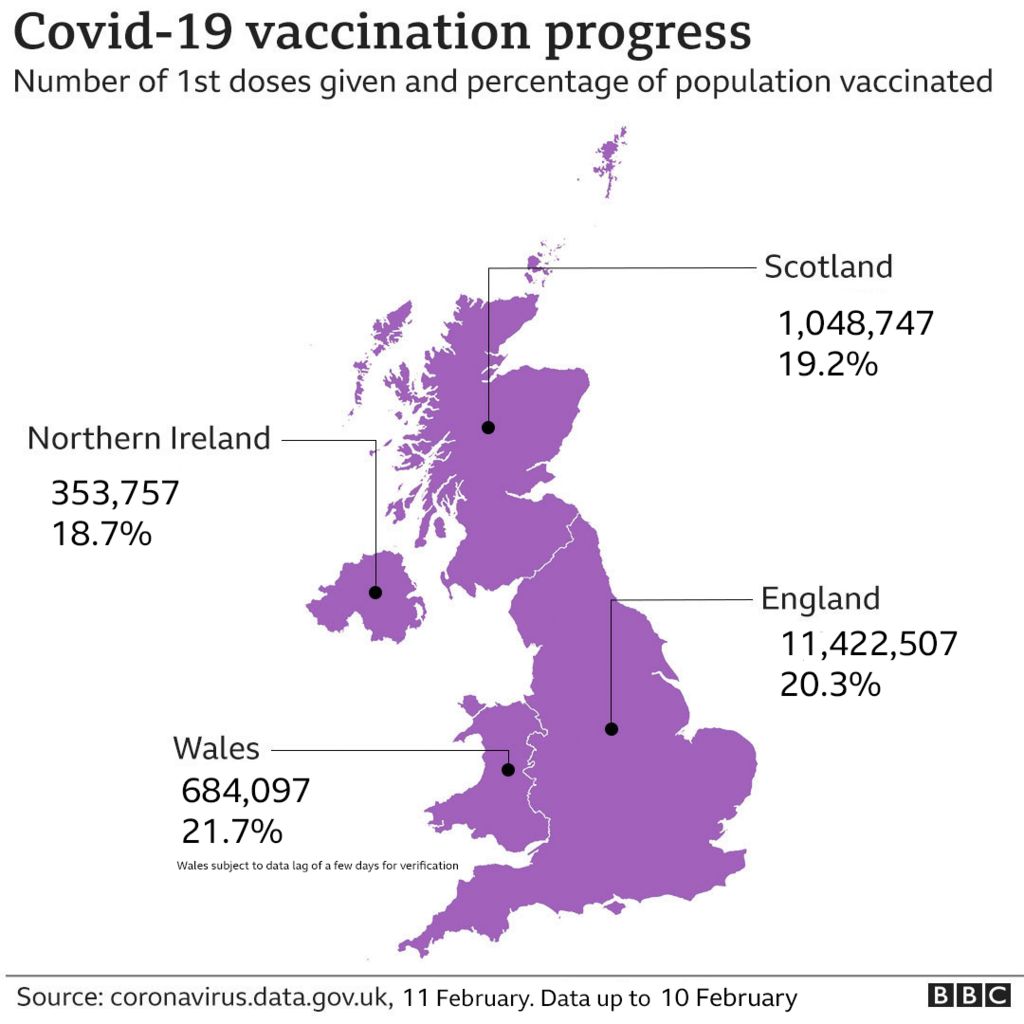 British Medical Association chairman Dr David Bailey, said Wales was "hopefully on the home straight."
He told BBC Radio Wales: "People are really making an effort to make the thing go smoothly as possible, and it is a credit to the Welsh public, as well as everyone who has actually been delivering the vaccine, because it has gone smoothly and everyone has been trying to do their part."
Mr Drakeford said: "To have achieved this first milestone and offered vaccination to everyone in the first four priority groups – those who are most vulnerable to coronavirus – is a truly phenomenal effort.
"Of course, the hard work has only just begun – there are many, many more people to vaccinate yet and a lot of second doses still to give."
Welsh Conservative's Senedd leader Andrew RT Davies called the milestone a "true British and Welsh success story".
He said it showed the UK government had "ensured Wales has had the vaccines available to protect the most vulnerable in our society and meet this target" and hoped Wales could soon reopen its economy.
However he added there was a still a "long way to go" with 80% of the population yet to be offered the vaccine.
Plaid Cymru's health spokesperson Rhun ap Iorwerth, said it was thanks to NHS staff and volunteers "that Wales has been able to accelerate the vaccination effort to its current levels".
Mr ap Iorwerth added his party would continue to call for "those in all care settings, not just the elderly, to be vaccinated as a matter of priority, and for key workers in schools, the emergency services and public transport to be brought in to the priority system sooner."