Explore the data on coronavirus in the UK and find out how many cases there are in your area.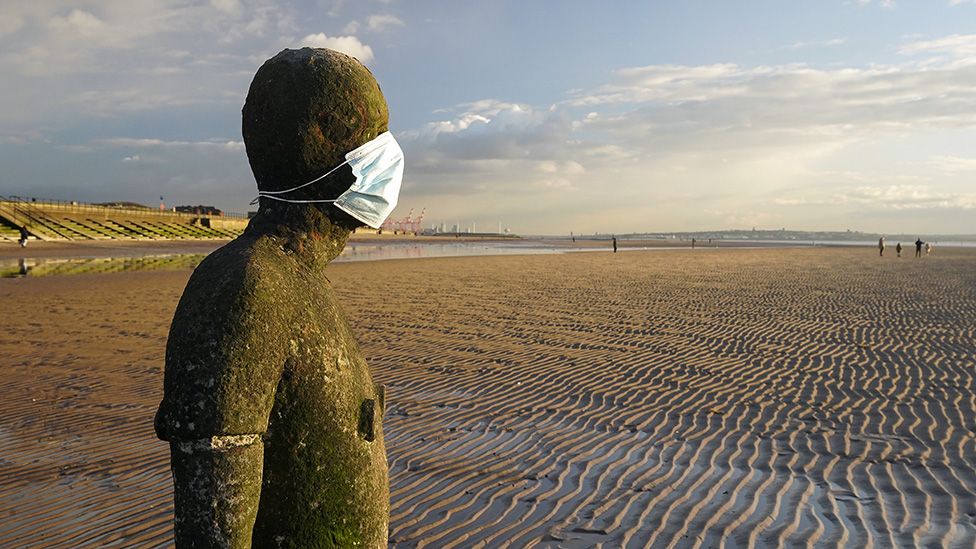 There have been nearly four million confirmed cases of coronavirus in the UK and more than 115,000 people have died, government figures show.
However, these figures include only people who have died within 28 days of testing positive for coronavirus.
More than 13 million people in the UK have now had their first dose of a coronavirus vaccine.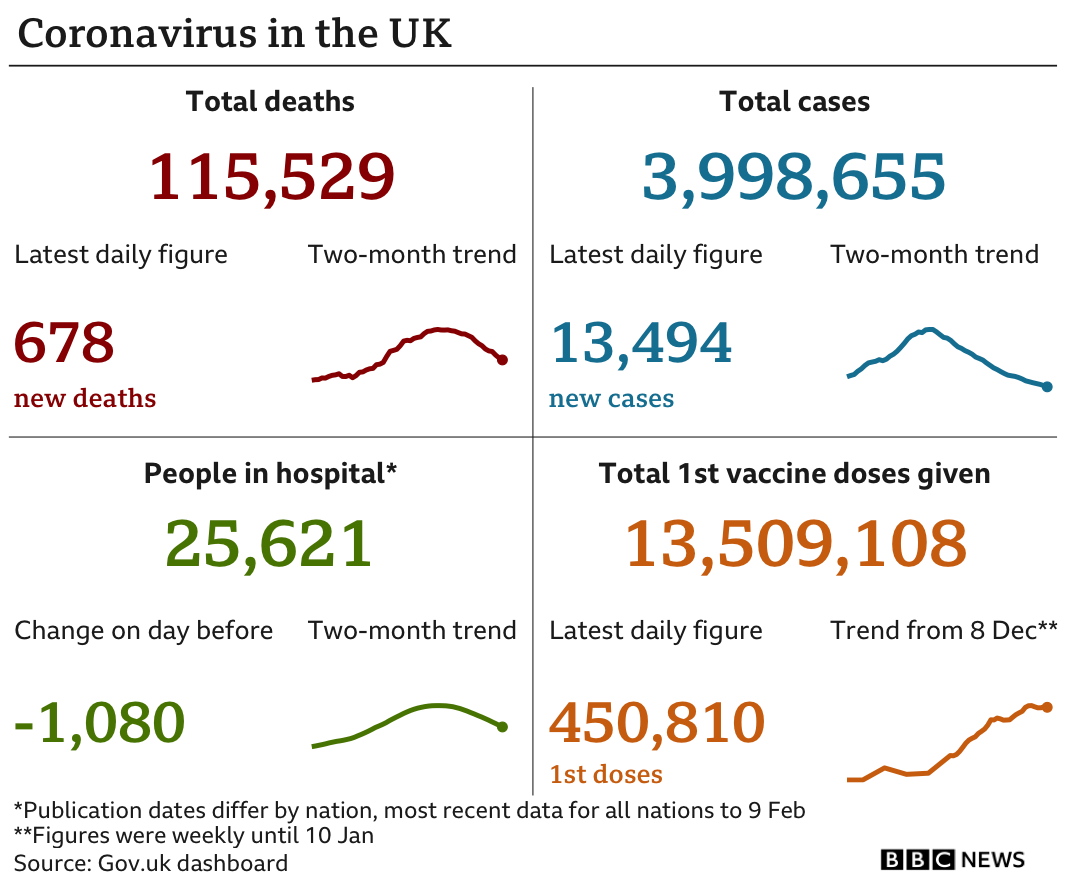 Find out how the pandemic has affected your area and how it compares with the national average:

The number of daily cases reached record levels in early January, partly driven by a new variant of the virus thought to be much more easily transmissible than other strains.
However, the average number of daily reported cases is now falling – with strict lockdown measures still in place across the country.
A further 13,494 confirmed cases across the UK were announced by the government on Thursday.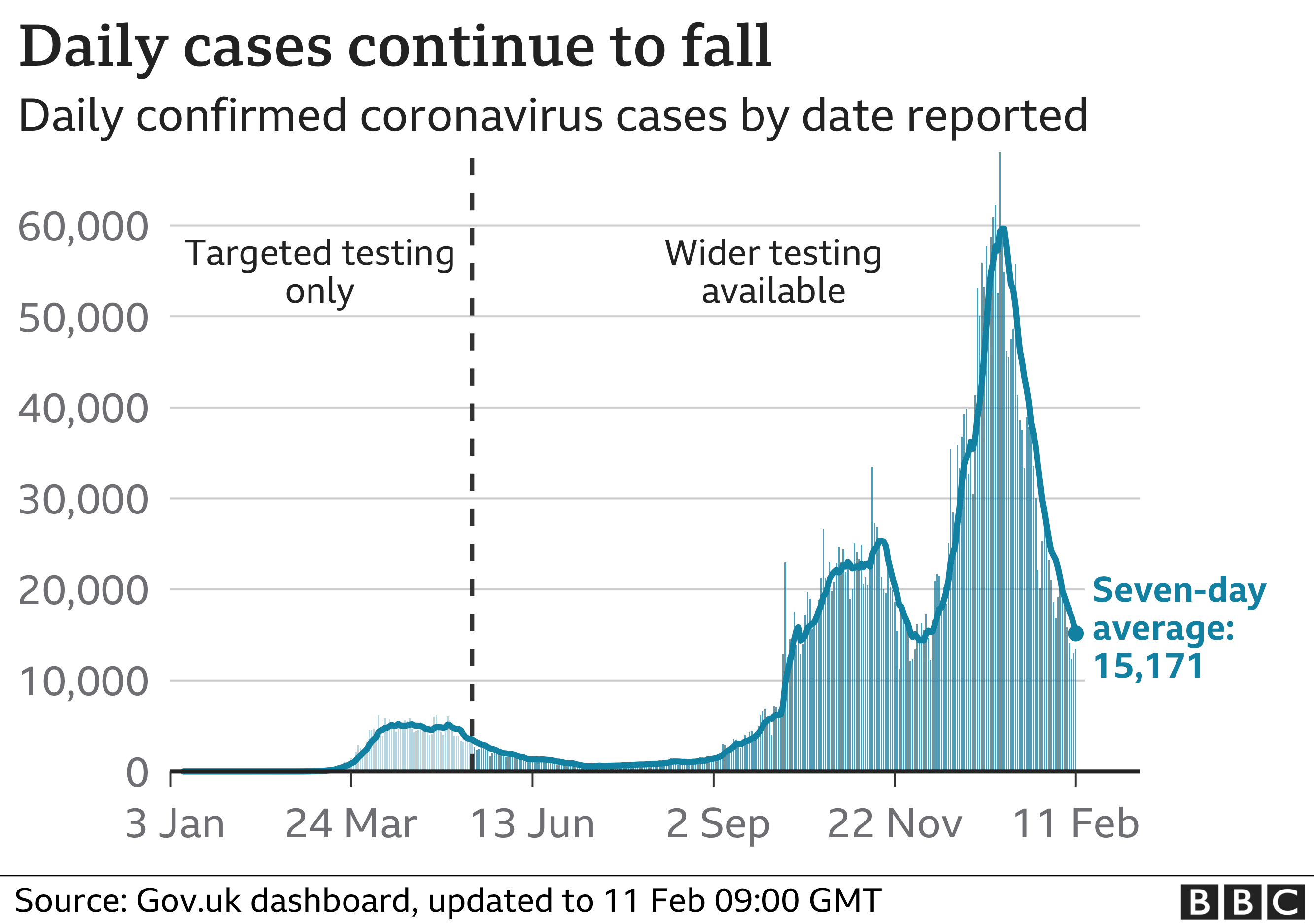 It is thought the infection rate was much higher than was evident from the reported number of cases during the first peak in spring last year. Testing capacity was too limited to detect the true number of daily cases.
The darker orange and red areas on the map below show the areas currently seeing the highest number of cases per 100,000 people.
During the current lockdown people have been told to stay at home, other than for limited purposes such as essential food shopping, medical appointments and work. Schools are also closed.
Prime Minister Boris Johnson has said the government will set out a "roadmap" for easing restrictions in England on 22 February.
In Wales, lockdown measures will remain in force until 19 February at the earliest.
In Scotland, the lockdown has been extended until at least the end of February.
In Northern Ireland, restrictions have been extended to 5 March.

More than 13 million people have now received a first dose of a vaccine, government figures show, while over 520,000 people have had a second.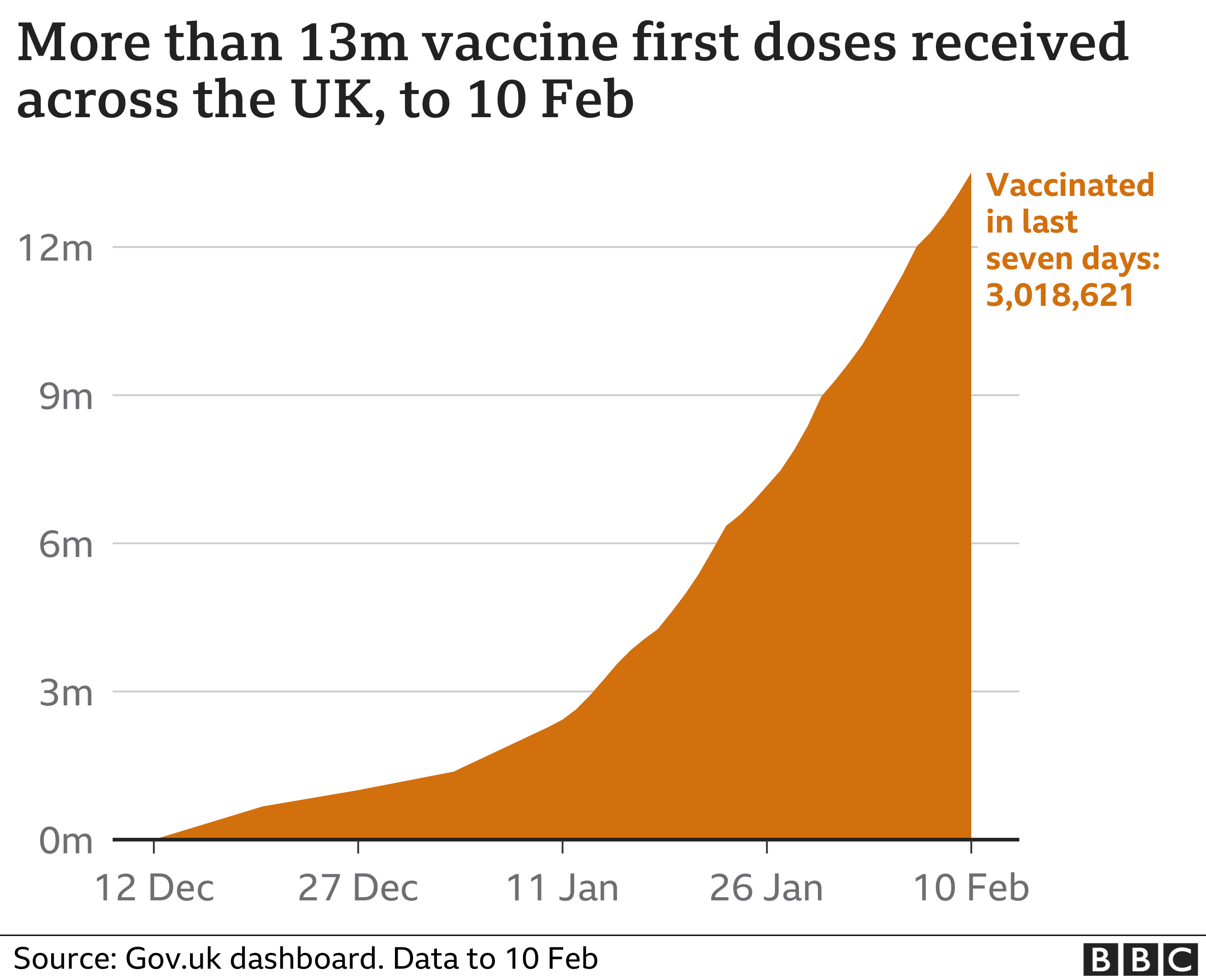 About 380,000 doses need to be given each day if the government is to reach its target of offering vaccines to the 15 million most vulnerable people by the middle of February.
The current seven-day average is about 431,000 doses a day.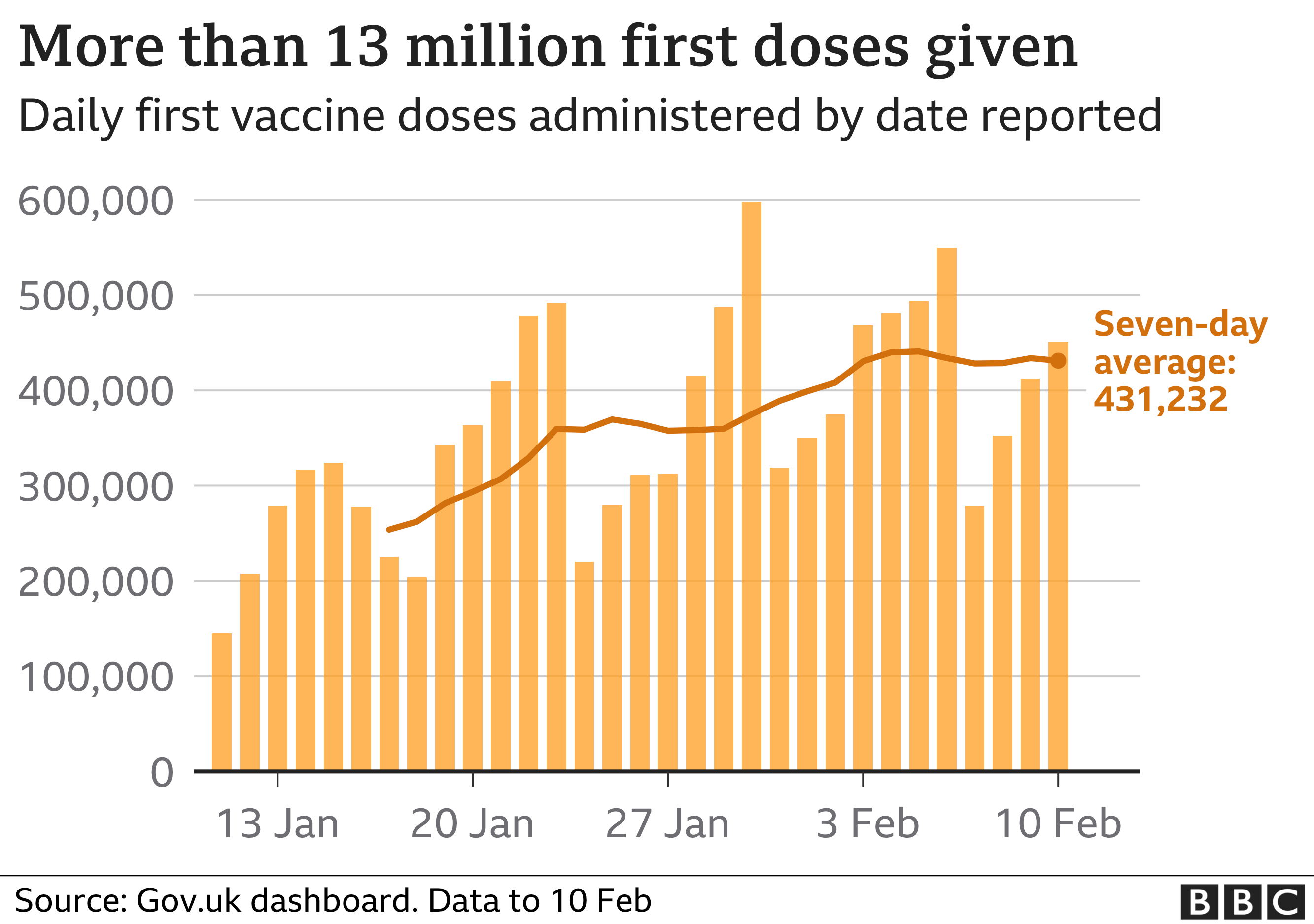 In total, more than 11 million people in England have had one vaccine dose. In Scotland, just over one million people have had their first dose, while the figure is 684,000 in Wales and 353,000 in Northern Ireland.
Health Secretary Matt Hancock says anyone aged 70 or over in England who has not yet got an appointment should contact the NHS, either through the NHS booking service, their local GP or by calling 119. People in Scotland, Wales, and Northern Ireland should wait to be contacted by a local team.
After the top priority groups receive their jabs, the programme will move onto people aged 50 and over and those with underlying health conditions.
By autumn, the rest of the adult population, another 21 million people, will be offered a vaccine.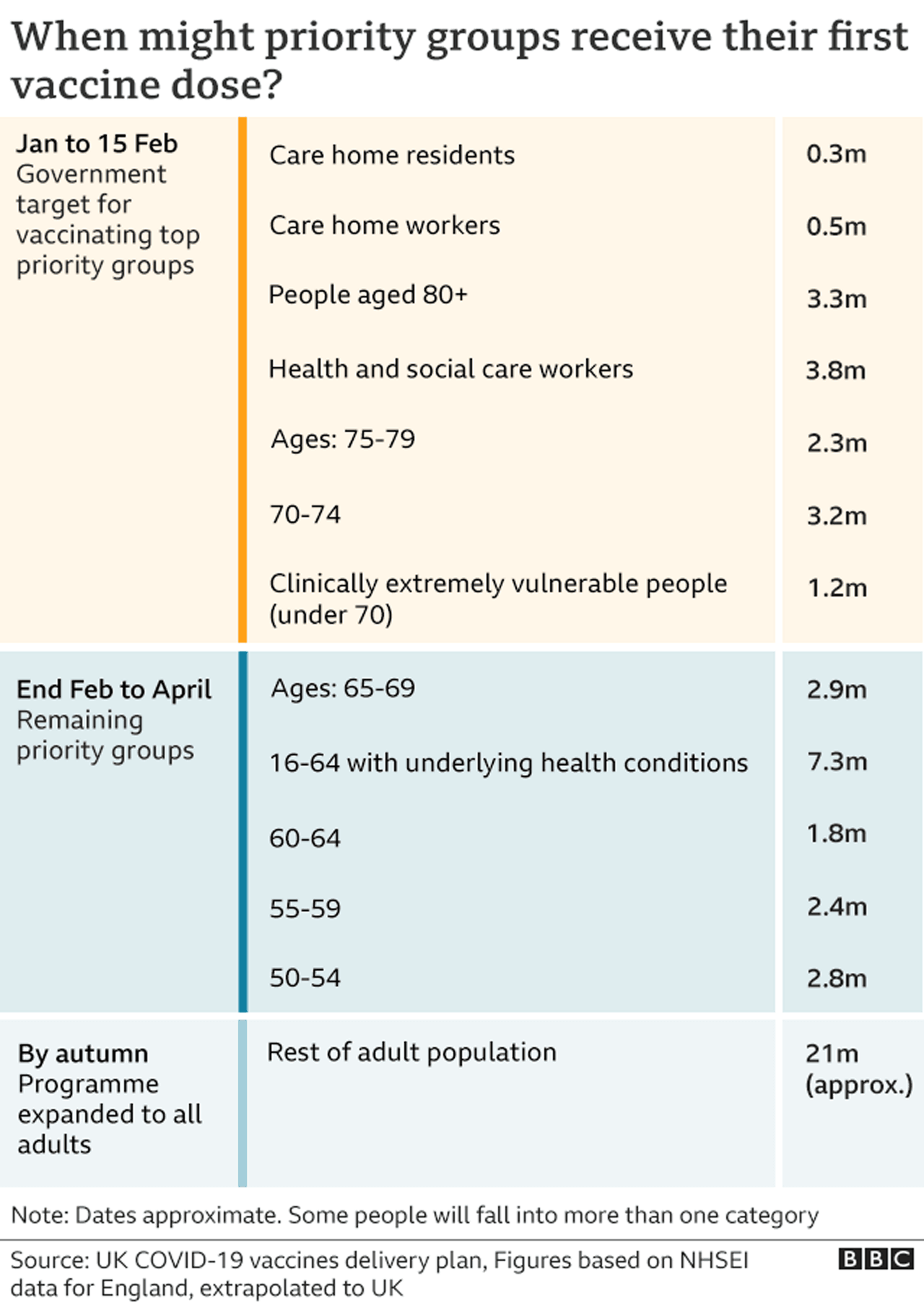 The government announced a further 678 deaths within 28 days of a positive test on Thursday.
Of those deaths, 594 were in England, 48 in Scotland, 27 in Wales and nine in Northern Ireland.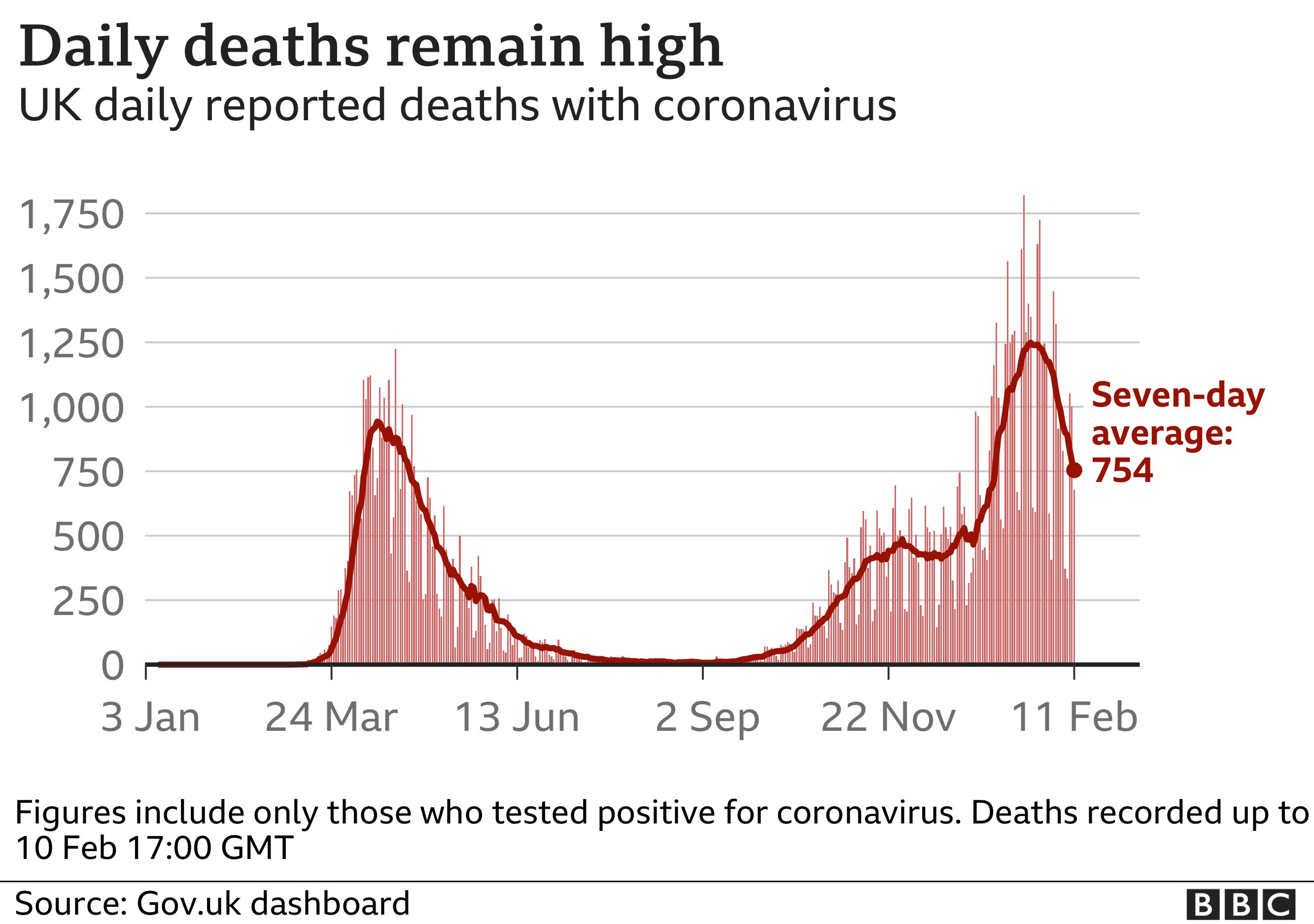 Rules were amended last summer to include deaths in the coronavirus total only if they occurred within 28 days of a positive test. Previously in England, all deaths after a positive test were included.
England has seen the majority of UK deaths from Covid-19. Using the 28-day cut-off, there have been more than 101,000.

There are currently more than 25,000 people with coronavirus in hospital in the UK.
Numbers in mid-January reached almost double the highest point of the spring peak, but have been falling since then.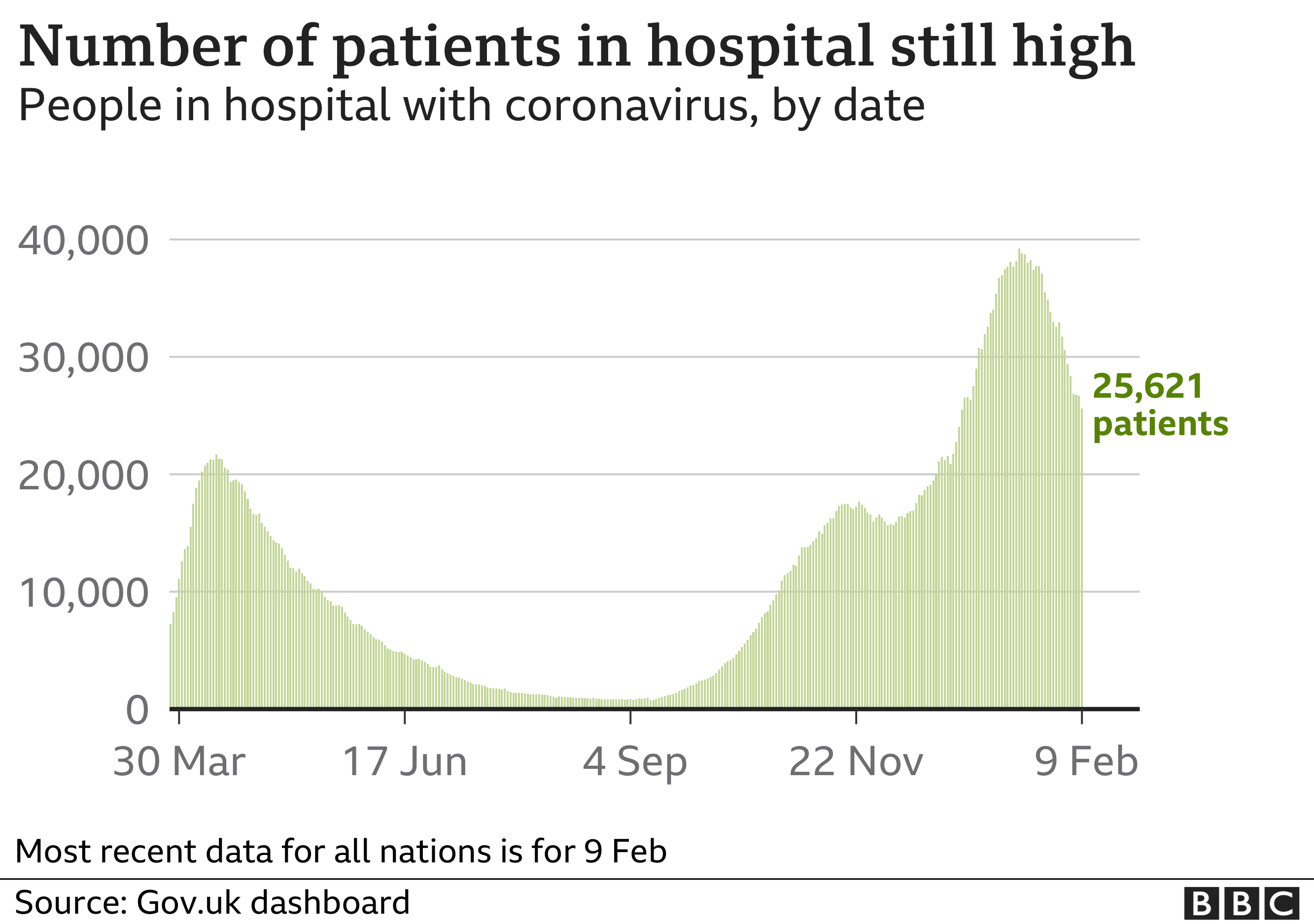 London, the South East and the Midlands have seen the highest numbers in recent weeks.
But all nations and regions saw more patients in hospital in the latest surge than during the first wave last spring.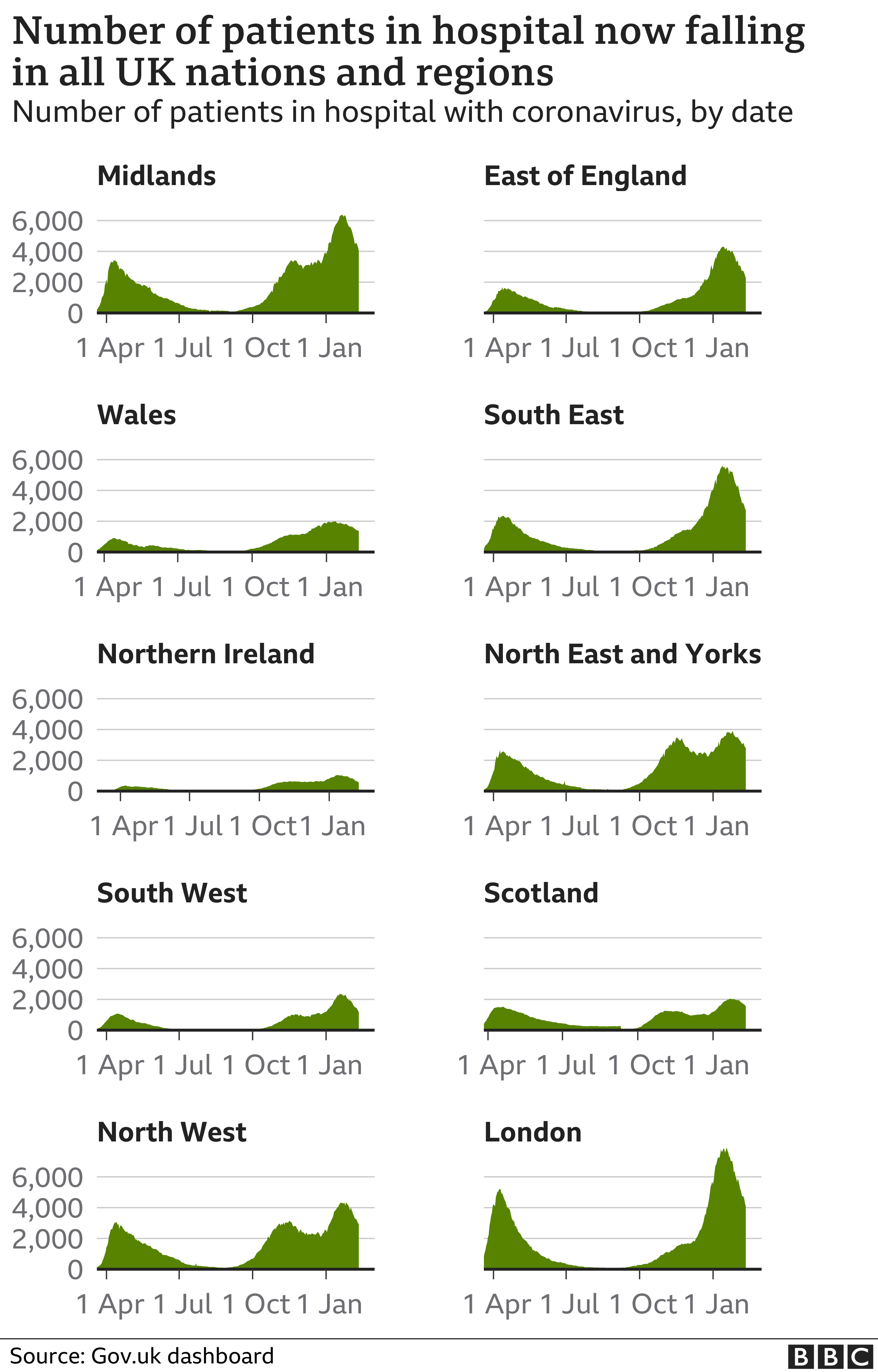 When looking at the overall death toll from coronavirus, official figures count deaths in three different ways, each giving a slightly different number.
First, government figures count people who died within 28 days of testing positive for coronavirus – and that total is now more than 115,000.
Second, ONS figures include all deaths where coronavirus was mentioned on the death certificate, even if the person had not been tested for the virus. This figure is more than 120,000 deaths, to 29 January.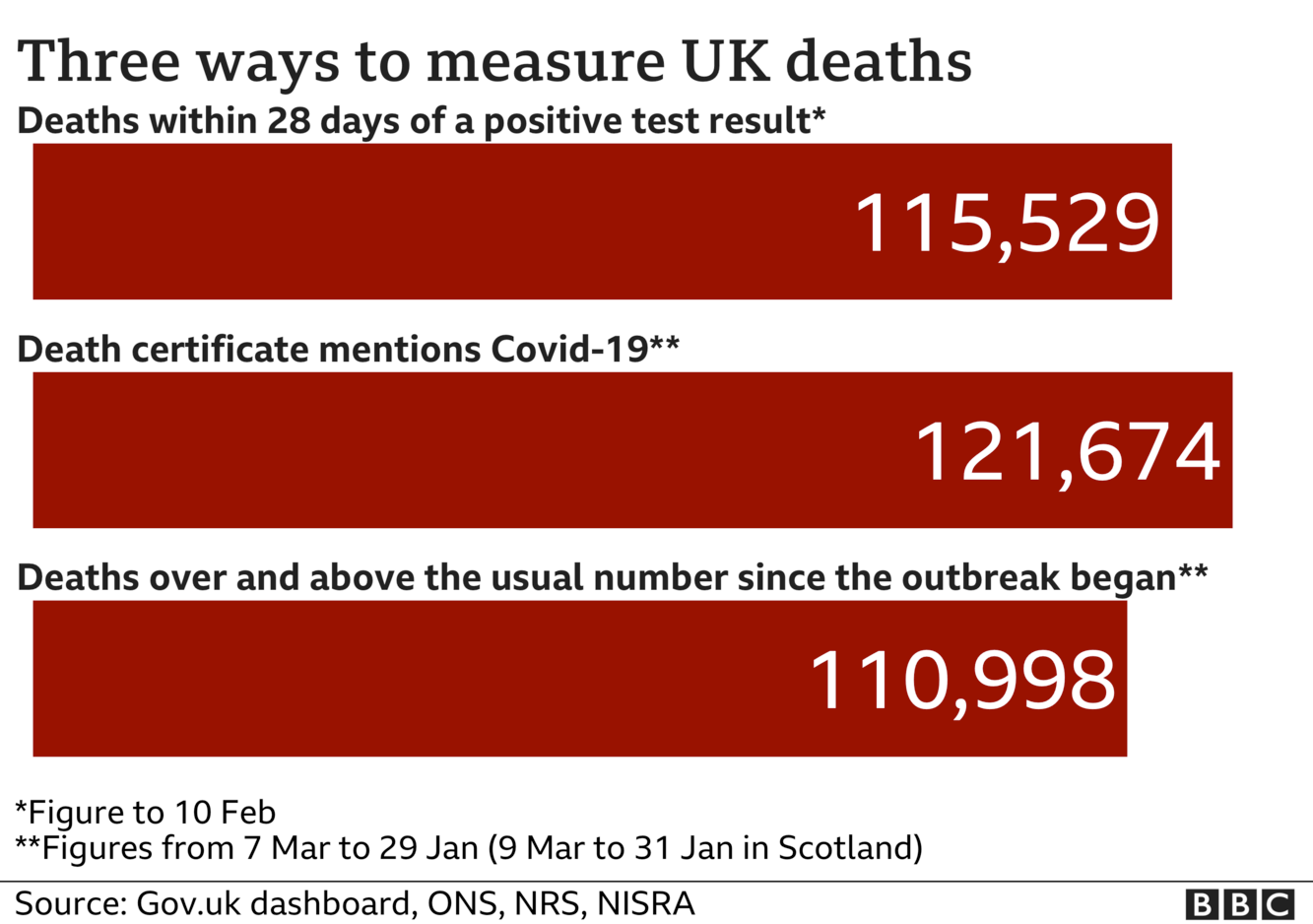 The third measure counts all deaths over and above the usual number at the time of year – that figure was almost 111,000 by 29 January.
In total, there were 20,278 deaths registered in the week to 29 January, that's 42% higher than "normal" for the time of year.
Of that figure, 9,010 were deaths related to coronavirus – slightly down on the previous week.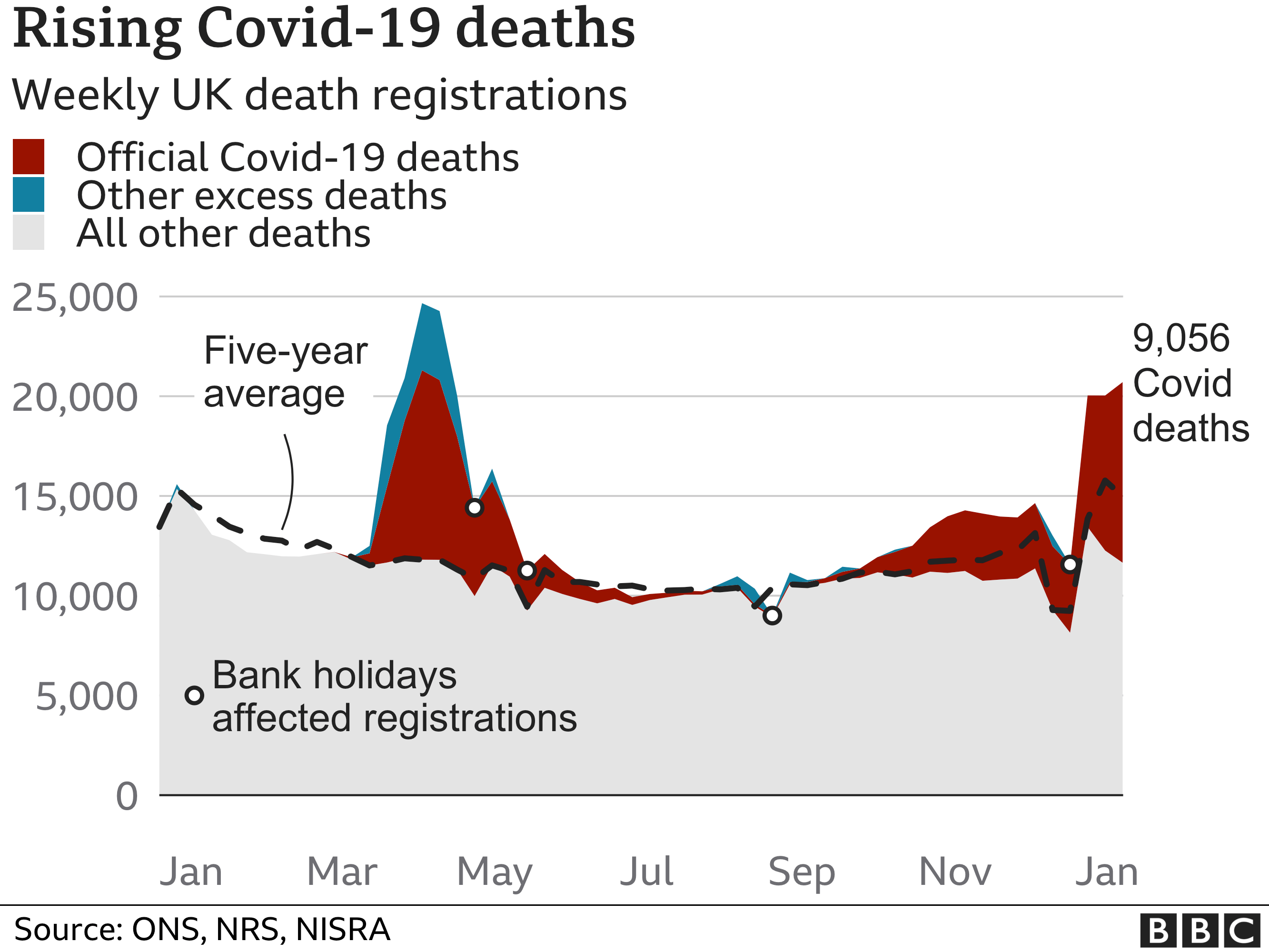 There have now been more deaths involving Covid than "excess" deaths, which means non-Covid deaths must be below usual levels.
This could be because of a milder flu season – resulting from less travel and more social distancing – and because some people who might have died for other reasons had there been no pandemic, died of Covid.


The "R number" is the average number of people an infected person will pass the disease on to.
If R is below one, then the number of people contracting the disease will fall; if it is above one, the number will grow.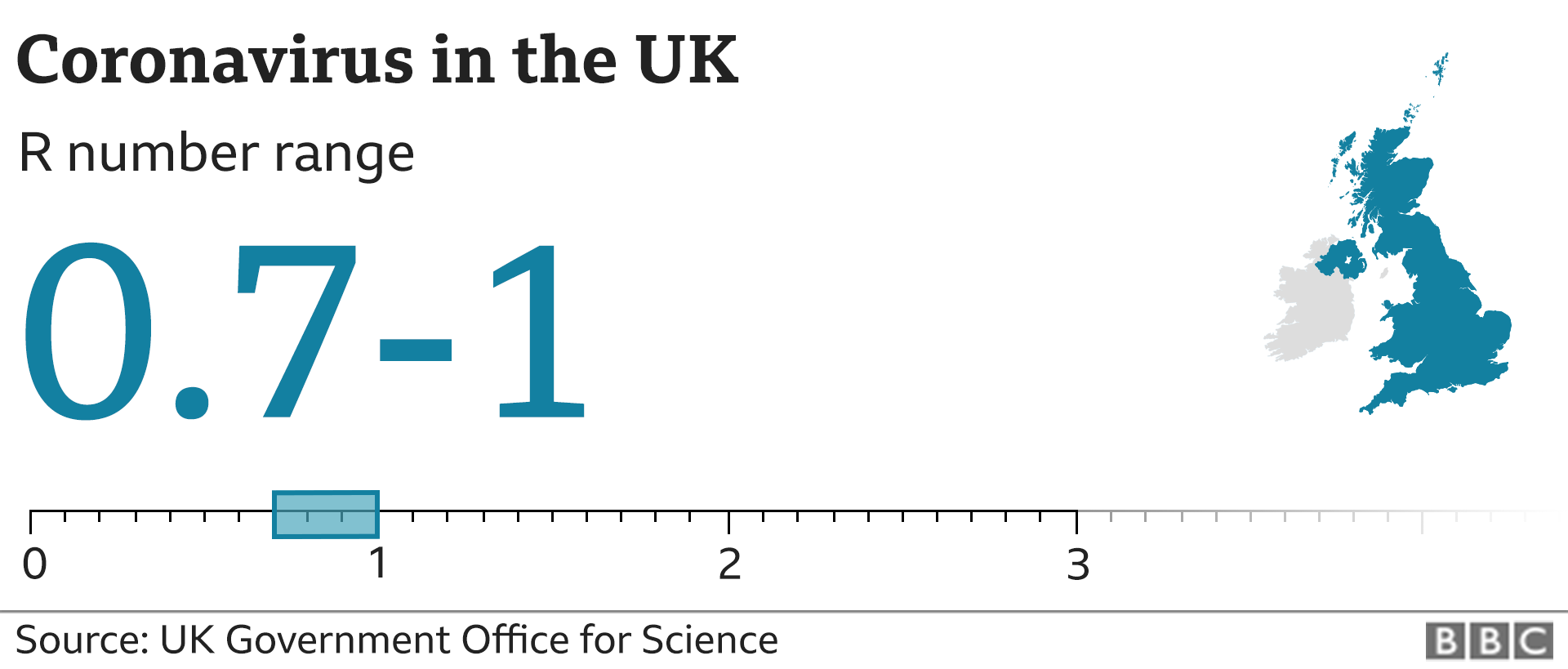 The government's current estimate for the R number across the whole of the UK is 0.7 to 1.
The estimate for England, Scotland and Wales is currently 0.7 to 0.9, while in Northern Ireland it is 0.75 to 0.85.
The government has said in the past that the R number is one of the most important factors in making policy decisions.